Easy iPhone Call Forwarding Setup & Tips [Step-by-Step Guide]
Being reachable all the time can sometimes feel too much, especially when you're traveling or simply need a break. That's where your iPhone's call-forwarding feature comes to your rescue, allowing you a breather without missing any important calls.
Setting up call forwarding in the U.S.? Your setup steps might vary depending on your carrier - it's a slightly different process for Verizon and Sprint compared to AT&T and T-Mobile. It boils down to whether your carrier uses GSM or CDMA networks.
We've got you covered with two straightforward setup methods based on your service provider. Rest assured, activating call forwarding is a breeze, regardless of your carrier.
Dive into our guide to learn more and simplify your life!
What Is Call Forwarding?
Call forwarding, or call diversion, is a convenient feature that lets you reroute incoming calls to a different number, be it your home, office, or another mobile phone. This means you won't miss a call even if your mobile is out of reach.
By activating call forwarding, incoming calls bypass your mobile phone entirely, heading straight to the chosen alternate number without causing a single ring on your phone.
This feature is already built into smartphones like iPhones, enabling you to easily switch it on or off with just a few taps. It stays on until you decide to turn it off, offering both flexibility and control at your fingertips.
How to Establish Call Forwarding on Your iPhone with GSM network
Using a GSM network provider like AT&T or T-Mobile? Setting up call forwarding is a breeze with just a few steps in the Settings app.
Note: You must be in the range of the cellular network when you initiate call forwarding, or calls won't be forwarded.
Here's a simple guide to getting call forwarding up and running on your iPhone with a Global System for Mobile Communication (GSM) network:
Launch the Settings app.

Find and select Phone.

Tap Choose Call Forwarding.

Slide the button to the right to activate the feature

Tap on Forward To.

Enter the phone number where you want your calls redirected. Double-check the entered number for accuracy.

There's nothing like a Save or a Done button. Call forwarding activates immediately once you input the number. Just Use the back button to save your changes. Ensure not to force close the Settings app to keep your input intact.
Code Setup for AT&T and T-Mobile
Both AT&T and T-Mobile offer the option of setting up call forwarding using specific codes dialed directly from your phone's keypad, though the codes vary between the two companies.
For T-Mobile, dial 21 followed by the number you want to forward calls to. AT&T users dial 72 and then the desired number, awaiting a confirmation tone or message. For instance, to forward calls to 1 (555) 555-1234 on T-Mobile, enter 21*15555551234.
How to Establish Call Forwarding on an iPhone with Verizon, Sprint, and other CDMA carriers
If you're using a CDMA carrier like Verizon or Sprint, the process to enable call forwarding is slightly different than with GSM carriers. Instead of using the settings app, you'll use specific carrier codes dialed from the Phone app. Not to worry, it's still a straightforward process!
First, be sure to have the correct carrier code handy, which you can find on the carrier's website or by contacting customer service. Notably, popular CDMA carriers like Verizon, Sprint, and Boost Mobile generally share the same code. Here's how to forward your calls:
1. Open the Phone app and select the keypad icon at the screen's bottom.
2. Enter 72 followed by the 10-digit number you wish to forward calls to (e.g., 722125551212).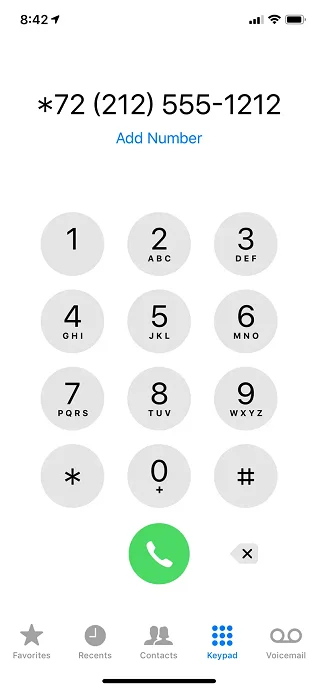 3. Press the dial button.
To disable call forwarding later, you'll use a different carrier-specific code, which can vary. Here are the common codes for disabling:
Sprint: *720

Verizon: *73

Boost Mobile: *720
How to Disable Call Forwarding on Your iPhone
Turning off call forwarding is as simple as setting it up. If you activated it via the Settings app, navigate back to the Phone section there to turn it off.
For those who used the 72 code, dial 73* (without adding a number afterward) to deactivate forwarding. For T-Mobile users who enabled forwarding with the 21 code, use ##21#.
Once you've done this, wait for a tone or message to confirm that call forwarding has been turned off, and calls will resume coming directly to your iPhone.
Considerations Before and During Call Forwarding Setup
Before You Begin:
Ensure the destination number isn't engaged to prevent a busy signal for the caller.

If not using call forwarding, set up a voicemail greeting guiding callers to an alternative number.
Understanding Carrier Charges:
Research if your carrier imposes charges for each forwarded call. Charges might be per minute or a one-time fee.

You may encounter toll charges unless covered by an unlimited national or international plan.

Consider using Skype or Vonage to sidestep hefty forwarding fees.
International Travel Tips:
While abroad, unanswered calls may route to voicemail, possibly incurring toll charges, unless call forwarding is enabled.

Verizon allows call forwarding to Canadian or US numbers via an online account - a handy feature for overseas travel.

Generally, forwarding to numbers outside North America is unsupported. Overcome this by creating a virtual number with VoIP providers like Skype or Vonage.
In Case of Emergency:
If your phone is lost, damaged, or stolen abroad, contact customer support to initiate call forwarding to a US number. Note: International rates might apply.

Verizon customers can set up call forwarding online to avoid potential international call charges.
Additional Services:
Many carriers offer remote access call forwarding, letting you reroute calls to North American numbers globally. This might involve a one-time fee and per-minute charges.

These charges can be averted with an unlimited US and Canada dialing plan.
Unlock the Benefits of Call Forwarding
Stay Connected, Always
On-the-Move Convenience: With call forwarding, missing important calls while you're out and about is a thing of the past. Forward calls to your cell when you're stuck in traffic or to a colleague when you're on vacation.

Backup Plan: Left your cell at home? Redirect calls to a nearby phone or landline through your network carrier's call forwarding services.
Wave Goodbye to the Phone Tag
Enhanced Availability: Sidestep the endless cycle of missed calls and voicemails by directing calls straight to your cell, keeping the communication lines open even when you're away from your desk.

Client Convenience: Foster real-time connections with your clients, offering them the convenience of swift responses and improved service.
Travel Made Easy
Business on the Go: Ideal for professionals in sales, real estate, and other fields requiring constant mobility, allowing them to conduct business seamlessly, irrespective of their location.

Hassle-Free Vacations: Heading abroad for a vacation? Maintain easy contact with people back home, ensuring you're always reachable, no matter where you are.
Cut Down on Long-Distance Calls
Expand Your Reach: A boon for home offices conducting global business, enabling clients and partners to reach you through a local number, which gets forwarded to your direct line.

Boost Your Business Efficiency: Enhance your business presence and customer service by reducing missed calls, thereby fostering growth and efficiency.
Recommended Articles:
Conclusion
Setting up call forwarding on your iPhone is a breeze and a real lifesaver. This nifty feature means no more missed calls, whether you're stepping out of the office for a bit or traveling far and wide. Plus, it can even help you save some cash on those pesky long-distance charges. Dive into the benefits of call forwarding today and make your life a tad easier and your connections smoother. Happy calling!