Upgrading to a newer model feels so ravishing and comforting. However, there can be some difficulties while getting used to the newer software and versions.
I can sense you are in the same situation. Did you recently get the brand new iPhone 13 or iPhone 14 but don 't know how to navigate through it?
Don 't worry, this guide consists of everything you need to know about how to close apps on iPhone 13 or iPhone 14 smoothly so let 's get started.
When do you need to close apps on iPhone 13?
Most people have the habit to close apps when they switch to another or put their phone down to save up on memory and battery. But is it really necessary to close them every time? No, the only time you need to close an app is when it is malfunctioning or unresponsive. Apple does not recommend closing opened apps frequently as it does not take up your battery or memory. On the other hand, it actually takes more battery when you frequently close apps.
How to Close Apps on iPhone 13? (Without a Home Button)
With the changes in design for the next models, the new iPhone 13 comes without a home button. It might frustrate some people in the beginning as you might not get how to do simple tasks like closing apps. Here are the steps you can follow to clear or close apps without a home button.
Steps
Turn on your iPhone 13 with the power button.
Swipe up from the bottom of your iPhone 13 's screen.
A list of opened apps will appear. Navigate left and right to see all the apps.
Choose the app you want to close and swipe up.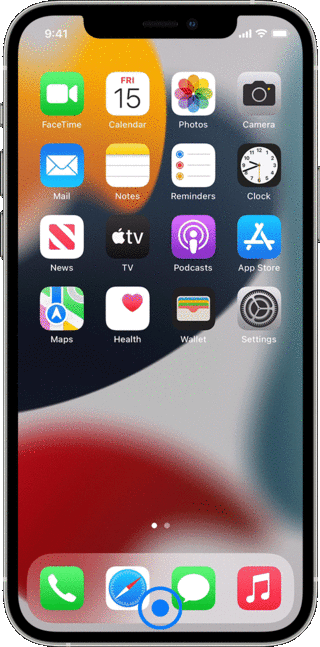 Close app on iPhone 13 without home button
FAQs
Is it possible to close all apps with one click on my iPhone 13?
Unfortunately, there is no way till now that lets you close all apps with one click on your iPhone 13. Although Android devices come with this function, iOS is still not equipped with the feature. However, it lets you close three apps at a time by swiping your three fingers up on the close-app screen.
How to check opened apps on my iPhone 13?
You can check the apps you have recently opened on your iPhone 13 by swiping up from the bottom. The screen will pop up with the apps that are opened. You can swipe to the right and left to see all the opened apps.
How do I close apps on my iPhone with a home button?
To close apps on an iPhone with a home button, click the home button two times and the screen will show all the opened apps. You can navigate through them to find an app and swipe it up to close it.
Changing phones and models can be sometimes annoying as you are used to your older device. But that does not mean you should let go of the fun, the new device comes with. There is always a solution as we brought to you. I hope this guide must have served its purpose and now you can easily close apps on iPhone 13 the right way.