Say Goodbye to
Phone Headaches

with Mobitrix

Take control of your iPhone experience - the only tool you need for backups, transfers, repairs, and unlocking.

LockAway
Unlock Screen Lock/Apple ID/MDM/Screen Time.
Compatible with the latest iOS 16 and iPhone 14 models.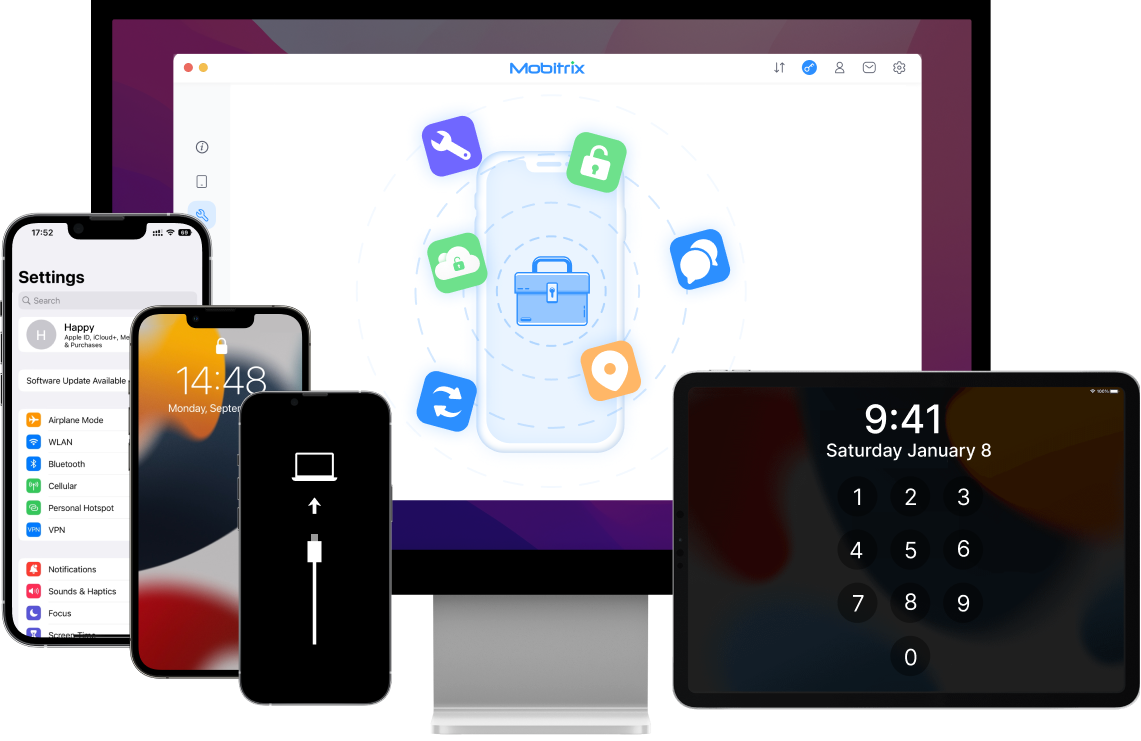 Mobitrix - Full Products
Mobitrix offers a hassle-free toolkit to solve phone challenging problems in any scenario!
Discover Why Mobitrix is Trusted Worldwide
Mobitrix has been featured in some of the world's leading tech publications.
Mobitrix WhatsApp Transfer remains one of the best methods for android/iPhone WhatsApp transfer and vice-versa. It gets the job done quickly and easily. The Mobitirix WhatsApp transfer app is compatible with virtually all Android and iPhone devices.
‒IMC Grupo, a leading, trusted, widely-acknowledged dedicated technology news platform with 8 million monthly readers including IT professionals, researchers, hackers, technologists, and enthusiasts.
Mobitrix is a third-party tool that lets you manage all the aspects of a WhatsApp account. The tool makes it easy to override the encryption protocols limitation of transferring WhatsApp backup.
‒TechTimes, one of the most professional website reporting on the latest innovations and developments taking place in technology, science and health.
With this tool's help, you can easily bypass the encryption protocols that restrict you from transferring the data directly from your google drive to your iPhone.
‒TechCult, a popular independent blog site focused on different fixes for software such as Eclipse, Google Chrome, VLC as well as commonly faced issues, tips, and tricks regarding Microsoft Windows.
Mobitrix is the most convenient way to transfer WhatsApp from Android to iPhone. It makes it easy to transfer all your contacts, files, media, and everything with ease.
‒iLounge, an independent and exclusive information provider about Apple Inc.'s iPod, iPhone, and iPad, digital media players, accessories, news, and related softwares published online.
Among the different methods of transferring WhatsApp messages, Mobitrix provides the safest and convenient approach.
‒Phandroid, the world's first documented website reporting exclusively on Android News, recognized by Wired.com officially in 2007 that 'Android already has Phandroids".
3K+
Positve Media Peports
Why Customers Choose Mobitrix?
All comments are sourced from Trustpilot, one of the world's most trusted consumer review site.
Great Software!
The software works as advertised. I used the Whatsapp backup and restore option (from Android to iPhone) and all my chats along with media and images were restored without any issues. The process is easy to follow and would not hesitate to recommend to anybody looking for a solution to transfer Whatsapp messages. Thank you to Mobitrix and keep up the good work.
With LockAway, I unlocked my iPhone by myself
I bought a used iPhone X from someone on Facebook and everything looks great when I check it. However, after I factory reset this iPhone, I was stuck on the stating and showed "activation lock'' for no reason. I contacted the seller and get no response at all. Then I went to a local repair store but I have been told it may cause $130 plus 1-week waiting, which was so radicular to me, the price and the time! With LockAway, I did it by myself for about 40 mins and only cost me $40!
Mobitrix LockAway is definitely a lifesaver!
Mobitrix LockAway is definitely a lifesaver! My nephew is 9 years old and accidentally changed my password and forgot the passcode. I tried to guess as much as we can but none of them work. So I started to Google for solutions. After 3 hours of searching and trying multiple tools, luckily, I found LockAway. I just follow the software's instructions which were so easy and clear. Taking about 30 minutes and I finally see my sweet home screen! 5 stars for sure!
Restore My Messages From Android to iPhone 14
I have searched the free application of transfering whatsapp messages for 3 days and try many of them without benefits. finally i decided to try mobitrix app because i saw good review about their quality and guarentee of transfering messages without lossing data. i have bought the liecence and restore my messages from android to iphone 14 on ios 16 successfully without lossing single data.
Your One-stop Phone Solution
Hassle-free Tools to Solve Your Phone Issues from Home