Using iTunes to factory reset your iPhone leads to permanent loss of any unbacked-up data.
Standard Repair option helps you troubleshoot your iPhone with no data loss.
Before you reset your iPhone, make sure you back up your data.
I've worked at Apple for years as an engineer and handled hundreds of iPhones which the owners used iTunes to reset for different reasons such as the iPhone being frozen,iPhone can't turn on/off, and many more.
This reset process did not end up well for most people since it factory resets your device, and you permanently lost your data. I would love to share my expertise with you on using an alternate tool to troubleshoot your device in this post.
Mobitrix Perfix features a Standard Repair option that helps fix almost all iPhone faults such as rapid battery drain, iPhone boot loop, and iOS update failure while keeping all your data on your device. Let's dive in!
Part 1 What Are the Functions of iTunes Reset iPhone
The reset function is a process that helps clean out everything from your iPhone device. A more popular word that most tech junkies use when referring to this function is the factory reset.
It simply means that if you are aiming at resetting your iPhone, you will not be able to recover your lost data unless you backed it up before launching the task.
When you run into some problems with your iPhone, you may attempt to resolve these with an iTunes reset. Some of the issues that you can resolve with varied or zero success rates include the following:
When you've forgotten your screen password, iTunes can help you factory reset your iPhone and allow you to unlock it.
If your iPhone has some technical glitches, such as being stuck on the Apple logo, not charging, black screen, frozen, iTunes helps you fix these faults via factory reset.
Once you are ready to sell or give away your iPhone and wish to delete all data from it, so the new user doesn't have access, iTunes reset can help.
It may also happen that you are the one buying a second-hand iPhone or inheriting one from a friend or relative. To help preserve their data privacy and make the phone usable, the factory reset it via iTunes.
Updating your iOS to the latest version is also automatic when you choose to factory reset via iTunes.
You may attempt to troubleshoot your device through iTunes, but it will factory reset it, leading to data loss. If you want to fix any software issue with your iPhone with no data loss, I advise trying Mobitrix Perfix.
Moreover, the iTunes platform is difficult to manoeuvre for non-nerds. Not forgetting, it will take you a long time to reset your device, error codes, and more challenges notwithstanding.
In Part 2,I share detailed steps for resetting your iPhone with iTunes. But, if you would like to skip all that for a more convenient and hassle-free tool that also preserves your data, check out Perfix Part 3.
Part 2 How to Use iTunes to Reset iPhone
Situation 1: If you remember your iPhone screen password
Preparations
Make sure your Mac or PC is updated.
Make sure you have the latest version of iTunes.
If you want to save the information on your iPhone, make a backup.
Turn off Find My iPhone. Go to Settings > Your name > Find My, tap Find My iPhone, then turn it off.
Steps in detail
Open the Finder on macOS Catalina or later, or open iTunes on PC or macOS Mojave or earlier.
Connect your iPhone to your computer through a USB-B or C cable.
Enter passcode when prompted to or choose to Trust the device.
Select your device when it appears on the screen and click Restore.
Click Restore, and your device will be factory reset after restarting.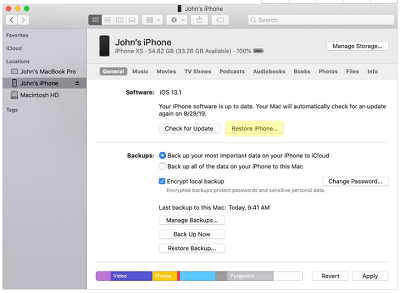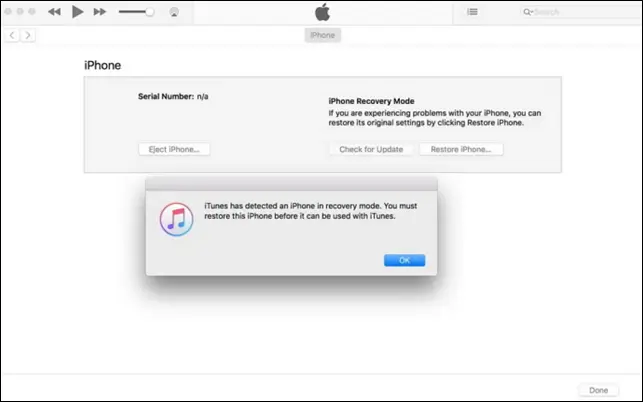 Situation 2: If you don't remember your iPhone screen password or your iPhone has existing faults
Working at Apple, I noticed many people have problems resetting their iPhones with iTunes whenever they forget their passcode. In this part, I delve deep into solving this issue. However, note that you must put your iPhone into Recovery mode first.
Preparations
Make sure your Mac or PC is updated.
Make sure you have the latest version of iTunes
Steps in detail:
Open the Finder on macOS Catalina or later, or open iTunes on PC or macOS Mojave or earlier.
Keep your device connected and wait until the recovery mode screen appears.


For iPhone X or later, iPhone SE (2nd generation), iPhone 8, and iPhone 8 Plus:

Press and quickly release the volume up button. Press and quickly release the volume down button. Then, press and hold the side button until you see the recovery-mode screen.

For iPhone 7 and iPhone 7 Plus:

Press and hold the side button and volume down buttons simultaneously. Keep holding them until you see the recovery-mode screen.

For iPhone SE (1st generation), and iPhone 6s and earlier:

Press and hold both the home and the side buttons at the same time. Keep holding them until you see the recovery-mode screen.
Spot your iPhone on iTunes and click on Restore.
An iTunes reset is a complex route to troubleshooting your iPhone. Aside from the complexity of the process and the length of time that it takes, its success rate is always quite low.
Once you go down the iTunes route of resetting your device, it's worth remembering, as I mentioned earlier, that you can't recover your data once complete unless you backed it up. To avoid this process, I recommend Mobitrix Perfix, which I've used with success severally.
Using Mobitrix Perfix helped me fix a myriad of issues with my iPhones, such as the device not producing any sound or refusing to charge. I recommend it for all types of software issues with your iPhone because it secures your data and is easy to use with just a few clicks.
Part 3 An Alternative Way to Reset iPhone Without iTunes (No Data Loss)
I learned about Mobitrix Perfix when my hotspot would not turn on from a friend. True to his word, I could troubleshoot my iPhone and keep my data secure. What was fascinating the most was within half an hour, my iPhone's hotspot was working, and I didn't have to follow any of the complex iPhone resetting processes I was accustomed to with iTunes.
The Mobitrix Standard Repair Function is a gateway to a world of tech solutions for your iOS, iPadOS/tvOS/iTunes problems such as iPhone stuck in recovery mode, stuck on the Apple logo, frozen, black screen,iPhone won't charge, and iPhone touch screen not working problems.
Advantages of Perfix
No need to download iTunes or Finder.
No data loss when troubleshooting your iPhone.
Simple to use. No tech background is required.
Faster with a high success rate than iTunes.
Perfix supports all iOS devices and versions.
Perfix is 100% safe and protects your privacy.
Running Standard Repair
Easily troubleshoot a myriad of iPhone issues such as iPhone stuck on the Apple logo, screen stuck on zoom mode without data loss by running Standard Repair. Follow these steps:
Click "Start" in the main menu
Click on "Standard Repair"
Start Repairing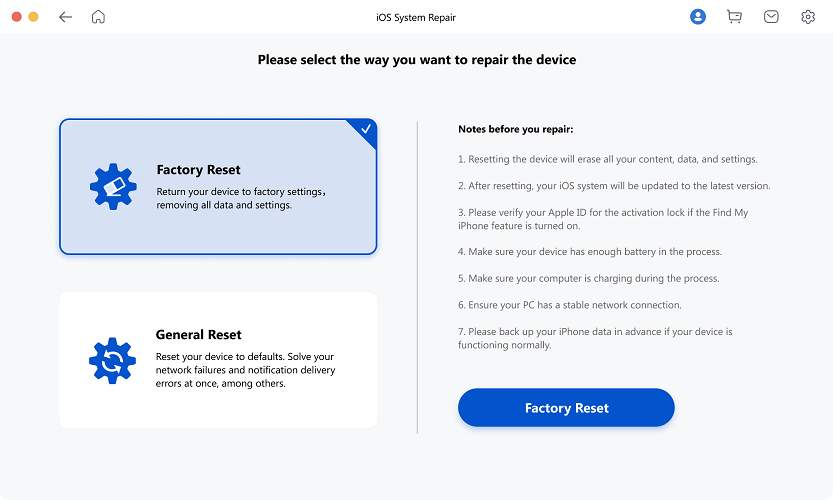 Having used the Mobitrix Perfix tool and iTunes to fix software issues on my iPhone, FaceID not working, and many other faults, I recommend Mobitrix Perfix for every iPhone user. With it, you get to keep your data, save time and avoid mastering confusing reset steps.
FAQs:
Q: Can I recover the information that I've lost after a reset?
When you reset your iPhone using iTunes, it wipes out all your data. The only way to restore this data and other personalized settings are by creating a backup before initiating the process. A tool like Mobitrix Perfix helps troubleshoot your device without all these challenges. Mobitrix Perfix'sStandard Repair Function allows you to fix any iPhone faults such as iPhone stuck in shutdown mode, frozen, black screen, stuck on the apple logo, etc., with no data loss.
Q: How to exit Recovery Mode?
Immediately your iPhone finishes resetting to factory settings, and it will exit recovery mode automatically. If this fails to happen or your iPhone was perfectly okay before, follow these steps to exit recovery mode:
Disconnect your device from the computer.
Long press the sleep or wake button until it turns off and then release it.
Long press the wake button until the Apples logo appears.
Release the button, and your phone will turn on.
Or you can just download and install Mobitrix Perfix, and you can quickly one-click exit the recovery mode for FREE.
Summary
In all my years working for Apple and using iPhones, I've had to reset my device using various methods, simultaneously which all proved tricky and led to a loss of data whenever I forgot to back up. Mobitrix Perfix now allows me to address software issues fast, effortlessly, and with no data loss.