Have you recently switched from iPhone to Android? And you need to move your WhatsApp messages along?
Transferring your Whatsapp data from iPhone to an android device isn't supposed to be a big hassle.
In this article, I'll be talking about 5 super useful methods for WhatsApp transfer. Keep reading.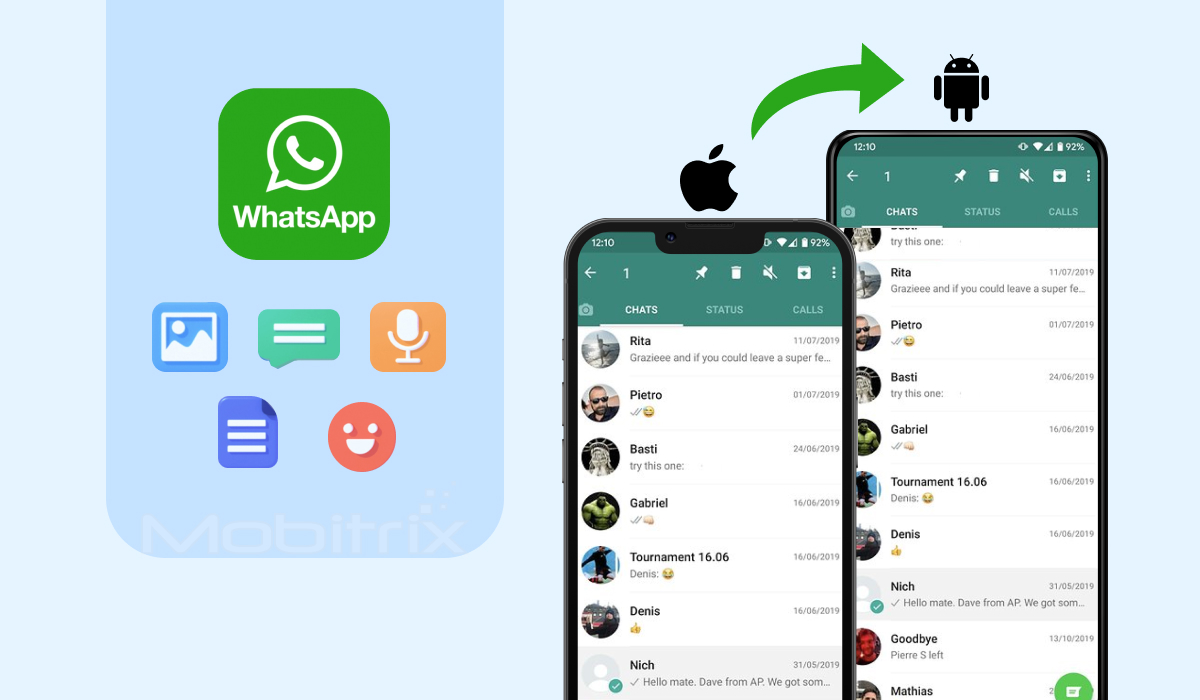 Transfer WhatsApp from iPhone to Android
What is the Best Pick for WhatsApp Transfer?
Via Mobitrix: The Best Way to Transfer WhatsApp from iPhone to Android
What's Mobitrix?
Mobitrix WhatsApp Transfer is designed to backup, restore, and transfer WhatsApp between Android and iOS devices.
By comparison, Mobitrix makes it easy and seamless for you to transfer WhatsApp from iPhone to Android without losing any of your precious memories.
Steps
Download Download and launch Mobitrix WhatsApp Transfer on your computer. Next, connect your iPhone and Android to the computer using a USB.

Connect the 2 devices to computer

Click "Transfer" to start the data transfer process.

Start to transfer WhatsApp data

During this whole process, please keep the two devices connected to the computer.

Transfer WhatsApp successfully
Once the transfer process is over, your Android phone will restart, and then you can see all the WhatsApp data transferred on your Android device now.
You can also watch the video tutorial:
How to Transfer WhatsApp Data from iPhone to Android via WhatsAppTrans Box?
WhatsAppTrans Box is a free tool launched by Mobitrix, which supports users to transfer the chat history of WhatsApp across different operating systems.
Steps:
Download the Toolkit of WhatsAppTrans Box.

Download the Toolkit of WhatsAppTrans Box

Extract WhatsApp data from your iPhone.
Connect iPhone to your PC and run [idevicebackup] to back up your iPhone data. It might take you a bit more time here.
When you finish backup, run [ExportiPhoneWhatsApp] to extract WhatsApp data from your backup.

How to transfer WhatsApp data from iPhone to Android?

whatsappiphone2android.exe is our core tool. It can transfer the WhatsApp data you back up in your iPhone to an Android phone. However, it has several limitations: It can only transfer chat history and just for the past 3 months.

Execute [whatsappiphone2android]. Transfer data from iPhone to Android.

How to restore the backup data from your Android phone into WhatsApp.

Please follow the steps below:

Download an emulator. There are many emulator tools online that you can choose from. Please select one to install.
For example, here is an emulator option named Bignox.
After the installation is complete, set Root permissions.

Set ROOT permission after installing the simulator


Open the emulator. Install WhatsApp and log in.

WhatsApp in Emulator

Execute [pushwhatsappdatatoandroid] and converted Android data into WhatsApp data directory.
Restart WhatsApp then you can see your chat history right over there.
Execute [pullwhatsappdata]. Extract WhatsApp data and back it up into your computer. Turn off the emulator.
Execute [pushwhatsappdata]. Transfer the extracted data into your new Android phone.
You can download and install WhatsApp on your Android phone and log in to restore the data. Then you can see all your chat history in WhatsApp.
Pros
Completely free.
Support restoring chat history into the WhatsApp of a new device.
Support bulk transmission of data.
Support data transfer between iPhones, Android phones, and between iPhone and Android.
Cons
Only support transferring chat history for the past 3 months.
Do not support other transfers except texts. Other data, such as pictures, videos, attachments, emoji/stickers, etc are not available for transfer.
How to transfer WhatsApp data from iPhone to Android via WhatsAppTrans
WhatsAppTrans is a free tool and accessible to any user. It requires certain computer skills and tech knowledge for some steps. You will successfully transfer your WhatsApp messages in most cases if you follow those detailed instructions step-by-step:
Steps:
Go to Github. Click "Code" and choose "Download ZIP"

transfer WhatsApp from iPhone to android using WhatsAppTrans

Unzip the file and find the following files under the folder named "WhatsApp iPhone to Android" :
ExportiPhoneWhatsApp.exe
AnalysisWhatsAppChat.exe

Download iTunes and connect your iPhone device to the PC.

Back up your iPhone data.

Connect your iPhone to a PC via USB cable.
Run iTunes on your PC and then click the iPhone icon on the top left.
Please unselect "encrypt local backup" if marked.
Click "Back Up Now" (Under "Manually Back Up and Restore")

Import WhatsApp data from your iPhone.

Step 1 : Identify the path of your backup.
Normally iTunes will save your backup under the following path:
C:UsersYour usernameAppDataRoamingApple ComputerMobileSyncBackup or
C:UsersYour usernameAppleMobileSyncBackup

Step 2 : Import WhatsApp data from the backup.

Select a disk that has the most capacity storage and choose a directory to save your WhatsApp data.
Open the CMD terminal on the PC and run the following command:
ExportiPhoneWhatsApp.exe [iphonebackuppath] [whatsappdatapath]

import WhatsApp backup data

Unpack WhatsApp data from iPhone.

Step 1 : Open the CMD terminal and run the following command:
AnalysisWhatsAppChat.exe [whatsappdatapath]

unpack iPhone WhatsApp data

Step 2 : Now you will see two new folders under WhatsApp root directory [whatsappdatapath] named as below:
txt: text messages from WhatsApp chat history.
media: media and attachment files from WhatsApp chat history.

Step 3: If you need text messages of your WhatsApp history, you need to send all the files under the "txt" folder to your Android device. By doing this, you can check text chat history directly from the mobile device. It is also recommended that sending all files under the "txt" folder to your secondary WhatsApp account or relatives and you can permanently save these WhatsApp chat history on your Android device.

successfully transfer WhatsApp from iPhone to android via WhatsAppTrans

You can also send files under the media folder to your Android Photo/Media application or other directories, which allows you to check these media files anytime.
Pros:
WhatsAppTrans allows you to import the chat history of multiple contacts simultaneously to the Android phone or other devices. For WhatsApp official import/export tool, you can only import the chat history of one contact at a time.
Cons:
You cannot check chat history in your WhatsApp. Instead, you can check the text message in a txt file and check photos and attachments by using Android built-in apps.
How to transfer WhatsApp from iPhone to Android via Email
Email is an easy way to implement so you don't need any technical knowledge. It's free and you won't need to download a third-party tool.
Steps:
Go to the "Settings" of WhatsApp on the iPhone, tap on "Chat Setting" ,and choose "Email Chat" from the list.
Choose the chat history that you need to transfer.
A window will pop up saying "Attaching Media will generate a larger email message". You should choose "Without Media" or "Attach Media" as you need.
Input your mail address and click on "send."
Login to your email account on the Android device. Note that you can't update WhatsApp data with WhatsApp application on the Android device.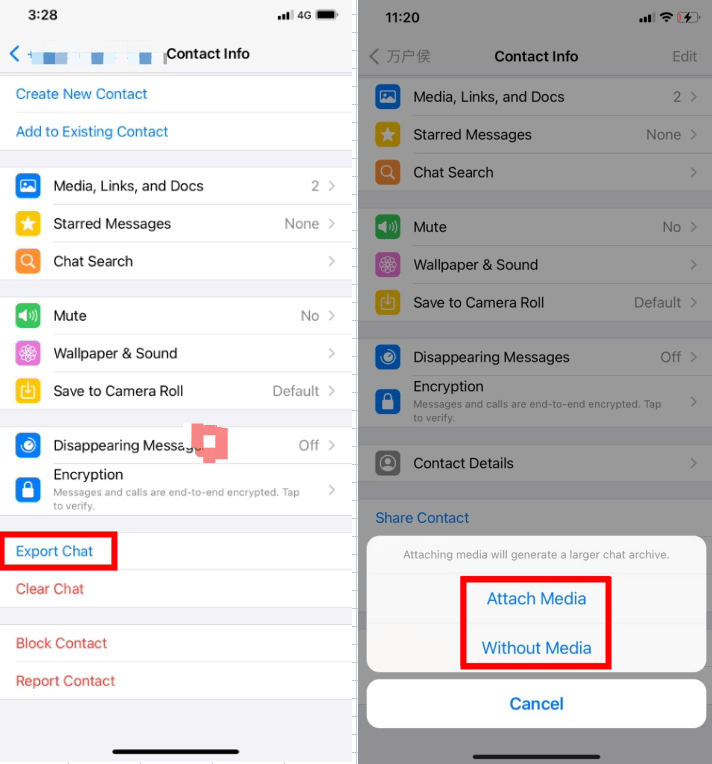 export WhatsApp chat via email
How to restore WhatsApp from iPhone to Android Using WazzapMigrator
What's WazzapMigrator?
Well, WazzapMigrator is a data transfer app that allows its users to transfer WhatsApp messages from their iPhone to Android device conveniently.
WazzapMigrator features:
It can quickly move all types of files -- from messages, photos, videos, to documents.
It's compatible with the OS/Windows operating system and allows for fast transfers.
Able to migrate your GPS information to your new Android device.
Steps:
Launch iTunes on your iPhone before connecting it to your computer with a lightning cable. Select "Summary" and uncheck the "Encrypt Local Backup" option. Then tap on the "Back up now" option on the right side to start the backup process.

back up iPhone on iTunes

Go to the WazzapMigrator Lite website, find the iBackup Viewer Program and download it on your computer.
Run the application, select the iOS device, and tap on the "Raw Files" icon on the bottom right side of the menu. On the next screen, select "Free View" mode and click on the file that says "AppDomainGroup-group.net.whatsapp. WhatsApp.shared".

wazzap guide

Head on to the right side of the menu, select the "ChatStorage.sqlite" file, then click the "Export" button. In the same menu of "ChatStorage.sqlite", open "Message Folder" and choose your desired "Media" files. Hit the "Export" button and remember to save them in the "ChatStorage.sqlite" file.
Connect your Android device to the computer. Find "File Viewer/Explorer" in Android and set up desktop Windows to surf files exported to the PC. Move media files and ChatStorage.sqlite files to the "Download" folder of the Android phone.
Download and install the WazzapMigrator Lite application on your Android device so that it can scan and detect ChatStorage.sqlite on the device. Once this process is complete, tap on the "Start" button.

WazzapMigrator Android

Reinstall the WhatsApp application and finish this process by entering in any contact information used on your iPhone.
Pros:
It comes with a supportive technical team that helps resolve all kinds of WhatsApp transfer problems.
It can transfer a variety of media files such as audio, photos, video, GPS, etc.
Cons:
Some users have reported issues like missing messages after transferring their WhatsApp messages to the other device.
This function doesn't support sync with or backup from Google drive.
Its process can be quite complicated and unsuitable for most users.
Can I Transfer My WhatsApp Data from iPhone to Android via WhatsApp Backup?
You've probably wondered or maybe even seen an article saying you can restore your WhatsApp backup from iPhone to Android via WhatsApp backup.
Besides the fact that you're about to end up wasting your time going this route, it won't work.
Why?
Well, it's simple.
WhatsApp's end-to-end encryption only allows you to restore WhatsApp chats from iPhone to iPhone via iCloud, or Android to Android via Google Drive.
WhatsApp doesn't allow a direct transfer method available between Android and iOS platforms.
So, if you come across any 'guide' telling you that backing up your WhatsApp directly from iPhone to Google Drive or from iCloud to Android is possible, don't waste your time.
What we've listed in this article are only tested and actionable steps that work for you to choose from.
In this article, we've discussed 5 ways you can transfer your WhatsApp chats from iPhone to an Android phone: Mobitrix WhatsApp transfer, WhatsAppTrans Box, WhatsAppTrans, email, and WazzapMigrator.
Among these 5, Mobitrix WhatsApp Transfer remains the ideal and safest solution for you to try.
Losing some or all of your previous WhatsApp data shouldn't be the price you pay for switching from an iPhone to an Android phone.
With Mobitrix, you get to keep all your precious memories alive for as long as you choose.
Retain those memories today no matter which Android phone you switch to.