How to Transfer WhatsApp from iPhone to Android
'Hi, is there a way to transfer WhatsApp from my iphone 8 to Samsung S20? It drives me insane. I have too many precious on WhatsApp and I can't seem to find a solution, any ideas?' — From forums.imore.com
---
iOS and Android both do not offer straight methods for data motion between them. But some other sources could resolve this problem. They can be implied to transfer WhatsApp messages from iPhone to Android or from Android to iPhone. Today, We talk about the first one, and if you are interested in how to transfer WhatsApp from Android to iPhone, you can read my another article. Let's start!
Part 1. 1-Click to Transfer WhatsApp from iPhone to Android
The best way to transfer WhatsApp from iPhone to Android is to use Mobitrix WhatsApp Transfer. This third-party application is designed to help manage your WhatsApp messages and data in various ways, including transfer WhatsApp messages from iPhone to Android directly.
Here we will explain how to use Mobitrix WhatsApp Transfer to move WhatsApp from iPhone to Android.
Step 1: Install Mobitrix WhatsApp Transfer on your computer and run it. Next, connect the iPhone and Android to the computer with the USB line.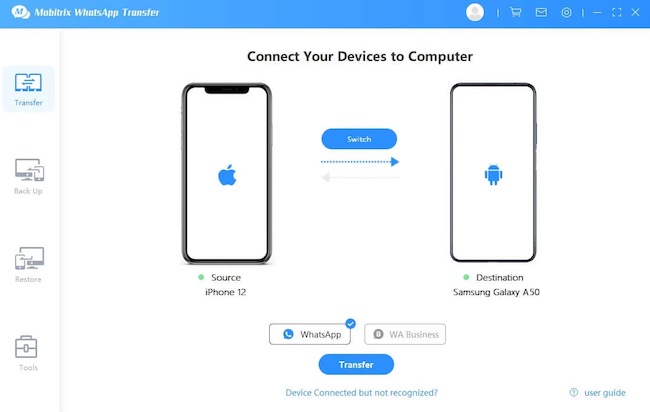 Step 2: Click "Transfer" to start the data-moving process.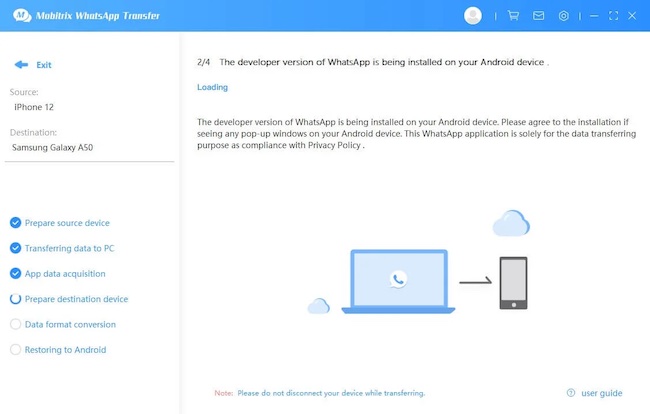 Step 3: During this whole process, please keep two machines connected to the computer. It may cost several minutes to several hours, which depends on the size of the data.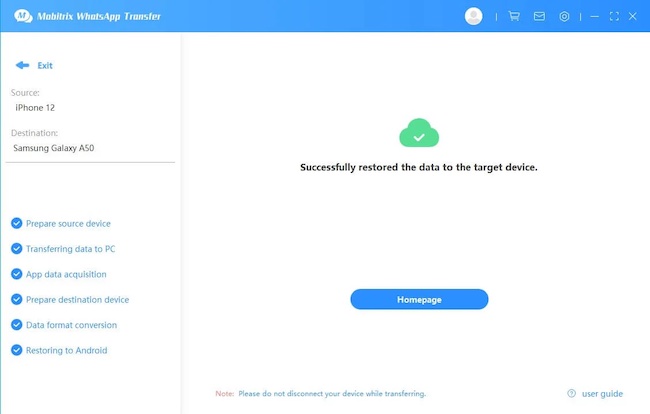 When the process finished, you will see the WhatsApp messages on your Android device.
Let's first focus on some of the features that make Mobitrix the ideal solution.
Move WhatsApp data from iPhone to Android with the most straightforward method. Also, it allows to transfer WhatsApp from Android to iPhone, iPhone to iPhone, and Android to iPhone for only several times of click.
Bulk transfer is supported. The WhatsApp chats and attachments (images, audios, emojis, files, etc) can be fully or partially transferred.
It is compatible with all popular machines such as iPhone 12, 11, iPhone 11Pro, iPhone XR, iPhone XS, Samsung Galaxy S20, and Huawei P40.
According to our Privacy Policy, your WhatsApp data are well protected and will not be leaked out.
Cons of this method:
This program should be downloaded on your computer.
You cannot preview WhatsApp messages before transferring.
Way 2. Transfer WhatsApp from iPhone to Android via Email Chat
Here is the step-by-step guide of the solution that uses email to transfer WhatsApp from iPhone to Android.
Step 1: Go to the "Setting" of WhatsApp on the iPhone, tap on "chat setting" ,and choose "email chat" from the list.
Step 2: Choose the chat history that you need to transfer. A window will pop up saying "Attaching Media will generate a larger email message". You should choose "Without Media" or "Attach Media" as you need.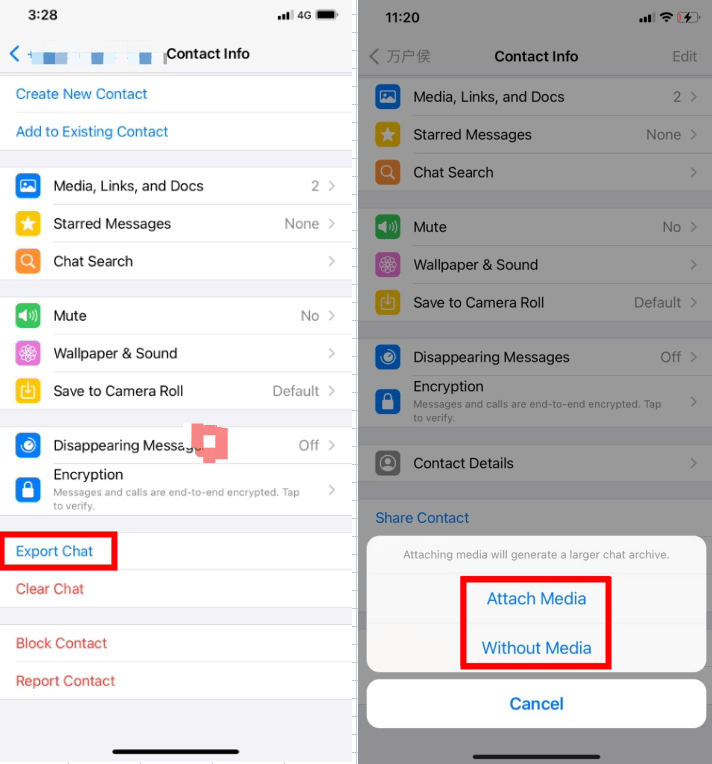 Step 3: Input your mail address and click on "send".
Step 4: Login to your email account on the Android device so that you can view the WhatsApp chats history through email. But you can't update WhatsApp data with WhatsApp application on the Android device.
Pros:
The process is straightforward, and no need to use other tools.
Cons:
You are not able to view the WhatsApp messages transferred via Email.
It may be out of work when the data size is enormous.
The link will expire in one month. Thus, the user must download the chat from the email before the deadline.
Way 3. Restore WhatsApp from iPhone to Android Using WazzapMigrator
WazzapMigrator is a data transfer app that allows users to transfer WhatsApp messages from iPhone to Android device conveniently. It is compatible with the OS/Windows system and ensures fast transferring speed. It quickly moves all types of files, like messages, photos, videos, and documents. Here are some key features that make the tool use only.
It can move both WhatsApp text messages as well as media files such as images, videos, etc.
Capable of migrating GPS information to Android device.
Here is the detailed guide on how to use WazzapMigrator:
Step 1: Launch iTunes on your iPhone, then connect your iPhone to your computer with a lightning cable. Choose "Summary" and uncheck "Encrypt Local Backup" option. Then tap on the "Back up now" option on the right side to start the backup process of the iPhone.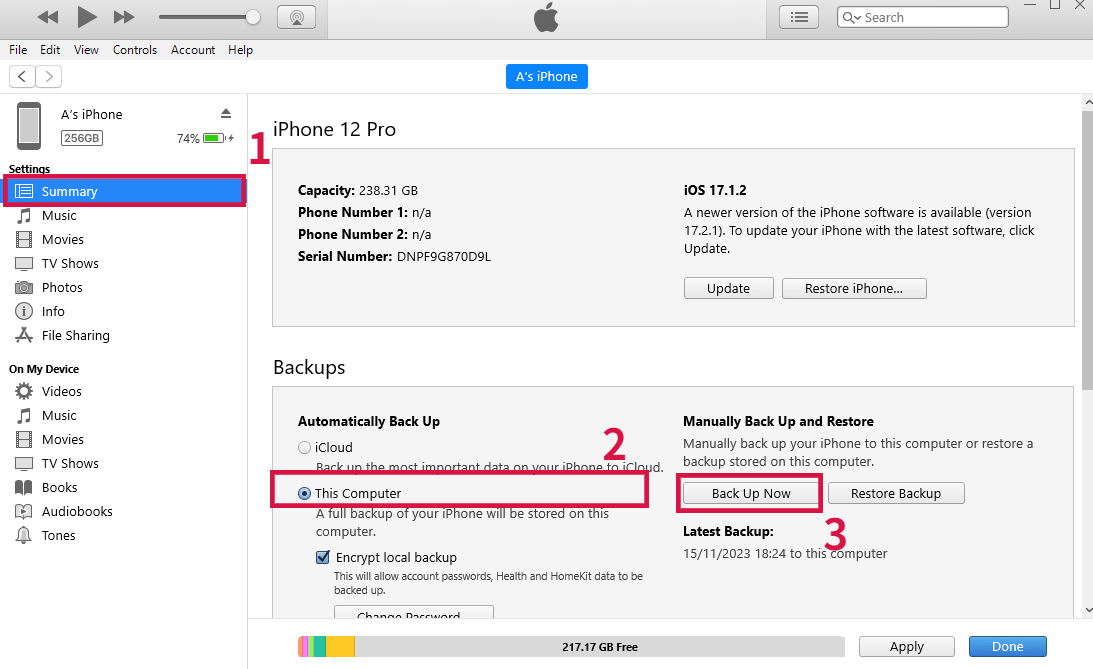 Step 2: Go to the WazzapMigrator Lite website, find the iBackup ViewerProgram and download it on your computer.
Step 3: Run the application, select the iOS device and tap on the "Raw Files" icon on the bottom right side of the menu. On the following screen, select "Free View" mode and click on the file of "AppDomainGroup-group.net.whatsapp. WhatsApp.shared".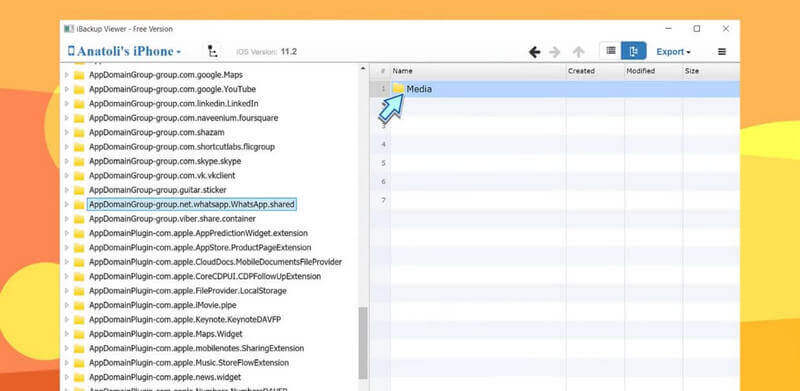 Step 4: Head on the right side of the menu, select the "ChatStorage.sqlite" file, then select the "Export" button. In the same menu of "ChatStorage.sqlite", open "Message Folder" and choose desired "Media" files. Hit the "Export" and remember to save them in the "ChatStorage.sqlite" file.
Step 5: Connect the Android device to computer. Find "File Viewer/Explorer" in Android and set up desktop Windows to surf files exported to the PC. Move media files and ChatStorage.sqlite file to the "Download" folder of the Android phone.
Step 6: Download and install the WazzapMigrator Lite application on your Android device so that it can scan and detect ChatStorage.sqlite on the device. After this process, tap on the "Start" button.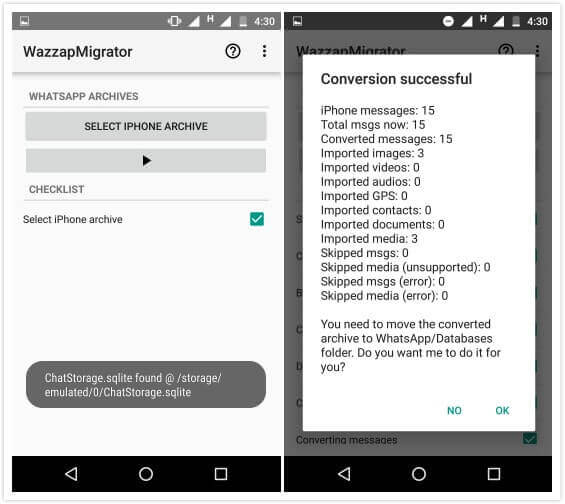 Step 7: Reinstall the WhatsApp application and finish this process by entering in any contact information used in iPhone.
Pros:
The technical team is supportive that it resolves different types of WhatsApp transfer problems.
It can transfer a variety of media files such as audio, photos, video, GPS, etc.
Cons:
It is reported that users faced issues such as missing messages when transferring WhatsApp messages to the other device.
This function does not support sync or backup from Google drive.
It is very complicated and not suitable for most users.
Important Note: Can We Transfer WhatsApp from iPhone to Android via Backup?
The solution of restoring WhatsApp backup from iPhone to Android directly via WhatsApp auto backup DOES NOT WORK. Because of WhatsApp's end-to-end encryption for its app data, you can only restore WhatsApp chats from iPhone to iPhone by iCloud, or Android toAndroid by Google Drive.
They don't offer solutions for motion between Android and iOS devices. Thus, other solutions of direct cloud to cloud or device to cloud transfer, such as backing up WhatsApp directly from iPhone to Google Drive or transferring WhatsApp directly from iCloud to Android, are also NOT possible.
Conclusion
Nevertheless, transfer WhatsApp data from iPhone to Android is not easy. Mobitrix WhatsApp Transfer provides the user with a safe and straightforward solution. It is reliable for transferring data from iPhone to Android. Don't hesitate and give it a try.