When switching from Android to iPhone, the first thing that would pop up in your mind is how to transfer precious data(such as your WhatsApp messages) cross platform.
However, there is no official solution to transfer WhatsApp from Android to iPhone(WhatsApp does not support cross-platform chat transfer-except iPhone to Samsung).
Yet, it is possible!
If you are a recent iPhone user and have been looking for a way to preserve old WhatsApp chats(on Android), you can follow 4 easy and accessible solutions in this tutorial.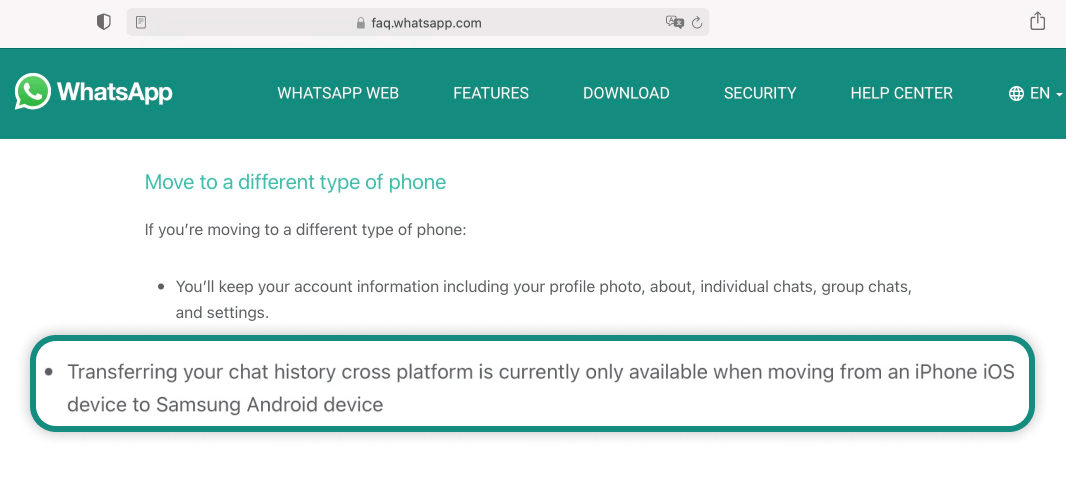 Can't transfer WhatsApp chat history officially
Maybe you have tried tons of other ways listed online also, but I guess they're either ineffective or end up getting you more confused. So the question remains:
Is It Still Possible to Transfer WhatsApp from Android to iPhone via Backup?
My answer to you is...Yes! You can back up the WhatsApp messages on your Android device [go to Settings > Chats > Chat Backup to do this], then restore the backup to your iPhone using a secure and pro WhatsApp transfer tool.
With that being said, I've tested 20+ third-party data transfer tools myself, in terms of their transfer speed, supported data ranges/types, etc., and finally narrowed down the list to 4.
If you want to move your WhatsApp messages from Android to your new iPhone, I recommend you take a look.
These methods are applicable anywhere, whether you are in India, the United States, the United Kingdom, etc.
Find Your Best Pick for WhatsApp Chat Transfers
Method 1: Transfer WhatsApp from Android to iPhone using Mobitrix WhatsApp Transfer (Best Way)
Unlike most, I never go for a solution just because it's a big brand or others tell me it's good. I always like to do my own research and feel for myself.
When switching from an Android phone to an iPhone, the first thing I want is convenience. I want to transfer all my files, contacts, pics, etc without hassles, better as soon as possible.
And I need assurance that all my precious memories like WhatsApp messages get transferred properly and safely since I didn't back them up just to lose them later.
It's indeed easy to find a myriad of third-party tools online, but not easy if I want one that gives me peace of mind.
After a series of experiments, I finally set my eyes on Mobitrix WhatsApp Transfer and walked out of this dilemma.
Simply follow the steps below to transfer WhatsApp from Android to iPhone.
Launch Mobitrix WhatsApp Transfer. Click Transfer .
Connect your Android phone and iPhone onto the PC. Click Transfer.

Initiate WhatsApp data transfer

Go to WhatsApp Settings and backup chats locally.

Backup WhatsApp chats locally

Install the developer version WhatsApp on your Android phone. Log in and tap Restore.

Restore chats to develope version of WhatsApp

WhatsApp Messages will be copied to the computer, which will be converted and restored by Mobitrix to your iPhone.

Copy WhatsApp data to computer

Your WhatsApp messages will be transferred from Android to iPhone.

WhatsApp Transferred from Android to iPhone
Note: Keep both devices connected until the transfer is completed. Once done,you'll be able to see all your WhatsApp data fully moved onto your iPhone.
Why Is Mobitrix The Best Solution for WhatsApp Transfer from Android to iPhone?
Easy-to-Use: I didn't need to grab a manual for every step when using this tool. The whole process took only 3 steps. Besides, its video tutorials helped me understand how it works right away.
Safe & Protected Privacy: As I noticed, all the data was only on my local computer during the transfer, giving me great relief from privacy leaks. Plus, I checked its encryption measures—— the same type of protocols used by banks, actually.
1-Click Direct Transfer: I got everything transferred – chats, files, media, videos, photos -- from my Android to iPhone without using Google Drive. And I didn't miss a thing. Surprisingly, I even restored some precious pictures sent 2 years ago from an Indian friend. You can imagine my amazement!
No Need to Uninstall WhatsApp: When I used this tool to restore WhatsApp backup from Android to iPhone directly, I didn't even uninstall my WhatsApp, but it still worked. It supports all iPhones and Android devices, such as iPhone 13, 13 Pro, iPhone 12, 12 Pro, Samsung Galaxy S21, Xiaomi, One Plus Nero 2, etc.
Method 2: How to transfer WhatsApp Data from Android to iPhone via WhatsAppTrans Box?
WhatsAppTrans Box is another useful tool I've discovered that can help transfer WhatsApp chat history across different operating systems.
Advantages
Completely free.
Support restoring chat history into the WhatsApp of a new device.
Support bulk transmission of data.
Support WhatsApp chat transfer among all types of smartphones.
Disadvantages
Only support transferring chat history for the past 3 months.
Only support WhatsApp text transfer. Other data types, such as pictures, videos, attachments, emoji/stickers, etc, are not available for migration.
You can check below for detailed instructions:
Step 1: Download the Toolkit of WhatsAppTrans Box.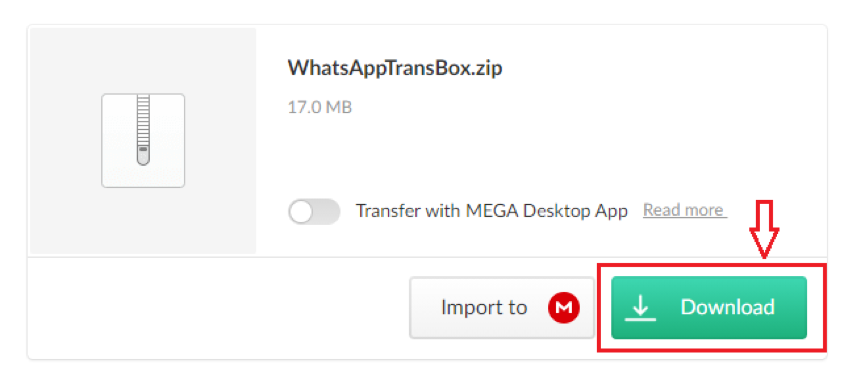 Download the Toolkit of WhatsAppTrans Box
Step 2: Extract the WhatsApp data from your Android phone.
Backup your WhatsApp data into your phone storage.

Backup your WhatsApp data into your phone storage

Connect your Android phone to your PC. Run [copywhatsapptopc] to copy the WhatsApp data into your PC.
Disconnect the Android phone and install an Android emulator. There are many emulator tools available on the Internet. Please select one for installation.
For example, here is an emulator option named Bignox.
Please set ROOT permission after installing the simulator.

Set ROOT permission after installing the simulator

Download WhatsApp from the official website, and then install WhatsApp on your Android emulator.
Note: Do NOT immediately log in to your WhatsApp right after your installation.

WhatsApp in Emulator

Run [copywhatsapptoandroid] to copy the WhatsApp folder on PC into the emulator.
Log in to WhatsApp on the emulator, and then you can restore WhatsApp backup on the emulator.
Extract the WhatsApp databases from the emulator. Run [pullwhatsapptopc] to copy the database directory to the PC to facilitate the subsequent transfer.

Note: the path of the database is /data/data/com.whatsapp/databases/.
Step 3: Transfer WhatsApp from Android to iPhone
whatsappandroid2iphone.exe is our core tool. It can help you transfer the WhatsApp data that you back up on your Android phone to your iPhone. On the other hand, it has a few limitations. It can only transfer your chat history for the past 3 months.
Execute [whatsappandroid2iphone].
Step 4: Restore WhatsApp from Android to iPhone
Download and install WhatsApp on your iPhone and log in.
Connect your iPhone to PC and execute [restorewhatsappdata].
Then, you can see your chat history on WhatsApp.
If you want to know how to transfer WhatsApp data from Android to iPhone (recent 3 months) like this, I'd recommend you to choose this WhatsAppTrans Box tool.
If you'd like to transfer all your past data wholly and in an easier way, then Mobitrix WhatsApp Transfer software is highly recommended.
And if you have a PC background, you can use WhatsAppTrans (Method 3) to save all your chats.
Method 3: Using WhatsAppTrans (free tool) to transfer WhatsApp from Android to iPhone
WhatsAppTrans is also a free tool. With it, you can successfully transfer your WhatsApp from Android to iPhone in most cases if you follow the instructions below step by step.
The key point of the tool:
WhatsAppTrans is a free tool.
WhatsAppTrans requires sufficient computer skills. Therefore it is not recommended for users with no tech background.
You might risk losing data due to incorrect practices. It cannot guarantee a 100% success rate for using this free tool.
This tool can transfer messages from multiple contacts at the same time, but you are not able to check messages on WhatsApp on your iPhone.
Instead, the chat history is available in the iPhone's "Files" App.
Steps to transfer WhatsApp using WhatsAppTrans:
You will first export the WhatsApp data from the Android device. Click 'Download' on Github.
Download customized version WhatsApp(.apk) or WhatsApp business(.apk) based on your needs.
And then, download the WhatsApp data export tool: ExportAndroidWhatsApp.exe



How to download WhatsAppTrans

Note: Open your Android device's file manager and ensure the WhatsApp directory exists. If not, please DO NOT use this method to transfer the WhatsApp chats to iPhone/iOS devices.
Use WhatsApp local backup feature to back up your data to an Android device [Please ensure that you successfully backup the WhatsApp data at this step, or you may lose the data]. After, you need to delete the official WhatsApp and install the customized version of WhatsApp. Next, open the personalized version of WhatsApp and login into your WhatsApp account. Please allow the storage permissions the first time. You should see the restore screen now, and please click restore data.
Open the Android file management and find the "WhatsApp" folder. Under this path, please create a new file named "data. flg". Once you have finished, open the customized WhatsApp and wait for few seconds (the waiting time depends on your data size). After that, re-open the "WhatsApp" folder and ensure you have a new file named "ok.flg and a new folder named "chatpath", which means you successfully exported the WhatsApp chat history of your Android device.
Connect your Android device to the PC; copy and paste the "WhatsApp" folder to your PC.
Open the CMD terminal on the PC and run the following command:
ExportAndroidWhatsApp.exe WhatsApp path
All your chat history will be saved on a "txt" file under your WhatsApp directory if successful.



How to transfer WhatsApp via WhatsAppTrans

Download iTunes and connect your iPhone device to the PC.
Use the file management feature to import the images and other media files from the "Media" folder (under the WhatsApp directory) to your iPhone. We recommend that import all media files to iPhone's "Photos", which allows you to check all WhatsApp images, photos, videos, and audios on your iPhone.
You may want to import all txt files of the "txt" folder (Under the WhatsApp directory) to your iPhone as well as import to the "Photos" directory. In this way, you can check all chat history by click on your iPhone. We also recommended you send these txt files to your secondary account or your relatives, and it can permanently keep these WhatsApp messages from your Android device to your iPhone.



Transfer WhatsApp chats via WhatsAppTrans
In a word, if you have sufficient tech knowledge, we suggest that you choose the WhatsAppTrans tool.
If you don't and still need to transfer WhatsApp data, we highly recommend Mobitrix WhatsApp Transfer software as the first choice. It is designed for all WhatsApp users regardless of their skills and backgrounds.
Method 4: Move WhatsApp Chats from Android to iPhone Using Email.
Email is another effective way to move your WhatsApp data from an Android to your iPhone. I've added this in because it's super common and easy to use.
Be careful though: you can only do this by transferring your chats in succession, which could end up taking up all of your time.
Here's how to go about it;
On your Android device, open WhatsApp and select the WhatsApp chat you'd like to transfer to the iPhone.
Now, tap on "Settings > More > Export Chat >Email" and choose whether you'd like to attach media or not.
Enter the recipient email address and hit the Send button. Now log in the recipient email on your iPhone. You should be able to access the attached chats.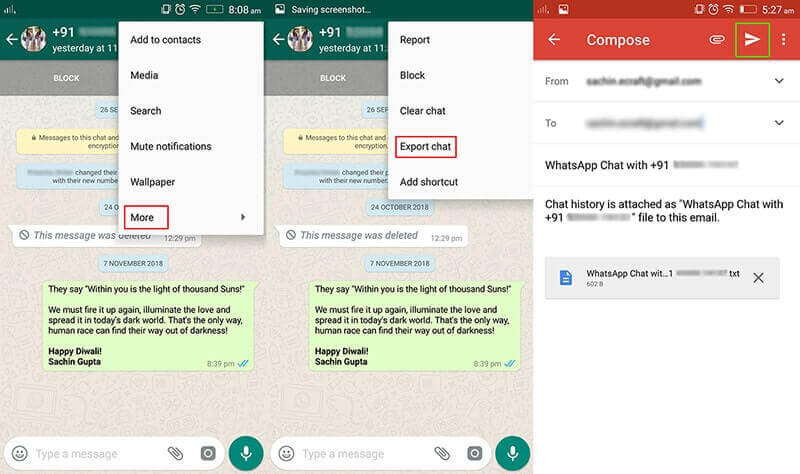 Export WhatsApp via Email
Pros
It's a relatively simple way to transfer WhatsApp to a new phone.
Cons
You can only use it to transfer WhatsApp messages one after another.
You can't open the chats in WhatsApp on the new iOS device since they are attached as ".txt" documents.
You can only transfer up to 10,000 latest messages with attachments and 40,000 messages without media attachments.
Tips: Using a Phone Number/SIM card/Google Drive DOES NOT transfer WhatsApp messages from Android to iPhone.
You've probably wondered or even seen an article saying it's possible to transfer WhatsApp backup from Android to iPhone via Phone Number, SIM card or Google Drive WhatsApp backup.
I tried them...not working.
The change number feature only allows you to change the phone number associated with your WhatsApp account. Yet your local backup is not associated with the Phone Number or Sim Card. Therefore, it won't help you restore your backup data when you take a new SIM card to your iPhone and install WhatsApp.
Instead of wasting time on something that doesn't help, you may want to skip trying the Phone Number/SIM card method and save yourself some energy.
I have also tried to use Google Drive to backup and transfer my WhatsApp chat history.
Unfortunately, this method did not work as well because the data saved on Google Drive is not compatible with iPhone. They are not using the same format while saving WhatsApp data.
FAQs of WhatsApp Transfer

FAQs of WhatsApp Transfer
Can I restore WhatsApp messages from google drive WhatsApp backup?
Yes. You can use a transfer tool like Mobitrix to restore your WhatsApp backups from Google Drive backups onto your iPhone. But if you are looking for ways to restore them directly, it's not possible. This is because Google Drive and iCloud use different protocols and therefore are not compatible with each other's databases.
Is there an official way to transfer WhatsApp data between iOS and Android?
Currently no.
Even though WhatsApp has been making efforts to resolve complaints that it doesn't support direct transfer of WhatsApp chat history between iOS and Android, it's still a huge tech barrier to conquer, given its huge data volume from worldwide users including 487.5million in India, 118.5million in Brazil and 84.8million in the United States.
Instead of waiting for the WhatsApp Official to launch a chat transfer method, I recommend you try some indirect transfer tools like Mobitrix to get all your WhatsApp files transferred between Android and iPhone.
This way, you can save time, and keep your precious WhatsApp history.
How should I backup and restore WhatsApp messages?
WhatsApp is an essential part of our lives. We keep in touch with friends, families and clients on WhatsApp. Losing such chat history in a phone switch can impact our work and life a lot.
If you are an Android user, normally backing up your WhatsApp data on Google Drive is enough.
However, in case you switch onto an iPhone in the future, hence risking losing all your WhatsApp data, I would suggest you backup your WhatsApp chat data onto your computer with Mobitrix beforehand. Later, you can use it to restore your WhatsApp messages from Android backup to your new iPhone.
If you are an iPhone user and haven't paid for iCloud services, it's best to just back up your chats onto your PC. Then you can restore your WhatsApp messages to any phone in the future.
As a major message app used across India, Europe, and America, WhatsApp keeps us connected with our families, friends, and clients.
If you are still searching for how to transfer WhatsApp data from Android to iPhone, those chat histories are meaningful and special for you.
In this article, we touched on the 4 effective ways you can transfer WhatsApp from Android to iPhone: Mobitrix WhatsApp transfer, WhatsAppTrans Box, WhatsAppTrans, and Email.
We also stated clearly why our exclusive pro tool – Mobitrix WhatsApp Transfer– remains the best, simplest and safest option to try.
There are various ways also mentioned in this article. No matter which method you choose, you should do it now and do it today. Let's keep all the memories!