WhatsApp enjoys a user base of 2.2 billion, making it a prime target for scammers seeking valuable accounts.
In 2022 alone, a significant breach led to almost 500 million user records being sold after a data leakage.
For your safety, it's crucial to understand how to prevent potential WhatsApp hacks. In this guide, I'll provide steps to ensure your account remains secure.
Additionally, you'll learn the signs that might indicate your WhatsApp account has been hacked and the measures to take if you believe it has been compromised.
How to Detect if Your WhatsApp Account Has Been Hacked
Detecting unauthorized access to your WhatsApp account is crucial for your privacy. Here are some signs to watch out for, although they don't encompass all potential indicators:
1. Unexpected Messages: Receiving a surge of messages from unfamiliar contacts or from people you've removed from your list might suggest unauthorized access to your account.
2. Mysterious Outgoing Messages: If you discover messages sent from your account that you don't recall writing, especially those containing suspicious links or requests, it's a red flag that someone might be controlling your account.
3. Login Issues: Be careful if you receive multiple verification codes from WhatsApp without prompting. These codes are typically required when registering a new device on WhatsApp. If you didn't initiate this, someone else might be attempting to. Continuous ignorance of these messages can result in being locked out of your account – a direct sign of a breach.
4. Altered Profile Details: A changed profile picture, name, or status that you didn't update can indicate that someone else has access to your account.
5. Unfamiliar Login Notifications: WhatsApp sends notifications for logins from new devices. If you get a notice about a login from an unfamiliar location or device, especially if you haven't logged in recently, it's time to investigate.
6. Uninitiated WhatsApp Calls: If you find records of calls made to unfamiliar numbers or even known contacts that you haven't dialed recently, it's wise to investigate if your account has been accessed by someone else.
7. Unrecognized New Contacts: If unfamiliar contacts appear in your list, especially after logging in on a new device, it might hint at unauthorized access. Remember, WhatsApp can auto-add contacts after a fresh sign-in.
8. Password Reset Alerts: If you're receiving unsolicited password reset prompts from WhatsApp, it could be a sign of someone attempting to hack your account using various methods, including brute force attacks where they guess your password repeatedly.
9. Unknown devices are linked to your WhatsApp account: It's easy to check if other unknown devices are linked to your account.
Open WhatsApp on your device.

For Android users, tap the three vertical dots (kebab icon) on the top right. iPhone users should tap the gear icon in the bottom right corner.

Next, select Linked Devices.

If there are devices listed that you're not familiar with, it's a clear indication of potential unauthorized access.

Immediately remove these unknown device links.
What should I do if my WhatsApp account has been hacked?
1. Regain Control of Your WhatsApp Account
If you've unintentionally clicked on a dubious link, scanned an unfamiliar QR code, or engaged in similar activities and consequently lost access, your immediate goal should be to regain access to your account.
Begin by logging in using your phone number.

You'll receive a six-digit verification code on your mobile. Input this code to continue.

Doing so will automatically sign out your account from any other device, including the potential hacker's.
If you haven't previously activated two-step verification and the hacker hasn't enabled it post-gaining access, you should regain control once the verification code is entered.
However, if the hacker initiated two-step verification, you won't have the necessary code. In such instances, a waiting period of seven days is mandatory for the two-step verification to reset, allowing you to regain access afterward.
2. Log Out of Your Account From All Devices
While WhatsApp Web allows usage without having your phone nearby, it poses a risk. If hackers have synced your WhatsApp account to the WhatsApp Web or the desktop app, they could potentially use your account covertly.
To prevent unauthorized access, it's essential to disconnect your account from any unrecognized devices. Here's how:
Open WhatsApp on your main device, where you've regained control.
For Android:
Tap on the three vertical dots located in the top-right corner.

Choose Linked Devices.

Review the list for any unfamiliar device connections and remove them. To do so, tap on the suspicious device and select Log Out.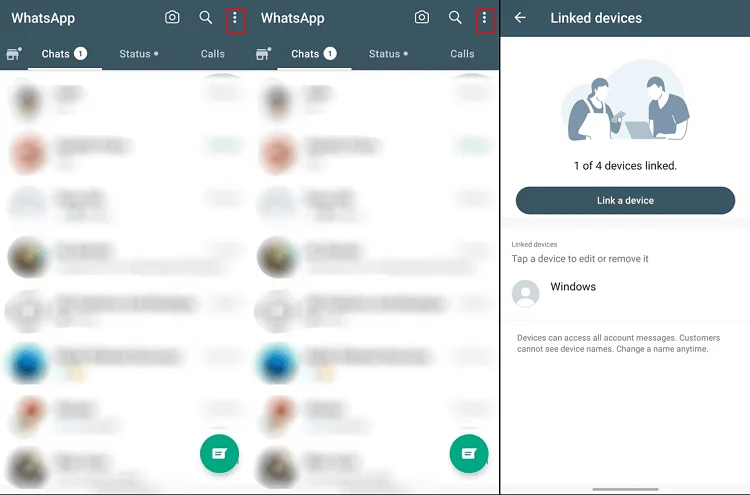 For iPhone:
● Navigate to Settings, then Linked Devices.
● Disconnect any devices you don't recognize.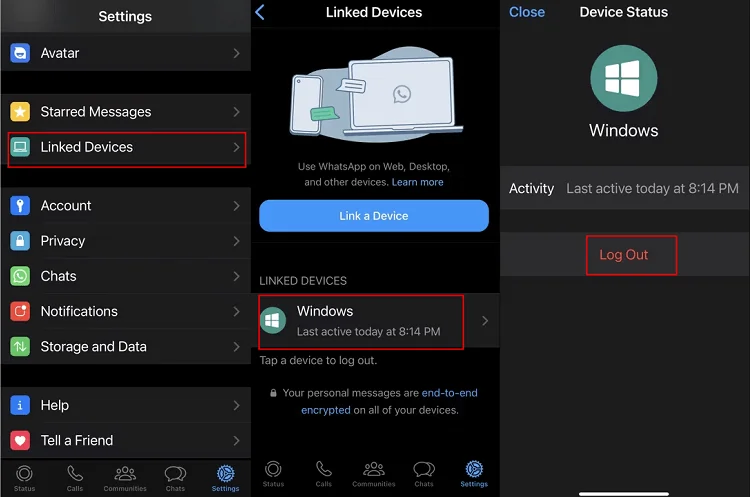 If your account faces recurrent unauthorized access and you're considering more drastic measures, you can request WhatsApp to disable your account temporarily.
Email WhatsApp support at support@whatsapp.com.
In the email body, include the statement "Lost/Stolen: Please deactivate my account."
Remember, once your account is deactivated, you'll have a 30-day window to reactivate it. After this period, the account will be permanently deleted.
3. Alert Your Contacts About the Security Breach
Upon experiencing a hack, it's not uncommon for cybercriminals to exploit WhatsApp accounts by posing as the owner. They might approach your contacts seeking money or sensitive data or distribute malicious links that could compromise others.
In light of this, once you've safeguarded your account:
Notify your entire contact list of the breach. This heads-up will make your contacts vigilant, discouraging them from falling for scams or sharing crucial data.

Contacts who've possibly interacted with the hacker can take immediate actions like halting any money transfers they initiated or ramping up their security measures.
4. Block Unknown Contacts and Leave New Groups
It's not rare for hackers to utilize compromised WhatsApp accounts for promotional endeavors, phishing, or spreading spam to an array of contacts or within groups. They might even join diverse groups and inundate them with spam messages.
In response to this:
Scrutinize your recent individual chats and group interactions for any uncharacteristic behavior or messages that could mar your standing or trustworthiness.

Keep those involved in the loop about the security lapse.

Promptly block any unfamiliar contacts. To do so in WhatsApp: open the specific chat, click on the three vertical dots in the upper right, select More, and opt for Block. Confirm when prompted.

For groups you've unintentionally become part of or wish to depart from: Navigate to the group, hit the three vertical dots in the top right, choose More, then Exit group. Confirm your decision when prompted.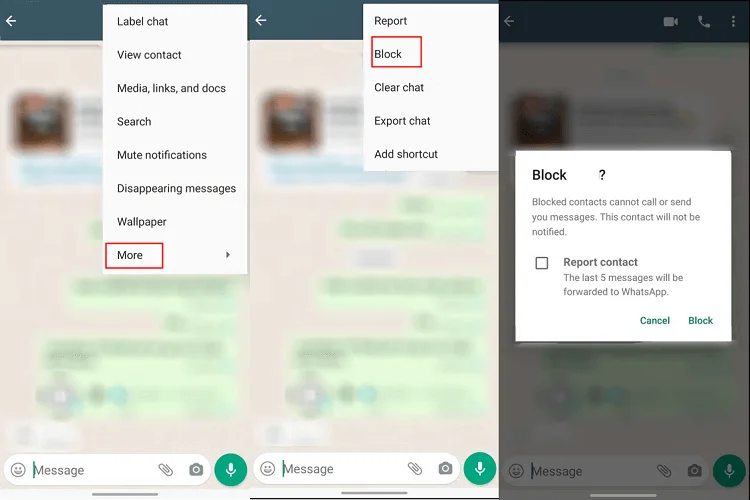 How to Fortify Your WhatsApp Against Potential Hacking Attempts?
1. Guard Your Device Diligently
Your smartphone is your gateway to numerous digital realms, WhatsApp being just one of them. Ensuring it remains inaccessible to strangers is crucial. If someone nefarious accesses your phone, they could swiftly manipulate your WhatsApp settings, alter associated phone numbers, authenticate dubious activities using verification codes, or even deploy malicious software. A compromised phone doesn't just endanger your WhatsApp—it jeopardizes your overall digital safety.
2. Stay Updated
Regularly updating your WhatsApp application enhances its security framework. Such updates frequently address and rectify newly unearthed vulnerabilities, thereby bolstering your defense against potential hackers.
3. Beware of phishing links and messages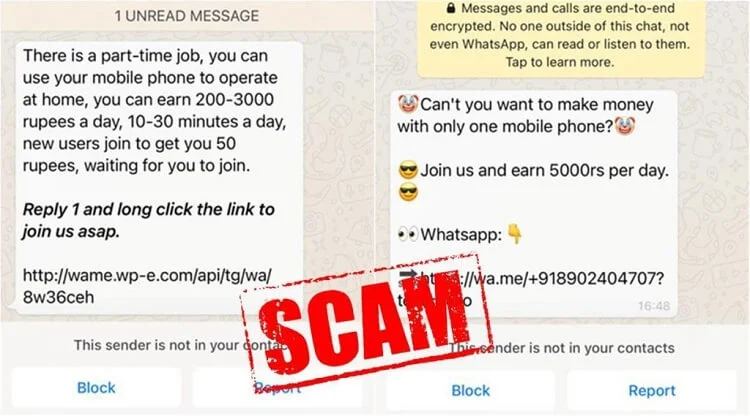 Phishing is a deceptive technique wherein hackers dispatch fraudulent messages or links intending to hoodwink you into disclosing personal credentials. Such miscreants might masquerade as trustworthy entities—perhaps a friend, family, coworker, or even an official institution—to ensnare you.
They might lure you with urgent pleas for assistance, requiring you to access a link or open an attachment. Alternatively, they might warn you of account suspensions or deactivations, urging you to affirm your identity via verification codes or PINs.
Adhere to these safety guidelines:
Refrain from interacting with dubious links or attachments on WhatsApp or elsewhere.

Never divulge your verification code or PIN, especially if solicited over WhatsApp. Remember, WhatsApp will never inquire about these details through email, texts, calls, or any medium.

Upon encountering potential phishing content on WhatsApp, promptly report it. Tap the message, opt for Report, and then either Report contact or Report group. This will also block the sender, preventing further contact.
4. Activate Two-Step Verification for Enhanced WhatsApp Security
Two-step verification boosts your WhatsApp security by necessitating a self-generated six-digit PIN alongside the standard verification code you receive when registering your phone number with the app.
Here's how to set it up:
Launch WhatsApp and click on the three dots located in the top right corner.

Navigate to: Settings > Account > Two-step verification.

Click on Enable. Then, key in a unique six-digit PIN of your preference, confirming it by entering it a second time.

For added security, you can provide an email address. This email will be instrumental if you ever need to reset your forgotten PIN. Ensure the email address is both valid and accessible only to you.

Conclude the process by tapping Done.
With this feature enabled, any future registration of your phone number with WhatsApp will prompt for this PIN. This means that even with physical access to your phone or SIM card, unauthorized users can't access your WhatsApp without the PIN.
5. Use a Lock App
While WhatsApp doesn't inherently come with a lock feature, considering a credible third-party lock application can elevate your account's security.
6. Steer Clear of Public Networks
Public networks, often being less secure, can be potential hotspots for malicious activities. Whenever possible, avoid accessing sensitive apps like WhatsApp when connected to such networks.
7. Log out of WhatsApp Web and other devices
WhatsApp Web, allowing you to synchronize WhatsApp on your computer via a QR code, is undeniably handy. It facilitates quicker typing and a better multimedia experience. However, the convenience shouldn't overshadow security concerns.
Always ensure you log out after using WhatsApp, whether on mobile or desktop, especially if the device isn't exclusively yours. Such discipline enhances your defense and makes it easier to track suspicious sessions. Remember, WhatsApp promptly notifies you of any new log-ins, making any unauthorized access immediately noticeable.
How to transfer WhatsApp data to my new phone securely?
Upgraded to a new phone? Ensure a smooth and secure transfer of all your WhatsApp data using our dedicated tool, Mobitrix WhatsApp Transfer. This user-friendly software guarantees a seamless transfer experience, making sure all your data is migrated safely.
Key Features of Mobitrix WhatsApp Transfer:
Efficiency: Transfer up to 2 million WhatsApp messages between devices effortlessly.

Comprehensive Data Transfer: Migrate all types of WhatsApp content, from individual and group chats, media files (like videos, photos, and documents), voice memos to emojis and stickers.

Cross-Platform Compatibility: Fully compatible with the latest iOS (16) and Android (12-Snow Cone) versions.
With just a few clicks, you can trust that your WhatsApp data will be securely moved to your new device.
How can cybercriminals hack your WhatsApp account?
According to CloudSEK, cybercriminals employ a clever trick that involves manipulating call forwarding services of telecom operators. Here's how it works:
Hackers send a number that appears to be a legitimate service request for call forwarding when the user's phone is occupied or on another call.

As soon as the victim places a call to the provided number, hackers divert the victim's calls to their own device.

Simultaneously, the cybercriminal begins the WhatsApp registration process, selecting the option to receive the OTP via a phone call.

Since the user's calls are now being forwarded to the attacker's device, the OTP call goes straight to the hacker.

Users are typically deceived into dialing numbers such as *67<10 digit number> or 405<10 digit number> to initiate the call forwarding.
Kolkata Police Warns WhatsApp Users of Scam
The cyber cell of Kolkata Police has alerted WhatsApp users about a recent scam that uses impersonation on Facebook as a starting point. Two complaints were lodged by a student and a businessman, revealing that cybercriminals hacked their Facebook profiles and reached out to their contacts via Messenger. The scammers posed as yoga class organizers, particularly around World Yoga Day on June 21.
Scam Details:
Fraudsters impersonate the victims, invite contacts to join yoga classes, and send a clickable link.

Upon clicking the link, users are prompted to share a six-digit OTP.

This OTP is actually a WhatsApp verification code. When shared, it allows the scammer to take control of the victim's WhatsApp from a different device.

In this scam, yoga classes were the bait used to retrieve the verification code from victims.
Misuse of Hacked Accounts:
Once in control, criminals pose as the victims to solicit money from their contacts, often citing emergencies. In some instances, they have blackmailed victims, demanding cryptocurrency investments in exchange for restoring WhatsApp access.
Kolkata Police, through their Facebook page, advised users to be wary of such messages and refrain from sharing OTPs, even if requested by known contacts.
FAQs About Whatsapp Hacked
How can I determine if my WhatsApp account has been hacked?
While you can retrieve account details through WhatsApp's support center, the report you receive (within three days of your request) doesn't specify who may have accessed or compromised your account. However, by navigating to Linked Devices (as outlined in our prior instructions), you can identify suspicious devices. If there's an unfamiliar device, it's a clear indication of a potential breach.
Can deleted WhatsApp messages be viewed by hackers?
Given WhatsApp's end-to-end encryption and the fact that messages are saved directly on your device, extracting your deleted chats from another phone isn't straightforward. Nonetheless, if someone unauthorized gains physical access to your phone, they might attempt to recover backup data. If they try restoring your chat history using your phone number, a verification code will be sent to you. Should they enter this code on their device, they'll access your chat backup. However, if you log into your WhatsApp, their session will be terminated.
Is it possible for hackers to view my WhatsApp chats and voice notes?
Rest assured, WhatsApp, a Meta subsidiary, boasts end-to-end encryption, ensuring that all app data is encrypted and stored exclusively on your device. Hence, even if someone gains access to your account from a different device, your previous conversations remain safe.