Steps to Download and Install GBWhatsApp for Android
GBWhatsApp is unavailable on the Google Play Store, so you will need to download it from the web.
Different GBWhatsApp Developers
Multiple software developers are creating and releasing various MOD versions of WhatsApp. They include AlexMods, Aero Mods (Aero WhatsApp), Fouad Mods, NSWhatsApp, etc. AlexMods is also behind the WAPlus and GBWAPro apps. You can download the latest version of GBWhatApp Plus and other MOD versions of WhatsApp using the links in the table below.
GBWhatsApp APK File Details
GBWhatsApp can run on most Android phones, but there are a few exceptions. Hence, before downloading GBWhatsApp, you should learn the file details to determine if your phone supports the app. Use the table below to check.
| App Name | Version | Software Category | Size | Requirement | Root | Last Update | Total Downloads | Rating |
| --- | --- | --- | --- | --- | --- | --- | --- | --- |
| GBWhatsApp | 19.52.3 | WhatsApp Mod | 56MB | Android 4.4 and above | No Root required | 1 Day ago | 10M+ | 4.4/5 |
| GBWhatsApp Pro | 17.20 | WhatsApp Mod | 50 MB | Android 4.4 and above | No Root required | 1 Day ago | 5M+ | 4.2/5 |
| GBWhatsApp (HeyMODs) | 2.22.11.75 | WhatsApp Mod | 60 Mb | Android 4.1 and above | No Root required | August 4, 2022 | 1M+ | 4.0/5 |
| GBWhatsApp (Fouad MODs) | 9.52 | WhatsApp Mod | 71.2MB | Android 4.4 and above | No Root required | 1 Day ago | 8M+ | 4.0/5 |
Steps to Install GBWhatsApp
Once you have successfully downloaded GBWhatsApp, you can install it. Still, you will need to tweak your phone settings first. The steps below will guide you through the installation process.
1. Allow installation of apps from unknown sources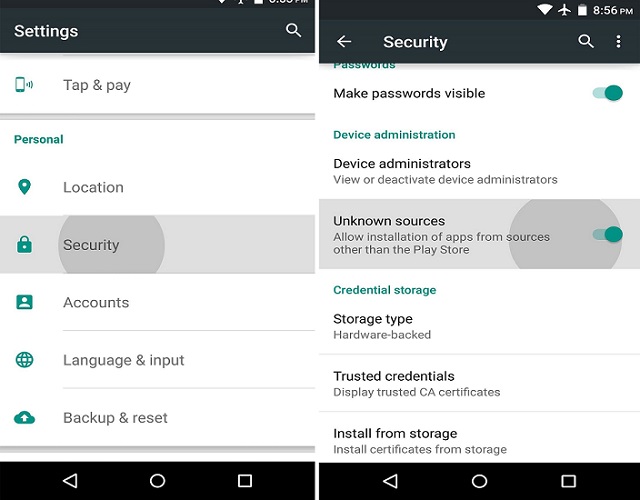 Go to your device Settings.
Tap the three-dot menu on the upper right side, then tap Special access.
Scroll and tap Install Unknown apps. Locate the app you used to download GBWhatsApp and toggle the switch next to it to turn it on.
2. Launch your file manager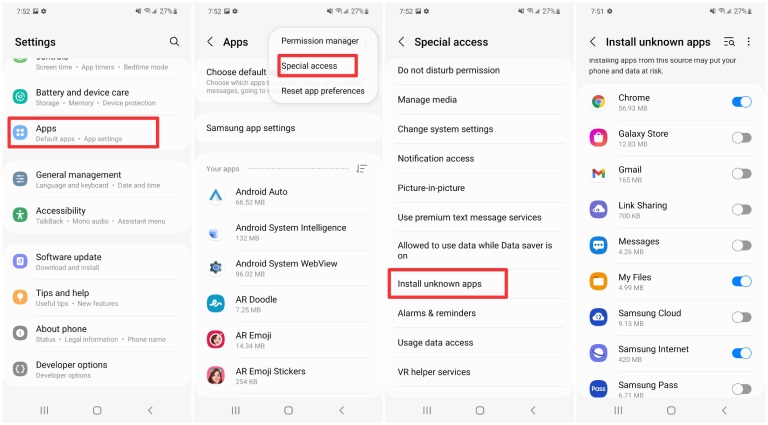 Open the File Manager, locate the GBWhatsApp APK you downloaded, and tap on it.
3. Install GBWhatsApp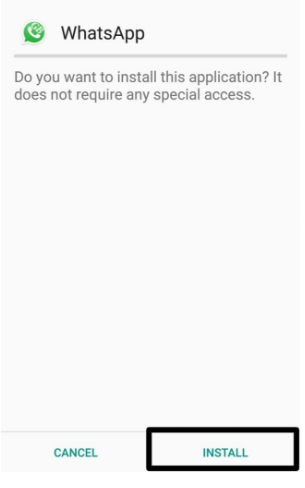 Once the APK has opened under the package installer, tap Install, then wait for the installation process to complete. GBWhatsApp is now successfully installed.
GBWhatsApp vs. Whatsapp - The Differences You Need to Know
GBWhatsApp functions the same way as regular WhatsApp, but it has multiple extra features that set it apart. The following is a table illustrating the key differences between the two apps:
| Feature | GBWhatsApp | WhatsApp |
| --- | --- | --- |
| Status Download | | |
| Hide online status | | |
| Themes Supported | 50+ | 2 |
| Customizable themes | | |
| DND Mode | | |
| Freeze last seen | | |
| Anti-delete status/message | | |
| Remove the 'forwarded' message tag | | |
| Message users not on the contact list | | |
| Maximum media sharing file size | 100 MB | 16 MB |
| Hide blue ticks | | |
| Message forwarding limit | 5 chats | 250 chats |
| Maximum pinned chats | 3 | 1000 |
| Image sharing limit | 100 | 30 |
| Custom chat wallpaper per contact | | |
| Confirm before sending the sticker | | |
Introduction to GBWhatsApp Features
GBWhatsApp has many fascinating features that are not available on regular WhatsApp. Below is a list of some unique features:
Auto Reply
This enables you to reply to messages anytime. Auto-reply is limited to WhatsApp business but is available on GBWhatsApp.
Multiple launcher icons
You can change the appearance of the WhatsApp icon in the app menu and the notification bar.
DND Mode
Do not disturb allows you to disable the internet connection for WhatsApp without having to switch off mobile data or Wifi or put your phone on airplane mode.
Lock a chat
If you want to secure a specific chat, you can lock it using a password without password-protecting the entire app.
Hide blue ticks
This lets you hide blue ticks without disabling read receipts. GBWhatsApp also enables you to select whether to hide blue ticks from contacts, groups, or both.
Hundreds of themes
You can customize how your WhatsApp looks by leveraging one of the seemingly endless themes available for free. Furthermore, you can customize the theme you choose.
Download statuses
GBWhatsApp lets you download statuses uploaded by your contacts, whether images or video.
Amazing font
This feature enables you to change the font of the entire app if you don't prefer the default font.
Anti-revoke messages
Once you activate this setting, you can see deleted/revoked messages or media in groups and chats. You will also be able to see if someone deleted a message.
Alter contact media visibility
You can restrict photos or videos sent by a specific contact from showing up in your device's gallery. Such media will only be visible within the chat.
Message a number
GBWhatsApp allows users to text a number directly without adding it to their contact list.
Fancy tick styles
With this WhatsApp mod, you can alter the design, color, and style of the gray and blue ticks in your inbox.
Voice changer
You can use 10 voice effects to change how you sound on WhatsApp voice notes.
Restrict WhatsApp calls
Select who can WhatsApp call you and set a notification to display to those you restrict from reaching you via a WhatsApp call.
View contact logs
Contact logs let you see who came online, when they changed their profile pictures, etc.
Hide pop-up notifications
This in-app feature enables you to prevent WhatsApp pop-up notifications from appearing on your screen without altering the phone settings.
Send multiple images at once
You can send up to 90 pictures at a go.
Hide media from the gallery
This feature allows you to prevent your WhatsApp photos, videos, or GIFs from showing in your gallery.
Best Image Quality
The standard WhatsApp compression algorithm makes it hard to send high-quality photos. However, on GBWhatsApp, you can send pictures in high-quality.
Contact online toast
This tiny pop-up alert lets you know when one of your contacts comes online.
Translate before sending text
Once you type in a message, you can translate it into one of more than 20 languages before sending it. Received messages are also translatable.
Extended video status limit
GBWhatsApp lets you post videos 7 minutes long on your status.
Pros and cons of using GBWhatsApp
Knowing the benefits and risks of using GBWhatsApp can help you decide whether to use it. Below are the pros and cons of GBWhatsApp.
Prevent access by unauthorized people: Privacy protection is one of the most significant advantages of using GBWhatsApp. In addition to adding a PIN to protect all chats, you can also add PIN to lock an individual chat.
Better interface: GBWhatsApp doesn't limit you to a light and dark theme. Instead, it offers users hundreds of themes in all colors and designs. These themes are also customizable so you can redesign them to your liking. You can also customize the app layout.
Dual WhatsApp: GBWhatsApp can run alongside the official WhatsApp app or other WhatsApp mods. This allows you to have more than one WhatsApp account on your phone. With GBWhatsApp, you don't need to carry two smartphones if you have two WhatsApp accounts.
Alternative version of WhatsApp business: GBWhatsApp has features that are only available in the commercial version of WhatsApp , such as setting up auto-replies.
WhatsApp business alternative: With GBWhatsApp, you can leverage features such as Auto-reply, which are only available on the WhatsApp business version.
Bigger broadcasts: The original WhatsApp limits broadcast to 256 contacts, but GBWhatsApp extends this limit to 600. This feature can enable you to avoid creating multiple broadcast lists.
Advanced privacy options: This WhatsApp mod allows you to customize your privacy options. For example, you can select whether to hide or show your online status, typing status, blue ticks, gray ticks, etc.
Extra features not available on WhatsApp: GBWhatsApp has so many extra features not contained in the original WhatsApp. These features make WhatsApp more convenient and improve your user experience.
Risk of account ban: WhatsApp does not support GBWhatsApp and warns people against using WhatsApp mods. Hence, WhatsApp occasionally bans the accounts of people using GBWhatsApp. The bans often last only a short time, but you are also barred from using the original WhatsApp once you are banned.
No official website: There is no official website for GBWhatsApp, so there is no one to hold accountable or complain to if your data gets leaked. Also, lacking an official webpage makes updating GBWhatsApp a nightmare. There's always the risk of downloading malware from a page masquerading as a natural source for GBWhatsApp.
Unverified by Play Protect: GBWhatsApp is not on Google Play Store, which could be because it does not meet the Store's terms and conditions, including privacy and security. As a result, it is not verified by Play Protect.
It may contain hidden viruses or malware: GBWhatsApp is hosted on a different server from the original WhatsApp. This server is likely less secure, increasing the chances of injecting malware into your phone. Also, some sites that claim to be genuine sources for GBWhatsApp offer alternatives that are unsafe or riddled with ads.
Your messages are not safe: Due to the privacy and security shortcomings of GBWhatsApp, there is no guarantee that your WhatsApp messages are safe.
Risk of data leak: If you send emails with sensitive information, please consider not using GBWhatsApp. GBWhatsApp can be compromised, and third parties can access your data. Hackers can use your phone to access other data, such as financial information.
No automatic updates: GBWhatsApp does not update automatically. So you need to do it manually every time there is an update to make sure to get all its essential features. For example, it released an improved anti-ban feature in January 2023 that puts you at risk of being banned if you don't update in time.
FAQs About Using GBWhatsApp
Here are some common problems you may encounter while using GBWhatsApp and their solutions.
GBWhatsApp is a WhatsApp modification. This means that it is an unofficial version of WhatsApp that has been customized to offer more features than the original version. The mod is created using WhatsApp's source code, but WhatsApp does not officially license this.
However, GBWhatsApp retains all the features available on the original WhatsApp. It was initially created by a developer known as Atnfas Hoak or Omar, but other developers have since joined.
No. WhatsApp doesn't support GBWhatsApp since the latter is a mod version created by third-party developers. Thus, the software is neither legal nor official. Since, as stated above, the developers use WhatsApp's source code without an official license, their use of it is technically a property violation.
No. GBWhatApp is unsafe to use as you may get banned from WhatsApp, but the app itself is not harmful to your phone. Another primary risk comes from the many websites and third-party links that claim to offer GBWhatsApp.
They may provide a version injected with viruses or an outdated version prone to exploitation. You can protect your phone by downloading GBWhatsApp from trusted sites like this guide.
By installing GBWhatsApp, the original WhatsApp, and other WhatsApp mods, you can run more than 50 WhatsApp accounts. Since you can register a unique WhatsApp number on each mod you install, you can run as many accounts as the mods you install. For example, if you have 12 versions of WhatsApp, you can verify and use 12 accounts on your phone.
There are numerous WhatsApp alternatives. These apps include:
WhatsApp Plus
OGWhatsApp
FMWhatsApp
YoWhatsApp
AeroWhatsApp
NSWhatsApp
WhatsApp JiMods
WhatsGold
WhatsFapp
WhatsAppMA
WhatsApp Prime
AZWhatsApp
Soula WhatsApp
Yes. There is the possibility of being blocked for using a modded version. Although GBWhatsApp's developers claim using the mod is 100% secure, WhatsApp doesn't endorse it. Hence, it constantly bans accounts using the third-party app.
Begin by emailing the WhatsApp support team through 'support@support.whatsapp.com' and request them to unban your account. This should work, but if it doesn't, you will need to wait for three months, after which the account will be unbanned automatically.
No. GBWhatsApp is only available for Android, so you need to download the APK file on your phone to use GBWhatsApp. This guide has provided some reliable sources for GBWhatsApp's APK.
Updating GBWhatsApp is the same as installing it. You need to download the latest version from an open source, open the APK file and click Install.
You can find an open source in the app by clicking the three-dot menu on the upper right. Then tap GBSettings > Updates > Update From Web. This will lead you to a simple site where you can download the APK file and manually install it.
Before updating or downloading a new GBWhatsApp version, it is best to back up your current version. This backup is stored in your device storage. Use the steps below to create a GBWhatsApp backup:
Open GBWhatsApp and tap the three-dot menu on the upper right. Go to Settings > Chats.
Select Chat backup.
Tap Backup to confirm your choice if you are asked to. GBWhatsApp will then back up automatically.
Hot Topics on Official WhatsApp