Switched to a new phone?
Most likely you're going to keep your old number. And you may be wondering about how to transfer all the WhatsApp setup to the new phone.
If so, then this is the article for you!
Like other social media platforms, WhatsApp lets users share messages, pictures, and much more to contacts. However, unlike other social media platforms, it does not implement user account. At least not in the same sense.
If the backup is not taken when you set up a new phone with the same number and install WhatsApp, you wouldn't be able to access your WhatsApp chats history.
We have listed the methods of transferring WhatsApp for both Android and iOS users with the same number. This article has you covered if you want to transfer data from Android to Android, iOS to iOS, iOS to Android, or vice versa.
Transferring WhatsApp between iPhone and Android with the Same Number
If you switched from Android to iOS or vice versa, naturally you'd want to transfer all WhatsApp data to your new phone with the same number. However, there is no official solution that gets the job done.
Although there are a few other methods, their shortcomings make them unsuitable. Instead, third-party tools purpose-built for the job are the most effective ways to transfer WhatsApp data across platforms, even with the same number.
Mobitrix WhatsApp Transfer is one such software, specially developed to make transferring WhatsApp data across systems as easy as possible. It is a desktop software with support for both Mac and Windows. Here are the steps to transfer WhatsApp between Android and iPhone with the same number:
Download and install Mobitrix on your computer > Unlock your Android phone and iPhone > Connect both to the computer.
Open Mobitrix > Click on "Transfer WhatsApp between Devices" in the menu on the left.

the device successfully connected

Click on the "Transfer" button > Once the transfer is complete, you will get a notification.

start to transfer whatsapp messages
I have tried some other third-party tools as well, but none came close to the intuitive way that Mobitrix operates.
Here's What Sets Mobitrix Apart:
Flexible Transfer across Platforms

– Mobitrix lets you transfer WhatsApp data from Android to iPhone, iPhone to Android, Android to Android, or iPhone to iPhone. It even works on the same number.

All WhatsApp Files Can Be Transferred

– Unlike other methods like emailing chats, Mobitrix allows the transfer of all data files directly accessible from WhatsApp on the new phone.

Security and Privacy Ensured

– With Mobitrix you can rest assured about your data and privacy. All your WhatsApp data is safely stored on your PC/Laptop and none of your personal data is sent to the servers.

Full Support for 8000+ Smartphones

– Mobitrix has you covered if you own an iOS device like iPhone 14, 13, 12, XR, XS or an Android device like Samsung Galaxy S22, S21, S20, Pixel 3, 4, etc.
What Makes It Difficult to Transfer WhatsApp across Systems
At first glance, most people assume that there would be no issues in transferring from iOS to Android or vice versa. I thought the same. It was only when I encountered this issue myself when I realized how tough it is. Here are some of the reasons I found:
Backup Is Not Saved on the Cloud
WhatsApp does not store data on their own cloud storage. Instead, it is stored locally while iCloud (for Apple devices) or Google Drive (for Android devices) maintains the backup on the cloud if enabled.
Different Systems, Different Formats
iOS and Android have their own file formats. This makes it difficult to simply transfer the data as you would from iOS to iOS and Android to Android. The file types are not compatible with the systems.
End-to-End Encryption
WhatsApp utilizes end-to-end encryption. This is to make sure that your communications do not make sense to anyone who might have tapped into it. The messages are locked so that only the sender and receiver have access.
Transfer WhatsApp Messages from iPhone to iPhone
Using iCloud backup
Apple's iCloud backup is meant to restore all data from connected apps from old to new phone. However, it has much-limited storage of 5GB which is allocated for WhatsApp data as well as other phone data. Following are the steps to make use of this method:
Open "Settings" > Tap "Apple ID" > Tap "iCloud".
Scroll down and open "iCloud Backup" > Enable the "iCloud Backup" Switch.
Tap "Back Up Now".

icloud backup

Now open your new phone > tap "Settings" > "General" > "Apps & Data". (Note: If you are setting up your new phone for the first time, you will be prompted to sign-in to your iCloud and to restore the backed-up data)
Tap "Restore from iCloud Backup". Enter the same credentials and the WhatsApp data will be restored.

restore from icloud backup
Using WhatsApp iCloud Backup
WhatsApp offers a default method to transfer it from iPhone to iPhone with iCloud backup. Your iCloud links up with your WhatsApp account to store the data in the cloud. Once the backup is done, it can be restored on the new iPhone through the same iCloud account. These are the steps to follow:
Make sure iCloud Drive is turned on for WhatsApp from iCloud in Settings
Open WhatsApp > Tap on the gear icon at the bottom right to open settings.
Tap the "Chats" button > "Chats backup" > Tap "Backup now".

backup whatsapp via icloud

After backup complete > Uninstall WhatsApp.
On the new iPhone, make sure you're logged into the same iCloud account.
Install WhatsApp > The setup detects the backup automatically and restores.
Transfer WhatsApp from Android to Android with the Same Phone Number
Via Google Drive Backup
Google Drive works as the default cloud backup option for WhatsApp data on Android. With 15GB of total storage, it has the potential to backup and restore a comparatively larger WhatsApp data volume than iCloud's 5GB. To take a backup from the old phone:
Open WhatsApp.
Tap "More options" > Settings > Chats.
Chat backup > BACK UP.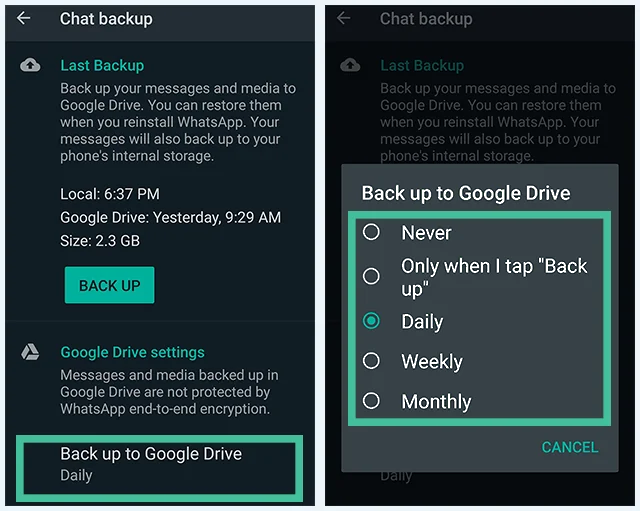 backup whatsapp to google drive
To restore,
Open WhatsApp and verify your number as prompted.
Tap RESTORE when prompted.
After it is completed > Tap NEXT > Now your chats will start getting displayed.
After all the chat is restored, media files will start getting restored in the background.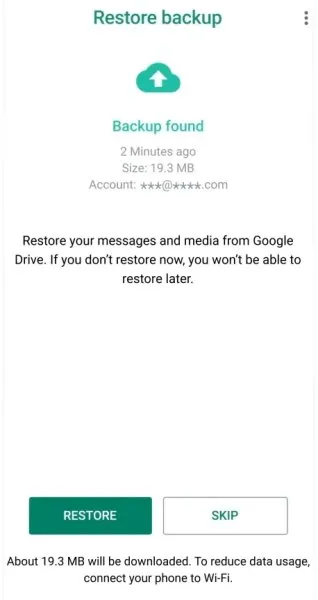 restore whatsapp from google drive
Some Tips to Make the Most of WhatsApp
Use Mobitrix to Maintain a Backup of WhatsApp
You never know when you could lose data.
Virtually unlimited storage with your PC's expandable storage.
No limited transfer speed due to internet connection. Works blazingly fast even if you have a slow connection.
All data is organized by type; image, video file, etc., and backup maintained on your PC/Laptop. Check it out as many times as you like.
Beat the storage limits from official backup methods of iCloud and Google Drive offering 5GB and 15GB respectively.
How to Change Phone Number for WhatsApp
Sometimes when changing a phone, you also need to change the number. Whatever the reason might be, it's a straightforward process to change your number for WhatsApp. Here are the general steps that work for both Android and iPhone:
Open WhatsApp > "Settings" > Tap "Account".
"Change Number" > "Next".
Enter both the old and new numbers you want to shift to. (Note: Use full international format with your country code)
Tap "Next" > Tap "Done". (Note: You can send notifications to your contacts of the number switch)
You will then be prompted to register your new number.
Pro Tip: You can use Mobitrix to transfer WhatsApp data to a different account.