Unlike other online messaging services, WhatsApp does not offer cloud backup for your chats. However, it does not mean you'll lose your chat history if you change your device. I recently switched to a new iPhone 12 and had to backup and restore the messages using iCloud Drive.
In this post, I will tell you what I found out about backing up and restoring WhatsApp chats using iCloud Drive.
How to Backup WhatsApp to iCloud?
Looking at WhatsApp support, I discovered that there are two approaches that you can use to backup WhatsApp chats on iCloud Drive. You can either do it manually or set it to be done automatically at a set frequency.
Making a Manual Backup of WhatsApp Chats
To make a manual backup of WhatsApp chats, you need to do the following:
Open WhatsApp on your iPhone and go to the settings menu.
Tap on "Chats" and then "Chat Backup".
Tap the option, "Back Up Now".
After I did this, the phone created a local backup of the chats and automatically uploaded them to iCloud Drive. I noted that the trouble with this method is that if your phone gets lost or stops functioning, you'll only be able to restore the chats prior to the last time you backed them up.
Upon digging deep, I discovered the way around this. You can solve this problem, by using the automatic back up option. I have now activated it on my new phone. Here's how you can do that:
Automatic WhatsApp Chats Backup
If you want your WhatsApp chats to be backed up automatically, here's how you can configure your phone to do that:
Go to the Settings menu in WhatsApp.
Tap on "Chats" and then "Chat Backup".
Tap on "Auto Backup".
Select the frequency from the options (Daily, Weekly, or Monthly).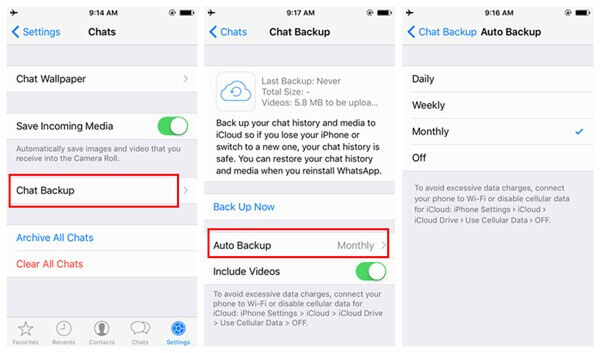 backup whatsapp icloud
After you've done this, the phone will automatically backup the chats at the set frequency.
Things You Need to Know About WhatsApp iCloud Drive Backup
In theory, WhatsApp chats backup to iCloud is a perfect solution but there are things about it that you need to know. These include:
WhatsApp chats are never stored on their own servers.
When the WhatsApp media and chats are stored as a backup on iCloud Drive, they are not protected by the End-to-End encryption of WhatsApp.
Deleted messages are also deleted from the back up and cannot be retrieved.
You need to sign in with the same iCloud ID on your new device to be able to retrieve the messages.
This facility is only available for devices running on iOS 10 or later with iCloud Drive turned on.
You must have free space at least 2.05x the size of your backup on your phone and iCloud Drive to back up the messages.
If you are using mobile data or are on roaming, it is advised to set WhatsApp chat back up to the "Wi-Fi Only" settings to avoid data usage charges.
WhatsApp Chat Backup with No iCloud or iPhone Storage Restrictions
One of my friends also changed her phone last week and asked me to back up her chats. Her phone did not have enough free space, making it impossible to backup the chats to iCloud Drive. I spent some hours, used a bunch of tools and finally found one that worked.
This tool is Mobitrix WhatsApp Transfer – a fairly simple and easy-to-use tool.
Here are the simple steps that you need to execute to make a backup of your WhatsApp chats using this tool:
Download Mobitrix WhatsApp Transfer on your computer and install it.
Open the app and select the options saying "Back up WhatsApp on Devices" from the list on the left.
Connect your iPhone to the computer using a USB cable and when you see the name of the device on the Mobitrix WhatsApp Transfer, click on "Back Up" to start the process.
Keep the device connected to your computer until Mobitrix tells you that the backup process is complete.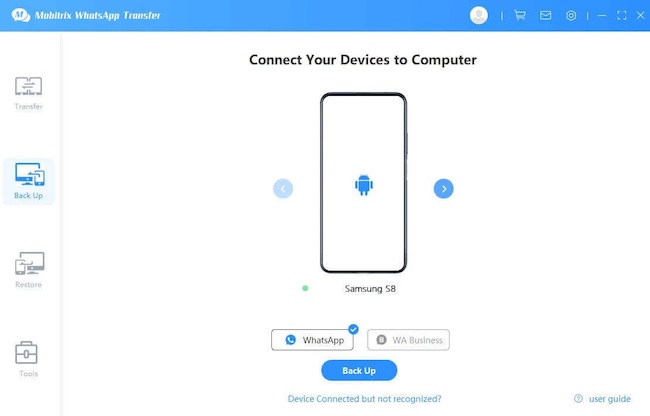 backup whatsapp to pc
The only shortcoming of this process, that I noted, is that you need a computer to do it. Otherwise, it has no restrictions on the size of the backup, and you do not need to buy iCloud Storage no matter how big your backup might be.
How to Restore WhatsApp Messages from iCloud
After I activated the new phone and installed WhatsApp on it, the next step was to restore the messages. It was also easy to do. Here's how:
Make sure that your WhatsApp chats are backed up. This can be done by going to the Chat Backup. The date and time of the last backup is shown on top of that menu.
Once you make sure that the backup was created, you can uninstall WhatsApp from the old device.
Install WhatsApp on your new device and add your number. Follow the instructions to restore the backup.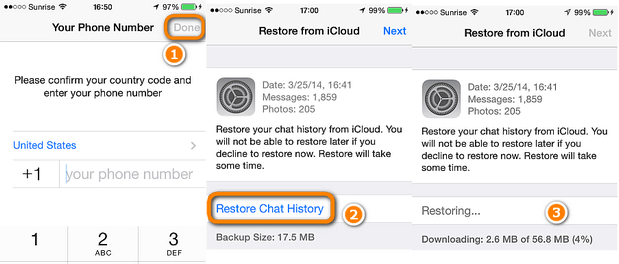 restore whatsapp from icloud
Here are somethings that you need to keep in mind when restoring the backup:
You must be signed in with the same Apple ID you used to create the backup and iCloud Drive must be turned on.
You must use the same number on WhatsApp as backups are tied to individual numbers.
You must have at least 2.05 times the size of backup free space on both your phone and iCloud Drive for this process to complete.
How to find WhatsApp Backup on iCloud
Apple's commitment to security and privacy is no joke. Even if you go to the iCloud Drive website on your computer, you will not find any section for WhatsApp backups. They are stored in a hidden location and there is no known way of accessing them.
If you want to keep your iPhone WhatsApp backup in your control, you can use a tool like Mobitrix to back the data up and, then, you can have the backup file at your disposal.
How to Free Up iCloud Storage Space?
If you decide to go with iCloud Drive when backing up your WhatsApp chats, you might need to free up storage on your Drive. As iCloud only offers 5GB of free space, it can be hard to have enough storage for backups. However, here are some expert's tips on freeing up storage on iCloud:
You can choose to not backup certain apps from your iPhone and iPad onto iCloud Drive.
Reducing the size and quality of iCloud Photos can help free up storage.
When you have free time, delete unnecessary photos from your iCloud backup.
Delete the files and folders on iCloud Drive that you don't need.
Delete mail and attachments that are taking up space.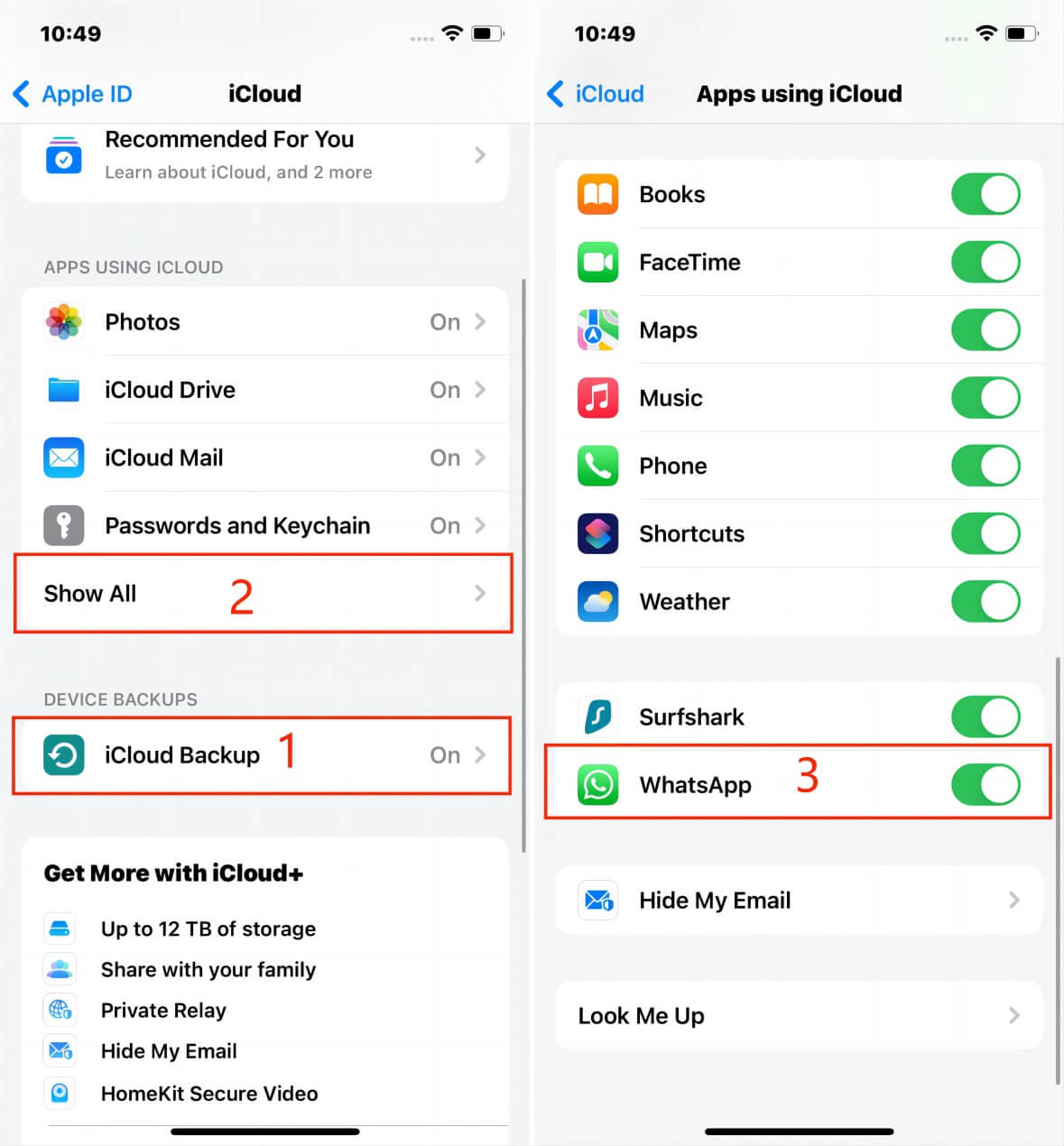 icloud drive whatsapp
I learned that using iCloud Drive is the easiest approach to backing up WhatsApp data. However, it comes with its own limitations, such as:
You can't transfer the data to an Android device.
The storage is limited.
You cannot access the backup file from iCloud Drive.
I found that the best alternative to this problem is Mobitrix WhatsApp Transfer because:
It has no restrictions on the size of the backup.
You can use it to transfer the messages to an Android device.
You can access and use the actual backup file.