User Guide of WhatsApp Transfer
New to Mobitrix WhatsApp Transfer? We will take care of you. Click here to know how to set up the software and complete the process.
Get Started
Here is a brief description of Mobitrix WhatsApp Transfer regarding its basic information, download, installation, setup and activation.
1
How to download Mobitrix WhatsApp Transfer?
Please go to the official product website of Mobitrix WhatsApp Transfer, click FREE DOWNLOAD, and you can start the journey right away.

2
How to install Mobitrix WhatsApp Transfer?
For Windows:
Run the downloaded exe program, which can be found in the Download directory of your browse or local Download folder in your computer.




After WhatsApp Transfer is installed successfully, launch "INSTALL" to start the installation.
For Mac:
During installation, you need to drag Mobitrix WhatsApp Tranfer into the application folder.

---

During installation, you need to drag Mobitrix WhatsApp Transfer into the Application folder.
When installation is complete, you can't directly double-click Mobitrix WhatsApp Transfer to open it since this action will cause some errors during the backup process.




Click "Launchpad" on Dock to find "Mobitrix WhatsApp Transfer", and then click open.



3
How to change the language in Mobitrix WhatsApp Transfer?
There are different languages in the setting of Mobitrix WhatsApp Transfer. It is totally feasible for you to change the language you want in WhatsApp Transfer Interface.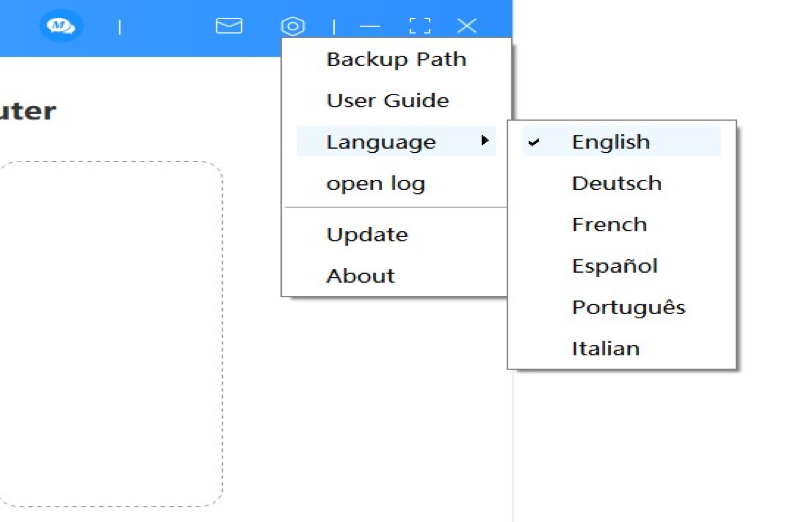 Click on the Language button at the top right-hand corner of the WhatsApp Transfer interface.

Select the language you want for display.
4
What is the difference between the free version and the paid version?
You can use "Backup" and "Import" freely on trial version. The rest of the features are only available for paid users.
5
How to activate WhatsAppTransfer?
If WhatsApp Transfer meets your satisfaction, warmly welcome to download and try it out! To take complete advantages of WhatsApp Transfer, we strongly suggest you activate it, during which, you will need to make a purchase. As long as you complete the payment, you will receive a registration code in your email, with which, you are able to activate WhatsApp Transfer.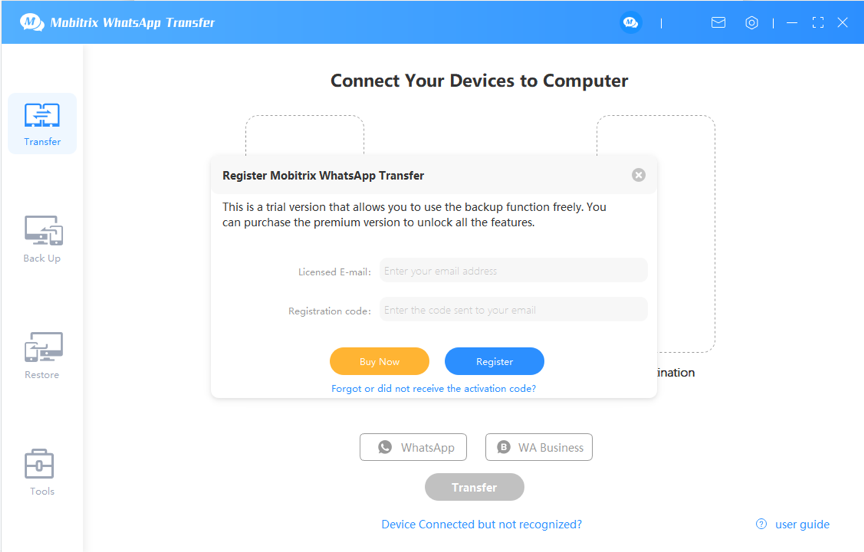 Please click the "Register" button on the right-hand right corner of the Mobitrix WhatsApp Transfer interface and enter your email address and received registration code.
---
Please connect your computer to Internet during the activation process.
If you did not receive Registration Code after you complete the payment (which does not happen a lot), please do not hesitate to contact Support Team.
If you have any other questions, please feel free to contact us.