Mobitrix

Mobitrix
Toolkit
All in One

- Hassle-free tools for data transfer, iPhone repair and password-free lock removal.

No Need iTunes

- Unlock/fix/backup iPhone without iTunes, more professional and stable.

Secure

- 100% Privacy Protection Technology.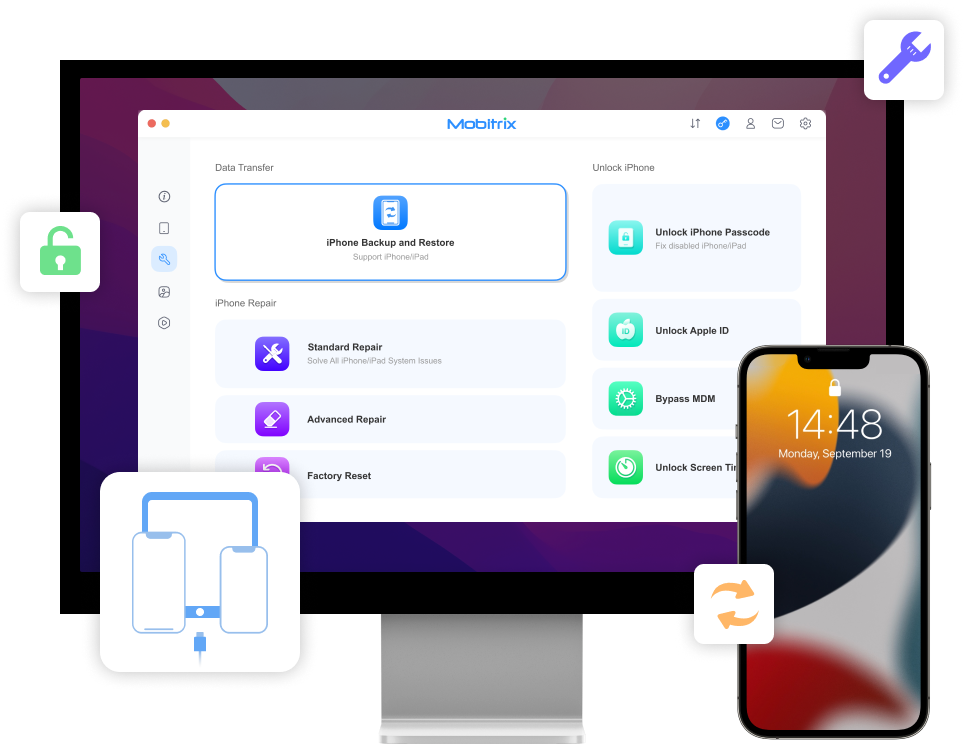 iPhone Backup and Restore

Unlock iPhone Passcode

Unlock Apple ID

Bypass MDM

Unlock Screen Time

Standard Repair

Advance Repair

Factory Reset
Flexible iPhone Backup and Restore
When compared to the traditional methods of backing up an iPhone with iTunes or iCloud, Mobitrix offers greater flexibility and allows you to selectively restore your data without the risk of overwriting any existing content.
Easily select the content that you would like to backup from your iPhone such as contacts, messages, photos and videos directly onto your computer.
Unlike iTunes and iCloud which can only restore the entire backup, overwriting your iPhone's existing data in the process, Mobitrix allows you to choose and selectively restore whatever content you want without any impacts on your current information.
Preview your iPhone backup content to select what you desire, freeing up precious storage on your device. You can trust that managing data from PC is totally secure - no worries!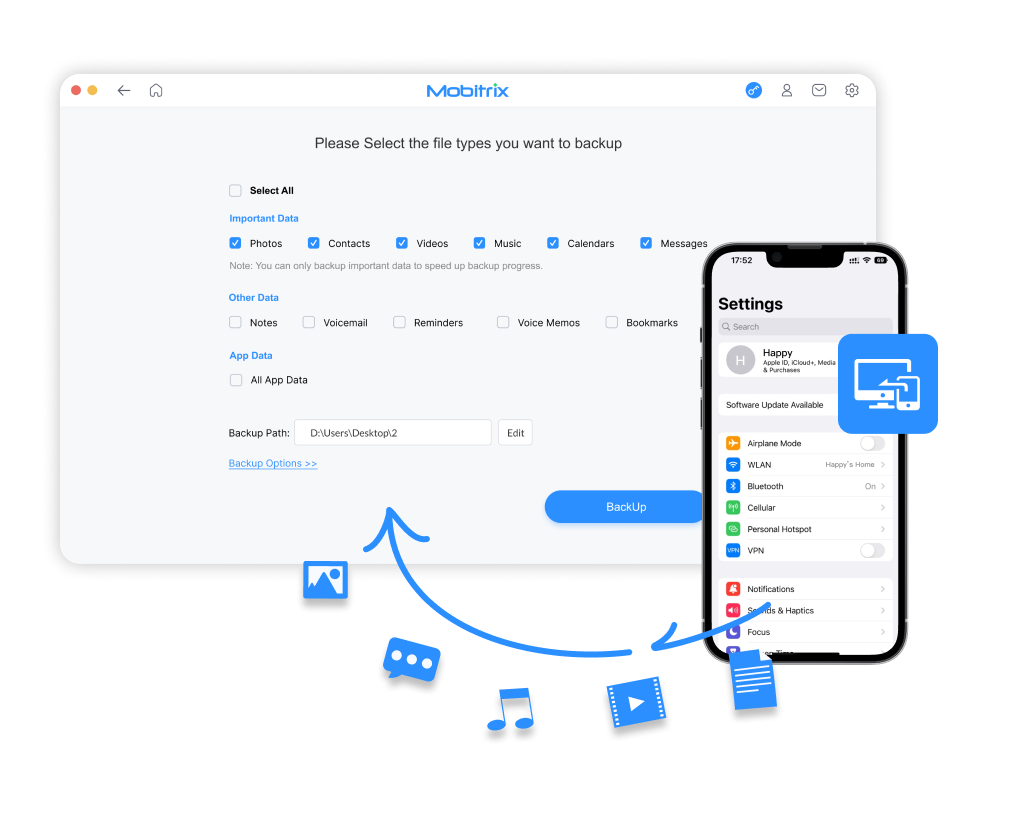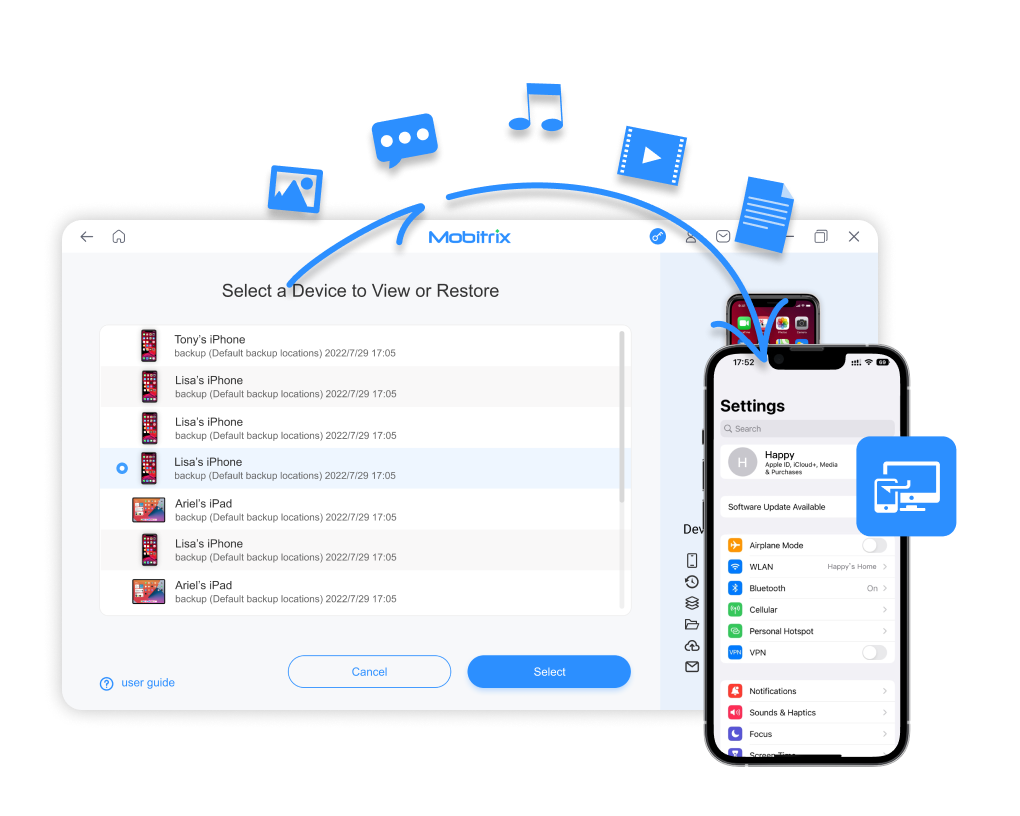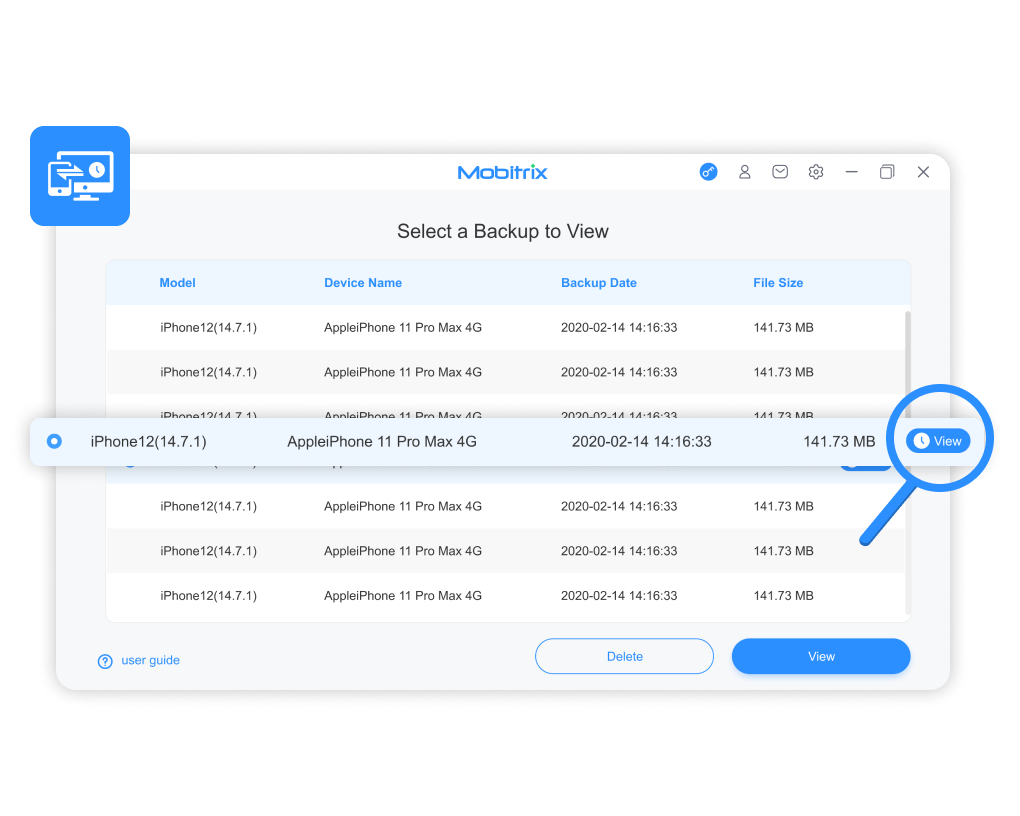 Easily Unlock iPhone without iTunes
Unlike iTunes, which is often unstable and confusing to use, Mobitrix provides a simplified approach for removing iPhone locks in only several steps. Such locks may include an iPhone Screen Passcode Lock, Apple ID Lock, MDM Lock or Screen Time Passcode Lock.
Say goodbye to being locked out of your Apple device forever! Regardless of the cause - whether you forgot the passcode, bought a used device, or made too many attempts, Mobitrix will remove your passcode in minutes.
Is your Apple ID locked for security reasons or disabled? Did you forget your password? Mobitrix can help by erasing your device's existing Apple ID and iCloud account.
Are you tired of being supervised? Do you have a used iPhone/iPad that's MDM locked? No matter your problem, Mobitrix's "Remove MDM" feature will bypass it without erasing any of your data.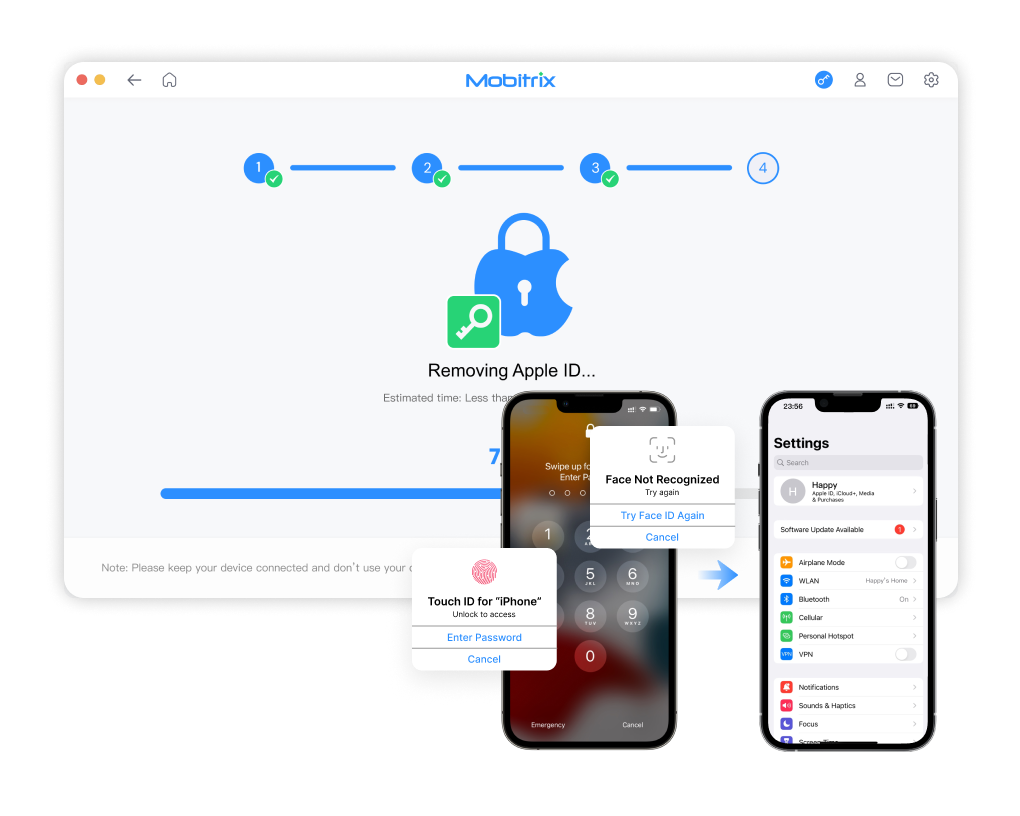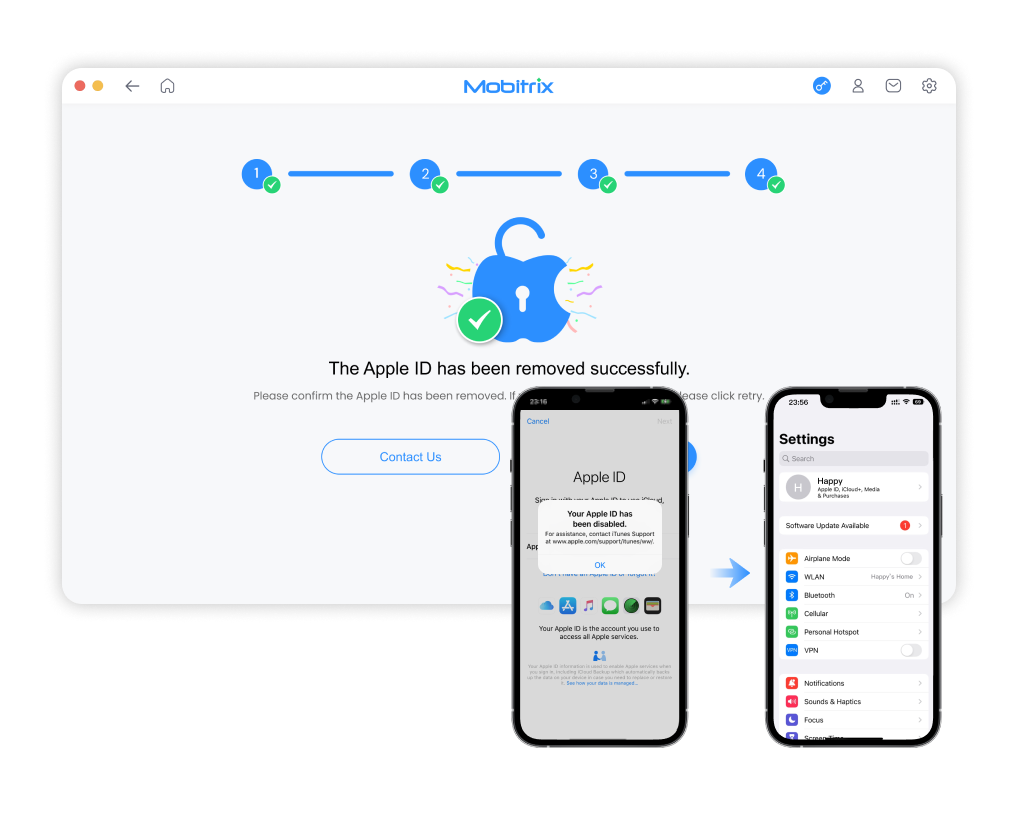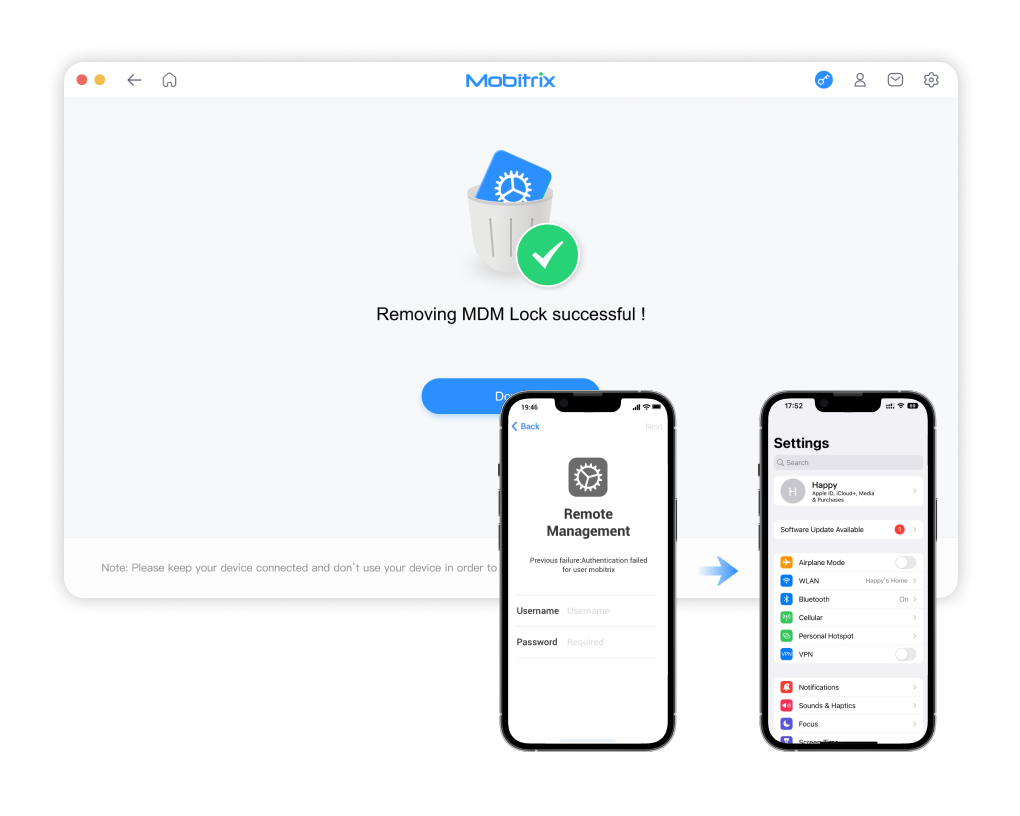 Fix iPhone issues from home
Mobitrix helps you to fix the 99% iOS software issues while keeping all your data. Try out Mobitrix before heading to local store. Step away from those ridiculous charge and save your time.
With Standard Repair, you can fix common issues, like black screen, not charging, won't turn on, etc., while keeping all data on your device intact.
Mobitrix has made the advance repair process so easy that anyone can fix complex iOS without any skills.
With Mobitrix, you can restore the iOS device to its original factory settings and getting rid of all the data/content on the device.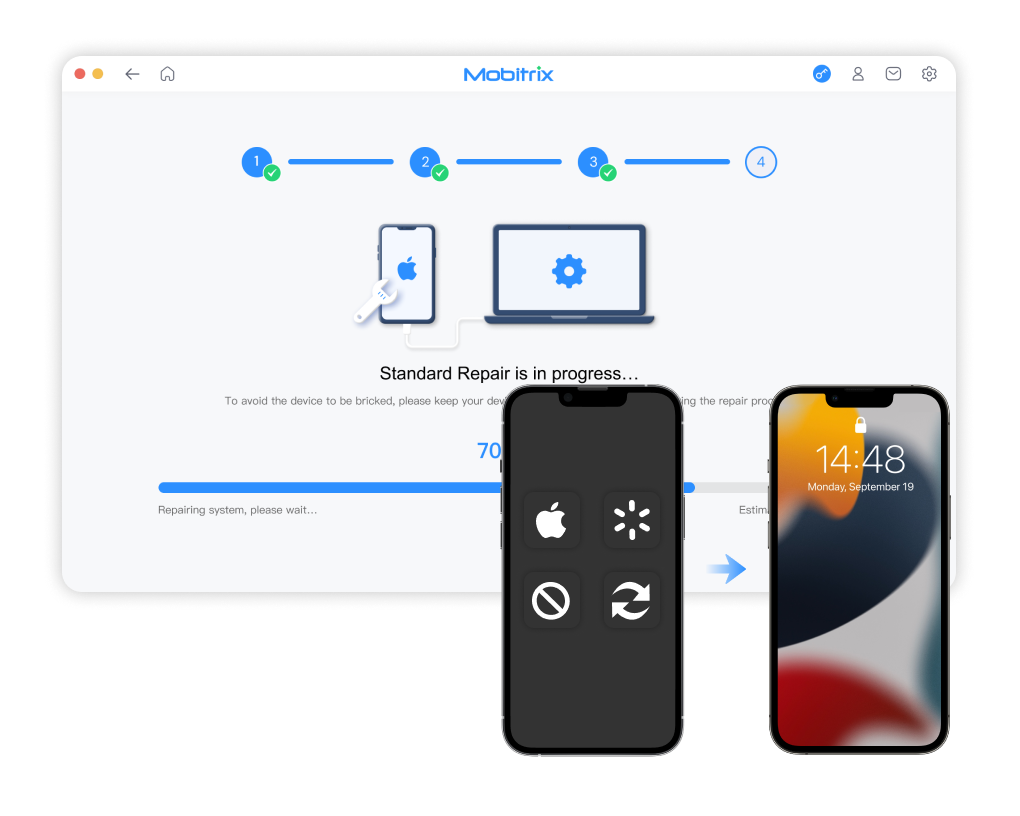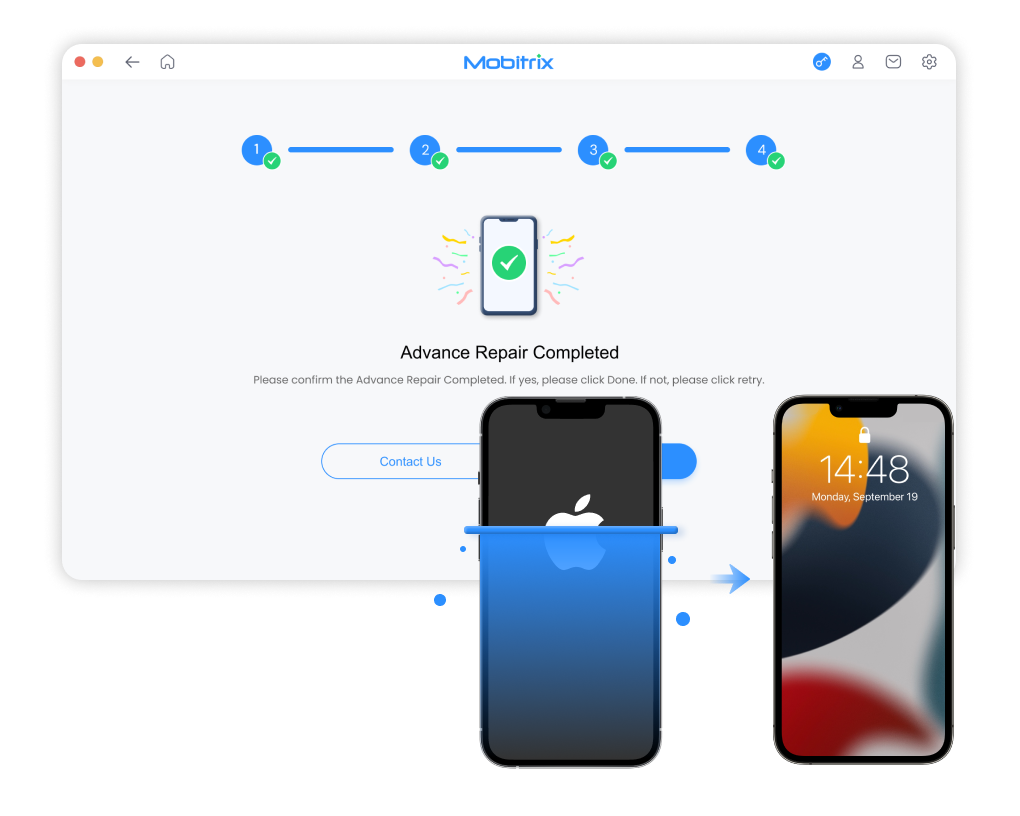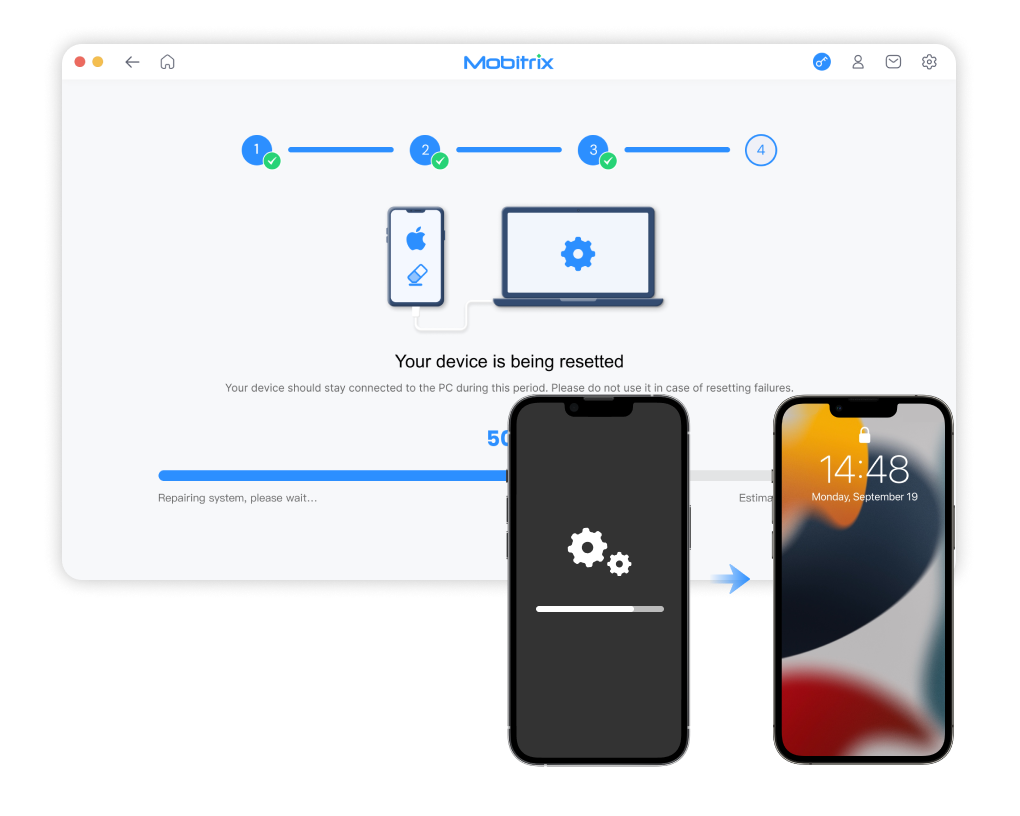 What Our Customers Have Said
All comments are sourced from Trustpilot, one of the world's most trusted consumer review site.
Great product and earn my solid 5 stars!
The reason why I used it is because Mobitrix has money back guarantee, but I considered it as a great product and earn my solid 5 stars because of the simplicity. I don't have sufficient background on fixing my phone or laptop but it is really expensive to get it fixed now when having any troubles on my phone or laptop. I paid $140 for fixing the "apple logo" trouble few months ago and I think Mobitrix just doing the same thing with way cheaper price and detailed instructions.
Mobitrix is a lifesaver!
Mobitrix is a lifesaver! My nephew is nine years old and accidentally changed my password and forgot the passcode. I tried to guess as much as possible, but none of them worked. So I started to Google for solutions. After 3 hours of searching and trying multiple tools, luckily, I found LockAway. I followed the software's instructions which were so easy and clear. Taking about 30 minutes, I finally see my sweet home screen! 5 stars for sure!
Forgot Apple ID Password
I'm sure many people have the same problem as me --- download some apps using friends' apple ID because of the price or region restriction. But Apple is just so annoying; it keeps asking me to enter the password for some Apps I don't even know. I hate the pop-up and always want to remove it altogether. I used the Apple ID bypass function to remove the pop-up in 20 mins! Furthermore, I like the UI; it is easy to use even though I don't have any technical skills!
Marvellous!
Marvellous! It works so fast and easy. Best software to backup and restore iPhone data. Happy customer.
Fix my iPhone issue perfectly
During the pandemic, it is so difficult and so expensive when having "little" problem on my iPhone. I rather go to apple store if I don't have to wait for 2 weeks shipping/diagnostic time. Who's gonna live without a cell phone for 2 weeks? I don't trust the local store either because I don't want to pick a random store to test their ethics. It is great to know Mobitrix care about the privacy and security like I do after reading their Q&A. Fix my iPhone issue perfectly and save a lot of my time.
A long-unused iPhone 7
Honestly, at first, I was not particularly looking forward to it. But LockAway surprised me. I have an iPhone 7 that I haven't used for a long time, what with the screen passcode and Apple ID, I can't remember. But LockAway unlocked my disabled iPhone 7 with just a few clicks. This is amazing! Great job!
A Broken iPhone Screen
I accidentally broke my iPhone screen and want to back up my data before I send it in for repair. But I couldn't enter my passcode or use Face ID to unlock it. So I searched for a solution on Google, and after comparing various software, I chose Mobitrix. It works! I have backed up my data and sent my iPhone to Apple for screen repair. I sincerely recommend everyone who can't unlock their iPhone go with Mobitrix!
Great Software!
The software works as advertised. I used the iPhone backup and restore option and all my chats along with media and images were backup to my PC and restored without any issues. The process is easy to follow and would not hesitate to recommend to anybody looking for a solution to save iPhone files. Thank you to Mobitrix and keep up the good work.
FAQs:
It is completely safe to use Mobitrix. Mobitrix complies with GDPR and other data processing regulations. All your data will only be stored or processed on your local PC without any cloud server engaged, which keeps your data 100% safe.
Our software includes many features, and some are free to use. You can backup WhatsApp without the need to register. However, most of the features would require a purchased license before usage.
iTunes Restore is to restore the iPhone/iPad/iPod to factory settings. It also can be used to repair iOS but comes with a high failure rate, data loss, and unpredicted error code. Mobitrix has eliminates some flaws and enhance performance during the iOS system/software repairing. Mobitrix has two modes to fulfill the demands for users having different purposes. It is the most simple solution in the market with reliability and security. Additionally, Mobitrix has added more unique features that iTunes doesn't have to protect the data and device.
1. Mobitrix is more cost-effective than iPhone repair store, which normally charge $100+ per service.
2. Mobitrix helps you to save the searching and traffic time. You can repair your phone at home and it only takes about 30 minutes.
3. Mobitrix helps you save a lot repairing time and 100% protect your privacy. In repair store, you may leave your phone there for 2~3 days (shipping may takes longer), and no one can guarantee the security of your personal information.
Mobitrix - Full products
Mobitrix offers hassle-free tools to solve phone challenging problems in any scenario!
Your One-stop Phone Solution
Hassle-free Tools to Solve Your Phone Issues from Home
Mac version coming soon.