The screen time feature on iPhones and iPads is a handy tool that allows me to control my son's iPhone usage optimally. However, there are moments I've been unable to turn off screen time because I was entering the wrong passcode or could not vividly remember it.
Such moments have me pondering how to turn off screen time without a passcode? As a concerned parent, I have researched a few ways to do this and will share these easy, efficient, and non-intrusive methods step by step.
If you would like to learn how to turn off screen time without a passcode, you have come to the perfect place. Continue reading for a more ultimate guide.
How to Turn Off Screen Time via Apple ID Credentials
If you don't have access to the Screen Time passcode, you can disable it using your Apple ID and Password. To use this approach, your device must run iOS 13.4 and above.
1. Log out of iCloud to Turn Off Screen Time Passcode
The Screen Time is associated with your iCloud. Thus, if you sign out of your iCloud, this feature will be automatically turned off. By signing out of your iCloud, you can turn off the screen time without needing a passcode if your device is running iOS 14.
The steps for this are:
1. On your iPhone, open iCloud settings, then click "Sign Out".
2. Enter your Apple credentials then, click "Turn Off".
3. Back up your data to iCloud then, click "Sign Out".
4. Once you've signed out, open Settings > Screen Time.
5. Click "Turn off Screen Time".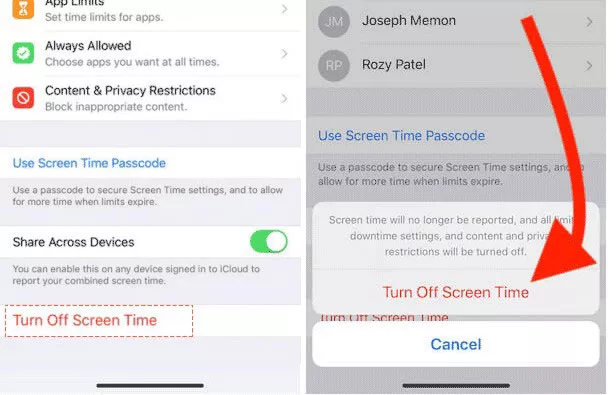 2. Turn Off Screen Time Passcode via Screen Time Passcode Recovery
There is still another faster way to turn off Screen Time without a passcode. Simply enable the Forgot Passcode protocol and reset the passcode.If your device uses an updated iOS 13.4 or newer, the steps below will guide you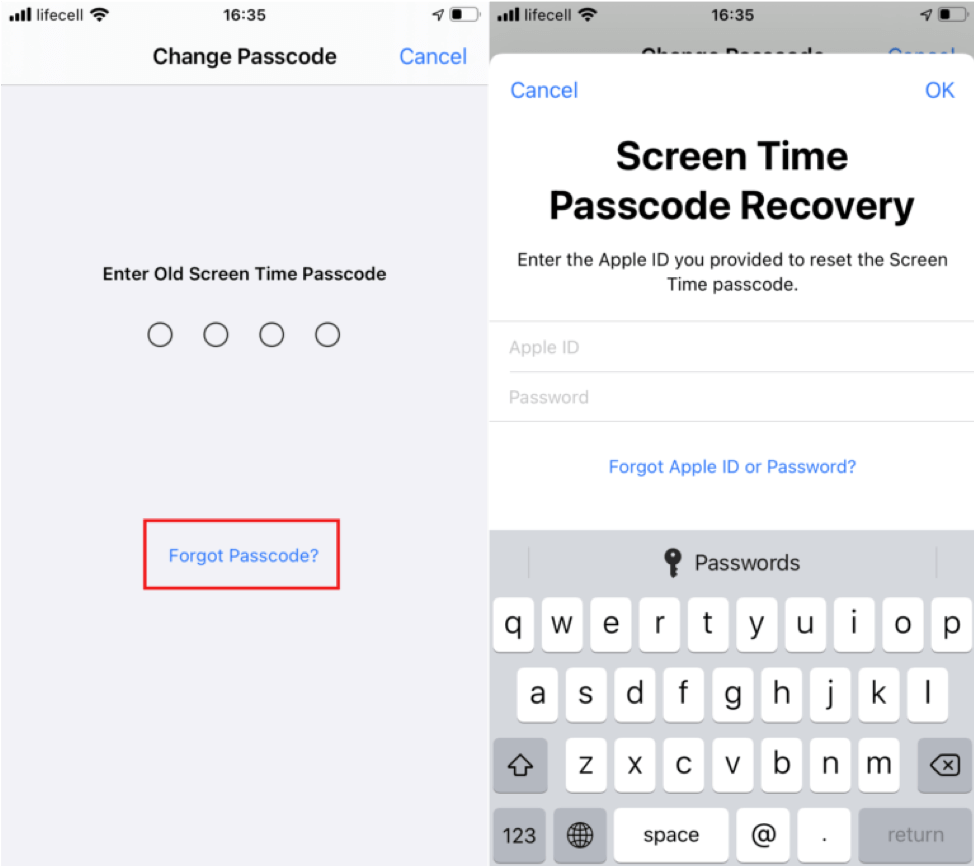 Open "Settings", then click "Screen Time".


Tap "Change Screen Time Passcode" twice.


Select "Forgot Passcode" instead of entering a passcode.


Enter your "Apple ID and Password" correctly.


Once the device verifies your credentials, type in a new four-digit passcode.


Confirm the new passcode.


You'll be prompted to enter your Apple ID and Password again.
After you've changed the passcode, go back to Change Screen Time Passcode and select Turn Off Screen Time Passcode. Once completed, you will be able to access this function and its settings without entering a passcode.
How to Turn Off the Screen Time feature for Any iOS Version
1) Via Mobitrix LockAway(Most effort-saving)
If you're looking for a more straightforward, time-saving, effort-saving solution to bypass your screen time passcode without sacrificing your data, Mobitrix LockAway-Unlock iPhone Passcode is exactly what you need.
Mobitrix LockAway can bypass restrictions and provide users with access to their devices in a more professional and efficient manner. No matter why you get your Screen Time passcode locked, just throw all the trouble to Mobitrix LockAway, there are no limitations whatsoever.
Advantages:
Has the most user-friendly interface, making it accessible to anyone, whether expert or beginner.
Allows users to bypass forgotten passcodes on their iPhone or iPad without risk of data loss.
It's compatible with iPhone 5s to the iPhone 13, as well as iOS 12/13/14/15 and subsequent versions.
Thanks to its reliability and convenience, users can remove their Screen Time passcode with a 100% success rate.
It's fast and time-saving. Just with a few clicks, users can turn off Screen Time without the passcode.
Steps:
Connect your iOS device to the PC through a USB cable.
Click Unlock Screen Time button

Click Start to unlock now
Once the process is complete, Mobitrix LockAway will disable the Screen Time passcode, allowing you to turn it off.
It shouldn't be challenging to turn off Screen Time without a passcode. Mobitrix LockAway will take care of everything for you and keep your data safe if you want to turn off Screen Time without passcode more securely and straightforwardly.
2) Turn off Screen Time Passcode via iTunes(Data Loss)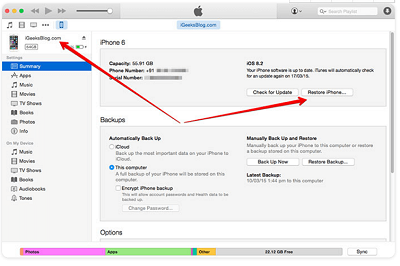 To turn off the Screen Time using iTunes, you need to factory reset your iPhone. Firstly you need to ensure you have turned off Find My, then proceed with the steps below.
1. On your PC, open iTunes and connect your iPhone.
2. If prompted, enter your passcode.
3. Once iTunes detects your iPhone, select Summary and click the option to Restore [device].
Tips:
If you don't want to lose your data, you can click the Back Up Now to create a backup of your iPhone before clicking "Restore".
4. Click the restore again to confirm the process.
Once your device restores to the factory settings, the Screen Time will be turned off, and you will need to set up all the iPhone features afresh.
3) Reset All Content and Settings (Data Loss)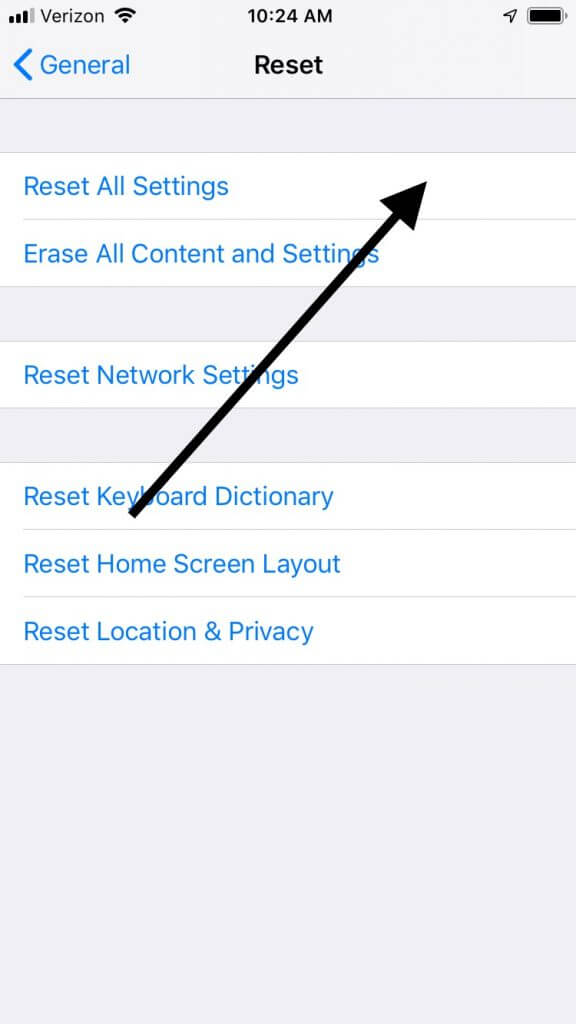 If you don't have your passcode and need to turn off the Screen Time feature, resetting all your settings and data on your iPhone is the quickest way to fix this. Although this method can turn off the Screen Time, all your data will be lost. Thus, first, ensure you create a backup.
Once you have your backup created, proceed with these steps.
1. Open Settings > General > Reset.
2. Click the option to erase all the data and settings.
3. Instructions will pop up on the screen to guide you on what to do next. Follow them.
Once the process finishes, your iPhone will reboot as new, having wiped out all your settings and data. Moreover, the Screen Time will have been turned off in the process.
How To Avoid Forgetting Passcode
You probably have dozens of online accounts, each of which requires a password. Possibly, most of them are unique, complex passwords that are difficult to crack...and remember. Rather than writing them down on a piece of paper, you may store them all in one app and remember only one password – the one that unlocks everything else.
Create a Memorable Passcode

If you frequently forget your screen time passcode, choose a memorable one. Change or reset Screen Time with a strong yet simple passcode.

Use Notes App

iPhone allows you to lock all your notes using your fingerprint, face, or password. You can add all of your passwords to the Notes app and secure them with one fingerprint, face, or password.
Then, with iCloud, you can keep your notes up to date and synchronized across all of your devices. This way, you'll be able to access your notes across all Apple devices that share the same Apple ID.
FAQs:
1. What to do if I forget my screen time passcode?
If you've forgotten your iPhone's Screen Time passcode, you may use MobitrixLockAway for iOS to remove your passcode and avoid data loss. Click here and learn how this method can assist you in recovering your Screen Time passcode, which you may then enter to disable the feature on your iOS device.
2. How to disable your child's iPhone Screen Time passcode?
If you're using Family Sharing to manage a child's account, the child's device will not have passcode reset options. Family Sharing is an incredible tool by iCloud that allows you to create a common file that family/friends can access on Apple TV, Apple music, and so on. If you are a parent and have access to this feature, you can quickly disable Screen Time.
3. Why is the option to Turn passcode Off greyed out?
If the Turn Passcode Off button is greyed out, the iPhone's passcode limitations are likely enforced (via a corporate configuration profile, mobile device management, or Exchange policy). Passcode restrictions configured on a managed iPhone also apply to Apple Watch. It will be impossible to disable the watch's passcode in these instances.
If your iPhone is controlled in this manner, your first stop should be the Apple Support contact page. Once on the page, select the product you need help with. You'll see a list of topics that users commonly contact Apple about, and pick one that suits your needs. The best is Chat. Select this to be linked with a customer support agent. It's easy, you just have to answer a few specific questions and they'll provide a customized solution for your device.
4. How do I deactivate parental controls on an iPhone?
On an iPhone, disabling Screen Time (parental controls) is straightforward
Open Screen Time in Settings
Tap your Child's Name
Tap Change Screen Time Passcode or Turn Off Screen Time Passcode
Authenticate it with Touch ID, Face ID, or your device passcode.
Summary
Screen Time is an excellent way to restrict yourself on how long you need to be on your device. However, if you need to turn it off, this article covered everything you need to know. The article introduced the methods you can use to turn it off. In addition, it introduced a better and easy way to achieve this by using Mobitrix LockAway-Unlock iPhone Passcode.