100% Working- How to Unlock iPhone Without Passcode in 5 Ways
I always used passcode on my iPhone to keep my data safe. It used to work fine for me till the day when I forgot the passcode. I don't want to go into the details, but it was one of those nights you don't have clear memories of. When I woke up, all I knew was that I changed the passcode but did not remember what I set it to.
That got me thinking, what if I have an iPhone, that does not belong to me, and I want to open it? It can be my kids' phone or my wife's. So, I took to the internet and found some ways to unlock iPhone without passcode.
In this article, I will list and explain all the methods that I discovered during my search.
1. How to Unlock iPhone without Passcode using Mobitrix LockAway [Most Convenient]
Mobitrix LockAway is the latest iPhone unlock software that lets you get access to a locked iPhone without Passcode. It does not need iTunes to work, which allows you to unlock your iPhone in a much more convenient way. It is, by far, the best method for this task.
Here are some of the features that make this software a great option for getting into a locked iPhone without the passcode:
The unlock procedure is simple and just needs a few simple steps.
It does not need iTunes to work.
It works for the latest versions of iOS, including iOS 12, 13 and later.
It can work for all iPhone models from iPhone 5s to 13, including 6, 7, 8, SE, X, XR, 11, 12, and 13.
It is 100% safe to use and protects your data privacy.
How to use Mobitrix LockAway:
Download and install Mobitrix LockAway and launch it.
Connect your iPhone to computer and select "Unlock Screen Passcode".

Click "Start" to remove iPhone passcode.
LockAway can work for both a disabled and an enabled iPhone. Here's how it works for both of them:
If you have a disabled iPhone, LockAway can:
Erase or wipe the iPhone without the passcode.
Remove Apple ID if you no longer remember the Apple ID or Password.
Bypass the Screen Time Passcode and let you access the phone without losing any data.
If the iPhone is Enabled
If the iPhone you have is enabled but is locked with a passcode, LockAway can do the following for you:
It can let you access the phone by bypassing the iPhone passcode.
It can cancel the password requirement for iPhone, iPad, or iPod touch.
2. Use iPhonePass to Unlock iPhone Passcode without Erasing Data
iPhonePass is a free tool launched by Mobitrix, which supports users to unlock iPhone passcode without data loss.
Advantages:
Completely free.
Unlock process won't cause data loss.
This tool can unlock iPhone 5s – iPhone X.
Disadvantages:
Phone models after iPhone X are not supported.
Not available for Windows.
You might take the risk of turning on and off the jailbreak status.
The existing iOS vulnerability can allow iPhone5s-iphonex to be jailbroken. That is, you can obtain the super authority of your iPhone. In this case, you can delete and modify your iPhone screen passcode theoretically, even though you forget your previous passcode.
Preparation before you start:
Steps:
Jailbreak your iPhone with Checkra1n.
Checkra1n is a perfect jailbreak tool which has the simple operation and supports a wide range of iPhone types. I strongly recommend it for you to jailbreak your Apple device. Note that it can only run on MACOS.
Launch Checkra1n and click Start to Jailbreak your iPhone.

Installing jailbreak and note that do not disconnect your iPhone until finished.
After jailbreaking, don't set up your iPhone right away.
Please connect your iPhone to your MacBook.
Please establish an internet network for your iPhone and Mac.
Launch your Terminal in your MacBook and enter the command of "iproxy 22 44".

Use iPhonePass tool to remove the screen passcode.
Double-click and delete the file of "deliphonepass.sh".

At this point, your iPhone screen passcode has been removed, you can now access your iPhone as normal without losing any data on your device and reset a new one.
After resetting your iPhone screen passcode, it is recommended to turn off the jailbreak status on your iPhone. The safety status of your iPhone would be affected by jailbreak. Your iPhone will be unsafe after the jailbreak, which is a quite serious issue. A repair software named Perfix will help you solve this issue. Using the Standard Repair Mode in Perfix, the jailbreak status on your device will be turned off with zero data lost.
If your phone is any version of iPhone5s-iphoneX, using iPhonePass is a nice way to remove your iPhone screen passcode without erasing data.
However, this tool is required sufficient computer skills and knowledge, so if you want an easier way to unlock iPhone passcode, then Mobitrix LockAway software is highly recommended.
3. How to Unlock iPhone without Passcode via iPhone Function
There are two ways that you can use to unlock iPhone without passcode using the functions designed by Apple. These methods will not need you to use a computer to get access to the iPhone.
Method 1 – Use Siri to Unlock iPhone Passcode
Before we explore how this method works, here are some of the limitations to this method:
It only works on an enabled iPhone. The phone must be powered on, and the passcode must be entered at least once after turning it on. If the passcode has not been entered after turning it on, the phone is still in an encrypted state, and Siri won't work.
You will need to provide the Apple ID and the password of the Apple account the iPhone is linked to.
It is only available on devices running on iOS 8 to iOS 13.
There are some good things about this method too:
It will not wipe the data on the iPhone.
You will not need to restore the iPhone after it has been unlocked.
How to Unlock an iPhone with Siri
Here are the steps needed to unlock an iPhone using Siri:
Press and hold the home button on the iPhone to activate Siri.
Ask Siri "What Time is Now" and wait for it to display the time.
Click on the clock widget, and once the list of time zones opens, click on the + icon in the upper right corner of the screen.

Type any characters in the search box and "Select All" the characters you have typed in.

Click "Share."
From the pop-up window that appears, select Messages.
In the "To" field of the new message window, paste the text that you have copied previously.
Wait for a few seconds and then press the home button. This will take you to the home screen of the iPhone without having to enter the passcode.
Method 2 – Use 'Find My iPhone'to Bypass iPhone Passcode
Another way that you can use to bypass the passcode on an iPhone is by using the Find My iPhone features. Here are the limitations of this method that you need to keep in mind before trying it:
It will need the Apple ID and Password of the account the iPhone is linked to.
It only works if the 'Find My iPhone' feature was set up on the target device before it was locked.
It will erase all the data on the phone, but you can restore it from a backup via iCloud or iTunes if you made one.
How to Use Find My Phone to Bypass the Passcode on an iPhone
Here's how you can do this:
Visit iCloud.com on your iPhone or iPad and sign in to your iCloud ID (the one being used on the phone).

Go to Find My iPhone and select the phone you want to reset the passcode of from the list.
Click 'Erase' in the device information window.

The website will confirm your Apple ID password once more, and the remote erase will begin. Once the phone has been erased, you'll need to confirm the Apple ID and Password on it, and then you can use it.
Using these methods is quick and convenient but comes with a lot of prerequisites. If you cannot fulfill even one of the conditions, you will not be able to bypass the passcode of the iPhone using these methods.
If that is the case, you can remove the forgotten passcode of an iPhone using a computer.
4. Unlock iPhone without Passcode with iTunes
There are two ways of iTunes that you can use to unlock iPhone without passcode. Let's explore them both in detail.
Method 1 – Unlock the iPhone with iTunes Recovery Mode
Here are the key points that you need to know before you use this method:
You need to have the Apple ID and password of the Apple account on the target iPhone.
iTunes will erase all contents and settings of the phone along with the passcode.
iTunes can make a backup of the phone and store it on your computer, which can be restored later on the phone.
How to Unlock an iPhone with Recovery Mode?
Install iTunes on a computer.
Connect the iPhone to the computer using the lightning cable and then run iTunes.
Press and hold the home button and power button on your phone until you see the phone booting up in recovery mode.
On the iTunes dialogue box that appears, select the "restore" option.
Wait for iTunes to erase and your iPhone; once done, you can use it.
Method 2 – Unlock iPhone via iTunes DFU Mode
Here are the key points that you need to note about this method of unlocking an iPhone:
It needs the Apple ID and password of the Apple account on the iPhone.
It will erase all data and settings on the iPhone.
It will install the latest version of iOS on the phone.
How to Unlock an iPhone via DFU Mode?
Launch iTunes on your computer.
Put the phone into DFU mode.
Connect the iPhone to the computer and use iTunes and erase it.
If you had previously backed up the phone to the computer, you could use that to restore the phone.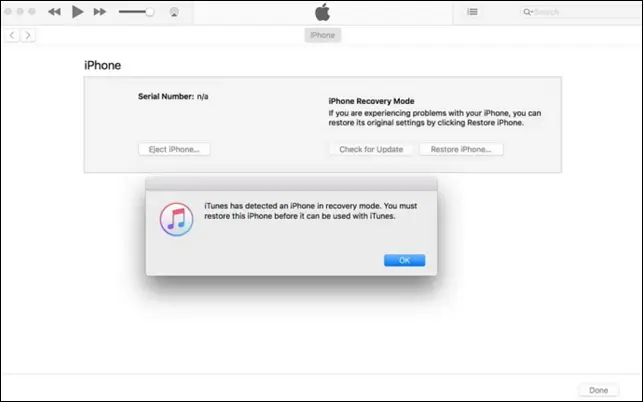 Both of these methods can be used to remove the passcode from an iPhone. These methods need you to have a computer and the latest version of iTunes. One of the main troubles with these methods is that putting the phone into recovery or DFU mode can be difficult.
To Sum Up
These are all the methods that you can use to unlock iPhone without passcode.
In my opinion, Mobitrix LockAway is the best method as it works with most popular versions of iOS and all models of iPhones and other devices running on iOS.
No matter what reasons that caused it, you will never get stuck on lock screen and get rid of those annoying notifications.