You can unlock your iPad without password via iTunes recovery mode if you haven't synchronized your iPad with iTunes previously.
Compared with iTunes, Mobitrix LockAway is much faster to remove iPad screen lock. You can get your iPad back in just 20 minutes!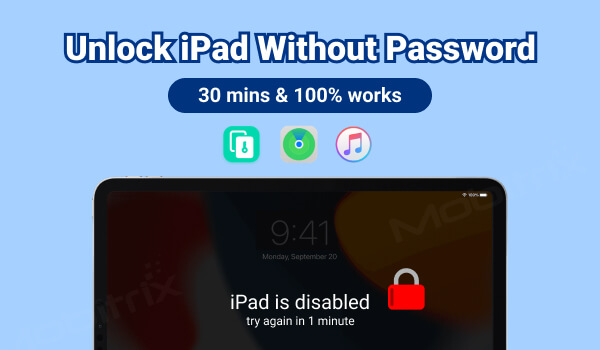 As a senior technician and the owner of my repair shop with 10 years of repairing experience, you can call me a walking encyclopedia of iOS devices, especially iPads.
Here I am with all my expertise to serve you with 4 practical solutions on how to unlock your iPad without password. This article contains all you need to know, so go with me. And Yes! Don't worry as nothing will be technical or difficult for you. I am going to hold you and walk on through the entire article.
Method 1 How To Unlock Your iPad Without Password Using Mobitrix Lockaway
If you're in a hurry, Mobitrix LockAway is your best choice. It can help you unlock iPad without password within 20 mins. I have personally tested it many times for my customers' iPads and it has always proved to work like a magic. That's why I am introducing Mobitrix LockAway to you.
What is Mobitrix LockAway:
Mobitrix LockAway is a professional unlock software that can permanently unlock any type of lock on your iPad with a few simple clicks and helps you walk out of these unwanted situations below:
You have forgotten your iPad password.
Your iPad is disabled due to too many unsuccessful attempts.
You have cracked your iPad screen.
You got a second-hand iPad, that can't be unlocked without the owner's password.
Your Face/Touch ID is unable to work correctly.
Advantages :
No need to use iTunes.
Easy to use with a few clicks.
You can now just erase your iPad password in 20 minutes and create a new one.
This method has a 99% success rate.
It assures 100% Privacy Protection.
It supports iPad 2-9, iPad Air, iPad Air and iPad Pro with multiple iPadOS 13-15 and later.
Steps:
Click on Unlock Screen Passcode in the main menu.

Click Start to remove.

Unlock is complete
Easy and quick, right? Now you can get access to your iPad without any hassle. If you are interested in some official ways, I have summarized the most comprehensive official ways below. But these methods either need to meet some strict requirements, or they are quite time-consuming and effort-consuming. But still, if you want, you can give it a try!
Method 2 How To Unlock Your iPad Without Password Using "Erase iPad" Option without PC
iPads running with iPadOS 15.2 or later now have an "Erase iPad" option. You can find this option at the bottom middle section of your "Security Lockout Screen'' area. This option lets you unlock your iPad without entering your password or any PC.
Requirements for Using "Erase iPad" Option:
The "Erase iPad" option is only applicable for iPads with iPadOS 15.2 or later.
Your locked iPad should have a wifi or cellular network connection.
The "Find My" feature should be enabled on your locked iPad, and you haven't logged out of your Apple ID.
You need to know your Apple ID password.
Steps:
Enter wrong passwords on your iPad 7 times to reach out to the "Security Lockout" Screen. Tap on the "Erase iPad" button at the bottom of your locked iPad screen to erase your iPad.
Tap again on the "Erase Now" option, and enter your Apple ID Password to start the Erasing process.
It will take a few minutes to erase your iPad. All data will be erased, including your iPad screen passcode. Once done, you can set up your iPad like a new one.
Note: The "Erase iPad" option is not widely available for every iPadOS version. Since it's a new feature, it is only released to a few iPadOS versions and iPad models. However, Apple hasn't released any official statement yet, regarding this matter.
Method 3 How To Unlock Your iPad Without Password Using Find My iPhone
Find My has an "Erase" function. This feature can be used to erase your device and delete all personal data, including your iPad screen lock password. Once that's done, the iPad will be restored to factory settings and can be used like a new one.
Requirements to use Find My:
Ensure you have turned on the "Find My" feature and haven't signed out of iCloud.
You must know your Apple ID password linked to this iPad.
Ensure the connection between your iPad and a cellular network or WiFi.
If Using Find My iPhone via iCloud.com
Steps:
Launch iCloud.com on any device's browser. Let's take PC as an example.
Sign in to your iCloud account.
From the visible list of devices, select your iPad, then tap Actions.
Next, select Erase iPad
A window will pop up, asking if you want to erase all your iPad's content and settings. Just click Erase.
If you have a recent backup, you can restore your iPad after the iPad is erased and restarts.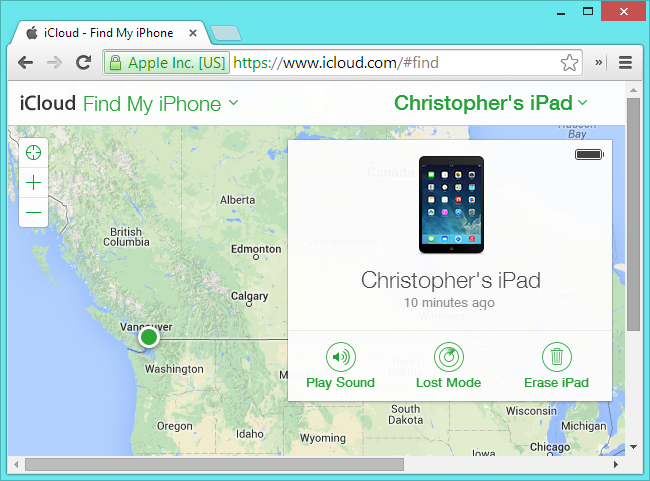 If you don't have a computer nearby, you can use the "Find My iPhone App" on another iOS device, take your iPhone as an example.
If Using Find My iPhone App
Steps:
Open Find My app on your iPhone
Click on the Devices tab.
Find and select your iPad.
Click the Erase iPad option.
Then confirm again by clicking Erase This [iPad]
Method 3 How To Unlock Your iPad Without Password Using iTunes
Honestly, I don't recommend this method. Apple iTunes acts as a media software for iOS users to sync between devices and back up their data. It is not a professional unlock tool. So iTunes is quite not user-friendly. Check its drawbacks below:
It is quite complicated, time-consuming. You may spend a few hours on it but fail in the end.
Your device may not be detected by iTunes.
You may be unable to exit the recovery mode if it gets stuck in a loop.
Various unpredictable error codes may appear. For example:
iTunes won't download or update
Tunes could not connect to this iPhone
iTunes Won't Restore iPhone
Yet if you want to try it, go ahead and follow the guide below.
A. Via iTunes Backup (if synced with iTunes previously)
Premise:
It only applies to the devices that have previously synced with iTunes
Steps:
Connect your iPad with the computer you have previously synced with.
Open iTunes and let it detect your iPad. Once it does, it will synchronize all the information on your iPad and will make a backup.
If it doesn't, tap on the "Summary" icon at the top left section of iTunes. Click on the "Back Up Now" option to manually create your backup.
You might be asked to enter your passcode. Ignore this prompt by rebooting your iPad.
Make sure that you have successfully synced your iPad with iTunes and you have got the backup.
Click on "Restore iPad" and select the most relevant backup for your iPad.
Tap on "Restore from iTunes BackUp" once you reach the setup screen.
By following these steps, iTunes will successfully restore your iPad, erasing all your data and settings and your screen passcode. Only the data from your latest backup will remain.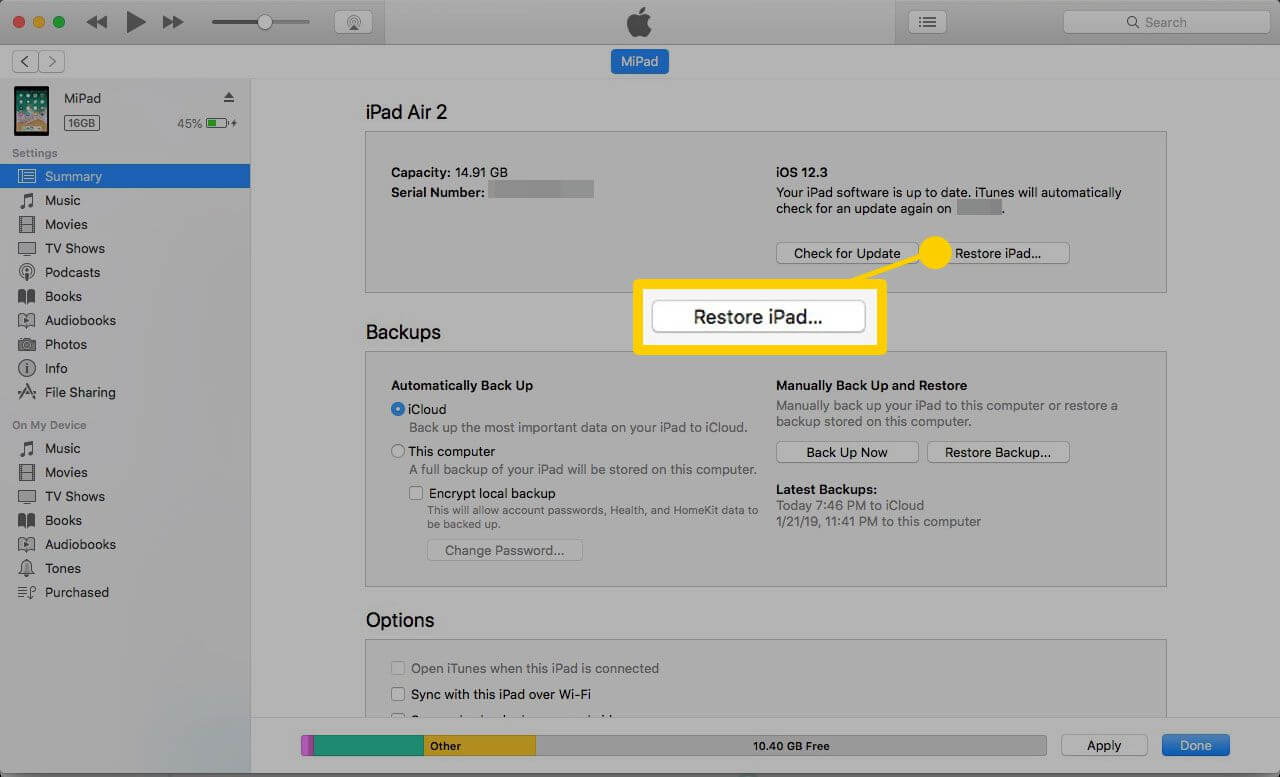 B. Via iTunes Recovery Mode (if haven't synced with iTunes previously)
If you haven't synchronized your iPad with iTunes or trusted your iPad with a computer previously, you can use iTunes Recovery Mode to unlock your iPad.
Recovery mode is a type of troubleshooting mode to factory reset your iPad. Putting your iPad in recovery mode deletes all your data and settings on your iPad, including the iPad screen passcode. Thus the Recovery Mode provides you with the flexibility to configure your iPad again.
Preparation before entering recovery mode
a. Mac or PC
macOS Catalina or newer, open a Finder window.
macOS Mojave or older, open iTunes.
If you're using a PC: make sure Windows 8 or later
b. a compatible cable
How to enter recovery mode?
Steps:
Connect your iPad to your computer( Mac or PC) using a USB cable.
Launch iTunes or Finder on your computer
Put your iPad into Recovery Mode
If your iPad has a Home button:

Keep holding the Sleep/Wake and Home buttons simultaneously until you see the "A cable and a PC" icon displaying on the screen, which means your iPad has entered into "Recovery Mode" successfully.

If your iPad doesn't have a Home button:

Press and release the volume up button, then press and release the volume down button. Then hold the top button until you see the "A cable and a PC" icon displaying on the screen, which means your iPad has entered into "Recovery Mode" successfully.
On your computer, you'll see a dialog box that says there was a problem with your iPad. Click Restore. Your computer will begin to download software for your iPad and start the restore process.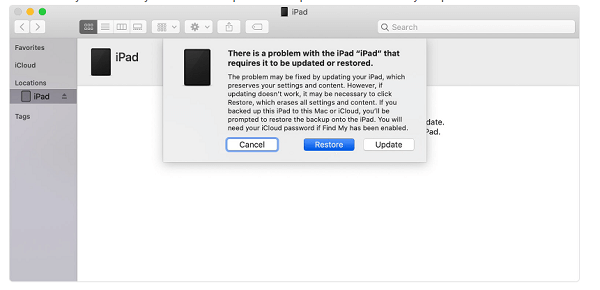 Wait for the restore process to finish.
Once it's done, disconnect your iPad from the computer, then set up and use your iPad.
Note: If the download takes over 15 minutes and your iPad exits the recovery mode screen, just let the download finish, and then repeat Step 3.
FAQs
1. What is the simplest method to factory reset my iPad?
If you have access to your iPad and you remember your Apple ID password, then the simplest method is via "iPad Settings".
Steps:
Navigate to Settings > General on your iPad
Click Reset
Tap Erase All Content and Settings
Type your passcode to restore your iPad to factory settings
Remove the account from your device by entering your Apple ID password
If there is any situation troubling you, visit here for a detailed solution.
2. How do I get my iPad back after restoring it without losing any data?
You may not like it, but the only way to unlock your iPad without password is to erase all the data on your iPad. You can restore it from your recent backup (assuming you have a backup before you are locked out of your device, that is). This is a good reminder: make regular backups of the data on your iPhone/iPad!
Steps: how to back up your device using iCloud
Connect your iPad to the Wi-Fi network. Open Settings > Device name > iCloud.
Navigate to iCloud Backup.
Now click Back-Up.
3. If you see an error when you restore your iPad, what to do?
Here is the fix:
Install the latest updates for your Mac and Install updates for your PC from Microsoft. Make sure to install the latest version of iTunes.
Directly plug your iPad into the computer's USB port instead of plugging it with an attached keyboard or USB hub. Use a different cable if you still find the error alert.
Try restarting your computer and your iPad.
Check whether your computer's security software needs to be updated. You might have to uninstall the security software on your computer if it's causing interference to connect with iTunes.
Try to Update or Restore your iPad again.
Summary:
How eager are you to unlock your iPad? With the above methods, you can easily unlock your iPad without a passcode. Comparing and contrasting them you must have been clear now that MobitrixLockAway is the most convenient among all the methods. Unlocking your iPad is just a piece of cake for Mobitrix LockAway. So, just download it and enjoy unlocking your iPad smoothly and effortlessly.