The simplest method to complete a factory reset when you have access to your iPad is via "iPad settings"
If you are facing device issues that cannot be resolved by simply restarting your iPad, you need to know how to reset iPad to factory settings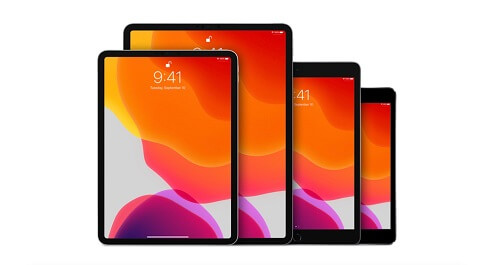 Are you wondering what should you do when your iPad suddenly becomes unresponsive? What if it just shows you a black screen, is stuck or frozen, or you can't turn it on or off? Perhaps you would want to sell your iPad, or you wish to give it to a friend. Well! According to my 5-year repair experience, resetting your iPad to factory settings can fix these faults and help you out to a great extent.
Whatever the situation may be, if you are facing device issues that cannot be resolved by simply restarting your iPad, you need to know how to reset iPad to factory settings. I have done all the leg-work for you in this article and I am pretty sure that this article will be the ultimate solution for you.
Method 1: To Complete a Factory Reset From Your iPad Settings
When I decided to sell my iPad it was super easy for me to factory reset my iPad. The main reason was that I had access to my iPad and I remembered my Apple ID passcode. If you also enjoy the same situation you can easily do it without a computer.
The simplest method to complete a factory reset is via "iPad settings". Just turn on your iPad and go to the "settings" option. Turn off "Find My" and then click "reset all the settings". That's it! You are done with iPad resetting even without a computer.
Preparations:
These are the few things you need to do before proceeding to the steps:
Remember to back up all your data.
Before wiping the content from your iPad, disable Find My iPad: Settings > Device name > iCloud > Find My > Turn off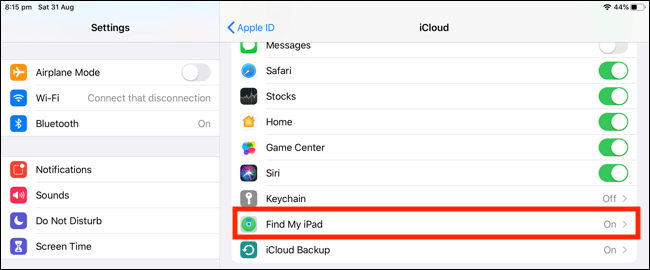 How to back up using iCloud
Steps:
Connect your iPad to the Wi-Fi network. Open Settings > Device name > iCloud.
Navigate to iCloud Backup.
Now click Back-Up.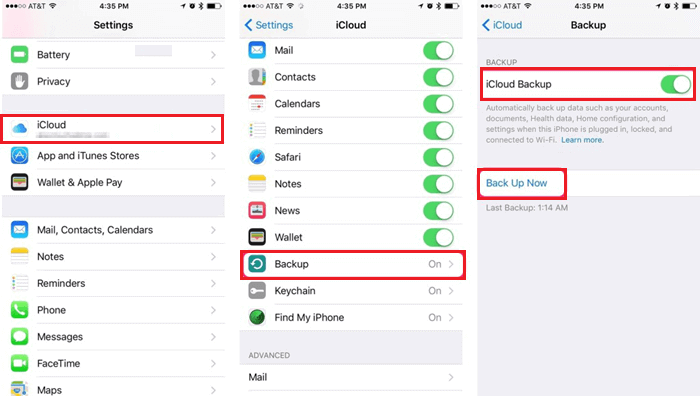 How to back up using iTunes/Finder:
Steps:
Using a USB cable connects your iPad to your computer. Make sure both these devices are connected to the WiFi network.
Open "iTunes" on macOS 10.14 and earlier. If you are using macOS 10.15 then open "Finder". If prompted, enter your password.
Follow the instructions displayed on your screen step by step until you click Back-up.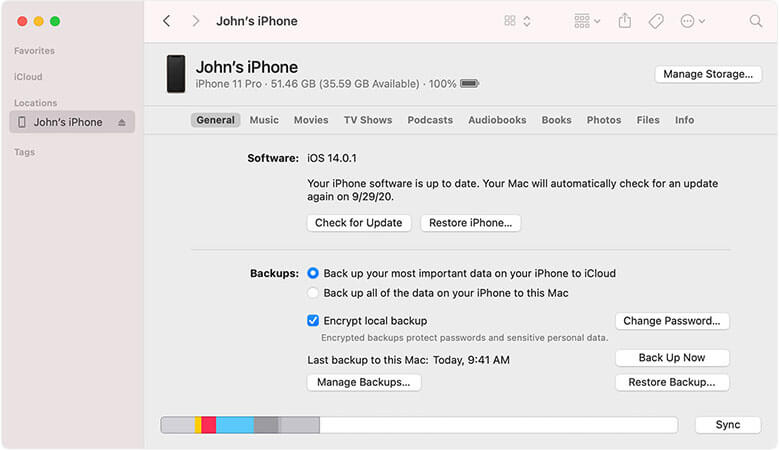 Steps to Complete a Factory Reset from iPad
As soon as the backup is complete, you can move on to the next step. Wipe all the content and settings from your iPad. Here's how to do it:
Steps:
Navigate to Settings > General on your iPad
Click Reset
Tap Erase All Content and Settings
Type your passcode to restore your iPad to factory settings
Remove the account from your device by entering your Apple ID password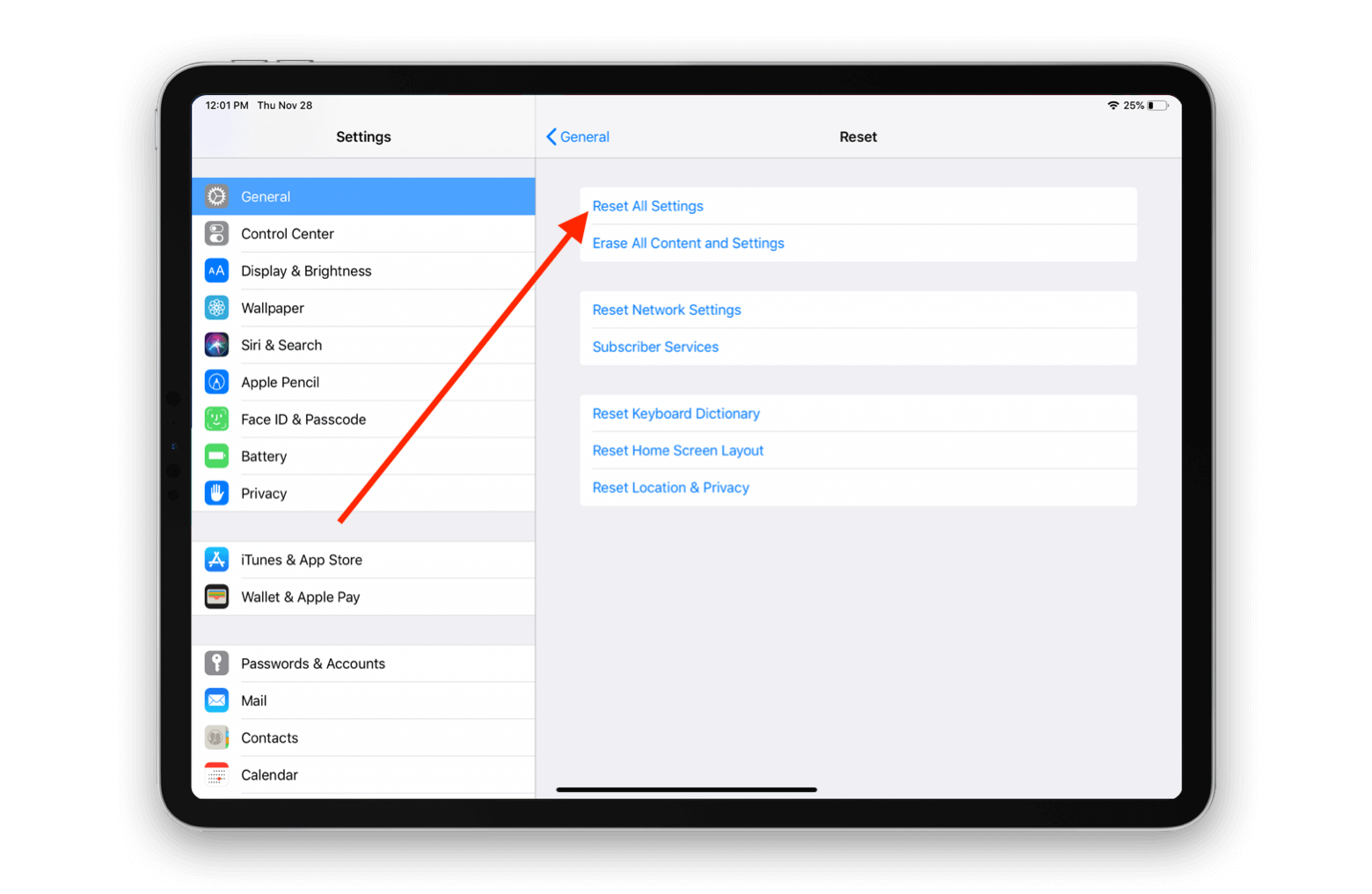 It will take a few minutes to complete the process and it will end once you see the welcome screen. Your new iPad is now ready to be used again.
In case you want to know how to restore your iPad from a backup? Here is how you can do it.
Restore your iPad from iCloud:
Follow the instructions for setting up your 'new' iPad and you will reach the Apps & Data screen
Log in to iCloud with your Apple ID, then tap Restore from iCloud Backup
Select the iCloud backup from the list of backups
Sign in with your Apple ID to restore your apps and purchases
Restore your iPad with iTunes:
Open iTunes.
Connect your device to your computer using a cable. Type in your passcode if prompted.
Click the iPad icon in the upper-left corner of the screen.
Tap Restore Backup.
After selecting the backup you want, click Restore.
When your iPad restarts, keep it connected to your computer and wait for it to sync, then disconnect it.
In the light of my experience, I would recommend you to use the super-easy tool called Mobitrix Perfix to fix all sorts of iPad issues. Believe me! After using Perfix I didn't have to rush anywhere else. It did wonders for me by fixing my iPad within no time.
Method 2: Use Perfix to Reset iPad to Factory Settings (Without iTunes)
As an expert, I have seen issues like black screen, frozen or, screen stuck on Apple logo, stuck in recovery mode for minutes, etc. Whether it be issues related to iOS, iPad, tvOS, iTunes, etc, I found Mobitrix Perfix as a one-stop solution for all. It ensures that you get your Apple devices back to normal without data loss.
How to reset iPad to factory settings? To answer the question I have gone through a series of experiments and concluded that Perfix is super easy to use, fast in action, and guarantees a higher success rate than iTunes. Most importantly it enjoys the function of resetting to factory settings. Let me reveal the details.
Advantages of Perfix:
No need to download iTunes or Finder
Your data is safe and secure
Easy steps
Faster and higher success rate than iTunes
It supports all iOS devices and versions
Perfix is 100% Safe and protects the privacy of the data
Preparations:
To my surprise, it didn't require me to do any preparations. So, dear friends, you don't need to prepare anything in advance. Simply toss all of your difficulties into Mobitrix Perfix and all your troubles will vanish.
Situation 1: Can't access to iPad Settings
Can't access to iPads Settings to reset your iPad? This might happen when your iPad is having some faults and you just can't access iPad settings. Not to worry! Because now the Reset Function of Mobitrix Perfix is here to show its magic. Let me show you how does it help you.
Steps:
Click on Reset Device in the main menu
Tap on Factory Reset
Start Resetting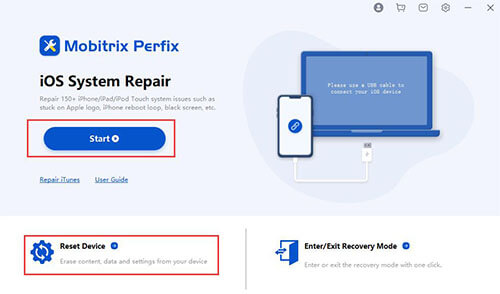 Situation 2: If your iPad has faults and want to fix them without data loss
If your iPad has faults and you desire to fix the faults while preserving all the data then the "Standard Repair"function of Perfix will be of great use.
Steps:
Step 1 Click on Start in the main menu
Step 2 Click on Standard Repair
Step 3 Start repairing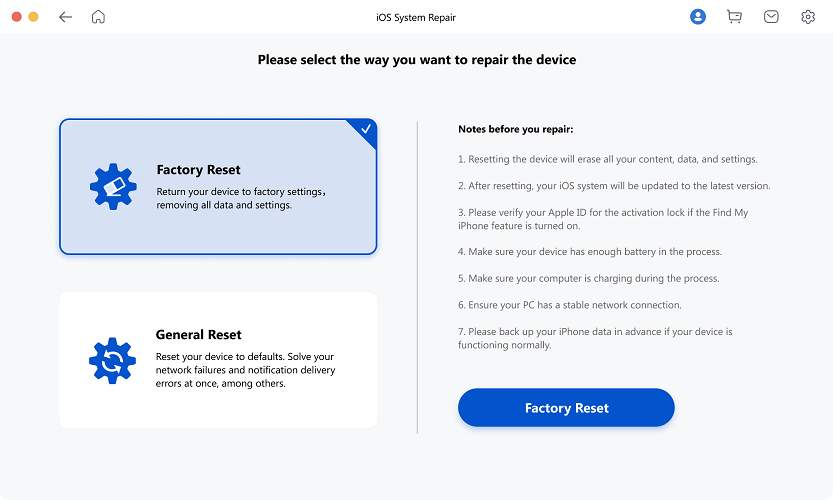 Let's move to our last method which is to use iTunes to reset the iPad to factory settings. Well! iTunes is Apple's official method but I wonder why it is so difficult to use. I believe you must have heard netizens' comments about it.
It might happen that after struggling for a few hours with iTunes you don't succeed in the end. All in all, it has a low success rate and perhaps you may come across unpredicted iTune errors 3194 / 4013 / 9006.
Method 3: Use iTunes to Reset iPad to Factory Settings
The last method to demonstrate how to reset iPad to factory settings is Apple's official method. Let's get into the details.
Preparations:
Make sure that your Mac or PC is updated.
You should have the latest version of iTunes.
Disadvantages:
It is a time-consuming process. If the process takes longer than 15 minutes, it will abort and you'll have to start over again.
You might face some unpredicted errors.
Sometimes iTunes may fail to recognize your device.
You must have the latest iTunes version.
Steps:
Open the Finder on a Mac with macOS Catalina or later. Open iTunes on a Mac with macOS Mojave or earlier, or on a PC.
Plug your device into your computer.
Follow the onscreen instructions if you have prompted for your device passcode or to Trust This Computer.
Click on your device.
Choose Restore [Device]. Sign out of Find My before clicking Restore if you are logged in.
Confirm your action by clicking Restore again.
When your device is restored to factory settings, it restarts. It is now ready to use.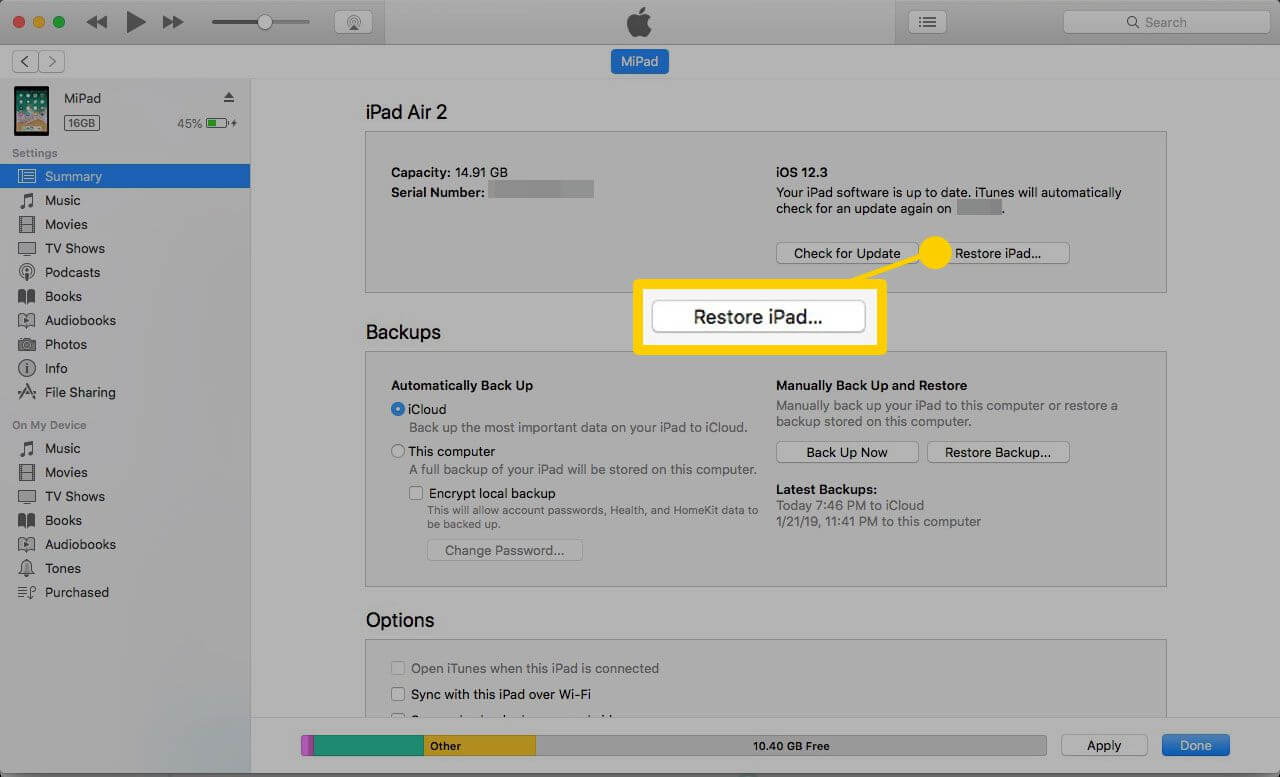 Summary:
Exposure to different iOS devices and dealing with a variety of fixes and issues have made my intuition stronger of using Mobitrix Perfix as my problem solver. To my relief, this software has always been a lifesaver for me. It answered my question of how to reset iPad to factory settings conveniently and effectively.
Genuinely speaking, when I compared my experiences using Perfix and iTunes, it was crystal clear to me that Perfix is obviously the best of the two and I highly recommend it to my customers, relatives, friends, and all the iOS users out there.