Have you decided to delete WhatsApp from your device? Maybe you want to take a break from the constant chatter that is social media. Whatever the reason you have decided to delete WhatsApp, you may be wondering what will happen to your WhatsApp account and data after you have delete WhatsApp.
In this guide we take a look at exactly what happens after you delete your WhatsApp account. We will share with you some ways to delete your WhatsApp and how to safeguard the data in your WhatsApp account before deleting it.
What Happens When You Delete WhatsApp
Before we show you how to delete your WhatsApp account, it is important to understand exactly what will happen when you delete WhatsApp. There are several things that you must take note of, but before we share with you what those are, it is important to note that although you will be able to reactivate your account after you register with the same number, you will not be able to retrieve your old chats.
Apart from losing the WhatsApp chats in that account, the following are some of the things you can expect:
Your phone number will no longer be associated with your WhatsApp account.
Your friends will not be able to see your number as it is will be removed from their WhatsApp contact list.
You will be removed from all WhatsApp groups that you joined.
Your message history will be deleted.
All Google Drive backups of your WhatsApp chats will be deleted.
All data in WhatsApp servers regarding your account will also be deleted.
Old messages will not be visible to you even if you reactive the same account.
Any service payment information on your account will also be deleted.
Backup WhatsApp Messages Before Deleting WhatsApp (FREE)
As you can see, deleting WhatsApp means losing all the messages in that account. Therefore, if there are some data in that account that you would like to refer to later, you may want to back up WhatsApp before deleting. Since you won't be able to access your Google Drive backup after deleting the account, it makes sense to find an alternative way to backup WhatsApp.
One of the best third-party tools to help you backup WhatsApp is Mobitrix WhatsApp Transfer. In fact, this tool is so much more than just a backup tool. The following features make it the most ideal WhatsApp management tool:
It is totally FREE to back up WhatsApp on both Android and iOS devices to your computer, the old WhatsApp messages will not be overwritten .
There is no limitation on the backup storage while iCloud offers only 5GB free backup storage.
Not only texting messages, other attachment files such as photos, videos, audios, documents, group chats can also be backed up.
It supports all iPhone models and all Android devices as well as all versions of the iOS 15 firmware and the Android firmware.
How to Permanently Delete WhatsApp Account
Now that you have a backup of your WhatsApp data, you can delete your WhatsApp account. Follow these simple steps if you would like to delete the account permanently:
Open WhatsApp on your account and tap on "Settings > Account".
Tap "Delete my Account" and when prompted, enter your phone number, country and area code.
Tap "Delete My Account" at the bottom to confirm the action.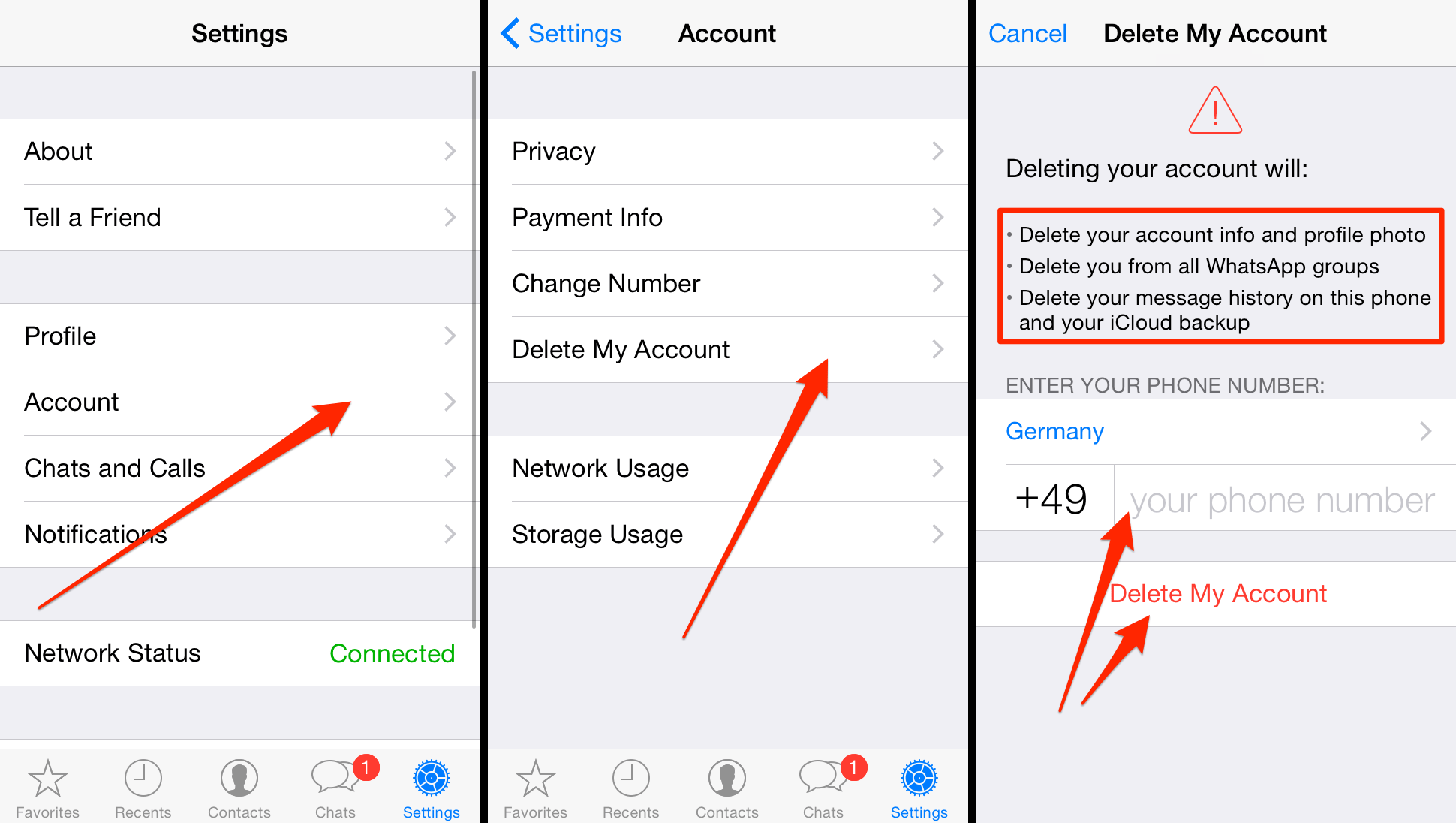 delete whatsapp account iphone
Your WhatsApp account will be deleted from your device, along with all the chats and any other data associated with it.
Temporarily Delete WhatsApp Account on Android/iPhone
The method to temporarily delete your WhatsApp account is different on Android and iOS devices. Here's how to do it for both devices:
For iPhone
Locate the WhatsApp icon on the home screen of your device. Tap and hold on the icon until it jiggles.
Tap on the "X" that appears on the top corner of the app.
When a popup message appears, tap "Delete" to confirm that you want to delete the app.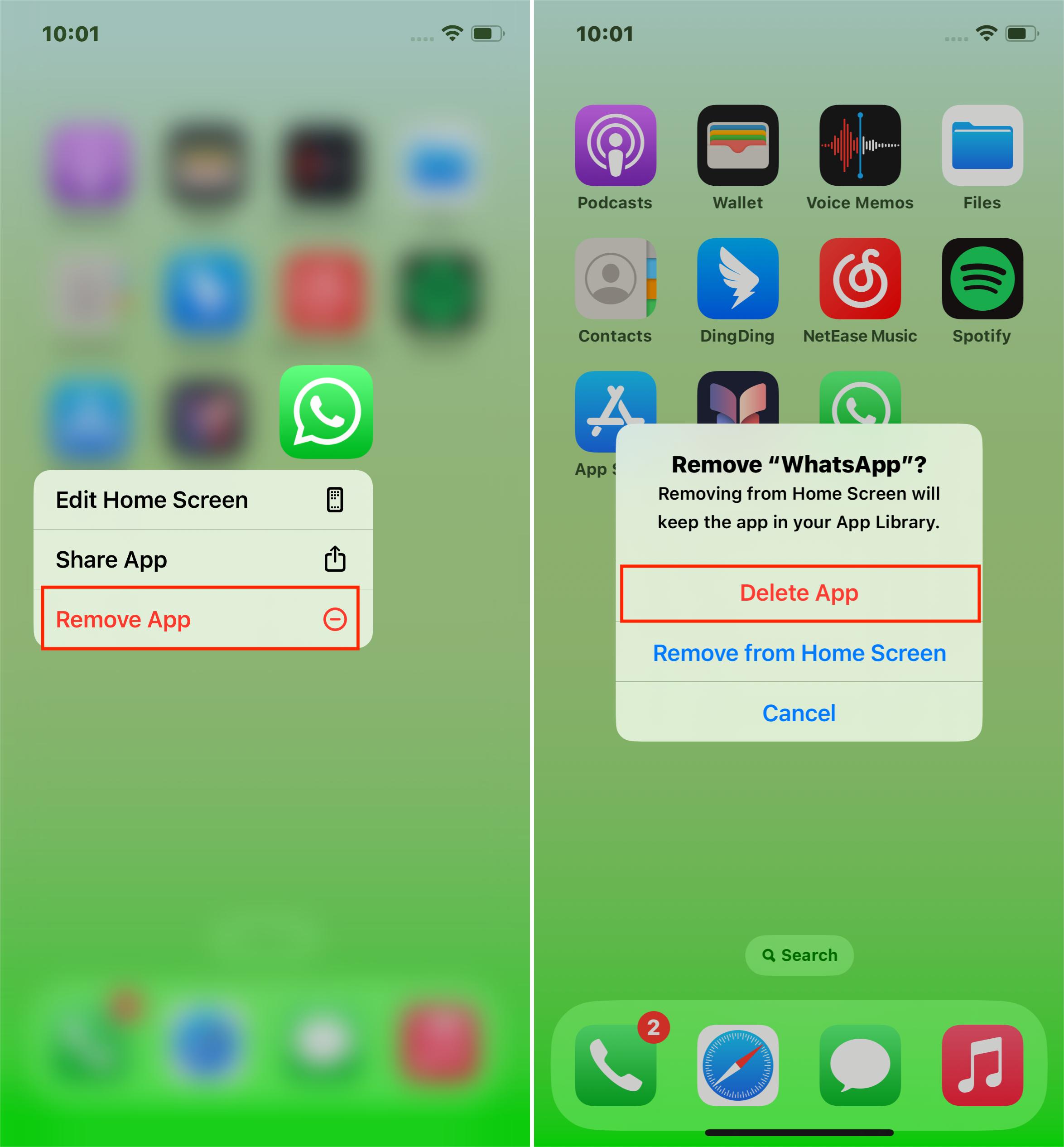 delete whatspp iphone
You can also very easily delete WhatsApp using iTunes. Here's how to do it:
Connect the iPhone to the computer and then launch iTunes. Click on the device when it appears in iTunes.
Go to the "Apps" section and then select "WhatsApp".
Click on the "X" at the top left corner of the icon.
Finally, click "Sync" to make sure the changes reflect on your device and then click "Done".
For Android
Locate the WhatsApp app in the App Drawer on your device. Tap and hold on the app.
You should see the option to uninstall the app appear at the top. Drag WhatsApp to the "Uninstall" section.
In the popup that appears, confirm that you want to uninstall the app.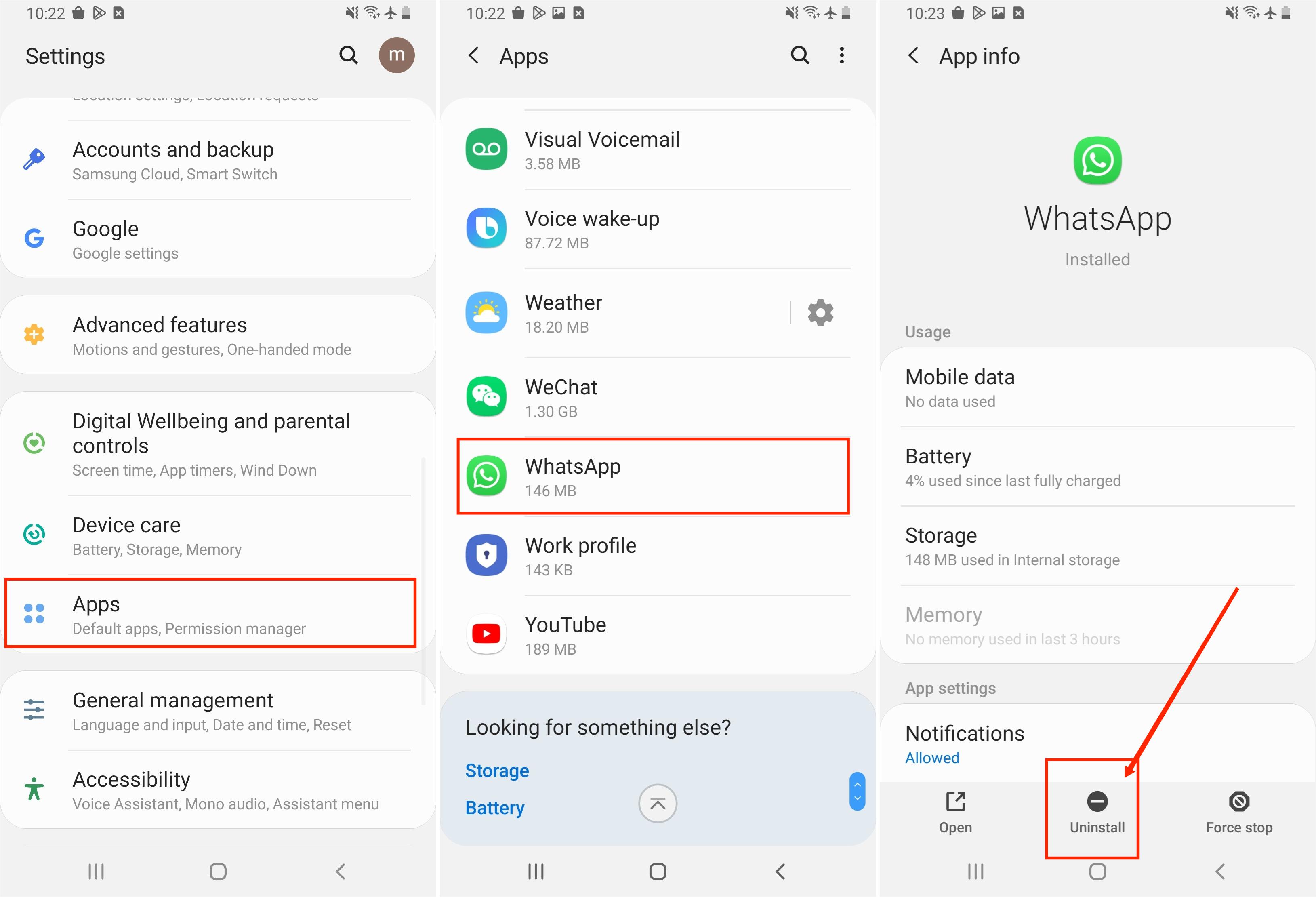 uninstall whatsapp android
Alternatively, you may also be able to temporarily delete WhatsApp from the settings. Here's how:
Open the "Settings" app on your device and tap on "Apps" or "Application Manager".
Find the WhatsApp application and tap on it.
Tap "Uninstall".
The same process can also be completed in the Play Store. Here's how to do it:
Open the Play Store on your device and then tap on the "Menu" (three lines at the top corner).
Tap on "My Apps & Games".
Locate "WhatsApp" in the installed section and then tap "Uninstall" to remove the app.
Regardless of the reasons you want to delete your WhatsApp account, at some point you will want to go back to it. When you create a backup of your chats before deleting the app will ensure that you just pick up where you left off. Mobitrix WhatsApp Transfer will help you create the backup very easily and seeing as the backup is on your computer it is easily accessible.