Getting a new phone feels very exciting but are you worried about losing your crucial WhatsApp chats on your previous phone?
WhatsApp keeps a backup of your chats in case you accidentally delete them or need to switch phones but don't want to lose crucial messages.
WhatsApp chats can be protected by a password with end-to-end encryption, or an unencrypted backup to your phone or computer lets you check the detailed data in it.
In this article, you will find how to take backup of WhatsApp in multiple efficient ways so keep reading.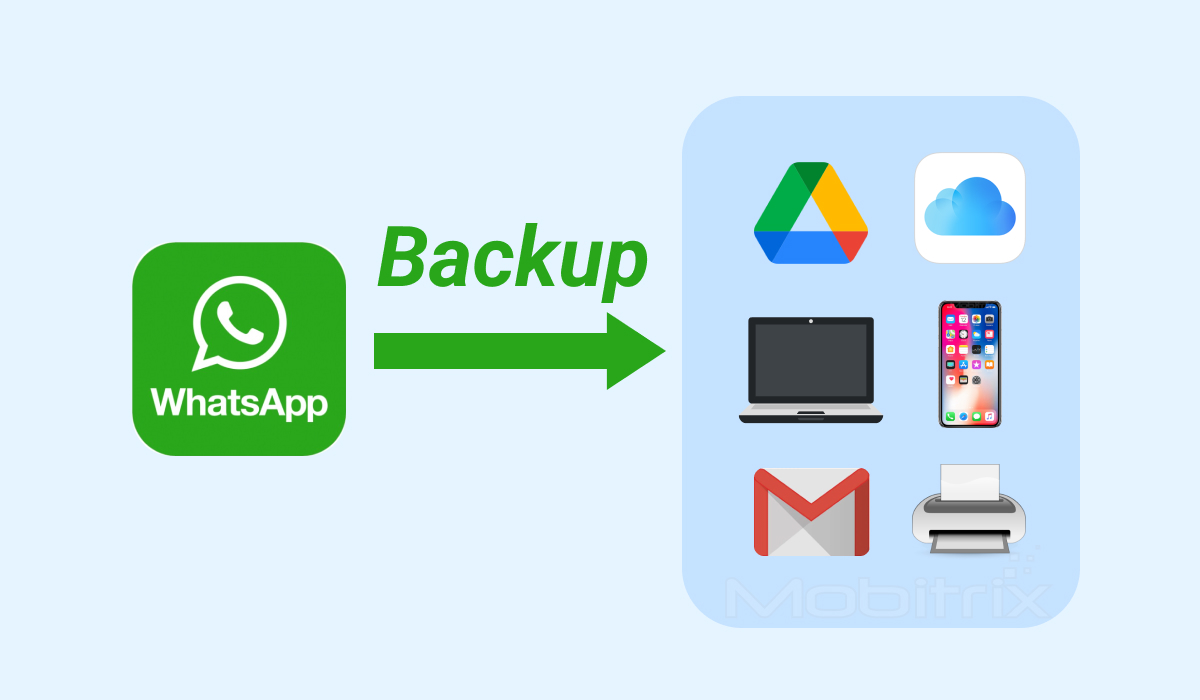 Via Mobitrix: The Best Way to Backup and Restore WhatsApp
What's Mobitrix?
Mobitrix WhatsApp Transfer is the easiest and most efficient way to backup WhatsApp messages on a PC and then restore it to a new phone. The tool is professionally designed for people who don't want to lose their WhatsApp chats in a phone switch.
Mobitrix Features:
Take a backup of WhatsApp from Android to iPhone or iPhone to Android
Transfer WhatsApp between Android and iPhone
Support WhatsApp and WhatsApp Business
Steps
Launch Mobitrix WhatsApp Transfer on your computer.

Launch Mobitrix WhatsApp Transfer

Connect the two devices you want to backup from and restore to.
Set the required device as source and destination.

Backup WhatsApp to computer and restore

Select the transfer option and wait for it to complete.

Complete your Whatsapp transfer
Trustpilot
Why I Do Recommend Mobitrix?
Transfer WhatsApp quickly and is very simple to use.
Backup all chats without any memory limitations.
Let you backup all types of data such as texts, images, videos, contacts and files.
Works with all models and versions of Android and iOS, such as iPhone 14/14 Pro/13/13 Pro/12/12 Pro/11/11 Pro, Samsung, Google Pixel, and 5000+ Android devices.
Mobitrix WhatsApp Transfer is my all-time favorite because the processing is so fast. You will find multiple WhatsApp backup tools on the internet, but Mobitrix keeps the privacy protection of its users as a priority.
If you are the type of person who never likes to delete messages, you probably would have more than 10 GBs of messages on WhatsApp already. In such cases, it's best to back up your WhatsApp messages to a computer, so you can restore them to any phone later.
How to Take Backup of WhatsApp using Samsung Account
Samsung specifically allows its users to back up their WhatsApp transfers with a Samsung Account.
Steps
Open the settings of your Samsung phone.
Go to 'Accounts and backup.'
Click 'Backup and restore.'
Locate 'Backup data.'
Sign in to your Samsung Account if asked.
Choose WhatsApp to backup or restore accordingly.
Click 'done' when the backup is finished.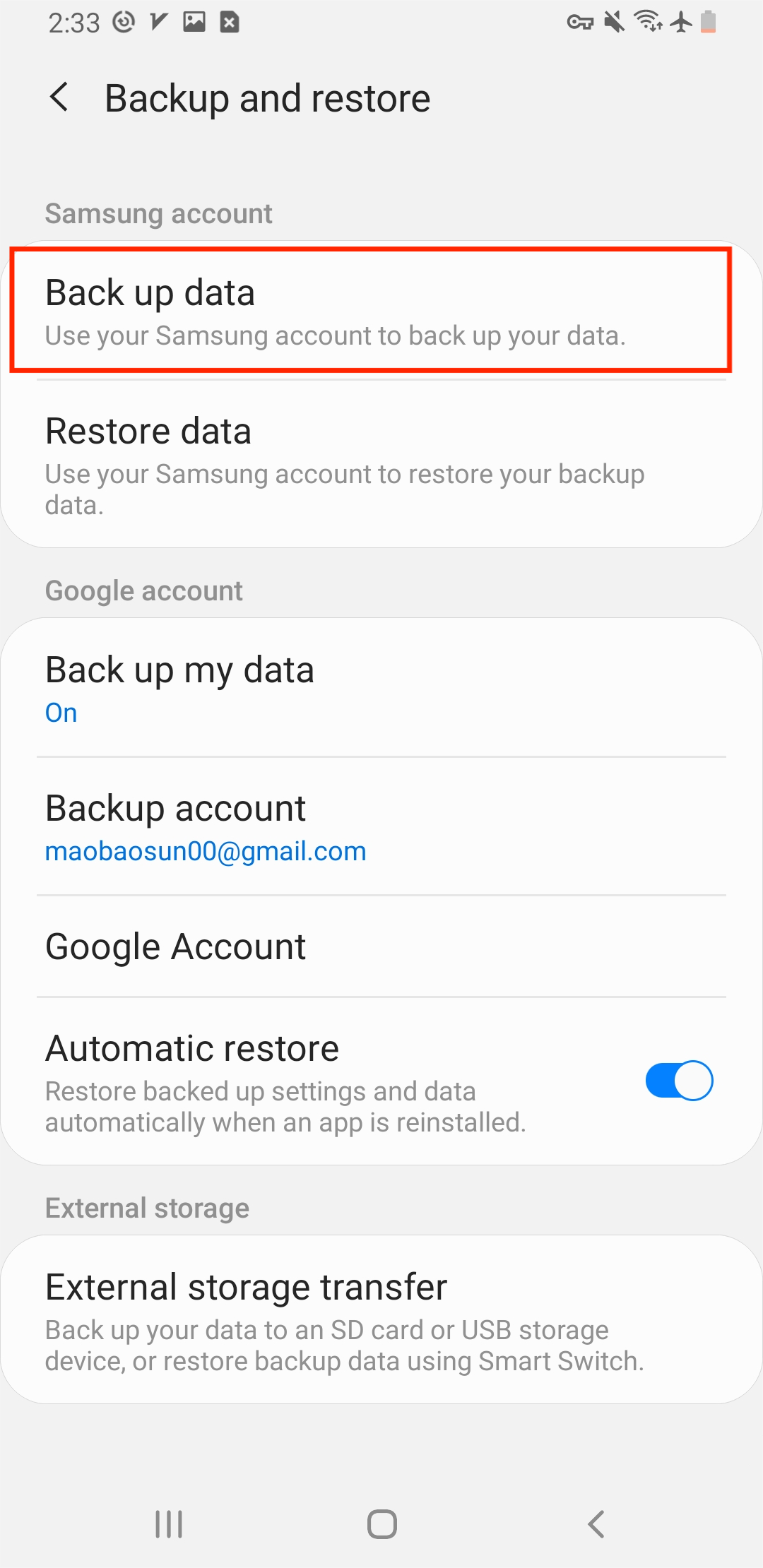 Backup WhatsApp via Samsung account
Pros
The method is fast and simple to try.
You do not have to uninstall WhatsApp from your device.
It does not require you to connect to a computer.
You get free storage of up to 15 GB with your Samsung Account.
Cons
The method only works for Samsung devices.
It does not transfer WhatsApp to iOS or other Android devices.
You might have to pay for an upgrade if storage is not enough for data.
How to Backup WhatsApp to Google drive?
Backing and restoring your WhatsApp Android via Google Drive is one of the safest ways to transfer WhatsApp between different devices. However, according to wabetainfo.com's report, Google plans to eliminate the unlimited plan to store WhatsApp backups as it takes up a lot of memory.
Steps
Launch WhatsApp and go to settings by clicking three dots in the top corner.
Locate the chats tab and open chat backup.

WhatsApp chat backup settings

Click Google Account, and select a Gmail account connected to your device or add a new account.

Authenticate Gmail account on WhatsApp

Tap 'Back up to Google Drive' and choose a backup option from the drop-down list. Click 'Back up over' and choose 'Wi-Fi' or 'Wi-Fi or cellular'. Note: Choosing the cellular option and backing up your WhatsApp may cost you additional data charges from your ISP.

Backup WhatsApp to Google Drive

Videos are not backed up by default, don't forget to turn on 'Include videos.'

Backup WhatsApp videos

Click 'Back up' to start a backup to Google Drive.

Backup WhatsApp to Google Drive
Pros
The method is effortless to follow.
It does not need a computer.
Cons
It does not work with restoring the backup on the iPhone.
It is hard to backup WhatsApp on a computer.
The method takes a lot of time, and processing can get stuck also.
You have to uninstall WhatsApp while restoring, which might cause a loss of local backup.
End-to-end Encrypted Backup
End-to-end encryption means no one can see a conversation except the two persons in chat, not even the developers. Once encrypted, your WhatsApp chats will be stored in cloud servers protected by a password or a 64-digit encryption key.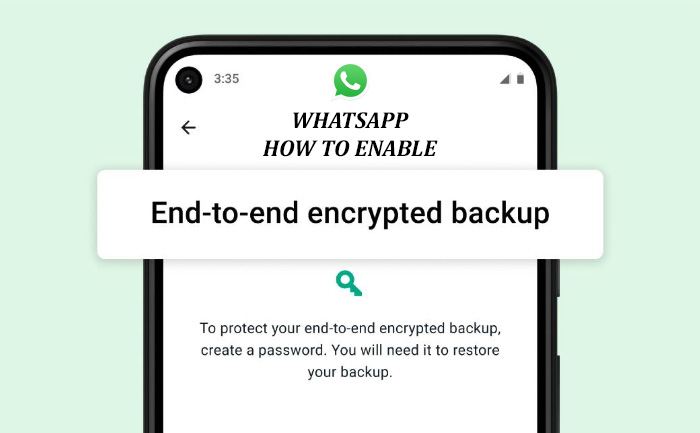 End-to-end encrypted Backup
Here is how you can enable end-to-end encryption:
Go to your WhatsApp settings.
Open chats > backup > end-to-end encrypted backup.
Follow the prompt to enter a security key.
Select create and wait for it to end.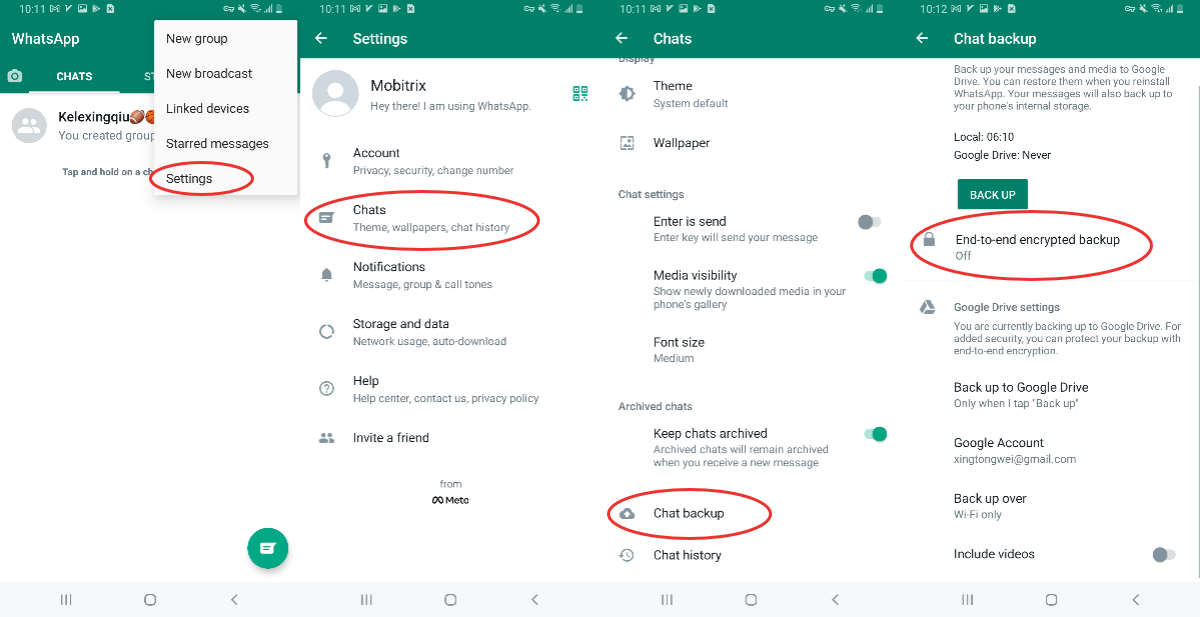 Take end-to-end encrypted backup of Whatsapp
Note: Make sure to write your key down in a safe place because once it is lost, you can retrieve it.
How to Find Google Drive WhatsApp Backup?
Open Drive.Google.com and sign in with your Google Account.

Sign in Google account

Tap on the Settings icon (gear icon) and choose settings to open.

Google account settings

Select Manage Apps.

Manage apps on Google account

Scroll down in the list of apps to locate Whatsapp messenger.

Find WhatsApp backup on Google Drive

Google Drive only allows you to Disconnect from Drive or delete hidden WhatsApp data.

Google Drive WhatsApp backup options
How to Download Google Drive WhatsApp Backup on PC?
Download whapa free tool and install  python3.8.10 to configure your computer settings.
Locate the file settings.cfg

Download Google Drive WhatsApp backup

Configure your Google drive username, password, and phone number.

Configure Google Drive account

View WhatsApp messages with the command python whagodri.py –i

View WhatsApp messages with the command

Download backup using the command: python whagodri.py -s -o data

Download WhatsApp backup using command
Now, you can clearly see all the backup information in your google driver, including: backup name, backup time, total size of backup files, backup database size, size and number of backup audio and video files, etc.

Check downloaded WhatsApp backup
How to Take Backup of WhatsApp to Android Local Storage
Backing up your chats in Android local storage is a better idea than Google drive as it does not require a strong internet connection. Besides this, Android backups and restoring procedures do not lag or get stuck like Google drive.
Steps
Go to the settings on your WhatsApp.
Open chats and locate backup.

WhatsApp chat backup settings

Click on Backup to Google Drive, and select Never from the list.

Never backup WhatsApp to Google Drive

Click on the backup button to start the backup to your phone's internal storage.

Backup WhatsApp to local storage
Pros
Backing up via local storage is easy and fast to process.
Cons
It only saves data for one week.
The restoring process comes with complications.
Uninstalling your WhatsApp will delete your local backup.
How to find WhatsApp Backup on Android local storage
For Android 11 or higher
Go to "My Files" or File manager on your Android device.
Locate Internal storage and select Android
Now, open media and then com.whatsapp

Find local WhatsApp backup Android 11
For Android 11 or higher
Steps
Open "File Manager" > "Internal storage"
Look for the WhatsApp folder in the directory
The "Databases" folder is the backup database. The Media" folder is the files sent and received in the chat

Find local WhatsApp backup Android 10
And you will find your WhatsApp backup in Android local storage, but this data is not in the format to view. Backing up Unencrypted Android WhatsApp to your device will let you view your messages in backup.
How to Backup Unencrypted Android WhatsApp to Local Storage
With the unencrypted Android WhatsApp backed up in your local Android storage, you can easily view all the messages since they are not protected with encryption. This method can be followed with different third-party tools such as GBWhatsApp, FMWhatsApp, OGWhatsApp, etc. The steps are as follows:
Steps
Download GBWhatsApp and launch it.
Go to "Settings" > "Universal" > "Backup and restore" >"Backup WhatsApp Data" to backup WhatsApp.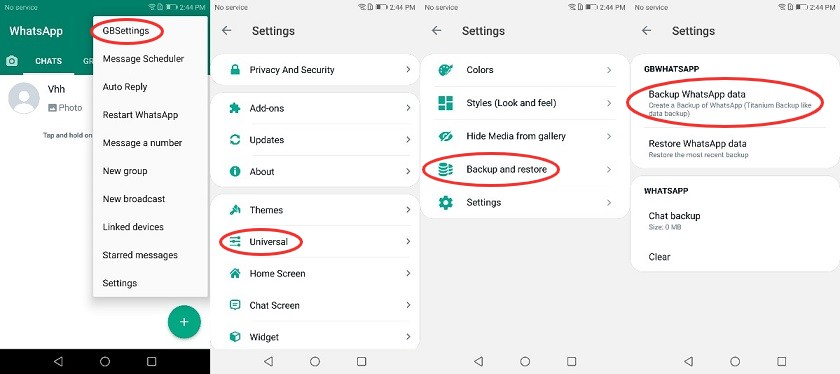 Backup unencrypted Android WhatsApp
How to Find WhatsApp backup on local storage
Find "GBWhatsApp/ModsBackup/com.gbwhatsapp" directory in the memory card.
The folder "databases" is the backup of your WhatsApp chats.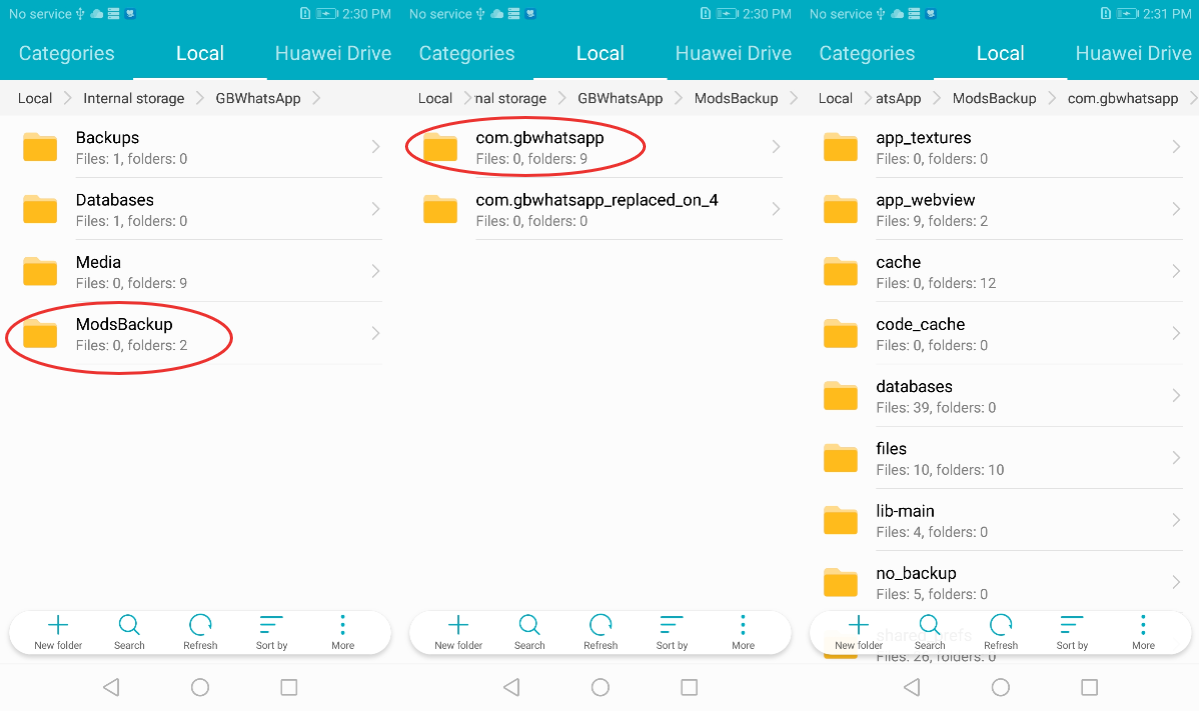 Find unencrypted local WhatsApp backup
How to Take Backup of WhatsApp to iCloud
If you are an iOS user, then you can also back up your WhatsApp on your iPhone to iCloud manually or automatically. Setting up an automatic backup can save a lot of time.
Steps:
Launch WhatsApp
Go to Settings > Chats button > Chat Backup
Toggle "Include Videos" to save your videos as well.
Choose "Back up Now" to run a backup.
Toggle auto back up to keep backing up automatically.

Backup WhatsApp to iCloud
Pros
iCloud is an additional option for iOS users.
Backing up with iCloud is very easy.
Cons
You do not have to uninstall WhatsApp for restoration.
It does not let you backup WhatsApp on Android devices.
Only 5 GB of free space is available on iCloud, and you will have to pay for additional space.
How to Take Backup of WhatsApp iPhone to Computer via iTunes
If the iCloud method does not work for you, you can back up WhatsApp via iTunes on your PC or Mac.
Steps
Keep the iTunes version on your computer up to date.
Connect your iPhone to the computer and launch iTunes if it doesn't open automatically.
Select the "Device icon" on the left side.
Click on "Back up Now"

Backup WhatsApp via iTunes
Now, wait for iTunes to complete backing up your WhatsApp. Ensure the connection between your device and computer is stable. You can restore them to the device if needed.
Pros
Unlike iCloud, you do not have to worry about storage problems.
Cons
You have to update iTunes regularly.
The process is time-consuming and might get stuck also.
It does not specifically backup WhatsApp but complete data on your iOS device.
iTunes does not restore your data on Android devices.
How to Take Backup of WhatsApp in Readable and Printable Format
Has your friend accidentally deleted their WhatsApp messages with you and do not have a backup too? Don't worry. Share your WhatsApp conversation with him in a printable form to keep record of crucial information. Nothing to worry about anymore because I have discovered a way to do so.
Email, PDF, or HTML
One way to do this is to transfer WhatsApp messages through Email in a text form. Here are the steps to transfer WhatsApp via Email.
Go to WhatsApp and open a conversation thread you want to transfer.
Click on the three dots and select more > Export chat.
Select Gmail, enter a recipient, and hit the send button.
Open the recipient email and download the .txt file.
If you wish to get a PDF or HTML version of your WhatsApp, download the .txt file from Email, and then use a converting tool to export your chats in PDF or HTML format.
Backing up or transferring your WhatsApp chats from one device to another can be a hectic situation if you are unaware of the right methods. Luckily, this article got you covered with eight different methods. All you have to do is follow the steps as mentioned above and your backup problem will be solved.
But the most effective method in the list is Mobitrix WhatsApp Transfer. The user-friendly interface of the tool makes it easy for people to use even with a non-technical background. No privacy invasions and a 100% success rate is a plus point of the tool.