While you can easily backup WhatsApp to Google Drive (Android) and iCloud (iOS), these cloud solutions may not always be advantageous.
If you are looking for an alternative, you might backup WhatsApp to PC. In many ways, this is much better than using a cloud service. For example, you will not lose your backups if you forget your iCloud or Google Drive password.
In this article, we will take a look at how you can backup WhatsApp to PC.
How to Backup WhatsApp from iPhone/Android to PC
The process of backing up WhatsApp from an iPhone or Android device to PC can be complicated by the method you choose. But there is a third-party tool that is specifically designed for this purpose. Mobitrix WhatsApp Transfer allows you to create a full backup of all the data in WhatsApp to the PC in a single click.
To use Mobitrix to backup WhatsApp to your PC, install the program on to your PC and then follow these simple steps:
Run Mobitrix and click on 'Backup WhatsApp on Devices'. Then allow the program to detect the Android device or iPhone.

Once the program detects the device, click "Backup". The program will notify you when the process is complete.
Mobitrix WhatsApp Transfer comes with a number of great features. They include the following:
It can be used to backup both chats as well as media files.
Unlike iCloud and Google Drive, Mobitrix will not overwrite any previous backup that may already be on your PC.
You can also use it to restore the backup back to any device.
It is also one of the best ways to transfer data between devices, regardless of the platform. For example, you can transfer data from Android to iPhone, iPhone to Android, Android to Android and iPhone to iPhone.
The WhatsApp messages will be backed up to PC and will not be leaked out.
Backup WhatsApp to PC from Android
To backup WhatsApp to PC from Android, you can try one of the following solutions:
2.1 Directly Transfer from Phone Memory
You can access the WhatsApp backup from the device's internal memory. This process is simple. Just follow these steps:
Connect the Android device to the PC using an USB cable.
Click on the Android device when it appears and then find the "WhatsApp" folder.
Now, simply copy the WhatsApp folder in its entirety and paste it to another location on your computer.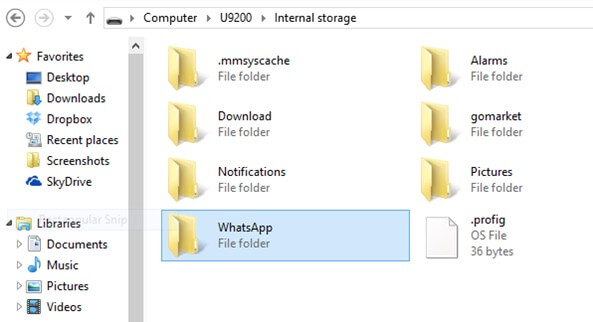 You can also just open the WhatsApp Folder and then select the messages listed in it. Right-click on the messages and then select "Export to PC". The messages will be transferred to the computer in .SME format.
But if you use this method, you may be unable to read the transferred messages because of the incompatible format.
2.2 Save WhatsApp to PC via Email
You can also export WhatsApp messages to your PC using the email feature in WhatsApp. Essentially, you send the messages to your email address and then open it and download them to your PC. Here's how to do it:
Open WhatsApp and then locate the messages that you would like to export.
Tap on the menu (three vertical lines in the top right corner) and select "Export Chat" from the options presented.
Choose "Gmail" from the options. In the next window, enter your email ID and tap "Send".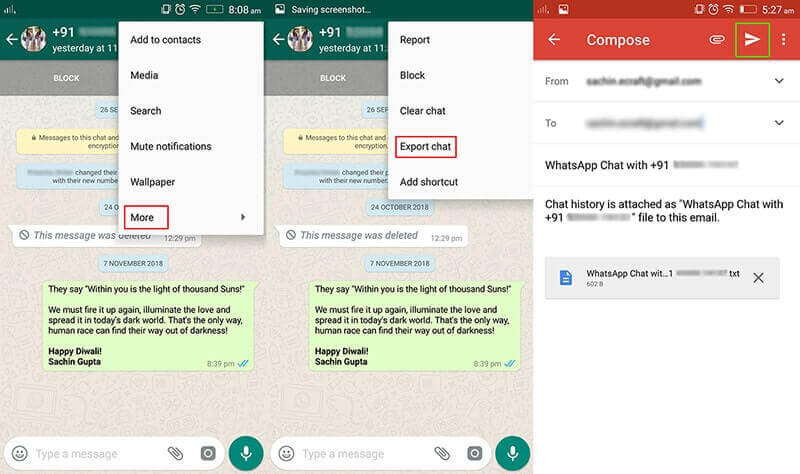 Now all you need to do is open the email on your PC to download the attached message. The main drawback of using this method is that you can only transfer one message at a time.
Save WhatsApp Chat on PC from iPhone
To backup iPhone WhatsApp chats to PC, try one of the following solutions:
3.1 Through Emails
It is easy to email individual chats from WhatsApp on your iPhone to your PC. But this method may only be applicable to you if you have a few messages to backup since can only backup one chat at a time. Here's how to do it:
Open WhatsApp on your iPhone and then go the conversation you would like to save. Tap on the contact name at the top.
Tap "More" and then select "Email Chat". Select if you would like to include media files with the chat.
Enter your email address and then send the email.
On your PC, open the email and then download the TXT file attached to save the chats to your computer.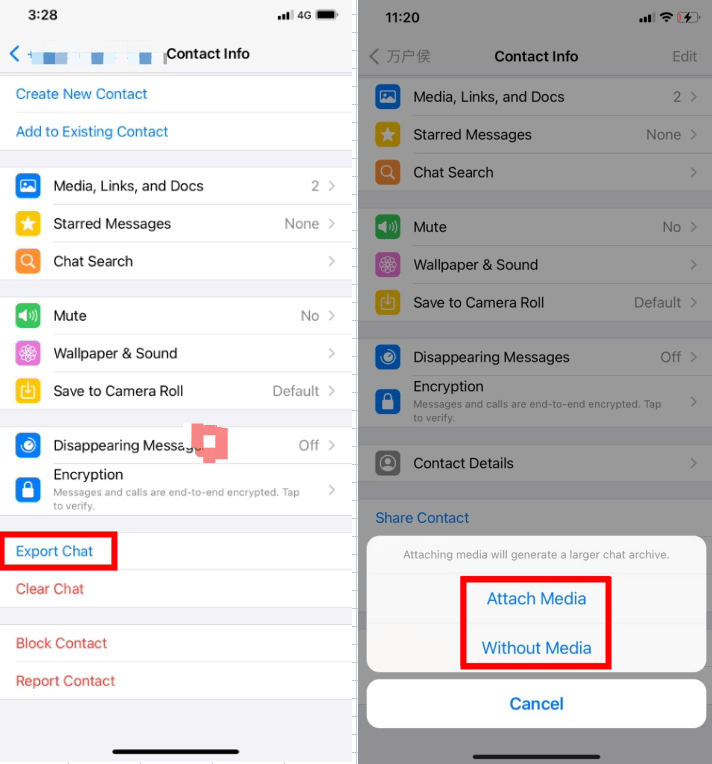 export whatsapp chat via email
3.2 Backup iPhone WhatsApp to PC via iTunes
Perhaps the quickest way to backup WhatsApp from iPhone to PC is via iTunes. The process just involves connecting the iPhone to the computer and creating a full backup. The following specific steps show you how to do that:
Open iTunes on your PC and take a moment to make sure that you are running the latest version.
Connect the iPhone and wait for iTunes to detect the device. Once the iPhone appears in iTunes, go to the "Device" tab and select it.
Click on "Summary" and then select "This Computer". Click "Backup Now" and the backup process will begin immediately.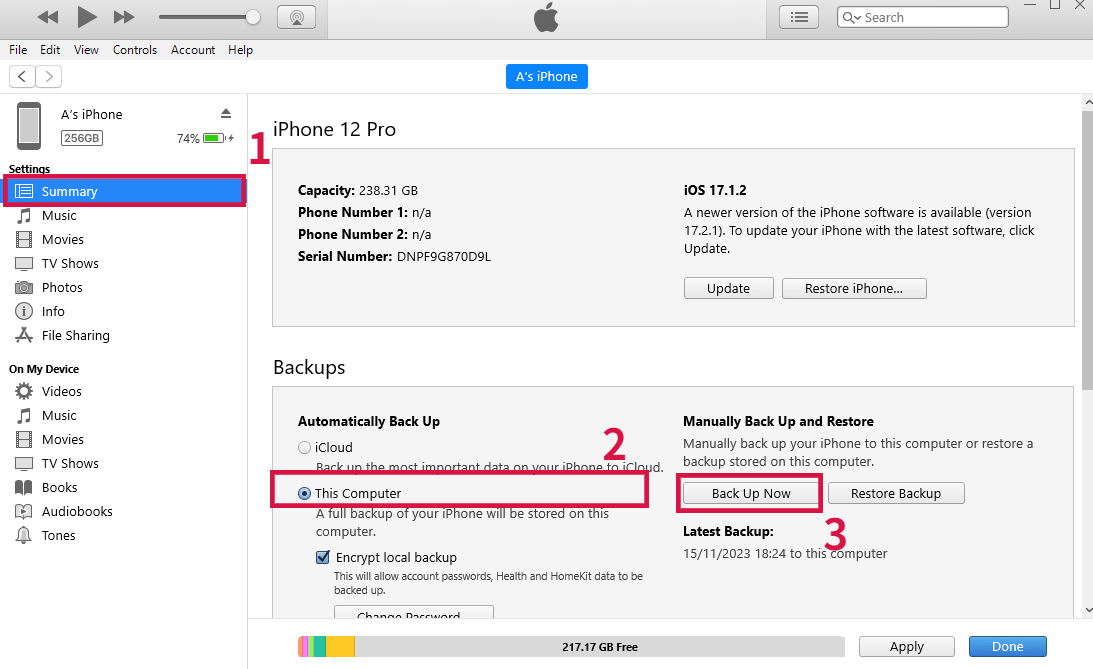 back up iphone itunes
Keep the device connected until the backup is complete.
Backing up your WhatsApp data to PC can be crucial when cloud services are not a viable option for you. And now you know the various ways you can backup WhatsApp to PC on both Android and iPhone. Which method did you find useful? Use the comments section below to share your thoughts with us.