It can be an exciting experience when you switch from an Android device to an iPhone.
As exciting as it is, transferring your WhatsApp chats data from your old Android to your new iPhone can be frustrating.
Although, it makes sense to try to download your WhatsApp backup data from Google Drive and restore it on your iPhone.
But before we go further, let us answer this common question:
Is It Possible to Download WhatsApp Backup from Google Drive Directly?
When you back up your WhatsApp chats to Google drive, Google drive only allows you to preview or delete your WhatsApp backup.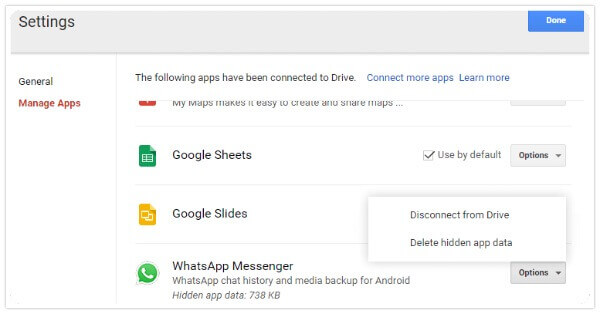 find whatsapp on google drive
Even though it is not directly possible to download your WhatsApp data from Google Drive, there are other ways you can go about it.
You can consider transferring your local backup from your Android phone to a computer. Or transferring your chats backup from Android to iOS using Mobitrix WhatsApp Transfer.
How to download WhatsApp backup from google drive to PC
As stated above, it is practically impossible to download WhatsApp backup data from google drive. However, it does not mean you cannot migrate your WhatsApp data from your phone to your computer.
How to migrate:
Connect your smartphone with the computer with a USB cable
Locate your phone's internal storage or your default root storage from the computer.
Open the WhatsApp folder, copy both "Backups" and "Database" folders to your computer.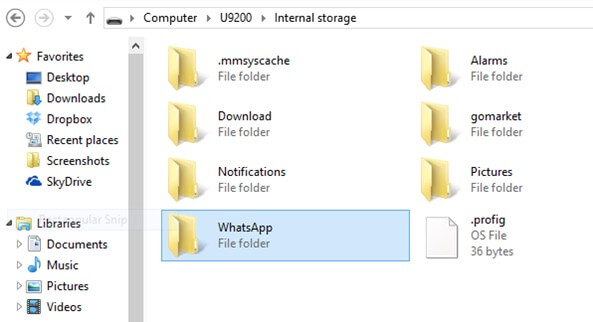 whatsapp folder
The reason for copying the two folders is because they are both important. While the "Database" folder contains the backup of the chats, the "Backups" folder contains the backup of other data such as the wallpapers, stickers, chat settings, and so on.
How to Transfer WhatsApp Backup from Android to iPhone with Mobitrix
When you switch from an Android device to an iPhone, WhatsApp allows you to transfer your account information. But what about your chats and other media?
Why is that? Well, that is because Android and iOS devices operate on two independent platforms. This makes it very difficult to transfer data across the two devices.
Mobitrix WhatsApp Transfer has made it easier to transfer your WhatsApp chats from Android to your iPhone.
This WhatsApp Transfer tool provides you with the easiest and most convenient way you can transfer your WhatsApp chats across the two devices.
Why Mobitrix is the Best Tool to Transfer Your Data from Android to iPhone?
1. Ease of Usage
Mobitrix WhatsApp Transfer is designed with the view to offer the most convenient means to transfer your data. We value the comfort of our users, that is why this app is designed with a simple, straightforward, and easy-to-use interface.
2. Secure and Privacy Protection
We value your privacy because it is as important to us as it is to you, and we do not plan to intrude on your privacy. Hence, this app is designed to keep your data with you, on your computer. So, you can rest assured that your data is safe when you use Mobitrix.
3. No Need to Uninstall WhatsApp
Mobitrix allows you to transfer your WhatsApp chats across these devices without uninstalling WhatsApp. This is because our app supports thousands of Android and iOS devices regardless of the model or operating system.
How to use Mobitrix
To transfer your WhatsApp data, you need to first install Mobitrix WhatsApp Transfer on your computer. Having installed the app, connect both your Android and iPhone to the system using USB cables.
Connect both your Android and iPhone to the system using USB cables.
Click "Transfer" to begin transferring the data between your Android and iOS devices.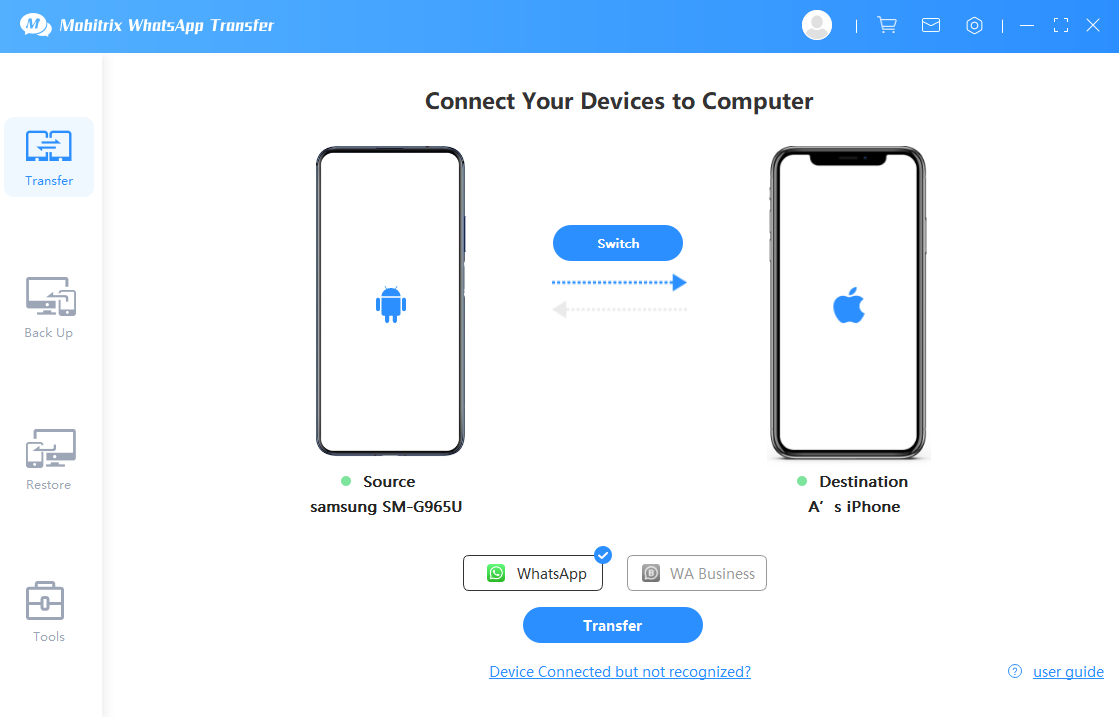 transfer google drive whatsapp backup via mobitrix whatsapp transfer
Note: you must keep the two devices connected until the transfer is completed.
Once the transfer process is complete, you have successfully migrated your WhatsApp chat data from android to your new iOS device. Your messages and other WhatsApp data will then begin to show on the iPhone.
Transferring your WhatsApp data from Android to iOS with Mobitrix is quite simple and straightforward. Watch this step-by-step video guide as well:
Although it is not possible to directly transfer WhatsApp data from Google Drive to iPhone. But with the help of Mobitrix WhatsApp Transfer tool, cross-platform migration of your WhatsApp data becomes an easy feat.
This third-party tool does not only provide a fast and secure way to do that, but it also allows you to do it at your convenience, with or without an internet connection.
Your memories and chats are very precious to you. At least, that was the reason for backing them up. Therefore, it would be counterproductive to lose such precious memories and chats.