Are you planning to switch your old Android phone but having important chats on your WhatsApp? Wondering how to restore WhatsApp Backup from Google Drive to a new phone? If these are your concerns, congrats! You have come to the ultimate article in restoring WhatsApp chats effectively. Now no more hassle Googling elsewhere.
Let's admit it, restoring chats from Google Drive into a new phone is not easy, even for a tech guy like me, especially if you are switching from Android to iPhone. Having experienced the same situation, I now have enough tricks and techniques to help you restore your precious WhatsApp chats without any headache.
Whether you are an Android or iPhone user, this article would be a lifesaver for you. It is an ultimate guide explaining how to restore WhatsApp backup from google drive to iPhone and Android. Therefore, sit upon your seats and read the practical guidelines that I have rounded up for you to do the entire task as quickly as a flash of light. Without further ado, let's get into the article.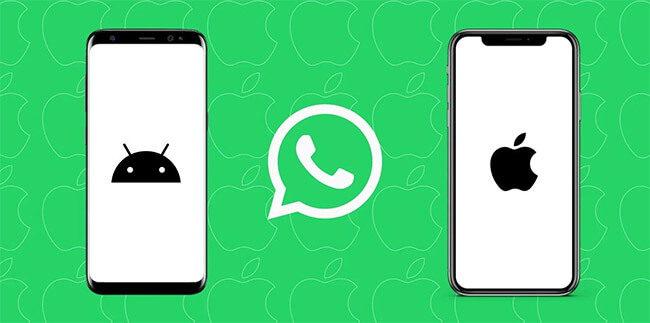 transfer whatsapp between android and iphone
Part 1: Backup WhatsApp to Google Drive Before Restore
Before performing a WhatsApp restore, you'll need to make sure whether your WhatsApp chats have been backed up on Google Drive or not. You may click here to quickly check how to restore, if yes. Otherwise, check the instructions below and set your WhatsApp to back up data regularly onto Google Drive.
Open your WhatsApp application on your smartphone and tap on the setting section.
Now, head towards the chat option. Click on chat backup and select back up to Google Drive.
Next, select the backup frequency other than never. Instead, you can also go manually back up your chats to Google Drive at any time.
Once you are done with backup frequency, you have to pick the Google account that you would wish to backup your chat into. Furthermore, if you don't have the Google account connected earlier simply click on "Add Account" and enter your login credentials.
Now you just need to choose the final option. Tap on the backup over option to choose the network you want to utilize for backup. I would recommend you to select Wifi as a cellular data network. Otherwise, data networks would result in additional charges.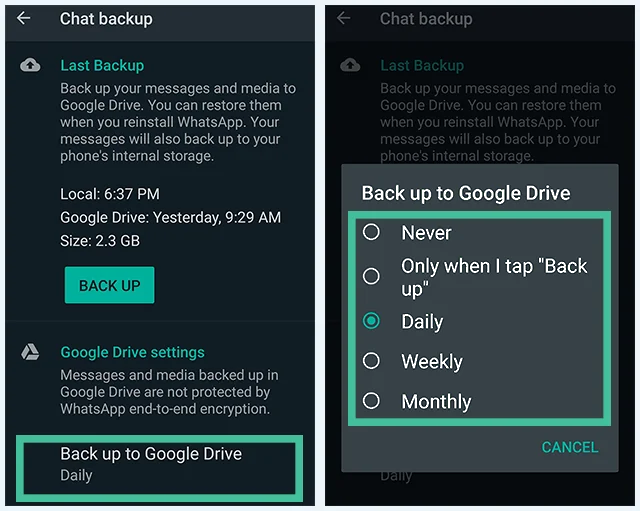 backup whatsapp to google drive on android
Note: If you wish to keep a copy of your chat history on Google Drive, you can enable the automatic backup feature and select its frequency as daily, weekly, or monthly. You must use the same phone number, and Google Account used to create the backup to restore it successfully.
Part 2: How to Restore WhatsApp From Google Drive to Android?
Once you are sure that you have backed up your data altogether. You will have to uninstall WhatsApp first if you have already installed it on your new Android phone. After that, reinstall it to get your WhatsApp data back.
To restore your backup:
Make sure that your new Android device is linked to the Google Account where your backup is saved.
Install and open WhatsApp, then verify your number.
When prompted, tap " Restore" to restore your chats and media from Google Drive.
Once the restoration process is complete, tap " Next". You will be able to view your chats once the initialization process is complete. WhatsApp will continue to restore your media files after your chats are restored.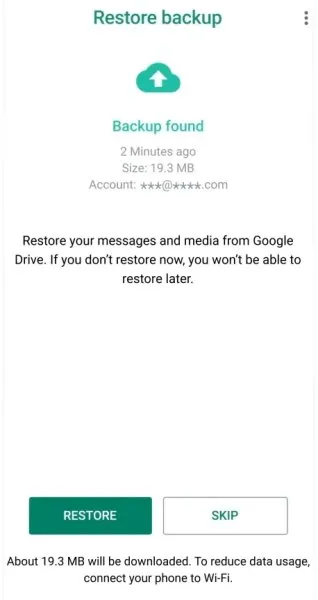 restore whatsapp from google drive
Sometimes your WhatsApp chats may not be backed up to Google Drive, but to your local phone story. In such cases, WhatsApp will restore from the local backup file automatically.
Restore from a local backup:
To use a local backup, you'll need to transfer the files using a computer, file explorer, or SD card. To restore your backup:
Download a file manager app on your device.
Navigate to your local storage or SD card > WhatsApp > Databases in the file manager app. You may see "internal storage" or "main storage" if your data isn't stored on an SD card. Copy the most recent backup file to your new device's Databases folder on local storage.
Once you've installed WhatsApp and opened it, verify your number.
To restore your chats and media from the backup you created locally, tap Skip>>Continue>>Restore.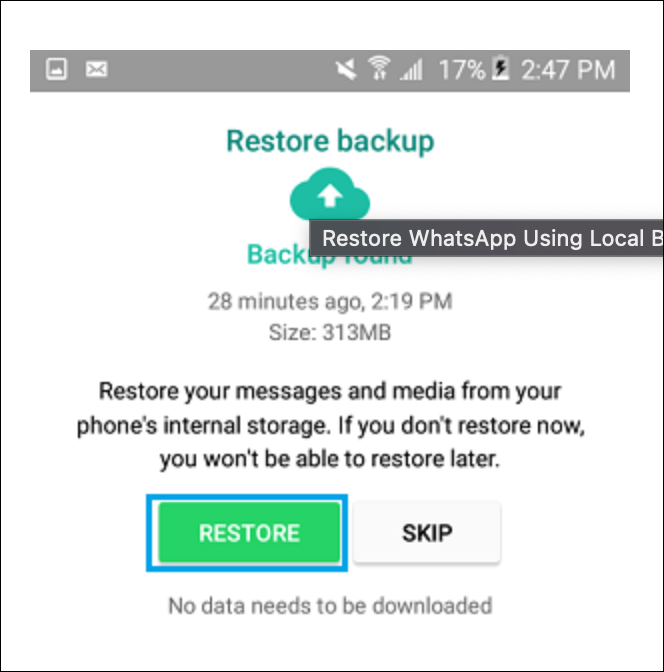 restore local whatsapp backup
Note:
Local backups are stored for up to seven days on your phone.
Every day at 2:00 AM, a local backup is created and saved to your phone.
You might see folders called "internal storage" or "main storage" if your data isn't stored in the /sdcard/WhatsApp/ folder.
Restore a less recent local backup:
Do the following if you want to restore a local backup that isn't the most recent one.
Download a file manager app on your device.
In the file manager app, browse your local storage or SD card for WhatsApp > Databases. Navigate to "internal storage" or "main storage" if your data isn't stored on the SD card.
Rename the backup file you want to restore from msgstore-YYYY-MM-DD.1.db.crypt12 to msgstore.db.crypt12. It's possible that an earlier backup might be on an earlier protocol, such as crypt9 or crypt10. Don't change the number of the crypt extension.
First Uninstall and then reinstall WhatsApp.
Tap "Restore" when prompted.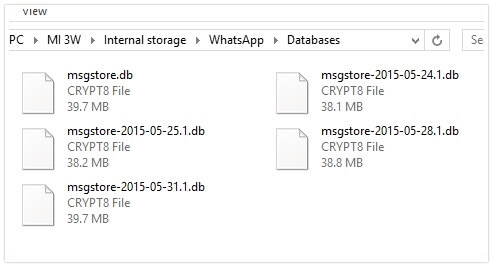 via local backup
Part 3: How to Restore WhatsApp From Google Drive to iPhone?
Can you restore WhatsApp from Google Drive to iPhone? Yes, It is possible! Though WhatsApp does not support the transfer of data between iOS and Google Drive. But, with a professional third-party transfer tool like Mobitrix , you can make that happen.
But first, you need to backup WhatsApp chats to Google Drive on Android device (refer to part 1 of this article for detailed steps.)
Download and install Mobitrix WhatsApp Transfer .
Now, connect your old Android and new iPhone to the computer.
Click "Transfer ."
Simply follow the steps in the tutorial video to experience how it's done.
Why did I choose Mobitrix WhatsApp Transfer?
To be honest, I have tried out dozens of tools to transfer my WhatsApp chats. They are either too slow, or not supporting my media files like videos or audios, or only able to transfer chats of the past 3 months, or simply too technically complicated to operate so that I have lost my data.
The reasons behind me choosing Mobitrix WhatsApp Transfer are these:
It is 40% faster than all the other tools I have tested .
I found it completely safe.
It supports all data formats.
It supports WhatsApp and Business WhatsApp.
After all the above discussion, I hope that it will be crystal clear for you as to how to restore WhatsApp backup from Google Drive to iPhone and Android.
Part 4: FAQs

backuptrans android whatsapp transfer
1.Can't create or restore a Google Drive backup?
WhatsApp might not detect a backup if:
You aren't logged into the same Google account used to create the backup.
You are not using the same phone number that you used to create the backup.
Your SD card or chat history is corrupted.
A backup file does not exist in your Google Drive account or locally on your device.
If you are having problems in creating a Google Drive Backup, check the following:
Make sure you have a Google account added to your device.
You must have Google Play services installed on your device.
If you are backing up via cellular data, then you have data for both WhatsApp and Google Play services. If you are unsure, contact your provider.
Try to back up on a different network. If you're unable to backup using mobile data, try backing up using Wi-Fi.
If you are having problems restoringa Google Drive Backup, reference the following:
You must be using the same phone number and Google account that the backup was created on.
In order to restore an end-to-end encrypted backup, you must have the correct password or key.
Your device has enough memory to restore the backup.
Google Play services are installed on your device.
Your device's battery is fully charged or plugged into a power source.
You should have a strong and stable Internet connection on your device. If you are unable to restore via a cellular data network, please try Wi-Fi.
2.How to restore Google Drive WhatsApp Backup to iCloud?
You cannot transfer WhatsApp chat data from Google Drive to iCloud directly. Because Google Drive and iCloud use different encryption protocols for their databases, making the two incompatible with each other. For this purpose, you will have to use Mobitrix WhatsApp Transfer to restore the chat data to the iPhone and then upload the chats backup onto iCloud.