'Hey everyone, can anyone help me how can I transfer my WhatsApp chats backup from Huawei to new Samsung S21? Any guidance would be greatly appreciated.' — From discussions.apple.com
Moving data is quite simple if the transfer occurs in the same platforms like Android to Android. Therefore, there are several ways can help you to transfer WhatsApp from Android to Android. Let's begin with the comparison table of the 3 methods.
| | Cross-platform transfer | Selective transfer | Uninstall WhatsApp |
| --- | --- | --- | --- |
| Mobitrix WhatsApp Transfer | Yes | Yes | No |
| Google Drive Backup | No | No | Yes |
| Local Backup | No | No | Yes |
Recommended Way to Transfer WhatsApp from Android to Android
So far, the most natural and most effective solution to transfer WhatsApp messages from Android to Android is using Mobitrix WhatsApp Transfer. Different from using google drive backup, this method can ensure that the messages will not lose. Moreover, all attachments and files will also be transferred in their original situation. Just click Mobitrix WhatsApp Transfer allows transferring all your WhatsApp messages from Android devices to another.
Step 1: Download Mobitrix WhatsApp Transfer on the computer, then install it and run the program.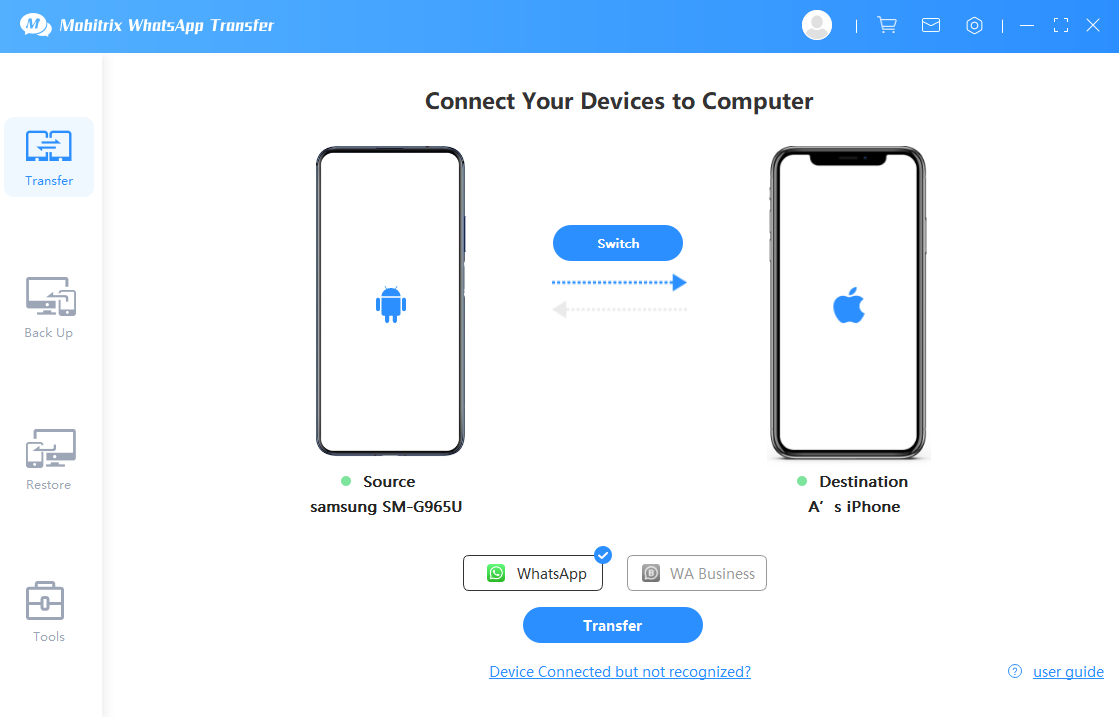 Step 2: Connect two android devices to the computer with the USB cable and wait for the program checking the machines.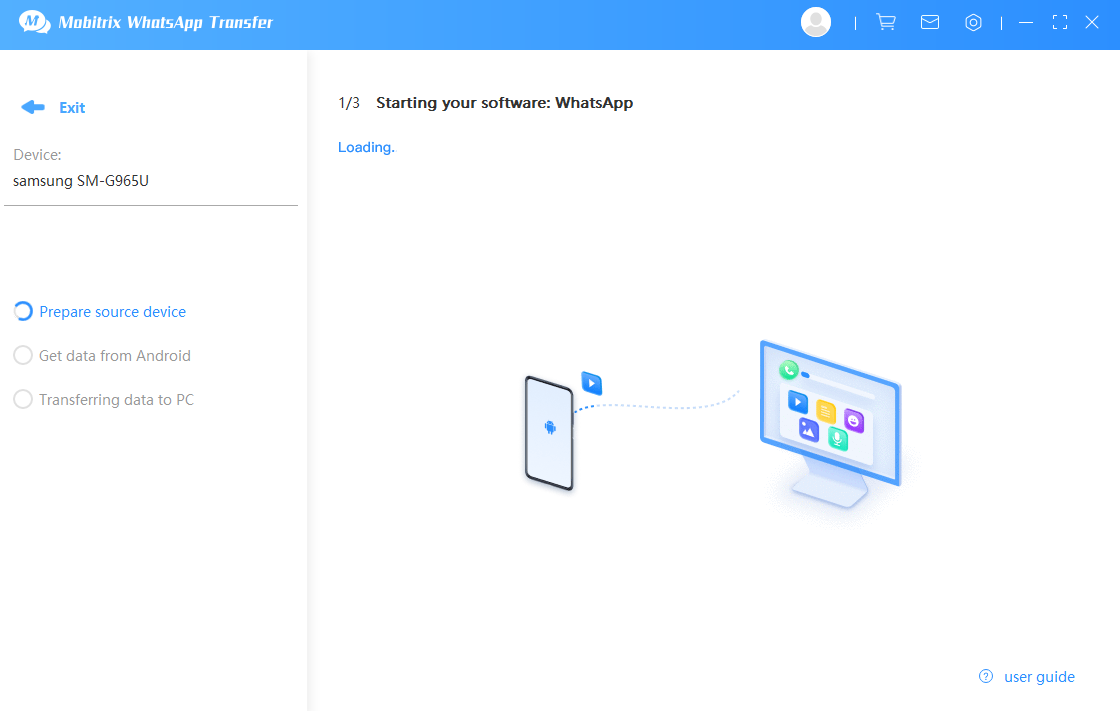 Step 3: Now, click the "Transfer" on the window to start the process of transferring WhatsApp messages from the old Android device to the new one.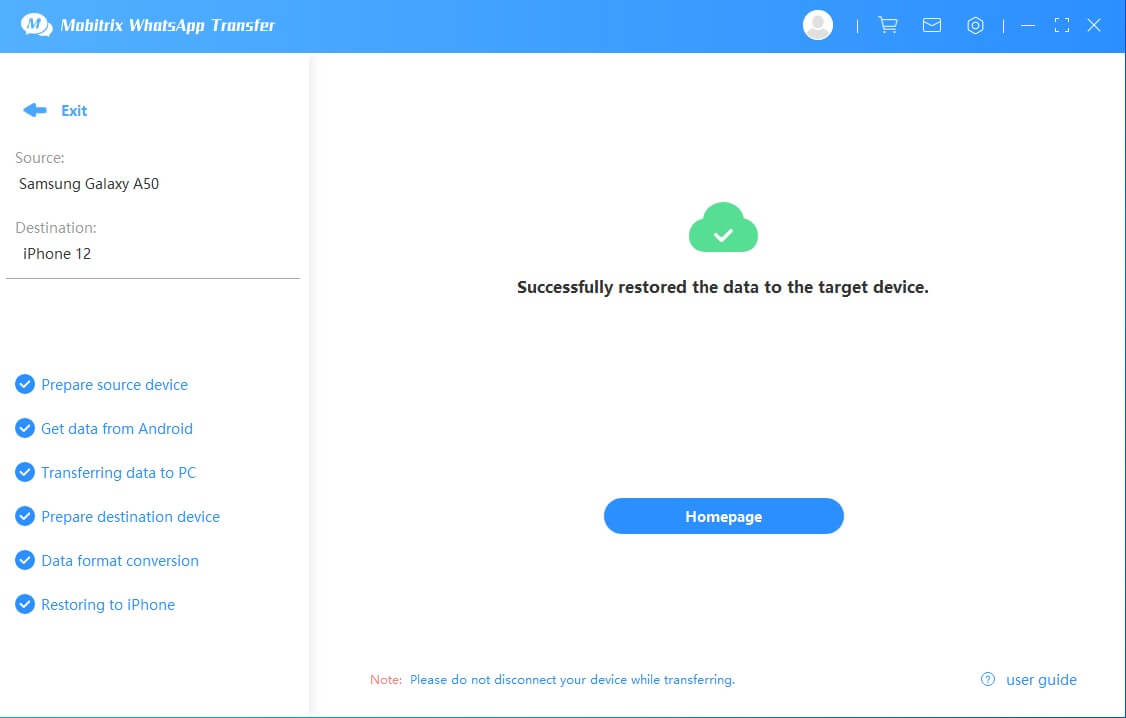 The notification will appear on your window that shows the transfer process has been done. Next, you will see the WhatsApp messages on the new Android mobile.
Now, let's take a look at some features of Mobitrix, the ideal solution. They include the following;
It is the fastest method to transfer WhatsApp data from Android to Android. Also, it can be used to transfer WhatsApp record from Android to iPhone, iPhone to iPhone, or iPhone to Android.
Mobitrix for WhatsApp enables to backup WhatsApp messages on Android device for free, and then move the same backup on this device or a new one.
It is trusted by users all over the world and downloaded for 5,372,347 times. Your WhatsApp data is 100% safe and will not be leaked .
It supports all devices based on the Android system and all the versions of Android, including Samsung S20, Huawei P40, LG, OnePlus, HTC, etc.
It is user-friendly for beginners and it is 100% effective in WhatsApp data transfer.
Transfer WhatsApp Between Android via Google Drive Backup
Google drive can also be used to transfer WhatsApp data between different Android devices. But, for this way, you should ensure that Google play service and Google drive are installed on both of the old and new Android devices, and you need to have a google account with enough space to backup. If you achieve these requirements, we will introduce how to use Google drive to transfer WhatsApp from one android device to another.
Open WhatsApp on the old device, go to Settings > Chats > Chat Backup > Backup and select to create a backup in Google Drive.

Log into Google drive with the same Google account on the new mobile.
Install WhatsApp on the new device and complete the installing process, including phone number validation. For this step, you should use the same phone number as the old machine.
WhatsApp will request whether you want to restore your messages from Google drive. Just click "restore" and wait for it to be finished.
After that, all the WhatsApp chatting messages on the old Android phone will appear on your new Android phone.
Pros:
Just click several times, the data you need will be transferred on your new Android device.
There is no need to install three-party tools.
Cons:
Although it is compatible with Android, it does not support to transfer WhatsApp messages from iPhone.
Transfer WhatsApp Data from Android to Android via Local Backup
You only need to use the WhatsApp backup system to move data from an Android device to another one. Here is how to do that.
Step 1: Open WhatsApp on the old device, then click the option on the side of the main screen. Now head to "Settings > Chats and Calls > Chats Backup" to initiate a backup of all the WhatsApp messages on your device.
Step 2: To install WhatsApp on your new phone, you need to check the specifications of SD card on the old device.
If you have inserted an external SD card to your old phone, you can take the card out of the device and then plug it into the new one.
If you only use the internal storage or internal SD card, you will need to move the "/sdcard/WhatsApp/" folder from the old phone to the same folder on your new phone. Just connect both your phones to the computer and open the former device. Then find the "WhatsApp/Database" folder and copy the files that are created most recently. Next, duplicate folder to the "WhatsApp/Databases" folder on your new phone.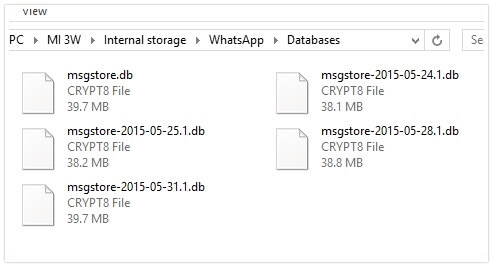 Step 3: Open WhatsApp on your new device and tap on "restore" when the notification appears on your screen, then all the chat history on the old machine will be synced to new mobile.
Pros:
Cons:
The 2 devices should use the same phone number.
It is quite complicated.
Conclusion
As the information above, several ways can transfer WhatsApp data from Android to Android, different methods have different benefits. But if you want an easy-used and effective solution, Mobitrix WhatsApp Transfer is the best choice. Once you get Mobitrix for WhatsApp on your computer, you do not need the internet or Google account to transfer your WhatsApp chatting massage, and you can choose the specific message you want to move.