If you're looking to move your WhatsApp dat from iCloud to Google Drive, it's probably because you're switching from an iPhone to a new Android phone.
And while doing this, you're not looking to lose your precious WhatsApp chats and all the memories you've created.
However, there's no official way to directly move your WhatsApp backup from iCloud to Google drive.
Because WhatsApp only supports direct transfers for your account information -- not your chat history -- when you're switching between different mobile phone systems.
Now you're probably wondering why it's not possible to move your WhatsApp backup from iCloud to Google drive -- even though it works for iPhone to iCloud and Android to Google drive.
Well, it's simple.
Google Drive doesn't recognize the iCloud database and iCloud isn't compatible with the Google Drive database.
So, unless both companies decide to come together to work on this issue, you'll need a more reliable alternative.
And of course, this alternative would have to be one of those third-party applications and extensions that won't get hindered by the platforms' end-to-end encryption protocols.
Mobitrix: The Best Solution for Moving Your WhatsApp Backup from iCloud to Google Drive.
The simplest way out is a secure third-party tool that makes it possible to directly move your WhatsApp data from an iPhone to Android.
And that's what the Mobitrix WhatsApp Transfer tool brings to the table.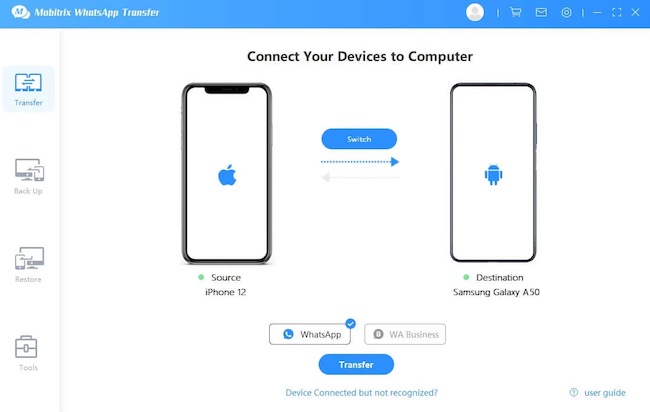 transfer WhatsApp messages from Android to iPhone via mobitrix whatsapp transfer
With this tool, you can break the barrier between these two platforms -- iCloud and Google Drive -- directly move your WhatsAPp backup between them.
We've broken down how you can use this tool further in the article but before we get to the steps, let's take a quick look at…
Why Mobitrix is The Best Solution For Moving Your WhatsApp Backup from an iPhone to an Android:
Supports All Chat Formats:Get your files and attachments transferred without any alterations to them and view them the same as they've always been on your new phone.
100% Safe & Private: Mobitrix strictly operates within privacy policy. Your data isn't stored on the tool or database, everything is left on your computer.
Free Backup: No need to be restricted by Google drive's 15GB space limits anymore when you can simply backup and view on your computer whenever you like.
All-inclusive & Versatile: Mobitrix supports all Android and iPhone devices. Doesn't matter the phone type, we've got you covered --whether you're switching from an iPhone to Samsung, Blackberry, Huawei, etc.
Sounds like what you need? Great.
Now, follow these 3 steps to move your iCloud WhatsApp backup to Google Drive:
Restore Your WhatsApp Backup to iPhone from iCloud Backup
We know you can't wait to just have all of your data on your new phone and move on to other things. But you should take time to carefully these steps so you can move your WhatsApp backup from iCloud to Google Drive hassle-free:
First, confirm that your iCloud backup exists on your iPhone. To do this, go to your WhatsApp settings and open Chat Settings. Here, you'll see the date and time of your last update.
If your last backup was a long time ago, you'll need to update it again so you aren't leaving anything behind.
Once you're done with that, reinstall WhatsApp and log into your account again. It will request you to restore your chats and back up again which you'll need to do.
Now check for your chats and attachments to see if everything got saved or not.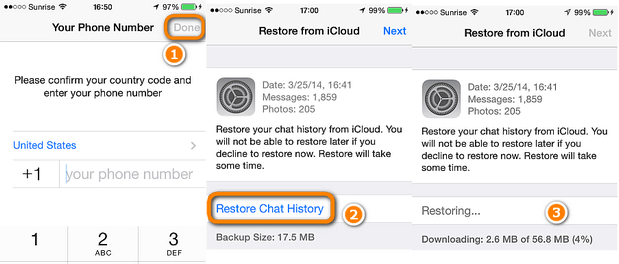 restore whatsapp from icloud
Please Note:
When you restore your WhatsApp chat history from an iCloud backup to iPhone, the previous chat history will likely get overwritten. To prevent this from happening, quickly go over this post on how to back up your WhatsApp on an iPhone to ensure you've backed up your WhatsApp messages.
Transfer Your WhatsApp Backup from an iPhone to Android
Once you're done restoring your WhatsApp backup from iCloud to your iPhone, the next step is to transfer your WhatsApp data from iPhone to Android using the Mobitrix WhatsApp Transfer tool.
Like we mentioned earlier, the Mobitrix WhatsApp Transfer tool -- our exclusive third-party software -- makes it easy and possible to move your WhatsApp data between different or the same mobile devices.
Of course, it seems [and you've also heard that it's] impossible but with Mobitrix, your transfer journey is made so seamless that all your switching issues are resolved.
To get started, download and install the Mobitrix WhatsApp Transfer on your personal computer -- whether Mac or Windows.
Once that's done, let's go through the 3 stages of moving your WhatsApp backup from iPhone to Android.
Step 1. Get your Android and iPhone phones ready. At the same time, connect them to your personal computers using different data cables. Once connected, specify your 'destination' and 'source' devices.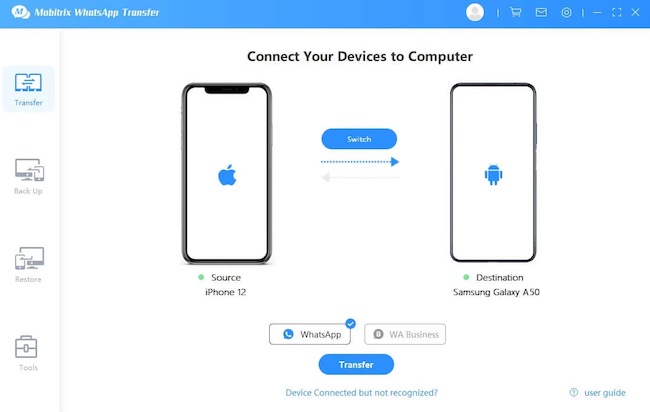 Connect the 2 device to pc
Step 2.Once you've determined your destination and source devices, press the 'Transfer' button. Mobitrix will now prepare both devices and begin the transfer process from your iPhone to Android. This might take a while but just be patient.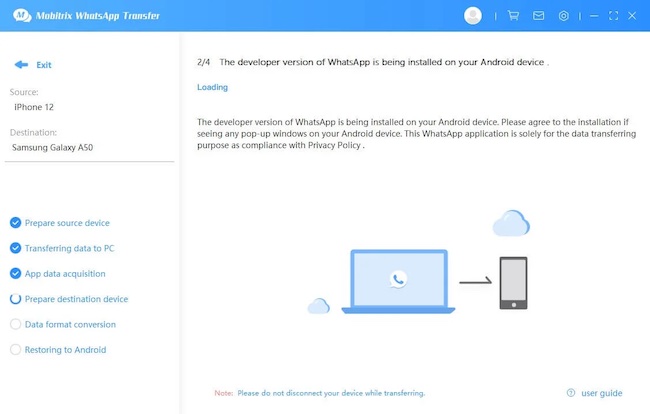 the device successfully connected
Step 3. Once the transfer is over, restart your phone. Once it restarts, you'll see your chats and WhatsApp data on your Android phone.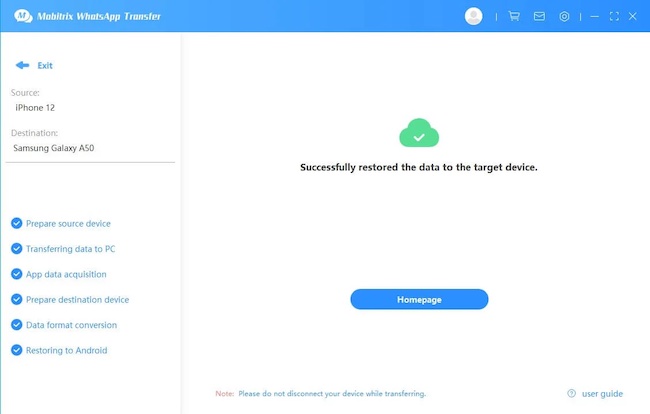 start to transfer WhatsApp messages
Create a WhatsApp Backup on Google Drive with Your Android
Finally, you're at the last step of this process. It's time to create a backup on Google Drive on your Android device.
Restart your Android phone and when it's back on, open WhatsApp and move on to the Settings Option.
Click the Chat Settings and change the 'Backup' settings and frequency to what you want.
Once you have done that, you can now click on the Backup option for the new backup process to start.
backup WhatsApp to Google Drive on Android
Note: The time for your backup process to get completed would depend on how large it is – based on the time you started using WhatsApp.
Once the backup phase is complete, you'll see that all your WhatsApp messages have been backed up to Google Drive.
However, if your WhatsApp data exceeds the 15GB free storage Google drive affords then you won't be able to back up everything.
And even if you can, it would still end up being insufficient as you'll always need to [and should] backup your WhatsApp data from time to time.
Unless you pay for extra storage to accommodate the excesses.
But it's also unfair for you to choose between backing up only part of your data and paying for extra storage to keep them.
Besides, your WhatsApp chats are memorable for a reason and you shouldn't lose them each time you change your phone.
That's why we also built Mobitrix to make it easy for you to enjoy free, safe, and unlimited backup to your computer.
Here's how you can use the Mobitrix Transfer Tool to backup WhatsApp to your computer:
Since you've already installed Mobitrix on your computer, all you'll need to do is connect your Android device to the computer and select "Backup WhatsApp to Devices".
Now, click on "Back Up" and the backup process will begin immediately. Now, all you just need to do is to wait for the process to reach completion.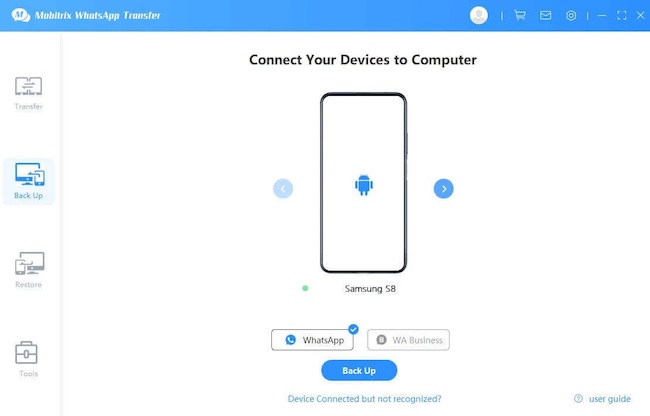 backup WhatsApp to pc
And voila! All of your WhatsApp data is backed up on your computer for free!
In summary, when it comes to transferring your WhatsApp backup from iCloud to Google Drive [or from iPhone to Android], it's not a task that you can just get done directly.
But with Mobitrix WhatsApp Transfer, you can break this barrier and move your WhatsApp backup from iCloud to Google Drive -- at zero risk to your private information.
Plus, backing up your WhatsApp to Google drive isn't all the option you've got. You can freely backup your WhatsApp to your computer thanks to this tool's unlimited space capacity.
With Mobitrix, you get to preserve your precious memories and relive them over and over again.
Don't wait any longer, let Mobitrix handle all your WhatsApp transfer worries no matter the phone you get.