How to Move WhatsApp Backup from iCloud to Google Drive in 2021
'I am shifting from iPhone 8 to Samsung S20 and i have really really important Whatsapp chats in my iPhone. Can you guys help me in transferring whatsapp chats from iCloud to Google drive?' — From forums.androidcentral.com
---
If you are looking for ways to move your WhatsApp data from iCloud in iPhones to Google Drive in Android phones, you might have moved from iPhone to a new Android phone.
Is there any direct way to move WhatsApp from iCloud backup to Google Drive?
Google Drive does not recognize the iCloud database and iCloud isn't compatible with the Google Drive database. So there is no direct way to transfer WhatsApp backup from iCloud to Google Drive .
You will always have to rely on third-party applications and extensions because both the operating systems, the iPhone and the Android, use different end-to-end encryption methods due to safety and privacy issues. Thus, there is no official method through which the users can move their backup.
The following are the three steps through which you can move iCloud WhatsApp backup to Google Drive.
Phase 1: Restore WhatsApp to iPhone from iCloud Backup
This step is crucial before you intend to transfer WhatsApp from iCloud to Google Drive.
The first thing you need to do is to confirm your iCloud backup on your iPhone.
For this, you need to go to WhatsApp settings and open Chat Settings. This will give you the date and time of your last update.
If your backup was taken a while ago, you will need to update it again so that you don't miss out on anything.
Once you do this, you will need to reinstall WhatsApp and log into your account again. It will request you to restore your chats and back up again. Hence, it is imperative that you do this.
After this step, check for your chats and attachments to see if it has been saved or not.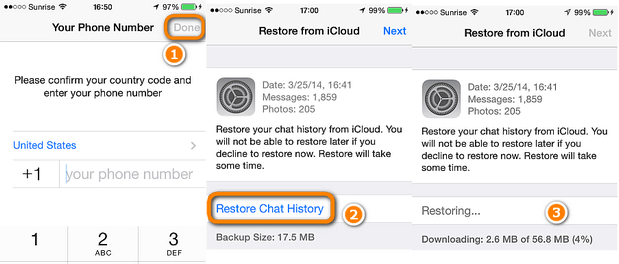 Note:
When you restore WhatsApp chat history from iCloud backup to iPhone, the existed chat history will be overwritten. If you want the old chat history to be safely kept, you can read the post of how to backup iPhone WhatsApp to fully back up your WhatsApp messages.
Phase 2: Transfer WhatsApp from iPhone to Android
After restoring WhatsApp from iCloud to iPhone, we will now transfer WhatsApp data from iPhone to Android using Mobitrix WhatsApp Transfer.
Mobitrix WhatsApp Transfer is a software that specializes in moving your WhatsApp data from iPhone to Android, Android to iPhone, iPhone to iPhone and Android to Android. While it may seem like an impossible thing to do, this application will make your transfer journey relatively easy and will resolve your issues when it comes to switching.
The first and most important part is to download and install Mobitrix WhatsApp Transfer on your personal computers, whether it is Mac or Windows.
Next, we will go through the three stages of moving iPhone WhatsApp backup to Android.
Step 1. Get your Android as well as iPhone devices and connect them together at the same time to your personal computers using different data cables. Once connected, you need to specify your destination and source in the application.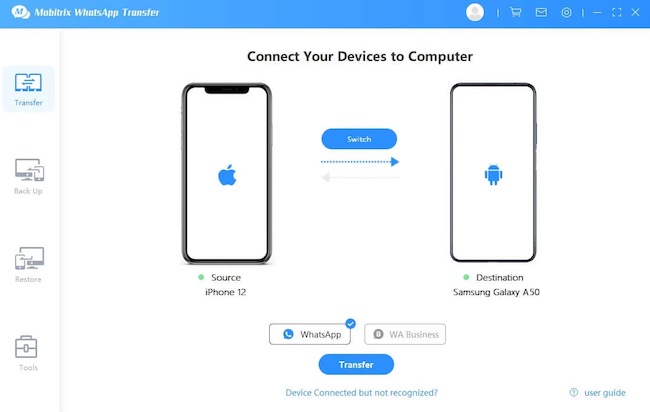 Step 2 Once your destination and source are determined, you need to press the 'Transfer' button. Mobitrix will now prepare both the devices and begin the transfer process from your iPhone to Android. This might take a while, but you need to be patient.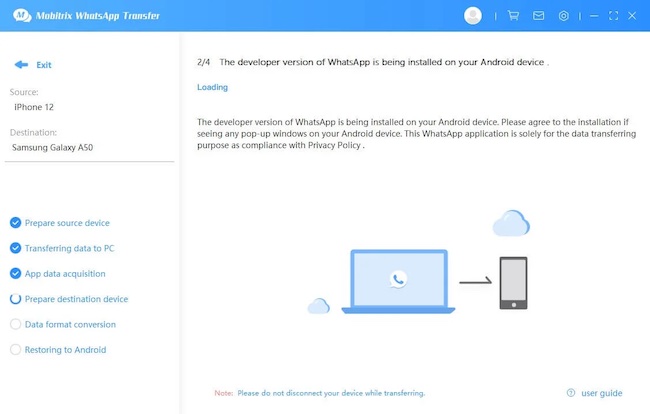 Step 3. After the transfer is finished, it is especially important that you have your device restart. Once it restarts, you can now view your chats and WhatsApp data that were present in the iPhone from your Android phone.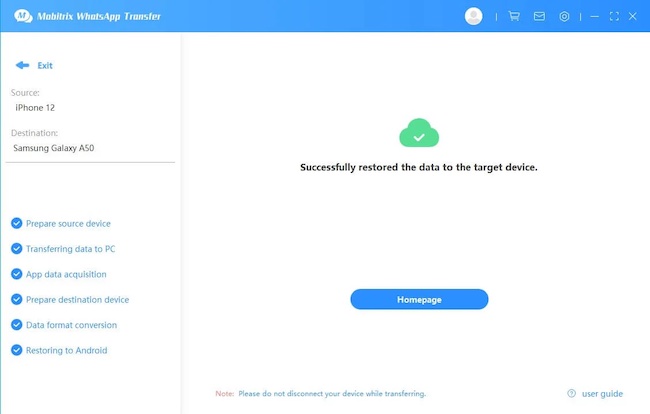 This program has the following key features.
It provides direct transfer. No other additional tools are required.
All the attachments and chats can be transferred.
It is safe and secured. There is no data loss or leakage during the storage process.
It has nearly 100% success rate to transfer WhatsApp messages between devices.
Compatible with All iPhone and Android devices and versions.
Phase 3: Create a WhatsApp Backup on Google Drive with Android
You can now move on to the last step of this process, which is creating a backup on Google Drive in your Android device.
Step 1. To do this, restart your Android phone first. When it is fully refreshed, open WhatsApp and move on to the Settings Option.
Step 2.Click the Chat Settings and change the 'Back up Over' settings and the frequency of the backup as per your desires.
Step 3.Once you have done that, you can now click on the Backup option, and the new backup process will start.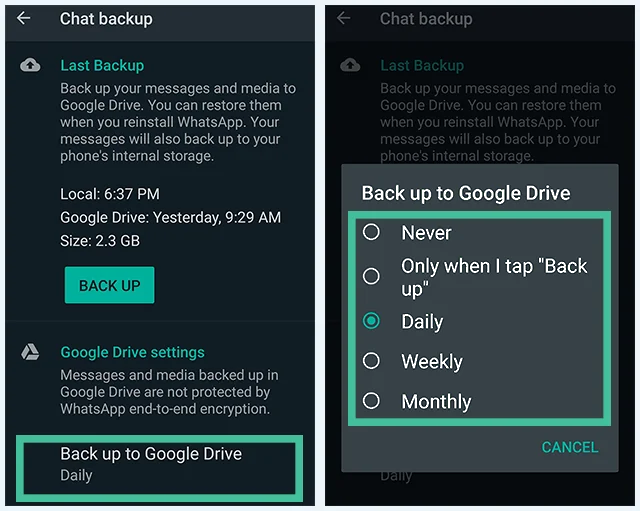 It might take some time considering the size of the whole backup since the time you started using WhatsApp will be huge.
After the backup process is complete, you can now view that the WhatsApp messages have been backed up to Google Drive.
Conclusion
Whenever you are trying to transfer WhatsApp backup from iCloud to Google Drive (i.e. from iPhone to Android), you must understand that you cannot perform this task directly.
Officially, iCloud and Google Drive work on an entirely different level of technology, and their operating systems are vastly different from each other. Unless both companies come together and work on this issue, it cannot be solved without the help of Mobitrix WhatsApp Transfer.
Mobitrix WhatsApp Transfer is an excellent example that helps users in data sharing and transference of data with the compliance of safety protocols without any risks. It will not only help in preserving your treasured memories but also give you a chance to live them all over again.