Pokemon Go is a location-based game that uses your device's GPS. A frequent issue that may cause gamers to lose interest is the "Pokemon Go GPS signal not detected."
If you are having a similar problem, this article is for you. We'll address your worries and provide specific steps to assist you in simply resolving the GPS signal not detected a problem in Pokemon Go. Continue reading!
Why the Pokemon Go GPS Not Found Occurred?
The main reasons for Pokemon Go GPS are not found:
Before going into the solutions, it's critical to understand what caused the problem in the first place. The following are typical reasons Pokemon GO fails to recognise your iPhone/Android device's location.
Pokemon Go glitches. The data and other catches on the app accumulate over time, preventing it from connecting to the GPS. It's therefore reasonable to clear the glitches and see if Pokemon Go can reconnect to GPS.
Location Service is disabled. When "Location service " is disabled on your iOS or Android device, Pokemon Go will be unable to access your GPS position.
Block location access for the Pokemon Go App. If you're using an Android smartphone and have the "location access" function deactivated for certain apps such as Pokemon Go will be unable to connect to GPS.
You are using an outdated version of Pokemon Go. The old version of Pokemon Go might fail to connect to GPS. Try checking if the new version is available and update it.
Using unstable Wi-Fi or the internet. Poor internet or wifi signals may also cause the "Pokemon Go unable to identify location" error.
1. Fix "Pokemon Go GPS Not Found" with Location Spoofer
Pokemon Go is an augmented reality game only available in certain areas. When the GPS signal is lost, you cannot play Pokemon Go. In this instance, you may use GPS spoofing software to alter your device's GPS location.
MagicGo (most recommended for iPhone)
MagicGo is a location spoofing software that allows you to change GPS location easily. The software provides you with many features, which some them include:
A single click changes the iPhone's GPSlocation globally, allowing Pokemon Go to detect the change.
Simulate virtual movement at a user-defined pace, allowing you to play Pokemon Go without moving.
Joystick mode adds to the enjoyment of the game.
Secure and will not result in your account being banned by Pokemon Go.
How to use MagicGo
Launch MagicGo.
Connect your iPhone to your computer using the USB cable and select "Start."
Select "Two-spot Mode" and set a starting point and a destination from the map.
Set up the movement speed and number of moves. And click "Move."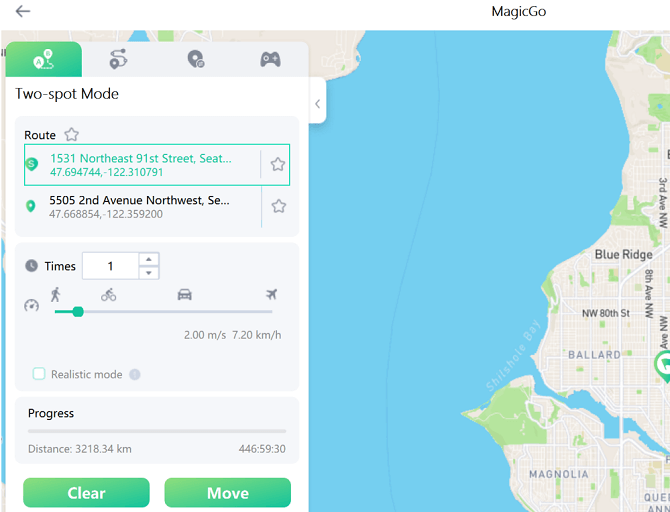 Trustpilot
Why Do I Recommend Mobitrix MagicGo?
One-click to move the iPhone's location to another place so that Pokemon Go may detect the new location.
Simulate virtual movement at a user-defined pace, allowing you to play Pokemon Go without moving.
Joystick mode adds to the enjoyment of the game.
Secure and will not result in your account being banned by Pokemon Go.
Fake GPS location (most recommended for Android)
GPS spoofing Go Location Spoofer is available in two varieties: free and paid. If you wish to spoof your location on Android, this app's free edition can assist you.
There are plenty of features available within the free version, although the paid version has some extras that make playing GPS location games easier. However, you can spoof your location for free on any version of Android, and you don't even need to root your smartphone if it runs Android 6.0 or above.
Pros:
4.6-star rating on Google Play Store
Available for free Capture Pokemon from all across the world
Cons:
hasn't been updated in a long time;
loses the last position each time the program is restarted.
How to it step by step
Install Free Fake GPS.
Open the app and follow the on-screen steps for basic setup.
Tap Enable on the message at the bottom about mock locations.
To access the Developer Settings screen, choose Developer Settings and select Select fake location app > FakeGPS Free.
Return to the app by pressing the back button and searching for the location you want to fake on your phone. If you're making a route, tap-and-hold on the map to drop place markers.
To activate the false GPS option, click the play button in the map's bottom corner to start the false GPS option.
2. Turn on GPS Location Services
Sometimes you might find your GPS is off, and you need to turn the GPS location on to be able to play the game. To do so, follow the steps analysed below for iPhone and Android.
For iPhone
How to enable Location Services on an iPhone
Steps:
Location Services are accessible via the Settings app on your iPhone:
Open settings > Privacy.
Click to Location Services.
Adjust the Location Services slider to the on/green position. Location Services have been enabled. Apps that need them may immediately begin accessing your location.
For Android
Steps:
Navigate to: AppsSettingsLocation from a Home screen.
If SettingsSecurity & Location is not accessible, go to: SettingsSecurity & Location.
Tap Location if it is available.
Ascertain that the Location switch is turned on.
Tap 'Mode' or 'Locating method', then select one of the following:
Options vary per device.
High accuracy (high battery consumption): Estimates location using GPS, Wi-Fi, and cell networks.
Power conservation/battery conservation (low battery usage): Estimates location using Wi-Fi and mobile networks.
GPS alone / Device just / Device sensors (moderate battery consumption): Estimates location using GPS.
If a permission popup for location is shown, click Agree.
3. Check Pokemon Go App Location Access
Some apps might not work, including Pokemon Go, unless you turn on Location Services. When an app requests access to your Location Services information for the first time, you'll get a notification asking for permission. Choose one of the following:
a. How to allow the Pokemon Go App to access location
Steps to give location access on iPhone:
go to Settings > Privacy > Location Services.
Scroll down to locate the application.
Select an option by tapping the app:
Always: Allows location access even while the app runs in the background.
Steps to permit location access on Android:
Go to your Settings
Visit your Apps
Scroll down and tap on We3
Tap on Permissions
Toggle the Pokemon Go
You're All Set! Go back to Pokemon Go
b. How to turn on Background App Refresh
Turn on Background App Refresh: If you have granted an app access to your location and turned on Background App Refresh, the app may utilise location services even when it is not visible on the screen.
To activate Background App Refresh, go to the Settings app and choose General > Background App Refresh.
4. Quit the Pokemon Go App and Open It Again
There is a potential that you encountered the issue due to a temporary problem or a random bug. This advice may be utilised if the pokemon go GPS signal is not detected. Ensure that you also clear the app's cache memory before reopening it.
Steps to Quit Pokemon Go App:
Firstly, take your Android device and go to the "Settings". Locate and press the "Apps" tab. You will now see the option "Manage Apps". To continue, just touch on it.
From the list of applications, locate and launch "Pokemon Go". Now, choose "Clear data". Confirm your actions by clicking "Clear Cache" and then "Clear data". This will clear all of your Pokemon Go data. As a result, you must log in again to play the game.
5. Check Pokemon Go Updates
Generally, the latest version will fix bugs that occurred in the last version. And it might help to improve the Pokemon Go GPS signal not found on Android and iPhone.
Steps(iOS):
Launch the App Store application.
Today, tap.
At the top of the screen, tap the Profile button.
Open the Pokémon GO application and press the Update button.
Steps(Android):
Launch the Google Play Store application.
Tap the menu button in the upper left corner.
Select the menu option My applications & games.
Open the Pokémon GO application and press the Update button.
6. Reset Network Settings
It's not a bad idea to reset network settings when you have issues related to the internet connection.
For iPhone
Steps:
To reset the network settings, go to Settings > General > Transfer or Reset [Device] > Reset > Reset Network Settings. Additionally, this resets Wi-Fi networks and passwords, cellular settings, and previously used VPN and APN settings.
For Android
Steps:
Swipe up from the Home screen to see all applications.
Navigate: System:Settings: Settings icon System:Settings: Settings icon System: Setting
Reset choices by tapping.
Reset Wi-Fi and mobile device
Reset settings by tapping.
Enter the PIN, password, or pattern when asked.
Tap Reset settings to confirm if asked.
7. Turn On/Off the Airplane Mode
Because the GPS signal is related to the internet connection, switching on and off the airplane mode is sometimes worthwhile. Simply drag down the notification bar on most Android and iPhone devices > locate the airplane mode button > tap it on and off after a few seconds.
8. Restart Your Phone
This one seems simple, yet it solves many issues when using our phones. When it is restarted, the device is reset to resolve any problems.
For the majority of iPhone and Android devices, follow these steps:
Maintain a long hold on the power switch until the Restart Your Phone screen appears > tap it.
9. Log out and Login Account
Unfortunately, Pokemon Go is still unable to determine its location. However, this strategy is capable of resolving it. You need to try logging out from the Pokemon account and logging into it again. This will likely address the problem of what is falling behind in the game. What you must do is as follows.
Steps:
Launch the game and click on the Pokeball icon after successfully starting.
Next, touch on "Settings" in the upper right corner.
Scroll down and click on the "SIGN OUT" option.
Once logged out successfully, re-login using your credentials. Now, let us see whether everything goes according to plan!
10. Stepping Outside for a Stronger GPS Signal
GPS signal is a tricky thing for most phones. Whether iPhone or Android phone, you may sometimes have difficulties finding a device; thus, try walking outdoors to see if the GPS signal not detected issue has resolved itself.
Other Pokémon GO Common Problems And How To Fix
1. Can you play Pokémon GO without GPS?
No. Pokémon GO is a location-based game; without a GPS signal, the app will not load the blocks in your area, and no Pokemon will appear on the streets.
2. Getting a driving warning when you're not driving?
This GPS problem is referred to as GPS Drift, and it often happens when your phone cannot get a strong GPS signal when inside. The fast fix is to connect your phone to WiFi or place it near a window, making it easier for a satellite to latch on to your GPS position.
There are various strategies for switching the location of your iPhone and android; perhaps, this article helped you choose the proper method.
By switching to network settings, you effectively allow your network's capacity to locate you. Additionally, you may be more innovative by faking your GPS location using MagicGo to deceive people and apps into thinking they are following you when they are not.