Ever found yourself staring blankly at your Samsung phone, racking your brain for that PIN, pattern, or password you set? Or perhaps you've got a brand-new Samsung phone, but it's locked to a carrier, and you're clueless about setting it free? We've all been there! This guide is here to rescue you. Whether it's forgotten security measures or carrier restrictions, this article will handhold you through the unlocking process step by step.
This is the most comprehensive guide you'll ever need. Dive in!
Kind Tip: If you use facial recognition or fingerprint scanning to unlock your device, let's start by troubleshooting any issues with those biometric security features. If you don't use biometrics and instead rely on a passcode, password, or pattern, go ahead and skip to the next section, where I'll walk through the effective unlocking methods.
Skip the Outdated Tricks!
It's time to clear the air: many methods you might stumble upon online just don't cut it anymore. Here's a quick rundown:
Booting into safe mode to unlock? Not gonna work. Your Samsung phone won't let you in without the password, even in safe mode.
Thinking of visiting a Samsung service center? They'll expect you to unlock the device before they take a look.
Remember the old "call and press back" trick? That's ancient history now. It simply doesn't work anymore.
Situation 1: How to Unlock a Samsung Phone without password
Method 1: The Fastest Way - Bypass the Lock Screen on Your Samsung Phone
If you want to unlock your Samsung screen as fast as possible, Mobitrix LockAway is your best solution. It can help you remove your Samsung screen lock in just a few simple clicks within 20 mins.
Introduction of Mobitrix LockAway:
Mobitrix LockAway is a professional unlocking tool that removes the screen lock for Samsung permanently. It fully supports Android 14 and earlier versions. It enjoys 10+ years of R&D experience in Android lock cracking. It can help you solve the following situations you encounter:
You forgot the Samsung Passwords/PIN/Pattern/Fingerprint/Face ID
You bought a second-hand Samsung
Your Face/Fingerprint was not working normally
Your Samsung screen is cracked
Once your Samsung screen passcode is removed, your Samsung will restart automatically, and then you can reset your Samsung from scratch. You can restore your data from Google Backup if you've backed it up previously at this step.
Steps:
Download and Install Mobitrix LockAway
Click on Remove Screen Lock in the main menu

Mobitrix LockAway Remove Android Screen Lock

Click on Remove Screen Lock for Samsung Devices

Mobitrix LockAway Remove Samsung Screen Lock

Click Start to remove the screen lock from your Samsung.

Mobitrix LockAway Click Start to Remove Samsung Screen Lock
Method 2: Without Data Loss - Using Samsung Find My Mobile
Samsung Find My Mobile is a preinstalled app that enables you to remotely locate your Samsung devices if they are lost or stolen. The app also allows you to unlock your Samsung phone or reset your password if you get locked out of your device.
Benefit: It's straightforward and ensures you don't lose any precious data.
Preconditions for this method:
Your Samsung phone is powered on.
It's connected to Wi-Fi or a cellular network.
Your Samsung account must have been registered on your locked device and have the Remote unlock option enabled. By default, when you log in to a Samsung account, the Find My Mobile function will be enabled automatically.
Unlock Your Samsung Phone in 3 Simple Steps with Samsung Find My Mobile
Step 1: Begin by visiting the Samsung Find My Mobile website at https://findmymobile.samsung.com from a computer or another device. Hit the 'Sign in' button, enter your Samsung account details, and click 'Sign in' again.

Samsung Find My Mobile Click Unlock
Step 2: Your Samsung device(s) will be displayed on the right side of the screen. If you have multiple devices under this account, ensure you choose the one you wish to unlock. Check the image below for reference and select the 'Unlock' icon.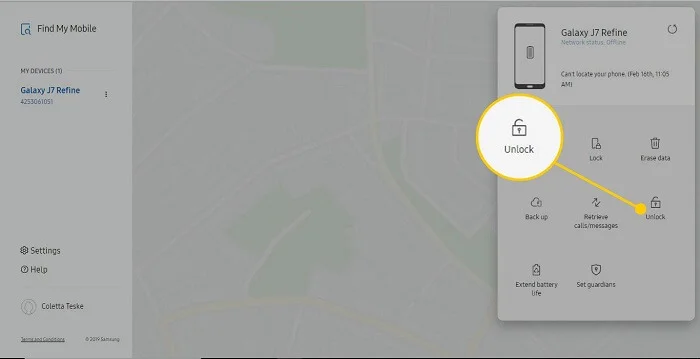 Samsung Find My Mobile Click Unlock
Step 3: After pressing 'Unlock', a verification pop-up will emerge. Key in your Samsung account password and click 'NEXT'. A new pop-up will then show the outcome of your remote unlock attempt.
Method 3: Unlock a Samsung Phone With Google Find My Device
If you've ever used an Android phone, then you've probably come across Google's Find My Device. Like Samsung's Find My Mobile, this Google service is designed to manage lock screens on Android devices, Samsung included.
If you have enabled the "Find My Device" feature on your Samsung phone, you can use it to unlock your phone.
Benefit: Luckily, this method won't cause data loss.
Preconditions for this method:
Your Samsung phone (running Android 4.4 or below) has been linked to a Google Account and has the "Google Find My Device" feature activated. Without prior setup, this option won't be available.
Your locked phone should be powered on and connected to a Wi-Fi network you've previously used.
Unlock in 5 Steps:
Access the Find My Device website from another device or computer.
Log in using your Google Account (not your Samsung Account).
Your locked Samsung phone associated with this account will appear on the screen.
Choose 'SECURE DEVICE.' You'll then be guided to set a new password, bypassing the current Samsung lock.

Google Find My Device Click Secure Device

After unlocking, head to Settings on your phone to change or disable this temporary password.
Method 4: Unlock Your Samsung Phone Using the Smart Lock Feature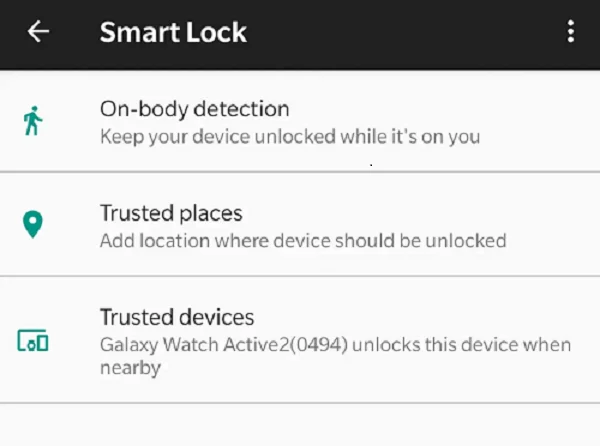 Android Smart Lock
Ever wished your Samsung phone would recognize when it's safe to unlock? That is Smart Lock.
Smart Lock operates on a simple logic: your device remains unlocked when it senses trusted environments or devices. For instance, if you've tagged your home as a trusted spot, your Samsung phone will pick up the location cue and unlock it automatically once you arrive.
Preconditions for this method:
To use this feature, it's crucial you have activated Smart Lock before being locked out. If not, this trick won't work.
Limitation: After 4 hours of inactivity or upon restarting, you'll need to use your pattern, PIN, or password to access your phone.
3 Steps to Unlock with Smart Lock:
Step 1: Activate On-Body Detection
The simplest Smart Lock trick? On-body detection. If enabled, it'll unlock your phone for up to 4 hours while in motion. Just give your device a shake, and it'll bypass the lock screen.
Step 2: Reach a Trusted Location
Have a designated trusted spot? Your phone will recognize when you're nearby, either via Wi-Fi or GPS. Once within its range, your lock security eases up, granting you access.
Step 3: Sync with a Trusted Device
Another neat Smart Lock feature is linking to a trusted device, often a Bluetooth gadget like wireless headphones or a smartwatch. Pair them, and voila! Your phone's lock screen steps aside.
Method 5: Enter Recovery Mode To Factory Reset Your Samsung Phone
Performing a factory reset erases all data on your phone and restores it to its fresh-out-the-box state. This method should only be used as a last resort if you don't have Smart Lock or Find My Mobile enabled on your device.
However, for those with regular backup habits, breathe easy. You'll be able to retrieve your data once your phone is unlocked.
Steps to Factory Reset your Samsung Phone:
Power down your Samsung phone.
Entering Recovery Mode:
For newer models like Galaxy S8, S9, and S10: Simultaneously press and hold the VOLUME UP and BIXBY buttons, followed by the POWER button.
For older models like Galaxy S5, S6, and S7: Press and hold the VOLUME UP and HOME buttons, then hit the POWER button.
Navigate with the Volume Down button and choose "Wipe data/factory reset". Confirm your choice with the Power button.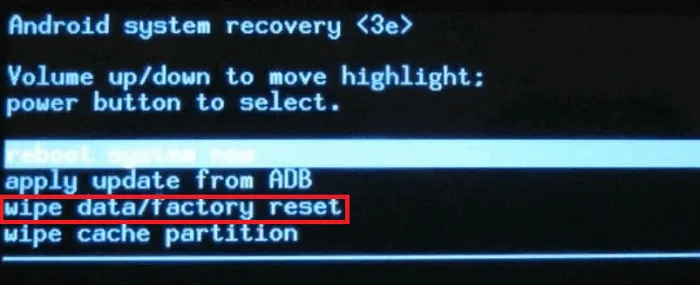 Click Wipe Data Factory Reset
Now, select "Yes - delete all user data" using Volume Down and confirm with the Power button.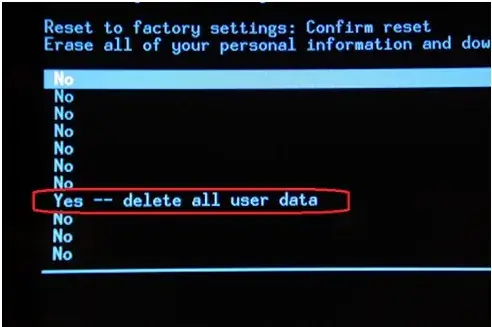 Click Yes Delete All User Data
Sit tight as the Factory Reset process runs its course. In a few moments, your phone will restart automatically without any password or pattern barriers.
Method 6: Unlock a Samsung Phone via the Forgot Pattern Option
The "Forgot pattern?" option is here to help bypass your lock screen. Just heed the on-screen directions, and you'll be in swiftly.
Limitation: This method is tailored for devices on Android 4.4 or earlier versions.
Unlock in 4 Steps:
Give your memory a nudge by trying out possible passwords. After several attempts, the "Forgot pattern?" prompt will appear.
Tap on "Forgot pattern" and proceed to "Enter Google Account details".

Click Forgot Pattern. Enter Google Account Details

You'll be asked for your Google Account and its corresponding password.
After logging into your Google Account, you'll gain unrestricted access to your Samsung phone.
Situation 2: How can I unlock a Samsung phone if it is locked to a specific carrier?
Thinking of hopping to a different carrier? Or perhaps you're just not vibing with your current provider? Here's a straightforward guide to unlocking your Samsung phone.
Ensure Your Phone is Unlock-Eligible
Before getting started, you need to ensure your Samsung phone meets certain prerequisites. These criteria can differ based on the carrier but commonly include:
Full Payment: Your phone should be completely paid for. This means you've settled any installments, granting you full ownership of the device and the freedom to unlock it.
Time Lapse: Typically, carriers require you to wait a specific period after paying off your phone before unlocking it. Take Verizon, for instance – they implement a 60-day lock policy.
How to unlock your Samsung phone through your carrier
Once you've ensured your phone is eligible for unlocking, the next step is to liaise with your carrier for an unlock code. It'll help to have all the necessary details at your fingertips for a seamless experience.
Steps to Follow for Carrier Unlocking:
Get Your IMEI Number: Dial *#06# on your phone, and your International Mobile Equipment Identity (IMEI) number will pop up.
Document the IMEI: Jot down this number. Your carrier will need it to provide you with the unlock code.
Reach Out to Your Carrier: Connect with your carrier's support team. Whether you prefer a call, email, or chat, use what works best for you.
Provide Essential Details: Share relevant information, including your device's eligibility status, IMEI number, and any identity verification documents they might request.
Carrier's Turn: If everything checks out, your carrier will handle the rest.
Final Step: Once unlocked, eject the existing SIM card and insert one from your preferred carrier.
How to unlock your Samsung phone with AT&T
If you're looking to unlock your Samsung phone on the AT&T network, be prepared for a unique procedure. AT&T has its own set of prerequisites for unlocking:
The device must be fully settled with no outstanding payments.
The phone should not have a report as lost, stolen or associated with any fraudulent activities.
A minimum of six months of active service on the AT&T network is essential.
If you fit the bill, here's how you can proceed:
Navigate to AT&T's Unlock Portal: Head over to AT&T's official website and look for the 'Unlock' section.

ATT Unlock Portal

Complete the Form: Enter all the necessary details, including your mobile number.
Await Instructions: Within two business days, expect to receive detailed unlocking instructions, either through a text message or an email from AT&T.
Purchasing an Unlocked Samsung Phone: Your Guide
Want to sidestep the unlocking rigmarole? Consider buying an unlocked Samsung phone right off the bat. Here's how:
Where to Buy: For authentic and trusted purchases, head to Samsung's official website. Reputable retailers like Amazon, BestBuy, and Walmart also stock a range of unlocked Samsung phones.
Pricing Considerations: Unlocked phones often come with a higher price tag than their carrier-locked counterparts.
The Bright Side: Unlocking Samsung phones has evolved into a simpler process. Many carriers will automatically unlock your device after a certain period. If not, obtaining an unlock code is generally hassle-free, making it easy even for tech novices.
Situation 3: Effectively Unlocking Samsung Phones with Samsung Unlock Codes
Part 1 General Tips
When looking to unlock your Samsung device, one common method is the use of Samsung unlock codes. Here's a step-by-step guide:
Quick Tip: For most Samsung phones, inserting a SIM card from another network provider, followed by turning the device off and on, will prompt you to input an unlock code. Input the code, and voilà, your device should be ready to roll!
However, if this quick method doesn't prompt you for a code, here's a more detailed breakdown:
Step 1: Inputting the Network Unlock Code
Launch the phone dialer.
Type in #7465625638#.
As prompted, provide the 8-digit Samsung network unlock code.
Step 2: Unlocking Your Samsung Device
Power off your phone.
Insert a SIM card from a different carrier and power the device on.
Your phone should prompt you to enter the UNFREEZE code. If it doesn't, manually dial UNFREEZE and confirm the call. Although you might receive an 'unsuccessful' message, keep going.
If you face a lock screen labeled either 'SP lock' or 'network lock', you'll need to input specific codes. For the network lock, enter the given Samsung unlock code. For the SP lock, provide the corresponding service provider code. Successfully doing this will show that your device is now unlocked.
If the previous step fails, dial 27673855# and give it another try.
Step 3: Unlocking without a SIM
Unlocking your Samsung phone without a SIM card is also feasible.
Input #7465625638CODE# (replace CODE with the provided Samsung network unlock code).
If you're greeted with "Phone deactivated", success! You've regained access.
Step 4: Completion of the Unlocking Process
This can be tried even without the original SIM card.
Enter the code: #0111*CODE# (replace CODE with the Samsung SIM unlock code you received).
Note: Always ensure you follow these steps carefully and use authentic Samsung unlock codes.
Part 2 Unlocking Various Samsung Phone Models Using Samsung Unlock Codes
Before you proceed, initiate the process by turning on your Samsung phone without inserting any SIM card. Input #0111*code#. You'll be greeted with a message stating 'Network locking has been disabled'. The device will reboot and be prepared for use.
Unlocking Samsung SGH-E400:
Insert your SIM card and power on the Samsung phone. Input 2767688# and exit.
Switch off the phone, insert a different SIM card, power it on, and type in the code: 00000000.
Restart the device and input #*7337#.
Your SGH-E400 is now unlocked and ready for other SIM cards.
Unlocking Samsung SGH-X100:
Power on your Samsung phone with the SIM card, then type #99983323# and exit.
Choose option #7 from the pop-up menu.
Reboot your phone, type *0141#, and press the call button.
Power off, swap to another SIM card, turn it on, and type in the code: 00000000.
Restart and input #*7337#.
Your SGH-X100 is now unlocked.
Network Unlock for Samsung SGH 2100:
Ensure you back up data such as contacts and messages onto a memory card or SIM.
Input 27673855# 27672878#, and the phone will auto-reboot.
If unsuccessful, attempt this without a SIM card.
Unlocking Samsung J600:
For this model, try inputting Samsung SIM unlock codes: #0111UNLOCK# or #0149UNFREEZE#.
Unlocking Samsung SGH-P207:
Back up essential data like contacts and messages to a memory card or SIM.
Type in 27673855#, reset your device to its factory settings, followed by a reboot.
With a non-accepted SIM card inserted, turn on the phone. An 'incorrect SIM' message will display.
Key in #99983323# and tap the top right corner icon.
In the ensuing pop-up, select 'Malloc Fail'. The device will reboot, indicating it's now ready for general use.
Unlocking Samsung SGH-A800:
First, save your crucial data like contacts and messages to a memory card or SIM.
Input 2767637# and your phone will undergo an automatic restart.
Unlocking Samsung SGH V200:
Secure your essential data by backing it up onto a memory card or SIM.
Type 27677822573738# and wait as your phone auto-reboots.
If unsuccessful, take out the SIM card and re-enter the code.
Unlocking Samsung SGH A400:
Back up critical data, such as contacts and messages, to a memory card or SIM.
With the SIM card in place, power on the phone and key in 2767637#. Your phone will then auto-restart.
If there's no success, eject the SIM card and reattempt inputting the code.
Unlocking Samsung SGH E500:
Insert the SIM card and punch in 2767688#, then select Exit.
Input the code #*7337#.
If there's no breakthrough, remove the SIM card and try the procedure again.
Unlocking Samsung SGH-R210:
Backup indispensable data to a memory card or SIM.
Key in 27673855# 27672878# and the phone will initiate an automatic restart.
If this doesn't yield results, remove the SIM card and re-enter the code.
Now, input *0141# and dial. A customized screen showing the current network provider's name will appear.
After a restart, tap the left soft key to access the menu. Navigate to settings at the bottom corner: Choose 7 - Security; Opt for 6 - SIM lock; Select 1 - Disabled. Lastly, input eight zeroes (00000000). A 'SIM Lock disabled' message will flash, signifying your device is now unlocked.
FAQs
How can I enable the "Remote unlock" option in the "Find My Mobile" feature?
Navigate to Settings > Biometrics and Security.
Select Find My Mobile.
Toggle on the Remote unlock option.
How do I activate the Smart Lock feature on my phone?
Begin by going to Settings > Lock screen > Smart Lock.
Use your pre-established screen lock method to unlock the screen.
Choose the desired Smart Lock option and follow the provided steps.
What are the available Smart Lock methods?
On-body detection: This keeps your device unlocked when it's on you.
Trusted places: Designate locations where your device should remain unlocked.
Trusted devices: Add devices that, when nearby, will keep your phone unlocked.
Note: For security reasons, using "On-body detection" as a Smart Lock method is not recommended. It might not differentiate between the device's owner and someone else.
How can I recover my data on a Samsung Galaxy after a factory reset?
If you've previously enabled automatic backup, initiate setting up your Galaxy anew. Logging into your Google account should help you retrieve contacts, photos, videos, and more. Up to 25MB of data for most apps, call logs, device settings, and text messages can also be restored.
Another option is utilizing Samsung Cloud for recovery, assuming it's active.
Is it possible to retrieve photos after performing a factory reset?
Certainly! After a factory reset on an Android device, photos can be recovered through Google Photos, Google Drive, or another backup solution. For those who haven't backed up, there are third-party Android data recovery tools available that can assist in retrieving lost data post-factory reset.
How to Unlock Samsung Phone With a Network Lock
Suppose you've got the credentials for your lock screen but encounter a barrier with a network lock. What does that mean? A network lock is put in place by your mobile carrier, prohibiting the use of SIM cards from different carriers on your phone. This typically ensures that users fulfill their contract duration.
If you attempt using a non-approved SIM, you'd likely receive a message about SIM incompatibility. To address this lock, you'd need to reach out to your mobile carrier. In most instances, a minor fee might be required to unlock the phone, especially if the contract duration has concluded.
How to Unlock Samsung Phone With a Region Lock
Different from a network lock, a region lock is imposed by the phone's manufacturer. This lock ensures that the phone remains within its intended geographic area of use, and it gets activated once you use a SIM. How do you bypass this? To deactivate the region lock on your Samsung phone, all you need to do is make or receive a phone call for at least 5 minutes within the region the device was originally intended for.
For instance, with a U.S. SIM card, one must engage in a call for 5 minutes minimum. Once done, the region lock gets disabled permanently, granting you the freedom to utilize SIM cards from other regions.