Connecting two Bluetooth speakers simultaneously using your iPhone can be tricky. But, with the advancement in technology, you can now connect your iPhone to multiple devices via Bluetooth. In this article, you will learn how you can achieve this easily and instantly.
Part 1: Can We Connect Two Bluetooth Speakers Simultaneously using an iPhone?
Yes, connecting to multiple devices via Bluetooth using your iPhone is now possible. How this works is that, using Bluetooth, you can stream audio on your iPhone and another person can still listen to the music from their headphones through Bluetooth. In earlier days, you could only link one device to your Bluetooth, but this has now changed. You can listen to the same audio on multiple devices using Bluetooth, sounds awesome right?
The introduction of iOS 13, came with an audio sharing feature that allows Apple devices to use Bluetooth to share videos, songs, audio novels, and podcasts to multiple devices but from one sender using Bluetooth.
Part 2: 8 Ways You Can Connect Multiple Bluetooth Speakers at Once
Interested in playing your favorite tunes through multiple Bluetooth speakers with your iPhone? In this section, we will explore seven different ways you can share and enjoy music across multiple devices using Bluetooth technology, allowing your iPhone to become a versatile audio hub.
Whether you are aiming for a richer sound experience or looking to share your music playlist, connecting to multiple Bluetooth speakers can elevate your auditory experience. Follow along to learn how to effortlessly pair multiple Bluetooth speakers to your iPhone and create a surround sound effect or simply amplify your favorite songs.
Methods: Connections
AmpMe (App) Unlimited
Bose Connect 2 Speakers
Ultimate Ears 50 Speakers
Samsung's Dual Audio 2 Speakers
Apple's HomePod Stereo Pair. 2 Speakers
Bluetooth 5.0 Unlimited
Amazon Echo & Google Home Unlimited
JBL Connect 100 Speakers
1. AmpMe
To use AmpMe to share music, ensure you have the AmpMe application then follow these steps
Open the app and click the + at the bottom.
Click on the service to use
Log in, and choose a playlist, to your account.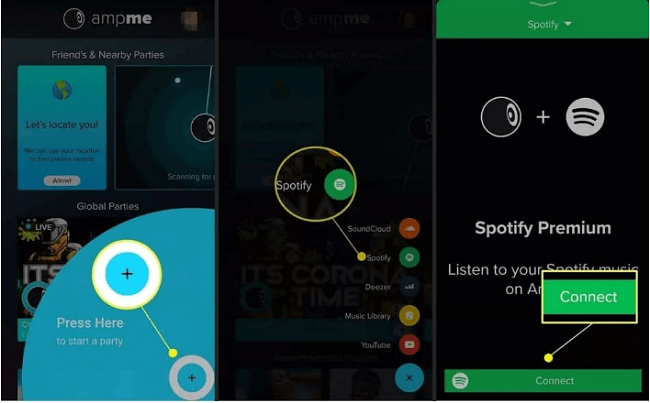 connect two bluetooth speakers simultaneously via ampme
To share your music, click the "invite" option as a DJ, devices that join will now share your music.
2. Bose Connect
This method will only work if you are using speakers from Bose Connect brand. There are two ways o go about this.
2.1. Party mode (left and right speaker together)
Simultaneously, long-press the Volume + and Bluetooth keys on the speaker connected to your iPhone. Once a message sounds, release the buttons. Long-press the Volume down and Bluetooth keys on the other speaker, once the speaker beeps, release them. A sound will notify you when the party mode will activate.
2.2. Stereo mode (left and right speaker separated)
Using one of the speakers, long-press the Volume + and Bluetooth keys until a "Stereo Mode" sound is heard. Once the two speakers produce a "Left" and "right" sound, the Stereo mode is activated.
To switch off this mode, click "Power" to switch off the speaker.
3. Ultimate Ears
To use Ultimate Ears to share connect Bluetooth speakers:
Press, on the UE Boom, the Bluetooth button until an acoustic signal is produced.
From your Bluetooth settings, select the option for UE Boom.
The speaker will be connected to your phone.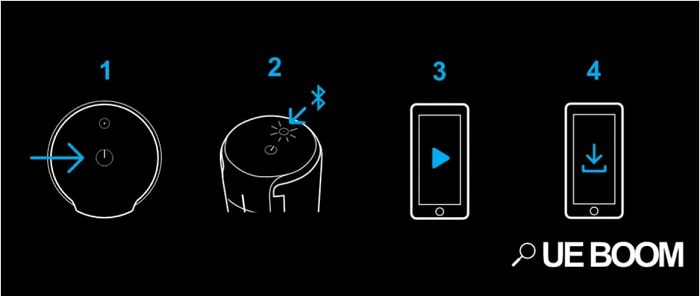 connect two bluetooth speakers simultaneously via ultimate ears
To connect the other speaker:
Connect either of the two boxes to your playback devices.
Press the Bluetooth and Volume up buttons.
To the box to connect, press twice the Bluetooth button.
The speakers will then connect.
Alternatively, you can use the UE Boom to pair your speakers.
4. Samsung's Dual Audio
If you have Samsung earphones, you can use the Dual Audio feature to synchronize Bluetooth devices. Follow the steps below:
Open Settings > Connections > Bluetooth > Advanced
Toggle on the Dual audio option.

connect two bluetooth speakers simultaneously via samsung dual audio

To start using Dual Audio, connect the phone to two speakers, two headphones, or either of the two. Music will then be transmitted to the two devices. However, adding a third device will disconnect the first paired device.
5. Apple's HomePod Stereo Pair
Similar to the Dual Audio feature in Samsung, Apple uses the HomePod Stereo Pair to share music. To activate the feature, follow the steps below: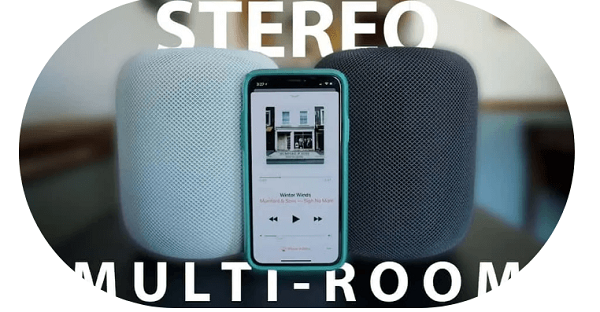 connect two bluetooth speakers simultaneously via homepod stereo pair
On your Home app, check to confirm that the HomePods to be connected are in the same room.
Click Home app, then double-click "HomePod" and click "Settings"
Tap on the option to "Create Stereo Pair"
Double click the HomePod to be added.
Click Return > Drone
Using the Stereo Pair, you can easily connect multiple devices to your iPhone and share music via Bluetooth
6. Bluetooth 5.0
https://www.mobitrix.com/iphone-support/images/article/en/connect-two-bluetooth-speakers-simultaneously-via-samsung-dual-audio.png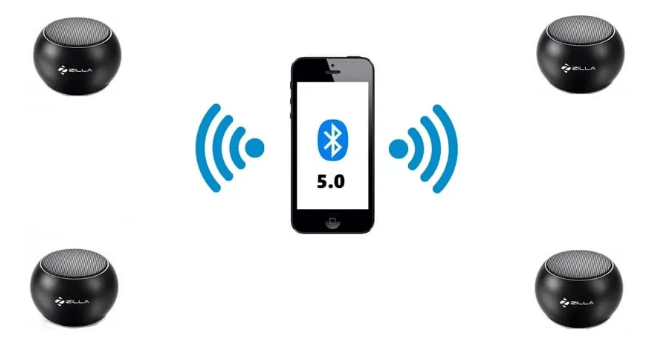 connect two bluetooth speakers simultaneously via bluetooth5
Using the new Bluetooth 5.0 technology, you can easily use the transmitter to connect it to other devices and speakers then share music. However, not all companies have adopted this new technology but Apple is leading so far and the compatible devices are iPhone 8 Plus, 8, X, and 12. In addition, Samsung Galaxy S8 Plus and 8 support the technology.
7. Amazon Echo & Google Home
Both Google Home and Amazon Echo support connecting multiple devices via Bluetooth.
7.1 Amazon Echo
Amazon Echo is a smart speaker and thus, it can connect via Bluetooth to many Bluetooth speakers. To use the Echo:
i. Say "Open settings", select Settings from the top of your Eco Screen.
ii. Click Bluetooth.
iii. Select the desired speaker and follow the instructions on the screen, Alexa will notify you once the connection is successful.
To use the Alexa App:
i. Click "Alexa Devices" from the menu then choose the Echo device.
ii. Click "Bluetooth Devices" > "Pair a new device".
iii. From the list, click on the device you need to add.
7.2 Google Home Page
With Google Home devices, it's possible to link with other third-party or home speakers. However, only one speaker can be linked at a time.
Open the app, Google Home, and click "Devices".
Select the home speaker, from the list, you need to connect to.
Click "Settings" > "Default music speaker".
Select the Bluetooth speaker.
8. JBL Connect
With JBL, connecting as many as 100 speakers is possible using the steps below: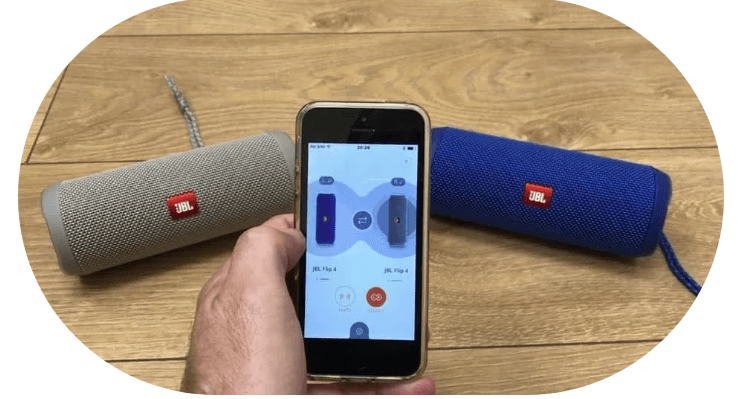 connect two bluetooth speakers simultaneously via jbl connect
Place the devices you want to pair next to each other.
Turn on the column.
On the speaker, turn on the wireless module.
Activate the Bluetooth module on the phone to search for new devices.
Select a column and activate pairing. Once connected, you can then share your music.