Your iPhone 7 seems to be turning on, but somehow getting stuck on the Apple logo? Or is it simply trapped in a boot loop, with the Apple logo popping up and going away repeatedly? Don't worry! With this article, you will get to know 4 most effective ways you can fix your iPhone 7 that is frozen on the Apple logo.
iPhone 7 is stuck on the Apple logo
Why does my iPhone 7 get stuck on the Apple logo?
Low Storage: You may have stored a lot of stuff in your iPhone 7 internal memory, and always forget to clean them. Low storage makes your iPhone read/write slowly, and easily freeze.
Update issues: If the white Apple logo happens after you update your iPhone 7 to the latest software version iOS 15.6, chances are that the installed update packages are corrupted. Or the update is not compatible with your model.
Beta issues: The iOS 16 beta version is mainly for developers to test the new Apple features. Installing it on your iPhone 7 can bring app incompatibilities and system instabilities.
Jailbreaking: Jailbreaking bypasses Apple security restrictions, allowing in potential viruses, malware or poorly developed apps (unapproved by Apple Store) to mess up with the internal functionalities of your iPhone 7.
Interrupted data transfer or iOS restore: Any factor going wrong between your iPhone 7 and computer can stop the data transfer or iOS restore process, causing the white Apple logo screen of death. For example, a broken or non-compatible USB cable, faulty or dirty blocked USB port, poor wifi connection, third-party secure software on the PC, etc.
Software glitches: This is often the most common reason. Nearly every iOS comes with inherent bugs and loopholes, making the iPhone 7 malfunction or stuck.
Hardware damage: Maybe you've dropped your iPhone 7 on the ground, or water gets in, and the internal components like the connectors, motherboards, circuits are damaged. Or sometimes, a battery replacement or screen repair can also make the Apple logo issue happen.
No matter what's the reason behind the issue, you can follow the guide below. It will help you troubleshoot and get your iPhone 7 running smoothly.
Force restart
If you don't have a computer with you, then force restarting your iPhone 7 is the most handy fix for you. It will not alter your iPhone settings or data in any way. It will simply force your iPhone 7 to end all running activities, including the faulty ones, and then reboot anew. This way, some minor glitches can be fixed. And you may get your iPhone 7 back to normal.
Long press both the volume down button and the Sleep/Wake button until you see the Apple logo.
Then release both buttons. As your iPhone 7 turns back on, the Force restart process is completed.
iPhone 7 force restart
Update iOS
You should now update your iPhone 7's system to eliminate any bugs or malware that make your iPhone 7 stuck on the Apple logo again.
Navigate to Settings > General > Software Update. Then tap Automatic Updates, and switch on Download iOS Updates
Update iOS
Clean iPhone space
Clear storage space might also help your iPhone 7 to run smoothly. Here's how to check your iPhone storage. Go to Settings > General > [Device] Storage. Then you can choose what apps to delete.
Check iPhone storage space
If a force restart doesn't solve the issue, then most likely your iPhone is suffering issues much more severe, like the iOS is completely corrupt. And you'll need advanced solutions like below, also with the help of a computer.
Fix it with a professional iOS repair tool - Mobitrix Perfix
You can get your iPhone 7 out of the frozen Apple logo screen in just minutes with Mobitrix Perfix. It is a professional tool developed by world-class iOS experts. So you can save up on all those store repair charges and fix your iPhone 7 right at home, without using iTunes or without any data loss. It fully supports iPhone 5s to iPhone 15 and iOS 17 and earlier versions.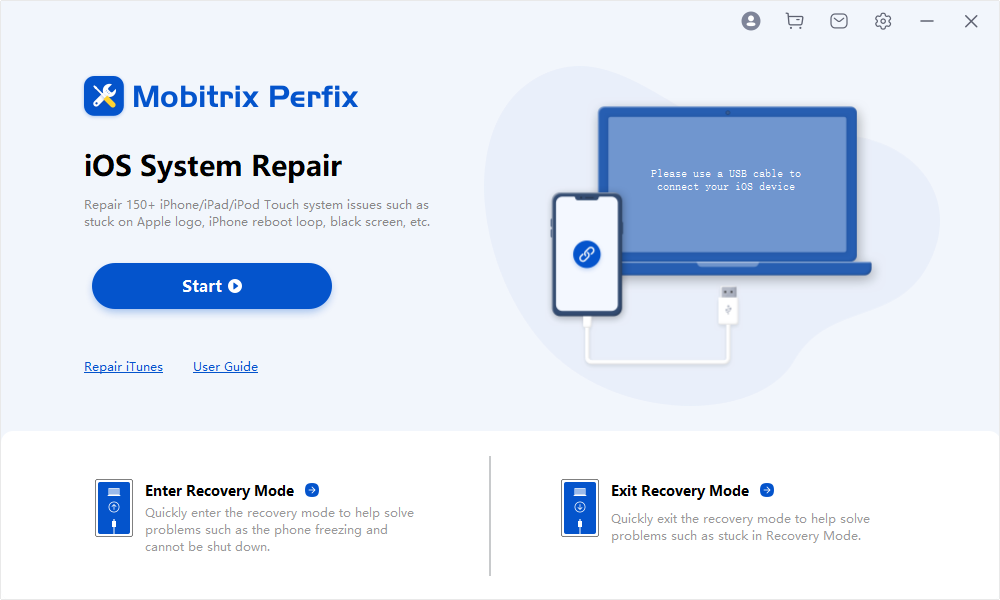 Mobitrix Perfix: Professional iOS system repair tool
Steps:
Download, install and launch Mobitrix Perfix program.
Connect your iPhone 7 to a computer.
Click on the Start option in the main menu.
Pinpoint the issue and click Fix now. Then download Fixfile Package as prompted. (If you do not find any corresponding types in the list, please click Next).
Fix it with iTunes
You can also reinstall your iOS with iTunes. iTunes is an Apple-launched media management platform, sometimes used to update or restore iPhones and iPads. There are mainly two ways to go about it.
Via recovery mode
The recovery mode is an inherent repair mode within an iPhone. Once activated, it allows iTunes to detect and fix the issues in the iPhone 7 by upgrading or restoring its operating system.
Before proceeding, make sure you do these:
Backup your important iPhone data, as this method can cause data loss.
Update your iTunes to the latest version. For this, you need to know which macOS your Mac runs on. If your Mac runs on macOS Mojave or earlier, you need to open iTunes. And if your Mac runs on macOS Catalina or later, you need to open Finder.
Remove the third-party security software on your PC.
Do not plug your iPhone into the USB port of your PC keyboard, but to the PC port directly.
Do note that you must close and reopen iTunes if it is already open.
Here is how you reinstall iOS via recovery mode:
Activate recovery mode in iPhone 7
Long press the side button and the volume down button. Keep holding both the buttons together until the recovery mode appears on the screen.
Detect your iPhone 7 on the computer. Choose Update when you see the option to Restore or Update. If your computer attempts to reinstall the software without erasing the data, wait until the download finishes. The download might take longer than 15 minutes. If that happens and your iPhone 7 exits from the recovery mode screen, choose Restore instead.
Now, you can reset your device as per your preferences.
Via DFU mode
If a recovery mode restore cannot fix your iPhone 7, then consider the DFU mode. DFU restore is usually considered for a worst-case scenario, like your iPhone system is wholly damaged. When your iPhone 7 is put into DFU mode, iTunes can interact with the iPhone firmware in a much deeper level and rewrites every code.
Contact Apple for hardware support
If your iPhone 7 is still not in working order after you've tried the methods above, it could be a serious hardware issue. Therefore, it is advised that you fix an appointment with the Apple store or contact an authorized service provider by Apple. Ignoring any hardware damage can lead to further problems with your device, sometimes even explosions.
Now that you've known why your iPhone 7 gets stuck on the Apple logo screen. You can follow any of the above ways to resolve the issue.
Among all, you can always rely on the expertise of Mobitrix Perfix to help you solve almost every iOS device problem.
Is your iPhone 7 causing issues? Try Mobitrix Perfix now!