Does your iPhone screen go black, and the Apple logo pops up even while you text or are on a phone call? It could be restarting unexpectedly but you still have access to it, or it is stuck in restart loops to a point you can't do anything. It may also be that your iPhone keeps restarting itself during charging and you don't know what to do. But whichever it is, panic not! You've found the perfect guide. Join me as I share ten DIY fixes for the iPhone randomly restarting issue!
Check for faulty Apps
A faulty app may be outdated or infected with malware, causing your iPhone to keep restarting. You can deal with it by regularly updating your apps or enabling auto-updates. If you want to check which apps are faulty, do this.
Check battery usage for apps consuming the most battery life.
Go to iPhone Settings.
Choose Battery and open Show Activity.
Tap Battery Usage.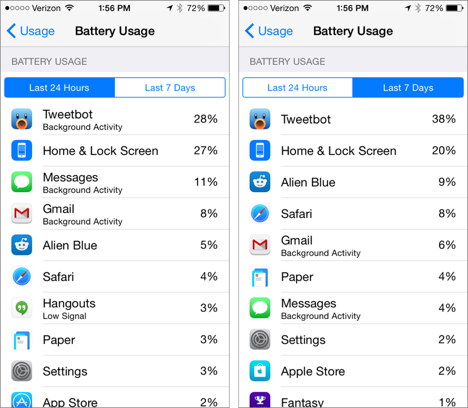 Check your iPhone battery usage by apps
You will see the battery life percentage required by each app. Check apps that consume the most amount of battery.
Check your iPhone's error logs
Find your way to Settings.
Select Privacy > Analytics & Improvements.
Tap Analytics Data.
A long list of reports will appear. Scan it and look for specific apps that are mentioned more than once.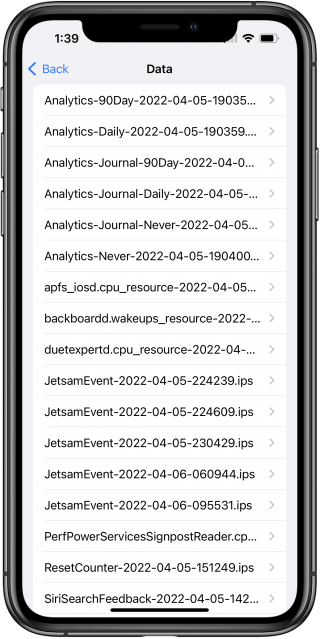 Check for faulty apps error logs via Settings
Manage bad apps
Once you identify the faulty apps on your iPhone, you can uninstall them from your iPhone. Or you can update all apps to ensure you have their most recent versions.
Uninstall bad apps:
Long press the app icon on the home screen.
Select Remove App.
Tap Delete App and again tap Delete to confirm.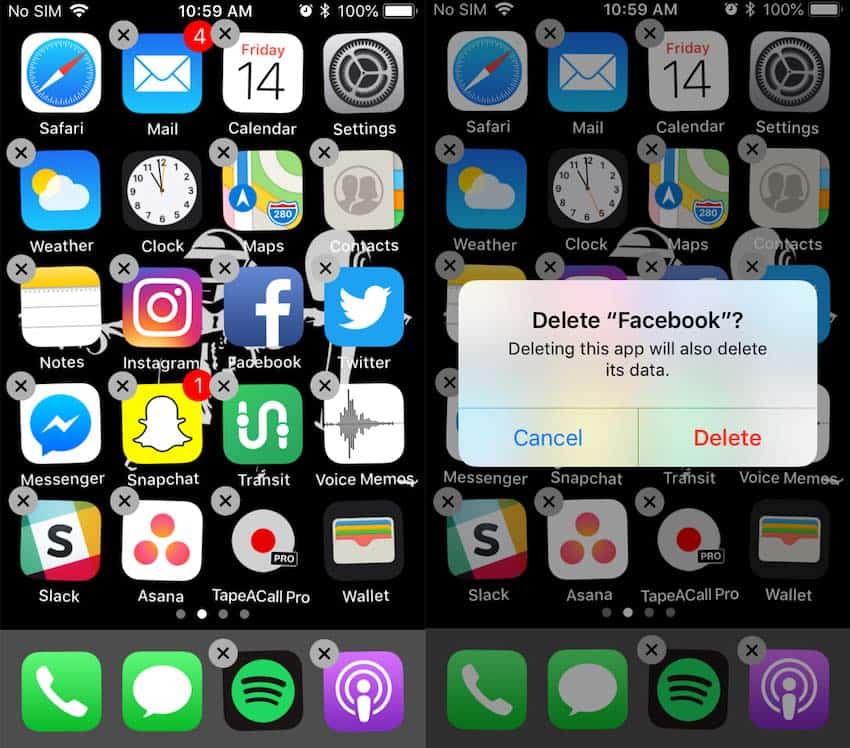 Delete bad apps from your iPhone
Update all apps:
Navigate to Settings.
Tap your Profile Name.
Tap Update All.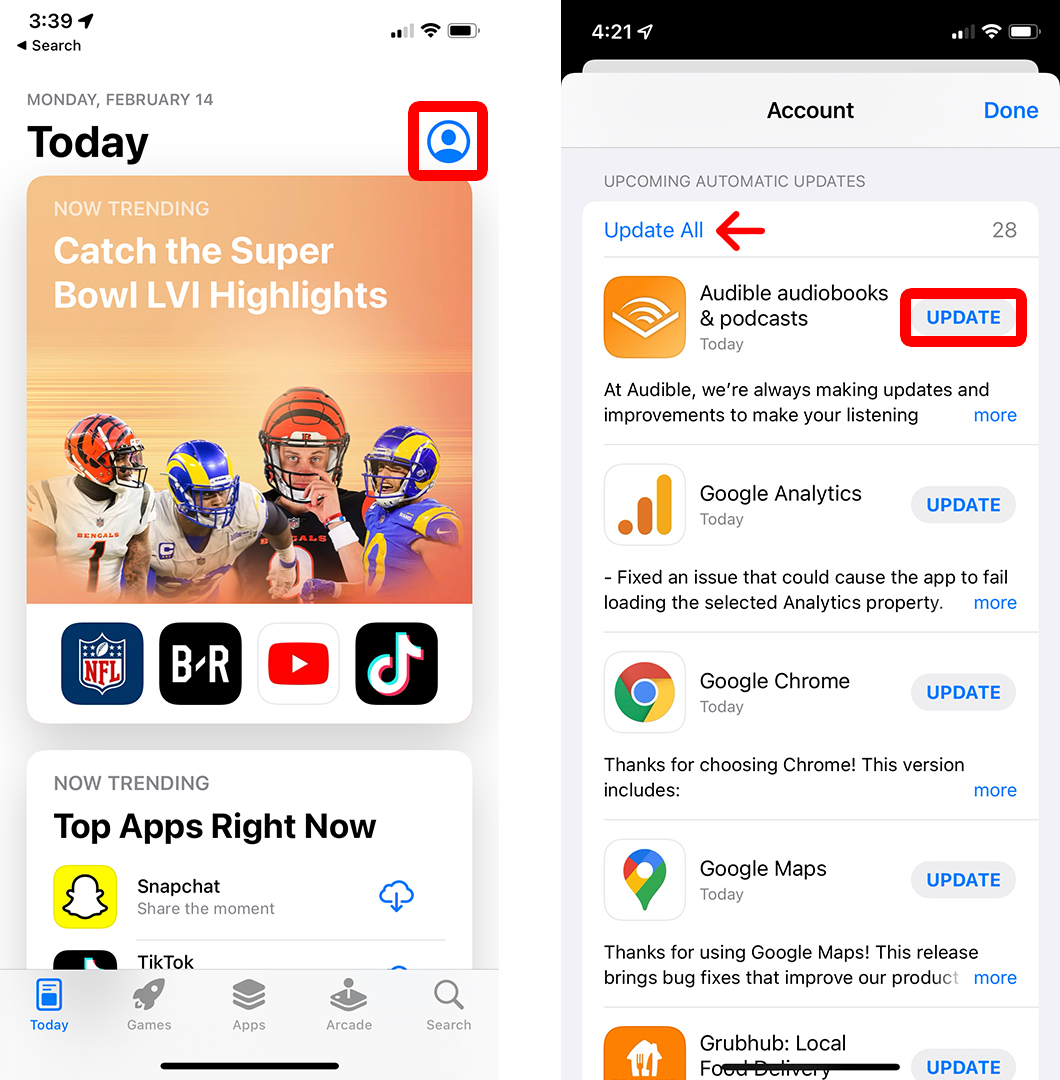 Update all apps on your iPhone
After you manage all the bad apps on your iPhone, it should function as usual. If the method doesn't work, try the next trick.
Update iOS
An expired iPhone iOS can be incompatible or have critical bugs that cause your iPhone to restart randomly. Updating your iPhone operating system will make it more stable with advanced security patches. After the update, your iPhone should stop restarting randomly.
Steps:
Select the Settings app > General > Software Update.
Click Download and install.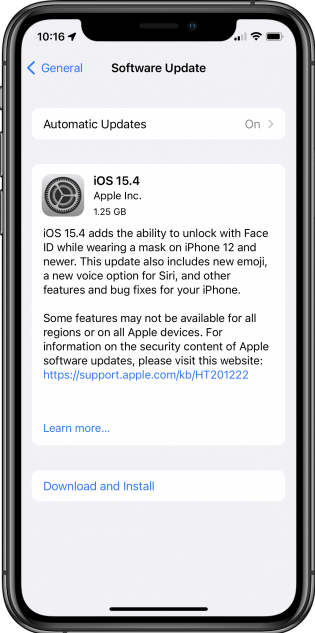 Update your iPhone to the latest iOS
Tips: When new iOS software is available, you get an alert and can download and install it. Ensure to connect to a reliable internet to complete the process successfully.
Manage your iPhone Storage
An almost full memory overloads the RAM, and your iPhone restarts in loops when the RAM can't carry on. It likely happens in older iPhones but can also harm new models. And since you can't expand an iPhone's internal storage, you must remove some files or save them externally.
Steps
Navigate to Settings > General > iPhone Storage.
Look for an app saying "never used." Tap on it and tap Delete App.
Tip: If you want to delete a big app but still keep its data, don't choose delete. Instead, select Offload App to remove the file but save its data.
Allow iPhone to manage apps automatically
Go to Settings and open iTunes and App Store.
Tap Offload Unused Apps. Your iPhone will recommend what to delete.
You can see the list under "iPhone Storage."
Clear out old message clutter
Launch Settings > General > iPhone Storage.
Select Messages and tap Review Large Attachments.
Delete all that you don't need.
Remove music you don't listen to
Open Settings > General > iPhone Storage.
Tap Music.
Swipe left on any artist to remove the music, or swipe left on All Songs and tap Delete.
You can also delete cache in Spotify or delete saved music from your library.
Delete old Netflix videos
Go to Netflix > Downloads.
Tap a show or movie you want to delete.
Tap the blue icon on the right.
Tap Delete Download.
Keep photos and videos in the cloud
Tap on your Settings app and select Photos
Turn on iCloud Photos and check to Optimize iPhone Storage.
Uncheck the box, Download and keep originals.
Check the option Upload to My Photo Stream.
These ways should help to free up some memory and probably end the iPhone randomly restarting problem.
Switch to a stable iOS version from Beta
All iOS Beta versions are unfinished and still under development. Due to this, they get plagued by performance issues and bugs. They cause your iPhone to randomly restart, and it is better to switch to a stable iOS.
Steps
Open Settings > General > VPN & Device Management.
Tap the iOS Beta profile.
Tap Remove Profile and restart your device.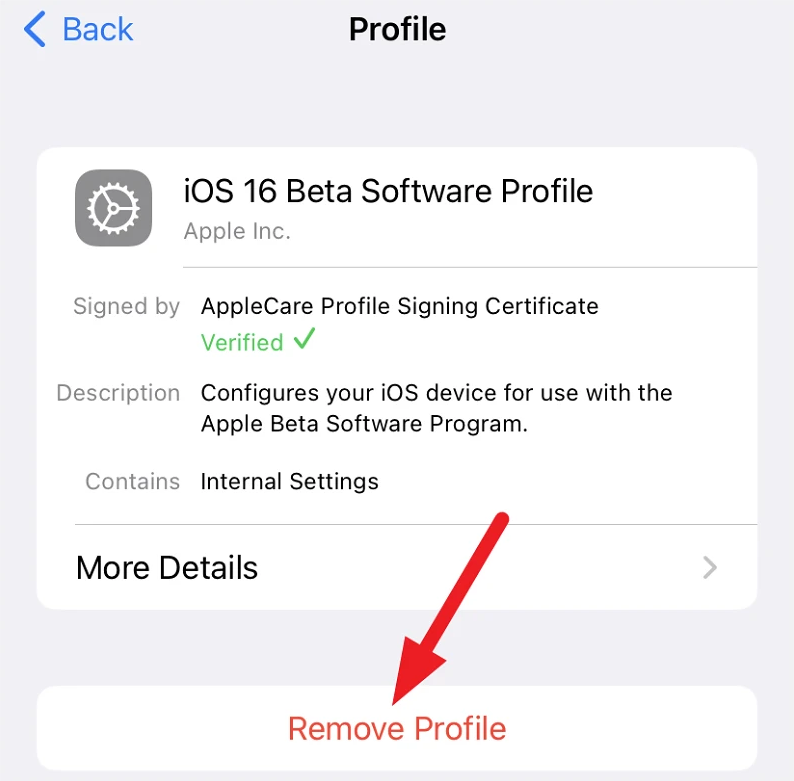 Remove iOS Beta version using iPhone Settings
You must now wait for the next available non-beta software update. If you don't want to wait, you can restore your previous iOS with iTunes via recovery mode.
Get a computer with the latest iTunes/Finder.
Connect it with your iPhone and put the iPhone in recovery mode.
Click Restore on the iTunes app. Give it time to erase your iOS Beta and install the existing non-beta version.

Downgrade from iOS Beta version using iTunes on a computer

After the restore, set up your iPhone from an archived backup.
Note: If you had backed up your iPhone with the iOS Beta to a computer or iCloud, the backup would not work with iOS earlier versions. You should restore from a backup you created before installing the iOS Beta.
Reset all settings
Misconfigured settings prevent your iPhone from operating as expected and restart randomly. By resetting all settings, you erase your personalized settings to get back to factory default.
Steps
Navigate to Settings > General > Reset.
Tap Reset All Settings.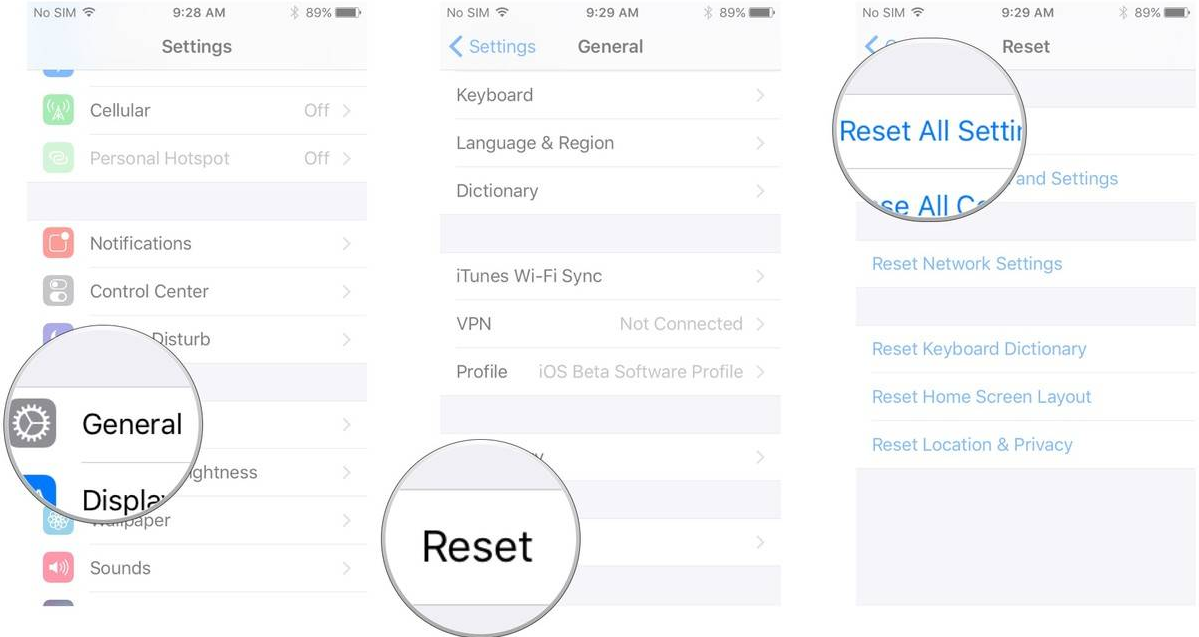 Default reset all settings on iPhone
Your apps and data will remain intact, but all personal preferences will be lost so you can configure them again.
Force Restart
Forcing your iPhone to restart temporarily disrupts its power by shutting down and powering back on. It helps break the random restart cycle because all processes boot up fresh. Different iPhone models use different procedures to reboot but without data loss.
Steps
For iPhone 8, SE (2nd Gen), X, 11, 12, or 13 models
Quick-press the Volume Up button.
Quick-press the Volume Down button.
Long press the Side/Lock button and release when you see the Apple logo.
For iPhone 7
Long press both the Volume Down and Power buttons simultaneously.
Release both buttons when the white Apple logo appears.
For iPhone 6S or iPhone SE (1st Gen)
Long press both the Home button and the Power/Top button at the same time.
Release both buttons when the Apple logo shows up on your screen.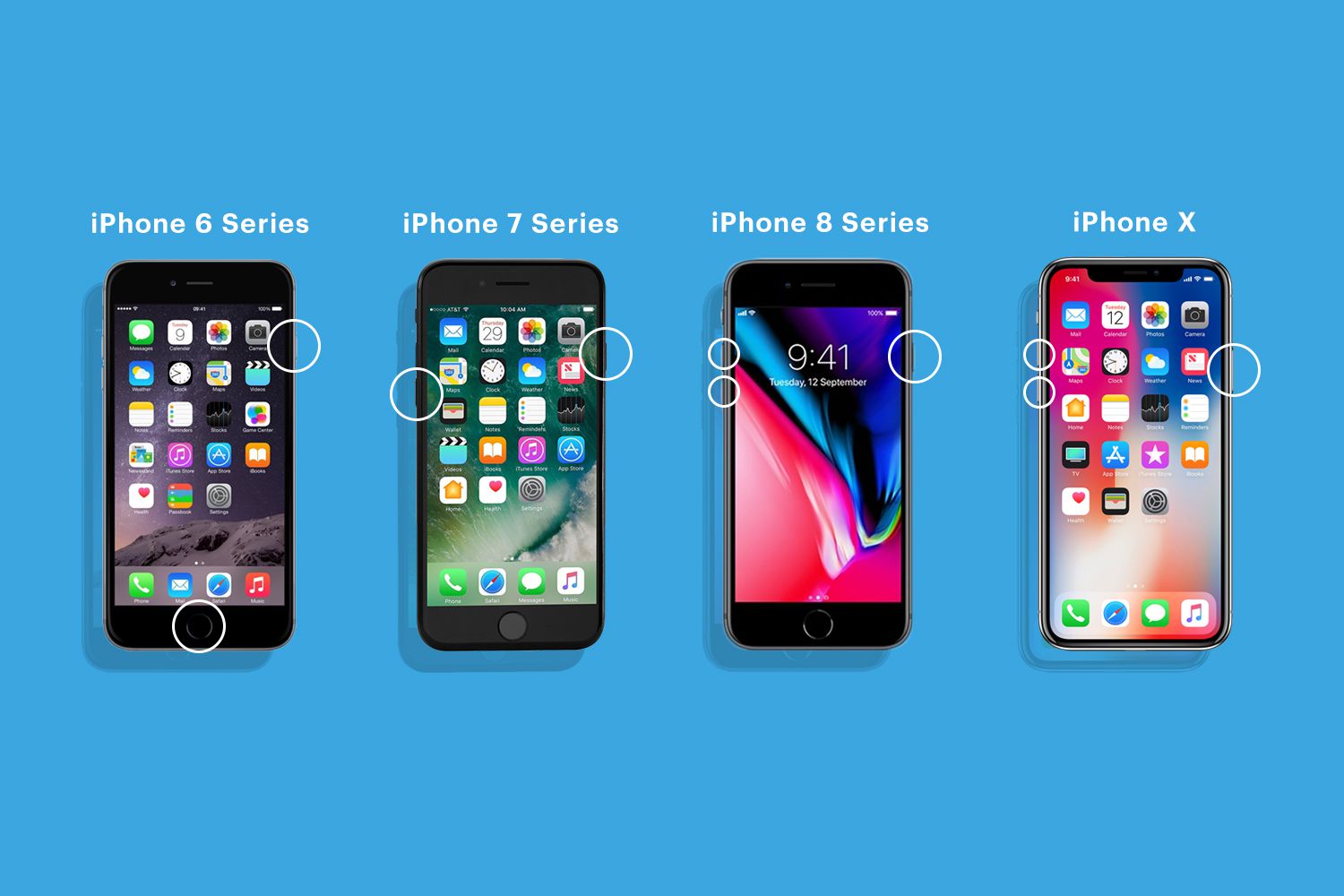 Force restarting any iPhone model
Remove your SIM card
Your iPhone may get stuck in the reboot loop if you use a faulty SIM Card or improperly inserted it. Removing and reinserting the SIM Card can help know if it is causing the problem. From there, it will be easy to fix it.
Steps
Identify the location of the SIM card tray and use a paper clip to remove it. (Nothing harmful will happen).
Try using your iPhone without the SIM Card to see if the issue stops or comes back when you reinsert it.
Find a different SIM Card this time, or use another phone to test and narrow down the problem to the SIM Card or iPhone.
Note: If the problem is the SIM Card, you should contact your cell carrier for assistance or replacement. Take your iPhone for physical repairs if it is the SIM Card holder.
Clean iPhone's Charging Port
Another cause of the iPhone's keeping restarting problems is the lightning port. If dirt, dust, or lint is in the port, it can cause electrical shorts when charging. It can also bring connection problems when headphones are plugged in. This will result in your iPhone restarting during charging. You should clean the charging port using a paperclip, toothpick or small needle to fix it.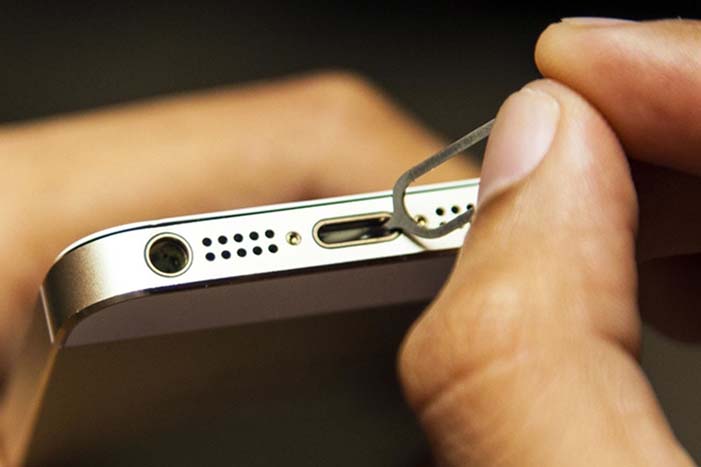 Clean your iPhone's charging port
Use Mobitrix Perfix
Mobitrix Perfix is an advanced repair tool that can help fix over 200 iOS system issues. And it can fix an iPhone that keeps restarting within 20 minutes. You avoid expensive labor fees at a local store, and it is effortless to use.
Benefits
You can fix the issue even when your iPhone is not functioning.
It can fix multiple problems affecting your iPhone, such as black screen, low volume, and many others.
No data is lost while using it.
It fully supports iPhone 5s to iPhone 15 and iOS 17 and earlier versions.
It is easier to use as compared to iTunes.
Steps:
Download Mobitrix Perfix on a PC/Mac and launch it.
Connect your iPhone with a USB lightning cable.
Click " Start" on the tool when it detects your iPhone.
Click Fix Now.
The downloaded firmware package will repair the iPhone, and the issue will be solved at the end of the process.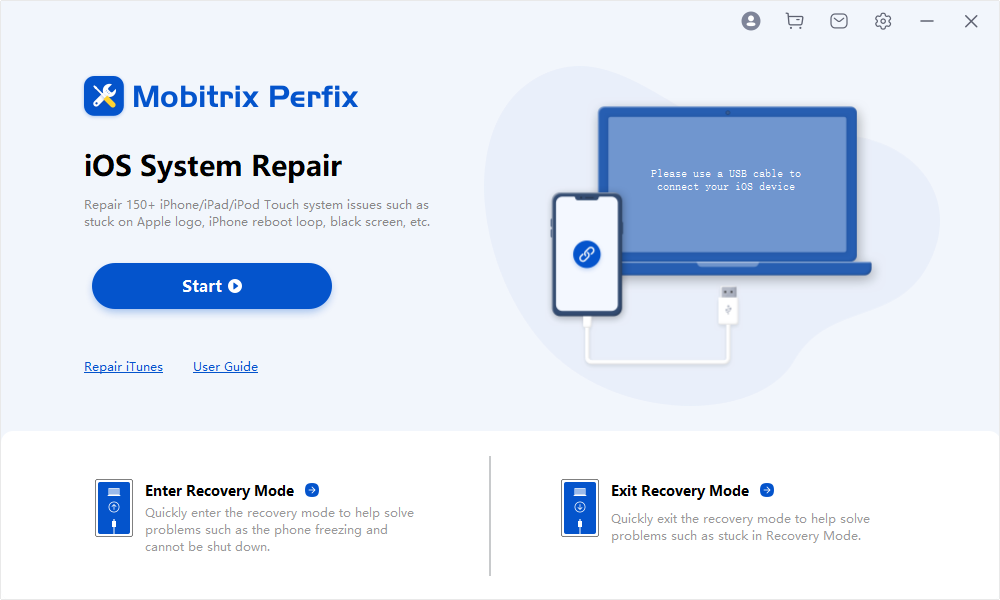 Professional iOS system repair tool: Mobitrix Perfix
Wait for your until the device restarts and unlock it. The whole process takes at most 30 minutes. And your iPhone should go back to normal.
Restore your iPhone via iTunes
Many may know iTunes as a media management app, but it can do more. It has Update and Restore functions to reinstall or upgrade iOS software. You can use iTunes on PC or Mac with a macOS prior to Catalina. If you have macOS Catalina or newer, you will use Finder. Both apps work the same.
Steps
Open iTunes/Finder on your computer.
Connect your iPhone and enter your passcode or trust this computer if prompted.
Select your iPhone once you see it on the computer.
Click Restore iPhone > Restore.
Your iPhone will be erased and new iOS software installed. After restoring to factory default, the iPhone will restart, and your issue will be fixed.
Note: Before using this method, sign out of Find My and back up your data. Also, ensure the iPhone remains connected to the computer throughout the process.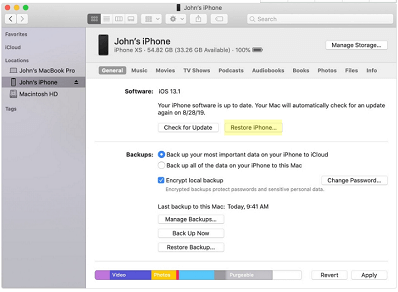 Restore your iPhone with iTunes/Finder on a computer
Restore your iPhone via DFU mode
If you can't restore your iPhone directly on iTunes, try using DFU mode. This is an iPhone troubleshooting state for the most in-depth restore via iTunes. A DFU restore will erase all unresponsive code on the software and firmware of your iPhone. It then reloads the latest iOS version on your iPhone, which should fix the random restarts problem.
Steps
Install the latest version of iTunes/Finder on a PC or Mac.
Plug in your iPhone to the computer with a lightning cable.
Put your iPhone in DFU mode. It is different for different models.

iPhone 8 or higher

a. Quickly press and release the Volume Up button and repeat for the Volume Down button.

b. Hold down your Sleep/Wake button until the screen turns black

c. Long press the Volume Down button as you continue pressing the Sleep/Wake button. (Hold both buttons for 5 seconds)

d. Release the Sleep/Wake button but continue pressing the Volume Down button until you see your iPhone in iTunes.

iPhone 7

a. Hold down the Side and Volume Down buttons at the same time for 10 seconds.

b. Release the Side button and continue to press the Volume Down button until iTunes detects your iPhone.

iPhone 6 and below

Press and hold the Home and Power buttons simultaneously for 10 seconds.

Let go of the Power button and continue to hold the Home button for 5 seconds until your computer detects it.

Click the OK button on iTunes.
Click Restore iPhone > Restore and Update.
Once restored in DFU mode, the iPhone should return to normalcy.
Why does my iPhone restarts randomly?
When your iPhone starts misbehaving and restarting now and then, your life gets to a standstill. But do you know what could cause this sudden problem? It can be:
A rogue app - Running a counterfeit app or downloading one from untrusted sources can install malware on your iPhone. These apps may also drain too much battery life and lead to a restart loop.
Overheating - This could have damaged the internal components of your iPhone, and now it keeps restarting.
Loose battery - If you have a swollen battery or your iPhone fell on a hard surface, the battery could become loose. That way, it keeps attaching and detaching itself and causing the issue.
Defective hardware - If water gets inside your iPhone, it can damage the motherboard, causing your iPhone to keep restarting. Also, it may be a broken charging port; hence the iPhone restarts itself during charging.
Unstable driver - If you just updated your iOS, you could have downloaded bad updates. These causes driver instability leading to unexpected restarts.
Corrupted system files - Your iPhone may have acquired corrupted files if an iOS update didn't complete successfully. These hinder the system's normal functioning, leading to the random restart problem.
As we come to the end of this guide, I hope you have successfully solved your iPhone randomly restarting issue. But what if you ever reencounter the problem in the future? I've shown you how to identify what is causing it and what to do. You should use Mobitrix Perfix if you want a quick fix. The tool has a 99.9% success rate, and no data gets lost.