A Quick Guide on How to Fix iPhone Bluetooth Issue -2021
Bluetooth is a short-range wireless protocol that facilitates communication between devices such as your iPhone and headphones to aid music listening. Anytime you face an iPhone Bluetooth issue, your communication is hindered until you find a way to fix this.
This post will discuss the various options that you can use to fix your iPhone Bluetooth issue to regain communication across your devices. Let's get started.
Part 1: Check your Bluetooth Function
Before rushing to use other methods to fix your iPhone Bluetooth issue, first check if Bluetooth is enabled. To check the status of your Bluetooth, do the following:
i. Open Settings.
ii. Click Bluetooth
iii. Toggle the Bluetooth icon to display a green icon.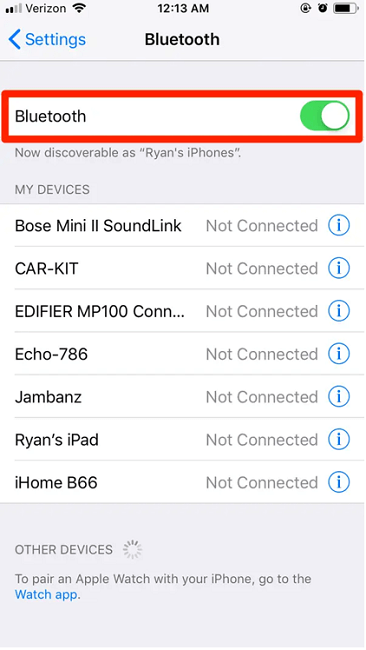 Once you've ensured that Bluetooth is enabled and the iPhone Bluetooth issue persists, proceed to the following method.
Is your iPhone Paired to Bluetooth?
If your iPhone is not paired or connected to Bluetooth, this can cause iPhone Bluetooth issues. To check if your iPhone is connected to your Bluetooth, follow the steps below.
i. Open Bluetooth and click on the menu to display a list of paired devices.
ii. If your iPhone doesn't appear in the list, it means it probably unpaired or was disconnected. Thus, pair it again.
iii. Click on the iPhone to move it from "Other devices" to "My Devices."
iv. Click on the iPhone to change its status to" Connected."
Once the iPhone connects to Bluetooth, you can now enjoy good communication with no other iPhone Bluetooth issue.
Part 2: How to Fix iPhone Bluetooth Issue Quickly
If your iPhone Bluetooth is not working, don't panic! The methods below will help you fix this issue with ease. Keep reading the article to look for a method that best suits your iPhone Bluetooth issue.
1. Update your iOS software
Is your iOS updated to the latest version? The iPhone Bluetooth issue may result from a previous software issue that could have been fixed in the newer iOS version, so if you are not using the latest iOS version, you need to update your iPhone.
To update your iOS version:
i. Open Settings.
ii. Click General > Software Update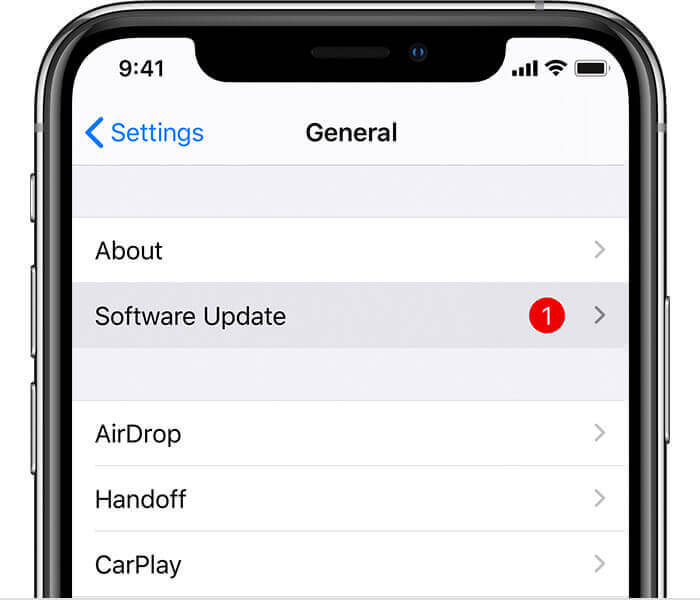 If your iPhone has an update available for it, you will be notified to update. Go ahead to update and install the latest iOS version. Once updated, your iPhone Bluetooth issue should be fixed.
2. Reset the network settings of your iPhone
Bluetooth is part of your iPhone's network settings. Therefore, resetting your network settings will clear all your current Bluetooth settings, including paired devices. In doing so, the iPhone Bluetooth issue will be fixed.
So, go ahead and follow these steps:
i. Open Settings > General
ii. Click Reset > Reset Network Settings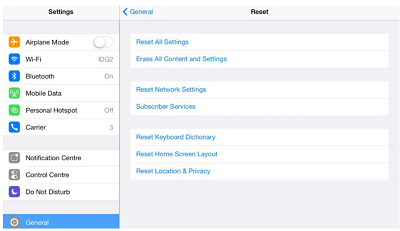 When prompted, enter your iPhone's passcode to confirm the resetting process. Your iPhone will then restart, and the iPhone Bluetooth issue will be fixed in the process. You can now pair devices and enjoy your Bluetooth connection.
3. Restart your iPhone
As a rule of thumb, always restart the iPhone anytime you have an issue with your iPhone. Restarting the iPhone helps to stop and restart all services, which could cause your iPhone Bluetooth issue.
To restart your iPhone:
i. Long-press the Sleep button and drag the power slider to power it off.
ii. To restart the iPhone, long press the Sleep button until Apple's logo displays.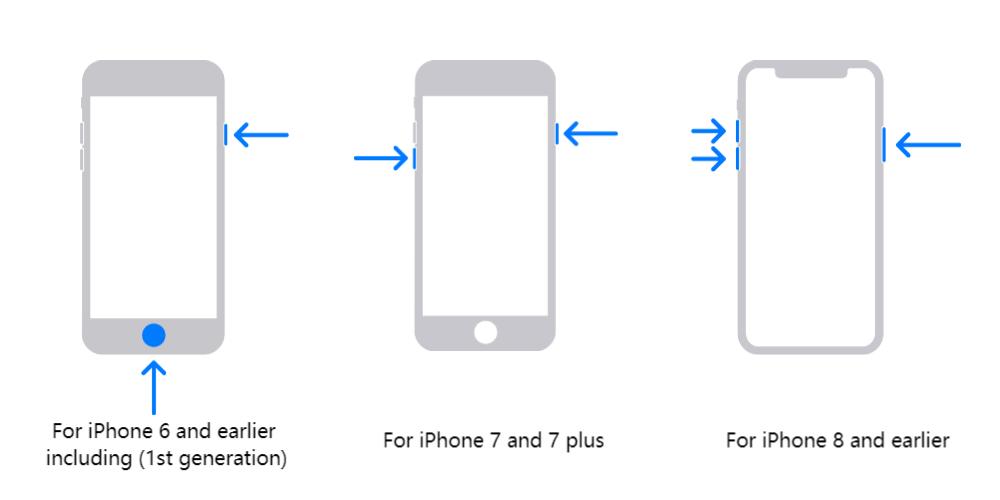 For more information regarding restarting your iPhone, read our article, "How to restart and force-restart any iPhone model." Once you restart the iPhone, go ahead and attempt to connect your devices to Bluetooth. Hopefully, your problem was fixed. If not, check for other methods from the article.
4. Forget the Connected Device, then Pair it
Sometimes you may face iPhone Bluetooth issues arising from the connected devices. To solve this, you need to forget the connected device and pair it again, and hopefully fix your iPhone Bluetooth issue.
The steps for this are:
i. Open Settings > Bluetooth.
ii. From the list of connected devices, click on the info button of the problematic Bluetooth device.
iii. Click "Forget this device."
iv. Pair back your iPhone to Bluetooth.
5. Pair the Bluetooth Device to Another device
If you are unsure if the iPhone Bluetooth issue is due to the iPhone or the accessory, try connecting the Bluetooth device to another Bluetooth device. If the problem persists, it means that your Bluetooth device is faulty and not your iPhone. If this is the case, take it to repair service or replace it.
Additionally, try to use another iOS device to connect to your Bluetooth device. If it connects, your iPhone has a problem, and you need to diagnose it more or try the method below.
6. Restore the iPhone
If you are using iPhone 12 Pro and none of the already addressed solutions worked for you, you can try to restore your iPhone via iTunes or Finder. However, this method will wipe your phone, and you will need to set it up as if it were new, and in doing so, your iPhone Bluetooth issue will be fixed.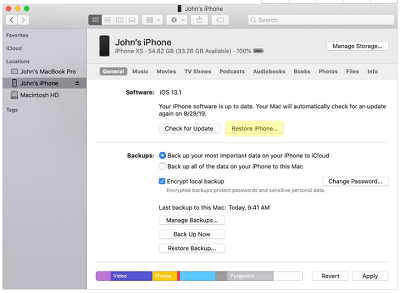 7. Visit a verified Apple Store
Having tried all the above solutions but still stuck at the iPhone Bluetooth issue, your iPhone is probably facing a hardware-related issue that you can't fix by yourself. In this case, you need to take your iPhone for diagnosis in a nearby Apple Store. Apple will then diagnose and fix the iPhone for you, and you will regain your iPhone in good condition.
Summary
Regardless of your iPhone model, you can face a problematic iPhone Bluetooth issue. When this happens, you need ways that will help you fix the issue instantly and effortlessly. This article introduced you to the various ways you can use to fix your iPhone. I hope by now you successfully fixed your iPhone Bluetooth issue courtesy of this post.