Is your iPhone saying No Service? You might have noticed an error message and cannot make or receive phone calls, browse Safari, and watch Youtube, etc. This problem could result from a hardware, software, or cellular plan problem. While there is no one-size-fits-all solution for this issue, it is possible to solve it without seeking a technician's help. In this article, I will show you how. Let's get going!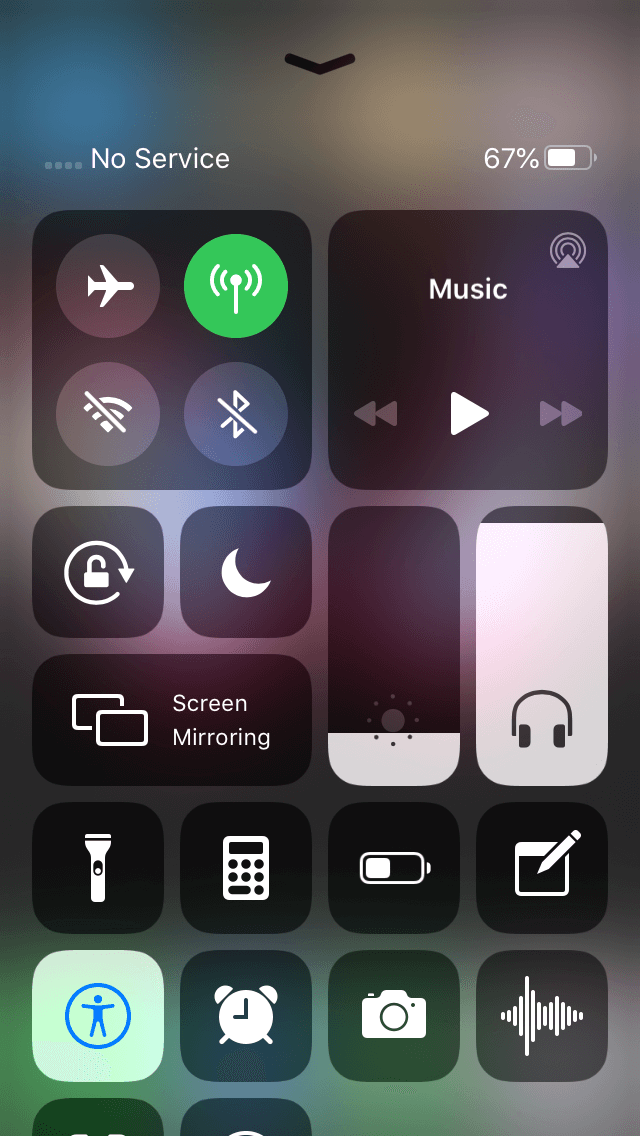 iPhone says No Service
Restart Your iPhone
Restarting your iPhone frees its temporary memory (RAM). This memory clearance removes any software glitch that might have caused the No Service problem. When it restarts, your iPhone loads everything afresh. Rebooting also forces your device to reconnect to the network. This often helps to solve connectivity problems.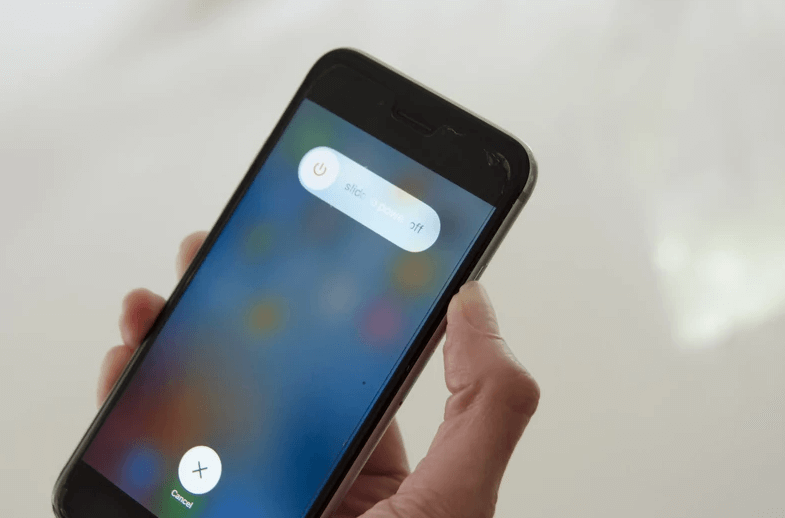 Restarting an iPhone
Check the Internet Coverage
Your iPhone may indicate No Service simply because it cannot establish a connection to the network. This means probably your device does not need fixing. You only need to change your network settings or get back within your service provider's range.
Here's what to do:
Ensure you are in a location with cellular network coverage.
Turn off your device's cellular data, then turn it on again. Navigate to Settings > tap Cellular or Mobile Data.
If you are on international travel, ensure your iPhone is set up for data roaming. Go to Settings > Cellular > Cellular Data Options > Data Roaming.
Go to Settings, then tap Carriers and switch off automatic carrier selection. Manually choosing which cellular network to connect to can stop your iPhone from saying No Service. However, many readers might not find this option on their devices, but that's perfectly normal. It is only applicable to specific carriers.
Switch from 5G to 4G. Sometimes, there can be miscommunication between iOS and the network operator.
Turn on Wifi calling if you have poor service. Open the Settings app, tap Cellular (or Phone in older iOS versions) > click Wifi Calling, and then toggle the Wifi Calling on This iPhone switch to turn it on. The button should be green when it's turned on.

Turning On Wifi Calling

Also, you should consider buying a signal booster for your home if you live in a cellular dead zone. A signal booster amplifies the cellular signal enabling you to use the iPhone normally. You can buy one from a retailer or most cellular providers.
Fix Your iPhone with Mobitrix Perfix
Mobitrix Perfix is another easy and effective way to fix an iPhone that says no service. This professional tool helps solve all kinds of iOS system errors. You can use it to fix your iPhone no service issue within 20 minutes and without losing your precious data.
Fix Your iPhone Issues in 20 mins.
Steps
Download Mobitrix Perfix Mobitrix Perfix on a laptop or PC.
Directly connect your iPhone to the computer using a USB lightning cable.
Launch Mobitrix Perfix, hit the Start button > Fix Now.
Trustpilot
Why Do I Recommend Mobitrix LockAway?
It fully supports iPhone 5s to iPhone 15 and iOS 17 and earlier versions.
Easy to use
You don't need iTunes
No data gets lost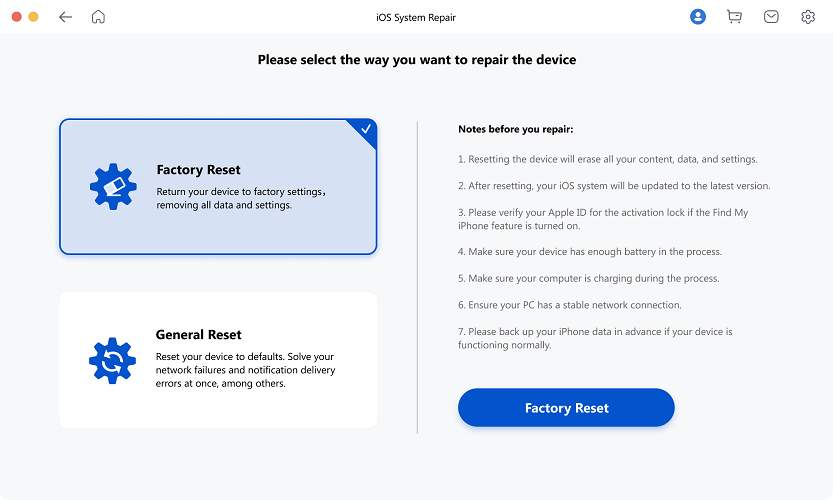 Mobitrix Perfix Standard Repair
Reset or Replace the Sim Card
You may experience a No Service problem if your SIM card is not working correctly. A SIM card can fail to work if it is damaged or not seated correctly. To determine if this is the problem, you can try to reseat the SIM card. Alternatively, you may try putting other SIM cards in your iPhone. This can help you find out if your device is the problem. You should also try putting your SIM card in another phone to determine if the SIM card has an issue.
Steps:
Open the SIM card tray using a SIM ejector or paper clip.
Remove the SIM card and check if there are signs of damage.

iPhone With the Sim Card Removed

If there are no signs of damage, insert the card back correctly.
Close the tray and check if the problem is solved.
Reset Your Network Settings
If a cellular setting is not set up correctly, it can cause your iPhone to say No Service. Your settings may have been changed accidentally or corrupted in a way that may prevent you from accessing cellular service. In such a case, you can resolve the No Service problem by resetting your settings back to default.
Steps:
For iOS 15 or later, go to Settings > tap General > Transfer or Reset [Device] > click Reset > Reset Network Settings.
For iOS 14 or earlier, tap Settings > General > Reset > Reset Network Settings.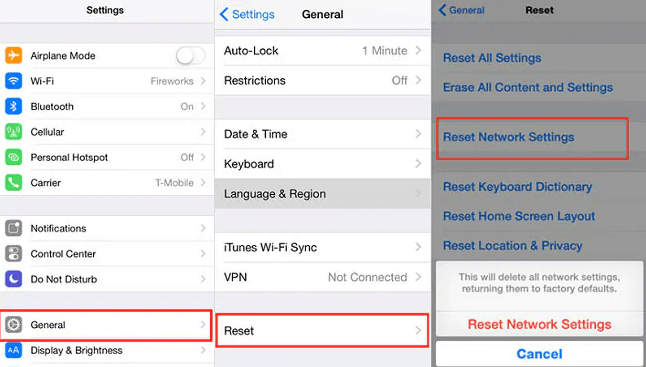 Resetting Network Settings via Settings
Check With Your Carrier
You should contact your network service carrier if you have tried several methods to resolve the problem but still have no service. Ask them if there are any local network outages, problems with your cellular service plan, or blockages on your device.
Steps:
Check if you are on AT&T's 3G network since the provider is phasing out the 3G network. If your iPhone is an iPhone 5s, 5c, or earlier, contact your network carrier to discuss your options. If your device is an iPhone 6 or later, update it to the latest version of iOS. Go to Settings > Cellular > Cellular Data Options > turn on Enable LTE. You should contact your carrier if you still have no service.
Ensure your account is active and in good standing.
Check to see if there are any service outages in your area.
Verify that your iPhone is not blocked from receiving cellular services and has been set up with the appropriate data plan.
Look for a Carrier Settings update. To check for and install this update:

Ensure your device has internet access.

Go to Settings > General > About. You will get an option to update your iPhone's carrier settings if there is an available update.

To check the versions of carrier settings on your iPhone, tap Settings > General > About, then look next to the carrier.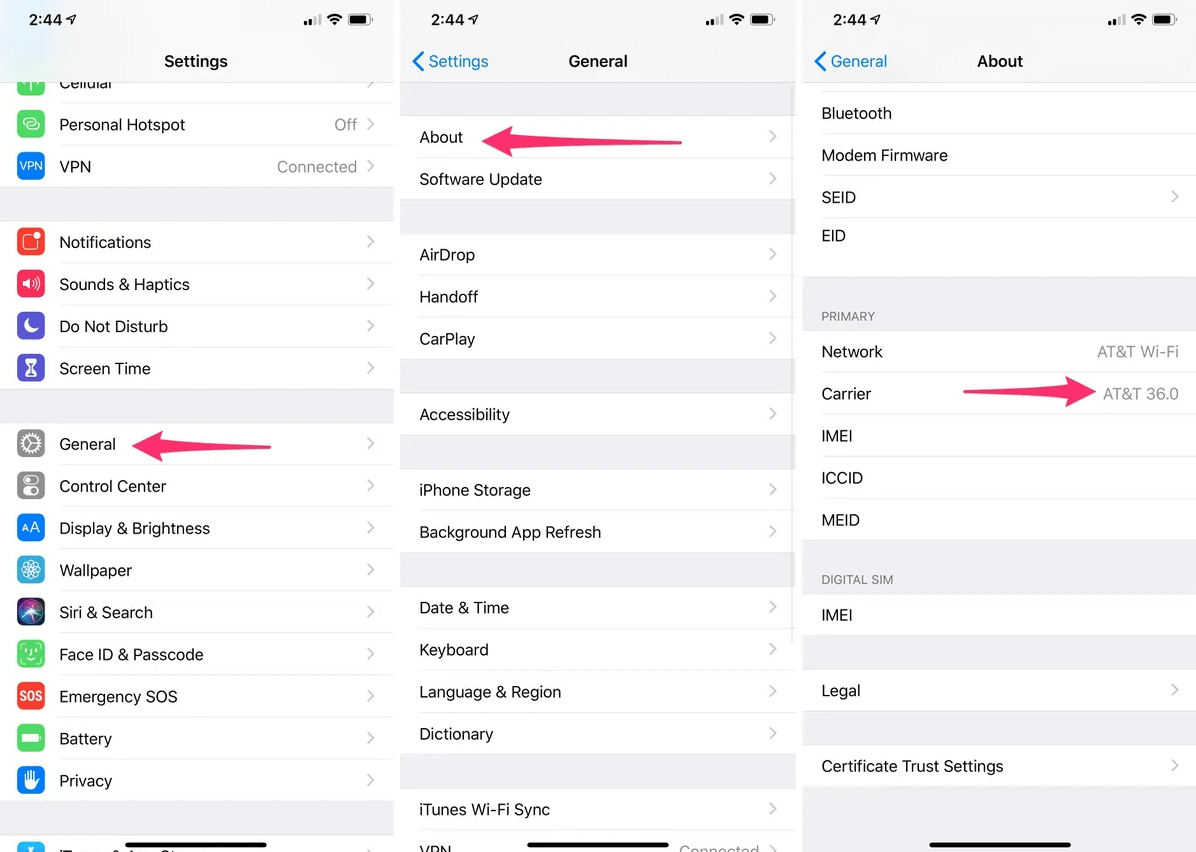 Looking for a Carrier Settings Update
Note: If you slot a new SIM card into your device, you may have to download carrier settings for the new carrier.
Only your network carrier can access and manage data about your account. These carriers sometimes have special activation codes that can resolve a No Service issue. The codes are too many to list here since they are often changing, and there are numerous cellular carriers. But, your carrier may still be able to assist you over the phone.
Update Your iPhone to the Latest Version of iOS
Updating your iPhone to the latest iOS version can eliminate a No Service issue. Software updates can resolve connectivity problems by removing software bugs that may disable connection to your carrier. You can update your iPhone wirelessly or via a computer.
Update via Settings
Updating your iPhone via Settings is the easiest way to update your iOS version. You may even enable Auto updates to ensure your iPhone automatically downloads iOS updates.
Steps:
Back up your iPhone's data on iCloud or your computer.
Connect your device to a power source, then connect it to the internet via Wifi.
Go to Settings > General, then click Software Update.
If you are given two software updates, pick the one you want to install.
Click Install Now. If you come across Download and Install instead, tap to download the update, enter your passcode, and tap Install Now.
Update via Finder or iTunes
If you cannot update your iPhone wirelessly, you can update it via a Mac or PC using Finder or iTunes. However, you should back up your device before updating it.
Via Finder
Before using Finder, ensure your computer runs on macOS Catalina or later.
Steps:
Open a Finder window on your Mac.
Connect your iPhone to your computer via a USB cable.
From the left sidebar of your Finder window, select your device.
Click General, then tap Check for Update.

Checking for iPhone Update on Finder

Tap Download and Update, then follow the onscreen instructions.
Enter your passcode if you are required to provide it.
Via iTunes
If you are using a Mac, ensure it runs macOS Mojave or earlier. For Windows users, ensure you have Windows 8 or later and the latest version of iTunes.
Steps:
Open iTunes on your computer.
Connect your iPhone to the computer.
Go to your iTunes toolbar and click the device button.
From the Summary Tab, tap Check for Update.

Summary Tab in iTunes

Tap Download and Update. Follow the onscreen instructions.
Enter your passcode if asked to enter it.
Check for Physical Damage
You may have accidentally dropped your iPhone on a hard surface or in water. Damage from such accidents can cause the breaking of internal or external hardware associated with connectivity. This breaking can cause your iPhone to indicate it has No Service.
Hence, inspect your iPhone on all sides for any signs of physical damage or breaking. Also, check the device for liquid or water damage. If there are signs of physical damage, you may have to consult Apple Support or a repair technician.
DFU Restore Your iPhone
DFU mode stands for Device Firmware Update mode. This mode is a state you can put your iPhone into to get it back to working order. DFU mode makes your iOS accessible to Finder or iTunes at a more privileged level. This privileged access allows you to restore your iPhone and fix a No Service problem.
With the knowledge gained from this article, you are well equipped to fix your iPhone if it says No Service. You can confirm if these solutions work by checking if you have regained a connection to your service provider. Alternatively, try to place a call. If it goes through, your iPhone is fully functional again. You may now continue to enjoy the convenience of your iPhone.