Nobody enjoys having slow internet or, worse, no internet. You might even be left to wonder what use your iPhone serves when the internet is poor or unavailable. Your safari browser is not loading pages; you are trying to install apps from the App Store, and it is taking forever; messages are not sending or coming in, etc.
These are frustrating, no doubt. But before you throw your iPhone across the room or attempt a reset of your network settings, there is a question you should ask.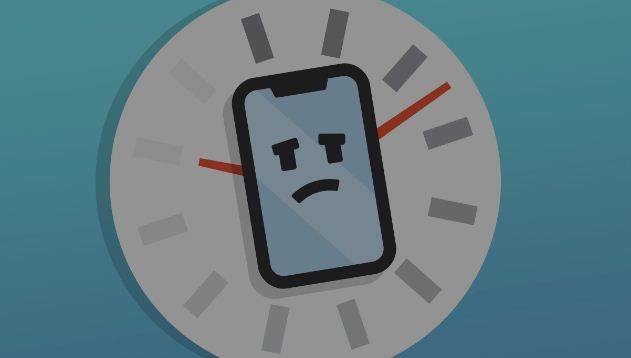 iPhone network issues
What Is Happening with My Internet Connection?
You are watching a video online, and suddenly it stops, and you cannot understand why. You reload the page, and nothing. You try opening other apps and websites, but none of them are working. The funny thing is, it might even not be a big issue. Here are some reasons why this could be happening:
Weak signal: Too much distance between the router and the device, walls, and even microwaves can interfere with your Wi-Fi signal. Weaker Wi-Fi signals mean slower speeds and frequent disconnects.
Interference: Baby monitors, walkie talkies, or maybe a radio locator to keep track of your pets or keys sometimes use the 2.4 GHz spectrum because they share the same frequency as the 802.11 b/g/n Wi-Fi protocols from earlier generations..
Choice of network hardware: Your network's hardware, like the router or cable, has a significant impact on the speed of your internet. For instance, ethernet connections are typically faster and more reliable than Wi-Fi connections.
Software problems: Your iPhone network will inevitably slow down if you run quite a number of apps all at once. Some might be operating silently in the background.
Damaged internet cable: Presence of kinks, rips, and chew marks in your networking wires could slow down connection. Check the Ethernet wire that connects your modem and router as well.
When the network issues happen, the most common method people go for is to perform a network resettings.
How to reset network settings?
If you plan on resetting your network settings for an iOS device using iOS 15 and later, these are the steps to follow:
Open your Settings app
Select the General menu in the list of menus
In the tab that appears, there is a list of menus again. Select Transfer or Reset iPhone
In this menu, select Reset
Select Reset Network Settings
If prompted, enter your passcode
A window appears, read through it and click Reset Network Settings
Your device will automatically restart.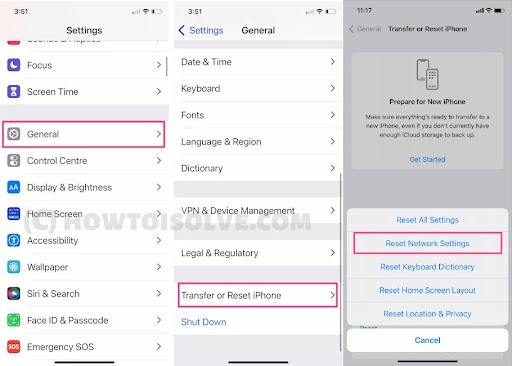 Reset network settings for iOS 15 and above
If you use a device with iOS 14 or earlier, the steps are slightly different.
Open your Settings app
Select the General menu in the list of menus
In the tab that appears, there is a list of menus again. Select Reset
In this menu, select Reset
Select Reset Network Settings
If prompted, enter your passcode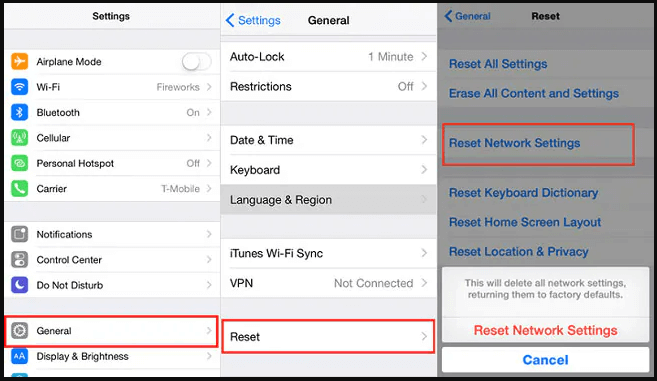 Reset network settings for iOS 14 and earlier
Regardless of your iPhone's iOS, resetting network settings has the same effect. Your custom Bluetooth settings, saved Wi-Fi, and VPN settings, will all be cleared. However, your apps, contacts, and other files won't be.
However, one question pops up.
What if you do not want to lose your network data? Considering how inconvenient it's going to be! For example, you would have to re-enter all your WiFi passwords, and you might have forgotten some of them. If you have some vital custom network configurations (which most likely required technical expertise), it would also be lost.
Inspect the router, cable, and Wi-Fi connections
When your internet is not working as expected, your first suspect should be your router, as your internet speed heavily depends on such network equipment. Instantly restarting your router should not be your first line of action. You can run the two following small tests to be sure of the problem, or your router will keep creating a speed bottleneck.
If you are far from the router, move closer to it. Are there any changes?
Move to a different section of the room. Does your Wi-Fi signal get weaker or disconnected when you are in some parts of the room? Objects in the room can obstruct connections. Also, the further away you are from the router, the higher the likelihood of network disconnections.
If both tests do not yield any changes, you need to restart your router. First, unplug your router. You can remove the cable from the back or unplug it from the wall. Wait for about a minute and plug it back.
You might not realize that loose cabling is the culprit when you're still getting some signal. If you suspect a cabling problem that you cannot handle by yourself, contact your ISP to send a technician to check out your network cables.
The problem could also be your Wi-Fi connection on your iPhone. Here's how to check:
Make sure that Wi-Fi is turned on by going to Settings > Wi-Fi. To connect, tap the name of your Wi-Fi network. A network name with a blue checkmark next to it indicates that you are connected. If Auto Join Disabled appears under the name of your Wi-Fi network, press it to enable Auto-Join.
If prompted, enter the Wi-Fi network's password. Even if you input the right password, you can still receive a "incorrect password" or "unable to join the network" notice. If that happens, try reentering your password once more after restarting all your devices.
You might see a Wi-Fi recommendation next to the name of the Wi-Fi network you're connected to if your iPhone notices a problem with your Wi-Fi connection. For instance, the warning "No Internet Connection" can appear. Tap the Wi-Fi network to find out more. Make sure your router is turned on and linked to the modem if you're still having trouble connecting to your network or going online.
Turn Wi-Fi off and on
To turn Wi-Fi off and on, swipe down from the top-right corner of your screen. You will see the Wi-Fi icon; tap the icon to turn it off. Wait for some seconds before turning it back on. The same step applies if you are using a cellular network, but you turn on/off your cellular network instead.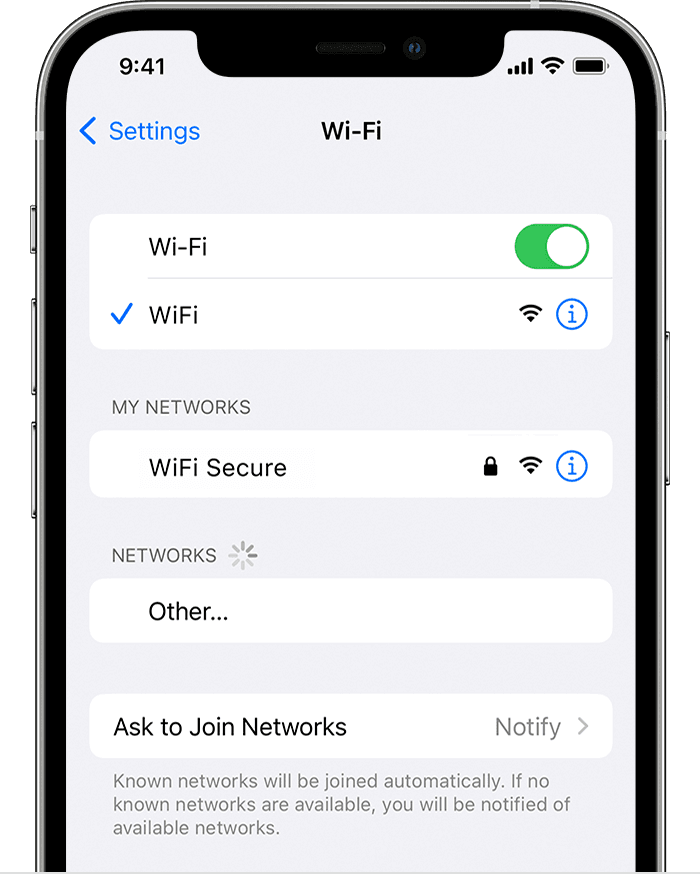 Switch off or on WiFi
Forget and reconnect to Wi-Fi
Turning Wi-Fi on and off might not always provide the desired result. Fixing connectivity issues can be done by forgetting the network you are currently connected to. When you connect to a network, your iPhone saves information about it. This means that if any aspect of connecting to that network is changed, like password protection, you will be unable to connect to the internet or get online.
To forget Wi-Fi network on your iPhone:
Open Settings and select Wi-Fi
Tap the "i" icon beside the network you want to forget
Click Forget This Network
Click Forget when prompted to
Reconnect to your Wi-Fi and enter the password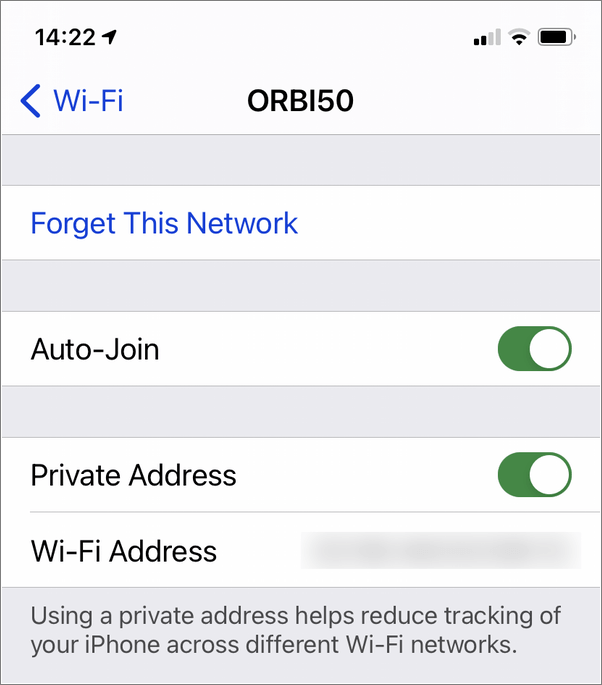 Forget WiFi on an iPhone
Turn Airplane Mode on and off again
When the Airplane mode is on, all your network connections are disabled; Wi-Fi, cellular data, and even Bluetooth. When they are turned back on, things like the IP addresses are refreshed, and this is as good as a virtual soft reboot. It also helps you quickly connect to the new location's tower(s) instead of still struggling with connecting to the network tower in the area you are coming from.
Swipe down from the top-right corner of your screen. You will see an airplane icon; tap the icon to turn it on and then turn it off.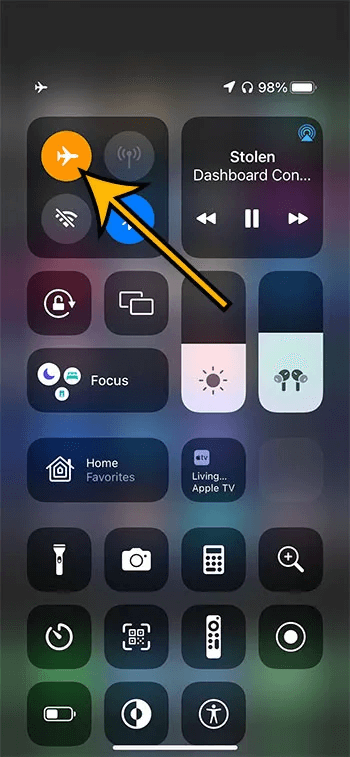 Turn on and off iPhone Airplane mode
Reboot iPhone: Like toggling the Airplane Mode on and off, completely restarting your iPhone might "wake" your cellular service, return it to operation and also solve some minor operations.
Update iPhone Apps or iOS: Connection issues are sometimes due to bugs on apps or the iOS itself. Updating iOS ensures every issue due to out-of-date software is solved, including slow or no connection. To make updates:
Open your Settings app.
Select the General menu and from the menu list on the screen, select Software Update.
Install available updates.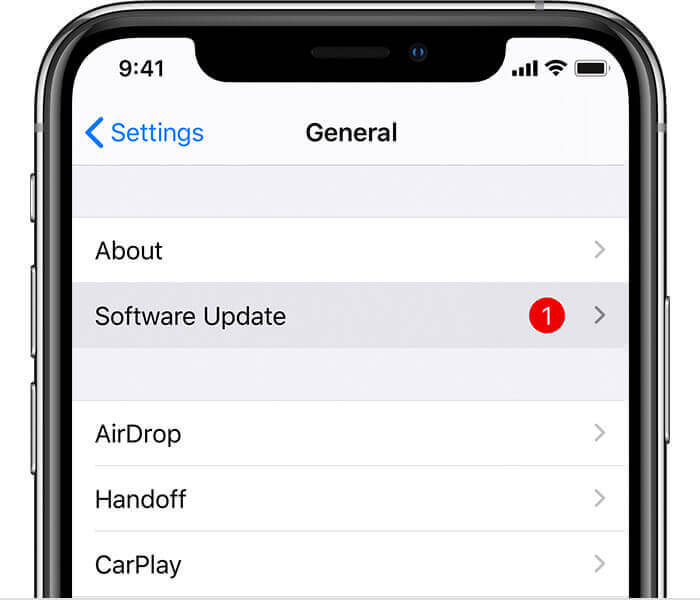 iPhone software update
Note:to ensure you do not have to keep checking for updates regularly and miss out on important iPhone updates, you can turn on Automatic Updates. To do this, open the Software Updates menu, and select Automatic Updates.
Use Mobitrix Perfix
This third-party software can be extremely helpful in fixing almost all your iPhone's problems, and this includes network connectivity issues. It is compatible with all iOS versions and models. Moreover, it is super easy to use.
Here is how to use it:
Connect your iPhone to your computer
Download and launch Mobitrix Perfix Mobitrix Perfix on your PC. Click Start
Click the Standard Repair option on the dashboard that appears
Select Download. This would install the right firmware. And then the repair process begins. This could take up to 30 minutes or more. Do not disconnect your iPhone until the process is complete.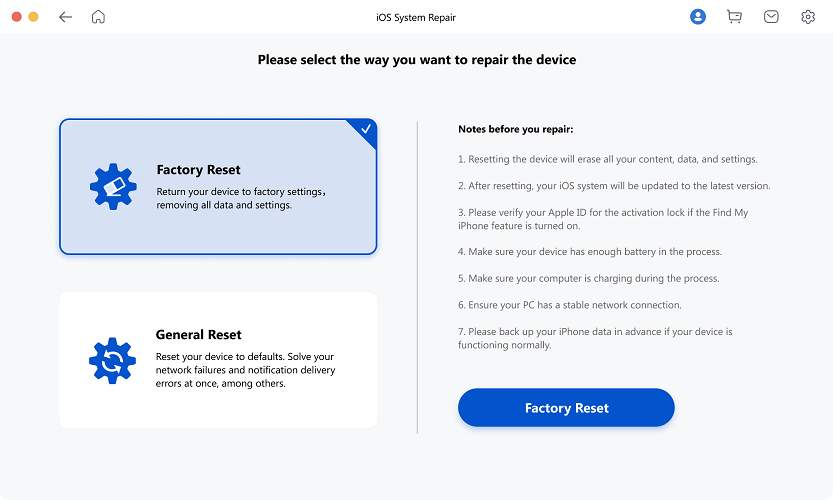 Standard Repair of Mobitrix Perfix
You can also restore your iPhone using iTunes via recovery mode or DFU mode.
Contact Apple
Nobody understands your iPhone like the maker, Apple. If you have explored all these options and they still do not work, you should reach out to Apple's customer support immediately. It can be a hardware problem that is affecting your iPhone.
You will be able to speak to someone online, over the phone, or in person, as Apple provides support via these three means. You should opt for the one that suits you. If you intend to speak in person to resolve the problem, schedule an appointment to save you any delays at the local Apple Store.
FAQ
What are the differences between network resetting and factory reset
Network settings reset and a factory reset are not the same. A factory reset will revert your iPhone to the way it was at your initial purchase, just like it was when it was produced at the "factory." All configurations and settings you have made; apps installed, photos taken, browser history, and everything that was not on your iPhone when it was still in a box will be lost.
However, a network resetting will revert only network-related settings on your iPhone to the way it was when you first purchased it. It clears all saved data from paired devices, Wi-Fi connections and passwords, your cellular network, and your device name if you have changed it. You do not lose personal data on your phone storage, browser data, bookmarks, or any other data stored on your device.
What if there are still network problems after you reset the network settings?
It is possible to still encounter problems after resetting your network. This could be because your device has corrupted files or a software problem. It could also be that your router does not support Apple products.
For a corrupted device, a factory reset is a common suggestion. However, you will lose your personal files and data. But if you use Mobitrix Perfix, the issue will be solved in a fast, efficient and simple manner.
Regardless of your iPhone model, you can be assured that these steps will help you solve your internet connection problems.