iMessage is a primary messaging app for many Apple users. Many people with iPhones and iPad rely on iMessage for texting and daily communication.
However, Apple hasn't introduced any official way to determine if someone blocked you on iMessage. In this blog, I will suggest six basic methods on how to tell if someone blocked you on iMessage or not!
Method 1: Check by Giving Them a Call
If someone doesn't answer your messages on iMessage or you aren't getting delivery verification, then the most basic thing you can do to know if you have been blocked is to give them a call.
To execute this method, follow the steps below:
Go to Contacts.
Type the name of the expected blocker in the search bar.
Tap on their name to start the call.
During the call, if you don't hear a ring and your call is sent straight to voicemail then it might be a sign that you've been blocked. In such a case, the blocker won't receive your missed calls and your voicemail will be sent to their Blocked Messages folder.
Tip: Use a Different Number or Disable Caller ID on the iPhone
To validate whether your number has been blocked, consider making the call from a different mobile number.
If your initial call is directly transferred to voicemail but connects when using an alternate number, it confirms that your number has indeed been blocked.
Additionally, there are two methods to disable Caller ID, allowing you to make calls without displaying your phone number to the recipient.
Way 1
Go to Settings and hit the Phone option.
Now, tap the Show My Caller ID option
Toggle off the Show My Caller ID button.
Disable show my caller ID option
Way 2
Add *67 before dialing the blocker's number to deactivate your Caller ID.
Now, if the blocker has answered your calls from a different number or with your hidden caller ID, then there is no dilemma to ponder over, confirming that they've blocked you.
Method 2: Check the iMessage Delivery Status
iMessage lets you know the delivery status of the sent message, whether it has been delivered to the other person or not!
It doesn't matter if Read Receipt is disabled or not, iMessage will still display the delivery report. Also, ensure you have an active internet connection while you send a text.
Follow the steps to check the iMessage Delivery Status:
Search the chat of the expected blocker on the iMessage app.
Send any random message.
Check below your recently sent message; if you do not see the "Delivered" notification, then it could mean you are blocked.
Still, there is a chance that the other person is out of reach due to the internet's unavailability or simply switched off their iPhone. In that case, I suggest waiting a couple of hours and sending the text again. If the situation is all the same, then, unfortunately, you have been blocked.
Check the delivery status on iMessage to know if you're blocked
Tip: Check Status Updates of Messages on iMessage
You can check the status of your text before and after the supposed blocking happens on iMessage. If you were previously able to chat with the other user, you'd notice that the chat bubble is displayed in the Blue color, and you can see the "Delivered" notification, which means you haven't been blocked yet!
However, if you see the Green bubble and also see the "Sent as Text Message" sign underneath the text, it could mean you are blocked.
Check the status of the message
Besides the delivery status, iMessage shows you the time of the message sent and whether it was seen by the other person or not. If you are blocked by them, then you can't check these details.
Check the time when the message was read
Method 3: Look for the Moon Icon in iMessage
Before concluding that someone has blocked you, it is better you check if they have silenced your chat by turning on the Focus or the Do Not Disturb Mode.
"Focus" and "Do not Disturb" mode on iOS is designed to allow users to temporarily disable notifications for all app alerts, calls, and texts. This means that if you send someone a message on iMessage, and they're not responding, it may just be that their notifications are disabled.
If the Focus Mode is enabled, and you see the "Your Contact has notifications silenced" notification on iMessage, then it means you have not been blocked. If you do not see the alert, then the person might have blocked you!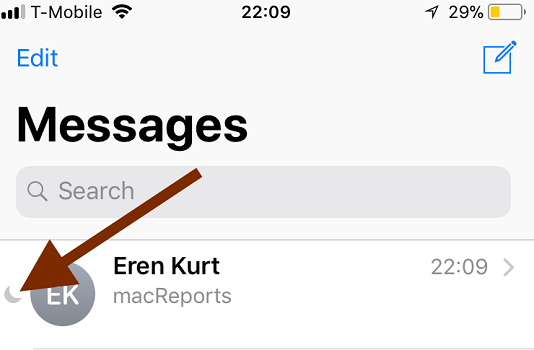 View the Moon icon via iMessage
See if the notifications have been silenced or not!
Method 4: Check the Color of the Text Bubble
iMessage users are all too familiar with the dreaded green bubble. It's the mark of a regular old text message and a potential sign that somebody has blocked you on iMessage.
When you're blocked on iMessage, Apple's messaging service prevents your instant messages from getting delivered to the person you're trying to reach.
If you have text message fallback enabled, your device will resort to sending the message as a text, meaning the bubble will turn green after someone blocks you. If you are not blocked, then the bubble will turn blue.
Check the blocking status via iMessage chat bubbles
Method 5: Check Other Messaging Apps
Nowadays, people use social media platforms, such as Facebook, WhatsApp, Snapchat, and countless others to interact with one another.
If you think your contact has blocked you on iMessage, you always have the above-mentioned social platforms to check if they have you on those platforms or not.
Here are some simple steps to verify your blocking status on other messaging apps:
On Facebook Messenger
Go to the Facebook Messenger app
Go to the contact which you think has blocked you
If you see their chat but can't access their profile, then it is a red signal
You can even check the chat where notification may appear at the bottom saying that
"You can no longer reply to this conversation."
Check the Messenger blocking status
On WhatsApp
Go to WhatsApp and search for your expected blocker's chat
The initial sign that you've been blocked is you won't be able to see the other person's online status, and the other person's profile picture will be removed.
You can even try sending them messages, but it won't deliver, and there will only be a single check sign.
You are blocked if a single tick appears on WhatsApp
On Snapchat
Go to Snapchat.
Try searching for contact.
If that contact doesn't appear, then they might have blocked you.
Method 6: Check Your Device
Lastly, before reaching any conclusion, you must be sure that there are no problems on your end regarding services, app updates, and more. So, it is better to check whether your mobile phone and network are working fine or not!
To check if your device is operating perfectly, follow the step below:
Check your phone update; if there's any update, then you might be dealing with a bug.

Check the software update

Check app updates on App Store, which will remove all the errors which may be causing problems in chats.

Check updates on the App Store

The iMessage app may be down because of network issues.
Your Offline Status is turned on, and people are assuming that you're offline, thus not replying to you.
Must-Know Information: How to check if someone has blocked your iPhone number
Method 1 The Other Person Never Answers Your Calls
This doesn't necessarily mean a block; it can also mean that the person on the receiving end just doesn't want to talk to you. So how would you know if you are blocked or the other person is simply ignoring you?
A promising sign of not being on the blocklist is when you get redirected to voicemail after 4-5 rings or 25 seconds. This usually happens when your call did make it to the other, but the person didn't pick it up, after which it goes to voicemail.
One another possibility is that the person on the other side is not ignoring you but only has the "Do not Disturb" mode enabled most of the time. This feature stops alerts from reaching the user until the mode is turned off.
Do Not Disturb mode on iPhone
One way to test this is if your target person has the "Repeated Calls" feature enabled, make repeated calls in under three minutes. Due to the "Repeated Calls" feature, your calls will bypass the "Do not Disturb" mode.
To sum up, calls not being answered are not a good way to tell if your iPhone number has been blocked by your target user.
Method 2 The Phone Rings Once and Then Goes to Voicemail
Although not a definite confirmation of being blocked, the chances of being blocked are quite high when your phone rings once and then goes to voicemail.
When someone blocks you, none of your calls will make it through and redirect you to the person's voicemail instead. Your voicemail will also not get the chance to be viewed by your target person as they will go straight to the person's "blocked" section. The target user will receive absolutely no notifications from your side, not even a badge for your voicemail.
However, there is one scenario where you might not be blocked. A call might also go directly to voicemail if the target person's phone has been powered off. If you think this is the case, try calling after a little while, and if the call's behavior doesn't change, you have most likely been blocked.
Method 3 iMessages Not Delivered
Undelivered iMessages are another sign of being on the block list. Whenever you send a message through the iMessage service, your messages will have the status "delivered," provided the other person is connected to cellular or has a Wi-Fi connection.
The badge will change from "Delivered" to "Seen" whenever the other person reads those messages, and if they have Read Receipt enabled. However, as mentioned earlier, if the person has no cellular connection, your messages will remain undelivered, prompting the suspicion that you have been blocked.
But there is a sure way of confirming this; very few people remain without cellular and Wi-Fi connections for a long time. You most likely have been blocked if your messages remain undelivered for weeks.
If your undelivered messages never reach the target person, but your new ones are delivered and read, you were blocked in the past but then unblocked later. This is because any message you send while on the blocklist will never reach the target person, even if you are later unblocked.
However, iMessages do bug out from time to time, especially if the other person has a poor internet connection which might result in one or two messages from your side staying undelivered.
Method 4 Automated Responses
Automated responses are a manually set feature that sends an automatic message to the person calling when the receiver isn't available. It is a signal to inform you that you are most likely not on their informal block list, and the other person just might be busy.
Another scenario where you might receive an automated response is when the other person has their phone's "Do Not Disturb" mode on, as it allows people to set custom automated messages for people when they are away from their phone.
Similar to unanswered calls, automated responses do not mean you are blocked. It just means the person does not want to pick up your calls.
Method 5 SMS Not Delivered
iMessages are delivered as blue bubbles. When an iMessage cannot reach the target owner's phone, it changes into an SMS message, represented by a green bubble. SMS messages are the normal way of sending messages between non-iOS users.
SMS messages don't mean that your name has been entered into a person's blocklist. They simply mean that your messages are not being delivered to the target person. Yes, this does happen when you are blocked, but it also happens when you or the target person has no access to a cellular or Wi-Fi connection.
However, if your iMessages turned from blue to green during a heated argument, this most likely means that you have been blocked.
FAQs
1. What is the Difference Between a Text Message and an iMessage?
The critical difference between a text message and an iMessage is that text can be sent through any cellular network, whereas you need a WiFi or Mobile Data connection to send an iMessage.
In your messaging app, if you've sent a text message, the text bubble would be green, while for iMessages, the text bubbles are blue.
2. How to Block Someone on iMessage?
If you want to take a break from someone or are annoyed by excessive messages from any of your contacts, you can block them to stop bugging you.
Just follow these steps to block any contact:
Go to Messages.
Search the user you want to block.
Hit the Info button on the top left corner of your screen.
Go to Configure Contacts and scroll down till you see the Block this Caller button.
Tap Block Contact to confirm, and the selected user will be blocked.
Block someone on iMessage
3. How to Activate iMessaging on iPhone devices?
If you have just set up your iPhone and want to start iMessaging, then you follow the steps below to activate iMessage:
Go to Settings.
Hit the Messages app menu.
Switch on the iMessaging option within the menu to activate your iMessages.
Activate iMessage
iMessage is quite a helpful app introduced by Apple for iPhone users to communicate easily without needing cellular network accessibility, only with the help of a stable WiFi or Mobile Data connection.
You may encounter situations when someone has blocked you during an argument or to take a break. We have shared some of the most effective methods for determining if someone blocked you on iMessage and your iPhone number so that you can confront the other person quickly.