Get ready because the iPhone 15 is coming out really soon! It will be revealed at the Apple event on September 12th.
Apple always keeps secrets about their new products really well, not even giving the media a sneak peek, and they don't share any details before the big reveal to keep everyone excited. But sometimes, some little bits of information manage to get out, usually from the many people and companies helping to make the iPhone.
Here's all the scoop we've gathered on the iPhone 15 series up until now. Let's jump right in!
iPhone 15 Rumors: Release Date
Apple hasn't shown us the iPhone 15 collection just yet. What we do know is they're planning an online event on September 12th, and that's probably when we'll get to see the fresh new iPhones for the first time.
This hint also helps us guess when the iPhone 15 might hit the stores. Apple usually starts selling phones about 10 days after they show them off. So, we're thinking the iPhone 15 might be available in stores around September 22nd, just like how Apple has done it in the past with other iPhones.
A few people were worried because they heard that Apple was having trouble getting enough camera parts from Sony, and this could cause delays. But the latest gossip is that Apple is shipping out Pro Max units already, which means they might have fixed any issues without making a big fuss about it.
iPhone 15 Rumors: Manufacturing and Availability
We expect that the basic iPhone 15 models will be easy to get once the pre-order starts, but we've heard some rumors that it might be a bit harder to find the iPhone 15 Pro and Pro Max at first. There were some hiccups with making the screens, but it seems like those troubles have been sorted out now.
The buzz is that Samsung has begun making a lot of OLED screens to be used in all the different iPhone 15 models. LG Display and BOE are also getting ready to make screens for these new phones, with LG focusing on the screens for the iPhone 15 Pro and BOE working on the iPhone 15 and 15 Plus screens.
iPhone 15 Rumors: Specs
Elsewhere, we break down the iPhone 15 specs for each model, but here's a quick chart that sums up the whispers we've caught till now.
| | | | | |
| --- | --- | --- | --- | --- |
| | iPhone 15 | iPhone 15 Plus | iPhone 15 Pro | iPhone 15 Pro Max |
| Price | $799 | $899 | $1.099 | $1,199 |
| Display size | 6.1 inches | 6.7 inches | 6.1 inches | 6.7 inches |
| Refresh rate | 60Hz | 60Hz | 1-120Hz | 1-120Hz |
| CPU | A16 Bionic | A16 Bionic | A17 Bionic | A17 Bionic |
| Base storage | 128GB | 128GB | 256GB | 256GB |
| Rear cameras | 48MP main, 12MP ultrawide | 48MP main, 12MP ultrawide | 48MP main, 12MP ultrawide, 12MP telephoto (3x optical zoom) | 48MP main, 12MP ultrawide, 12MP telephoto (6x optical zoom) |
| Front Camera | 12MP | 12MP | 12MP | 12MP |
| Battery size | 3,877 mAh | 4,912 mAh | 3,650 mAh | 4,852 mAh |
iPhone 15 Rumors: Models and Colors
In 2022, Apple decided to stop making the smaller iPhone mini and brought out the bigger iPhone 14 Plus instead. This made deciding easier: you just had to choose if you wanted a Pro version or not, and pick between a 6.1- or a 6.7-inch screen. So, we don't think the iPhone 15 mini will be making a comeback this year.
What we might see are these four versions: the iPhone 15, iPhone 15 Plus, iPhone 15 Pro, and iPhone 15 Pro Max. And here's a bit of a surprise - there's talk that the iPhone 15 Pro Max might get a new name, changing to the iPhone 15 Ultra. This kind of matches up with the names of some other recent Apple products, like the Apple Watch Ultra or the Apple M2 Ultra chipset, and might show the bigger differences between the iPhone 15 Pro and the Pro Max/Ultra better.
Now, let's talk colors! Word is, the standard iPhone 15 and iPhone 15 Plus might be available in black, white, blue, yellow, and pink.
And for the iPhone 15 Pro? We're hearing it might come in some cool shades like space black, titanium gray, and blue, but maybe no gold this time. There were also whispers about new colors like Titan Gray and dark blue being added to the mix.
iPhone 15 Price Predictions
We don't have any confirmed details about the iPhone 15's price tag at the moment.
Right now, the iPhone 14 prices start from $799 (or £849 or AU$1,399) for the basic 128GB version and go up to $1,599 (or £1,749 or AU$2,769) for the top-end 1TB iPhone 14 Pro Max. We're guessing the prices might be about the same this time too, but there's a chance that the iPhone 15 might be a bit pricier than last year's U.S. prices.
Here are the latest guesses on what the iPhone 15 prices might be:
iPhone 15: $799

iPhone 15 Plus: $999

iPhone 15 Pro: $1099

iPhone 15 Ultra: $1299
Some are saying that the iPhone 15 Pro might be even more expensive this year. One rumor suggested it might be $100 more, while another one mentioned a possible increase of up to $200. These ideas were also supported by experts like Tim Long from Barclays and sources from DigiTimes.
If the prices do go up by $100, the iPhone 15 Pro could cross the $1,000 mark, and the iPhone 15 Pro Max might be as expensive as the $1,199 Galaxy S23 Ultra. We're not sure if this potential price increase will affect other countries since the rumors are in USD, but it's possible that other places might see higher prices too if the costs in the U.S. increase.
iPhone 15 Rumors: Design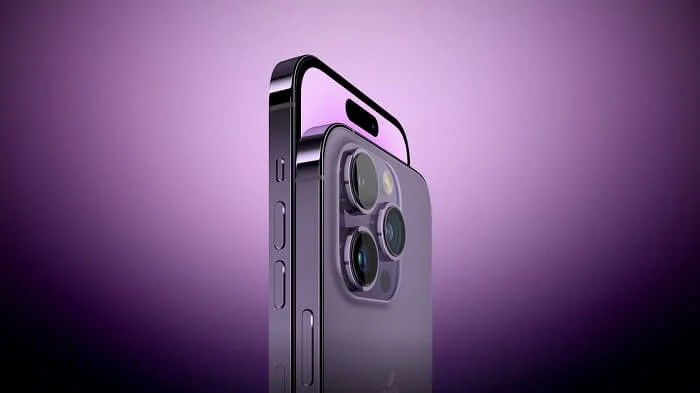 The iPhone 11 Pro Max was the last one to have a curved-edge display. But, from what we're hearing, the iPhone 15 might bring that rounded style back. Although the gossip says the screen will stay flat, the mock-up models of the probable iPhone 15 series are hinting at gadgets with rounded corners, pretty similar to the iPhones we see now.
Mark Gurman from Bloomberg thinks that all the iPhone 15 versions will feature something cool called the Dynamic Island. This has been sort of confirmed by some real-looking pictures of the basic iPhone 15 and drawings that seem to be based on the technical designs for the iPhone 15 Plus. This new feature might inspire app makers to create programs that work really well with the changing camera and display setup, making it even more useful.
We might also see a change in the camera setup at the back of the iPhone 15. The iPhone 15 Pro seems to be getting the biggest makeover - early drawings show the camera lenses might be twice as big compared to the last model.
As for the iPhone 15 Pro Max, it seems it won't change as much, except for the camera lenses sticking out less, supporting the whispers that it might have a cool new zoom lens that works like a periscope.
Stronger and Lighter with Titanium
Apple might be planning to make the Pro versions even stronger and lighter by using titanium frames. A Twitter user named @URedditor has hinted that the iPhone 15 Pro series might use a special kind of titanium, also known as Ti-6Al-4V. Some rough estimates shared on 9to5Mac indicate that the iPhone 15 Pro and iPhone 15 Pro Max could possibly be a half-ounce lighter than the iPhone 14 versions.
Given that the fancy Apple Watch Ultra is already made of titanium, and Apple has a team of experts working on using new materials to improve their products, it seems quite plausible. If Apple is really making this change in the main material of the iPhone, it could mean the phone would not only be lighter but also last longer and feel better to hold, maybe even less likely to slip out of your hands.
This upgrade is expected to be seen only in the higher-end iPhone 15 Pro and iPhone 15 Pro Max (or Ultra) models.
Action Button offers a new level of customization.
There might be some exciting changes coming with the iPhone 15 Pro, including a new way to make the phone truly yours. Rumors suggest that the power and volume buttons might be moving a bit, making room for a brand new "Action Button." This button might even take over the job of the mute switch on several iPhone 15 models.
Many believe this change is happening, especially since some case makers have already tweaked their designs to fit this new button layout. The word is this Action button on the iPhone 15 Pro will let you decide its function, and it can also work as a mute button.
This cool feature seems to be coming straight from last year's Apple Watch Ultra, where it was introduced as a vibrant orange button that could be set up in seven different ways. Digging into the early glimpses of iOS 17, it seems the iPhone's version might offer even more customization options, allowing for up to nine different functions.
Imagine being able to quickly open the camera with this button! It would be a dream come true for many, making it much faster to snap a picture, even when the phone is locked. Considering that many users take thousands of photos with their iPhones every year, this small change could mean capturing even more precious moments without missing a beat.
iPhone 15 Rumors: USB-C
A significant shift seems to be on the horizon for iPhone's design with the potential incorporation of USB-C ports. This modification doesn't come as a total shock considering Apple's gradual transition to this connection type for its other devices and the EU's directive for all smartphones to adopt USB-C connections by 2024.
Currently, it's more about pinpointing the exact timeframe for this transition to USB-C in iPhones. Apple has affirmed this change is in the pipeline; the lingering question is whether it will be featured in the iPhone 15, keeping a step ahead of the 2024 regulation, or if it will be earmarked for next year's release.
Recent leaks showcasing what appears to be an iPhone 15 prototype further substantiate this claim. The images clearly highlight a USB-C port, distinguishing it from the Lightning port seen in preceding models. This upgrade seems slated for the entire iPhone 15 range, with the Pro variants standing to benefit from enhanced transfer rates.

Based on insights from renowned Apple analyst Ming-Chi Kuo, the iPhone 15 Pro editions are set to support minimum USB 3.2 or potentially Thunderbolt 3 capabilities. This enhancement would facilitate markedly faster data transfer, especially for hefty files like videos. Whereas the USB 2.0 accommodates transfer speeds capped at 480Mb/s, the USB 3.2 can ramp up to 20Gb/s, and the Thunderbolt 3 could possibly reach a staggering 40Gb/s.
However, it's speculated that the bundled cables with the iPhone 15 might still adhere to USB 2.0 data transfer limitations, equating to a maximum speed of 480 MB/s, akin to the Lightning cables. For users seeking to exploit the faster Thunderbolt transfer rates, investing in a separate Thunderbolt cable might be necessary.
USB-C Restrictions
Tipster ShrimpApplePro recently mentioned that the iPhone 15 models will only work well with USB-C accessories that are approved by Apple's Made for iPhone (MFi) program. Apparently, Foxconn, a company that works with Apple, is busy making accessories like EarPods and cables with USB-C ends that have the MFi stamp.
This MFi USB-C approval process might be a way for Apple to make sure that the best features, like quick charging and speedy data transfers, are only available with accessories that Apple gives a thumbs up. ShrimpApplePro noted that cables without this approval will have slower data and charging speeds. Apple expert Ming-Chi Kuo also thinks that Apple will insist that USB-C chargers that can charge the iPhone quickly have this special certification.
Color-Matched USB-C Cables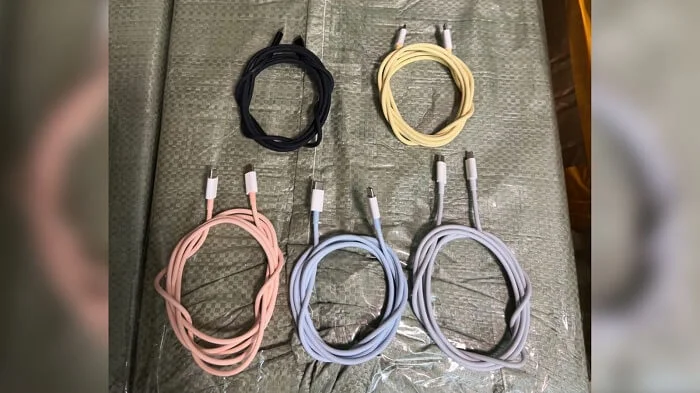 There's buzz that the iPhone 15 and iPhone 15 Plus will come with matching braided USB-C to USB-C cables, ditching the usual plain white ones. Right now, iPhones come with a white USB-C to Lightning cable, but Apple has used colored cables for other gadgets like the iMac before.
The rumor mill suggests that these cables will match the color of the iPhone 15 models, making everything look more coordinated. Also, these new cables might be half a meter longer than the ones we're used to, measuring up to 1.5 meters. Plus, the woven design should mean these cables last a bit longer.

iPhone 15 Rumors: Battery Life
Good news for all of us who can't seem to keep our phones charged - the hot gossip is that every iPhone 15 will have a bigger battery! This is a welcome update, especially since many of us noticed our batteries draining faster with the iPhone 14 and 14 Pro.
How is Apple making this happen? Well, they might be using the same kind of technology found in electric cars for a new kind of battery layout. This could possibly allow iPhones to charge faster in the future.
Now, there are some differing opinions on how big the battery for the premium iPhone 15 model will be. Some say it could be a whopping 4,852 mAh, while others think it might be a slightly smaller but still impressive 4,422 mAh battery. We'll just have to wait and see!
As for charging, it looks like we can expect the usual 20W maximum that we've seen with recent iPhones. But hold onto your hats, because there's talk that the iPhone 15 Pro and Pro Max might charge even faster, potentially up to 35W, which would be a nice bonus for those of us always in a hurry.
However, it seems like the basic iPhone and the Plus model might stick with the current 20W charging speed. And while there's been no word on whether the iPhone 15 will allow for reverse wireless charging, it seems like Apple is still working on this technology, so fingers crossed.
Lastly, it's believed that the iPhone 15 models will be compatible with both MagSafe charging and the new Qi2 standard, letting us use non-MagSafe accessories for faster wireless charging. That means even if an accessory isn't officially backed by MagSafe but uses Qi2, you can still expect quicker charging times!
iPhone 15 Rumors: Display
It looks like Apple is planning to stick to their usual game plan with the iPhone 15, offering four models with similar screen sizes to the ones we're already familiar with. We're expecting to see 6.1-inch screens on the iPhone 15 and iPhone 15 Pro, and bigger 6.7-inch screens on the iPhone 15 Plus and iPhone 15 Pro Max.
Here's some exciting news - the iPhone 15 Pro Max might come with a super bright display, even brighter than the previous version. This scoop was shared by Twitter users ShrimpApple Pro and OreXda.
Now, here's a little downside. The base iPhone 15 model might not be getting the ProMotion feature that adjusts the screen refresh rate just yet. Even though this feature makes for smoother viewing and is already available in some Android phones, it seems like we might have to wait until 2025 to see it in all iPhone models. It's a bit of a letdown, especially since it could have been a great upgrade for the iPhone 15. But let's not lose hope just yet.
And there's more! Leaked images suggest that the Pro models of the iPhone 15 will have even thinner borders around their screens, making for a sleeker look. In numbers, we're talking about a trim from 2.1mm to 1.55mm, which might not sound like much but could make a big difference in design. Mark Gurman chimed in on this too, mentioning that this change is thanks to a technology used in the Apple Watch.
So, all in all, it seems like we've got some exciting screen upgrades to look forward to with the iPhone 15!
iPhone 15 Rumors: Performance
We're all eager to see what Apple has in store for the iPhone 15 when it comes to performance. It's looking likely that some, but not all, of the iPhone 15 models will be powered by the new A17 Bionic chip. If things go as they did last year, we can expect the Pro versions to sport this new chip, while the basic iPhone 15 might come with a boosted version of the A16.
Now, let's talk about memory. A report from TrendForce hints that Apple might be stepping up the RAM game for the iPhone 15. This could mean a total of 8GB RAM for the Pro models, which is definitely a plus. The standard iPhone 15, however, might stick to the current 6GB but switch to a quicker LPDDR5 standard.
But here's a twist - a recent rumor sparked by details spotted in a tvOS beta release suggests that Apple might not increase the RAM for the Pro models after all. Instead, they might focus on enhancing graphics performance by adding a sixth GPU core to the A17 chip.
According to a tipster named Unknownz21, Apple has been experimenting with both 6GB and 8GB versions for the iPhone 15 Pro. The final amount of RAM could depend on the storage option you choose.
Now, we don't have all the details on the performance front yet, but here's a nugget of exciting information: the A17 might be the first chip to be crafted using the advanced 3nm process. This could potentially lead to massive improvements in speed and power efficiency. In fact, the chip maker TSMC foresees a remarkable 35% boost in power saving, which could mean that the iPhone 15 Pro will have a battery that lasts much longer.
iPhone 15 Rumors: Software
We're gearing up for the iPhone 15 to roll out at the same time as the brand new iOS 17. Apple already gave us a glimpse of this new software during the WWDC 2023 event in June, showcasing a bunch of fresh features in the Messages app and some tweaks to make the Phone and FaceTime apps even better. They're also introducing a completely new app called Journal. But, so far, the updates Apple has shared about iOS 17 haven't given away any specific features of the iPhone 15.
iPhone 15 Rumors: Cameras
When it comes to the camera setup, it looks like the standard iPhone 15 models are about to step up their game. After we saw a 48MP camera in the iPhone 14 Pro models, it seems the regular iPhone 15 models will be getting 48MP cameras too, possibly with a new kind of sensor that can take in more light.
The experts at Nomura think that the basic iPhone 15 will be getting a major camera upgrade this time, almost akin to the Pro version. They suggest that the main cameras will be 48MP, a tad smaller than the ones on the iPhone 14 Pro but a big leap from the 12MP ones on the iPhone 14. This has been echoed by another source, which added that the larger sensor from the iPhone 14 Pro will remain a Pro exclusive feature.
Now, here's some exciting news for those looking into the iPhone 15 Pro Max – it might come with a periscope camera, making it a powerhouse for long-distance photos and zooming capabilities, potentially offering a 6x optical zoom, a noticeable increase from the 3x zoom on the iPhone 14 Pro Max. However, it looks like this periscope zoom feature won't be available on the iPhone 15 Pro.
And it seems the iPhone 15 Pro's LiDAR sensor might be getting a boost too. Rumors are swirling that Apple is changing where they get this part from, which could mean we'll see better performance or higher efficiency in the camera modes that use this sensor.
iPhone 15 Rumors: Case Fit
If you're wondering whether your old iPhone 14 cases will fit the new iPhone 15 or 15 Pro, we've got some insights based on 3D-printed models of the upcoming phones. It seems that, unfortunately, most older cases won't fit the new models due to slight changes in the iPhone 15's dimensions. While the iPhone 15 Plus can snugly fit inside an iPhone 14 Plus case, the same can't be said for the Pro models, which have a larger camera area and altered design features including changes to the buttons.
Also, it looks like Apple is taking a greener path with the iPhone 15 case options. They might ditch the traditional leather cases this time, offering a more eco-friendly leather-alternative case alongside the usual silicone ones. Buzz is that these new cases could be called "FineWoven", showcasing a suede-like texture. While some claim that these will come in 10 different colors and the material might also feature in a new Apple Watch band, we'll have to wait to see if these rumors hold true.
iPhone 15 Rumors: No Touch ID
Despite the chatter about the potential return of Touch ID through an under-the-screen technology, it looks like the iPhone 15 series is sticking with Face ID for now. Plans for integrating Touch ID seem to be on hold, and we might not see any development until at least 2025. However, Apple is expected to continue enhancing the Face ID feature, with the 2023 iPhone 15 lineup likely to utilize the Dynamic Island technology across all models, not just the premium Pro ones

iPhone 15 Rumors: Qualcomm Modem Chips
For the 2023 iPhone 15 series, Apple plans to stick with Qualcomm's 5G modem chips, maintaining a partnership that started when 5G was first integrated into iPhones. Though there was speculation about Apple possibly shifting to its own modem chips in 2023, it seems this technology won't be ripe for rollout until 2024 at the earliest.
The entire iPhone 15 and 15 Pro lineup is expected to feature the Qualcomm X70 chip. This powerful chip promises a host of improvements including smarter AI capabilities for quicker processing, extended coverage area, enhanced signal strength, reduced latency, and a significant boost in power efficiency, potentially up to 60%.
iPhone 15 Rumors: SIM Card Tray
Apple seems to be extending its trend of doing away with SIM card trays, which started with the iPhone 14 series in the US. This time, the SIM tray might be disappearing in several more countries, starting with France. It's speculated that other European nations such as Germany, Italy, Spain, Portugal, and the UK might follow suit, adopting a SIM tray-less design for the upcoming iPhone 15 and 15 Pro models. This change hints at a broader shift towards eSIM technology in smartphones.

iPhone 15 Rumors: Wi-Fi 6E and UWB
Recently leaked diagrams of the iPhone 15's Wi-Fi chips reveal that Apple is planning an upgrade to Wi-Fi 6E, although this enhancement will only be available in the iPhone 15 Pro models. In contrast to the standard iPhone 15 models that will retain Wi-Fi 6, the Pro versions promise quicker connectivity speeds, lower latency, and a boost in capacity thanks to the 6E's additional bandwidth. This new feature will notably support home-wide gigabit coverage and multi-gigabit connections at venues, meeting the demands of high-data streams necessary for AR and VR experiences.
Furthermore, the iPhone 15 lineup will house a new Ultra-Wideband (UWB) chip that syncs well with the Vision Pro headset. This chip, powered by an upgraded 7nm processor, will potentially offer either enhanced performance or reduced energy usage, a significant improvement for users eager to try out virtual and augmented reality features.
iPhone 15 Rumors: Repairability
Good news on the repair front: the iPhone 15 and its Pro counterpart are designed to be more repair-friendly this year. Following a positive reception to the chassis redesign introduced with the iPhone 14, which facilitated easier back glass replacements, Apple plans to continue this trend with the new releases. It's believed that this updated design will extend to both the iPhone 15 Pro and Pro Max as well.
Reportedly, the new design will allow both the front and back of the phones to be opened, reducing the costs associated with back glass repairs. To give an idea of the potential savings, current repairs on an iPhone 14 back glass cost $169, compared to the hefty $499 price tag for the same repair on a 14 Pro, due to the complicated process of removing the display to access the back glass. Thanks to simpler repair techniques, even the Pro models should see a drop in repair fees, making maintenance more wallet-friendly for users.
Recommended Articles:
iOS 17 Coming Soon: Release Date, New Features, and More
How to Bookmark on iPhone in Easy Ways
Effortlessly Scan Documents on iPhone
How to Scan QR Code on iPhone [Physical & Pictures]