How to Configure iPhone Wi-Fi Settings - Ultimate Guide
The default Wi-Fi name of your iPhone may be challenging to identify, unlike if you changed it to a more specific name. In this article, we will discuss the ways you can first connect to and then easily change your Wi-Fi settings without causing problems in the process.
1. Connect to a Wi-Fi network
Connecting your device to a Wi-Fi network is not a challenging task, but if you have some troubles or difficulties connecting to Wi-Fi, the steps below will guide you.
i. Open Settings > Wi-Fi.
ii. Turn on the Wi-Fi to discover networks around you.
iii. Once you detect the network you want to connect to, click on its name and enter the password.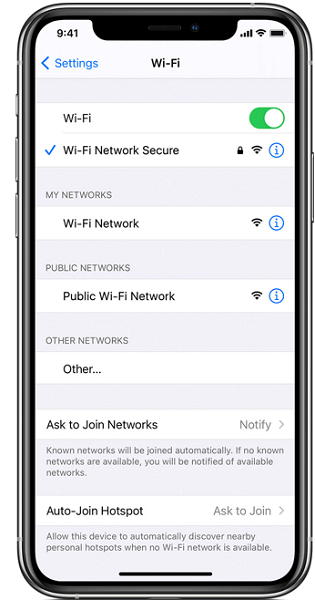 If you see the Wi-Fi icon on the top right corner of your iPhone display, then you've successfully connected to Wi-Fi. If you don't know the password to connect to the network, reach out to the network administrator.
2. How to connect to a hidden network
A hidden network will not display on the list of the available networks when you are trying to discover networks. To connect to a hidden network, you need to connect to it using the steps below manually.
i. Open Settings > Wi-Fi
ii. At the bottom, click "Other."

iii. Type in the network name that you want to connect to.

iv. Select the network's security type.
v. Once you've selected the security type, click "Other Network."
vi. Enter the password, then click "Join."
Once the password is validated, you will now be connected to the hidden network.
3. Choose the correct Wi-Fi network to connect your iPhone to
At times you may want to have a way to control how your iPhone connects to the available network using the iPhone Wi-Fi settings. The best way to do this is by restricting the iPhone to connect to the Wi-Fi and disconnect from it manually. In doing so, you will have control over when and which Wi-Fi network your iPhone will connect to.
To manually join a Wi-Fi network:
i. Open Settings > Wi-Fi
ii. Click the desired network and join by entering the password.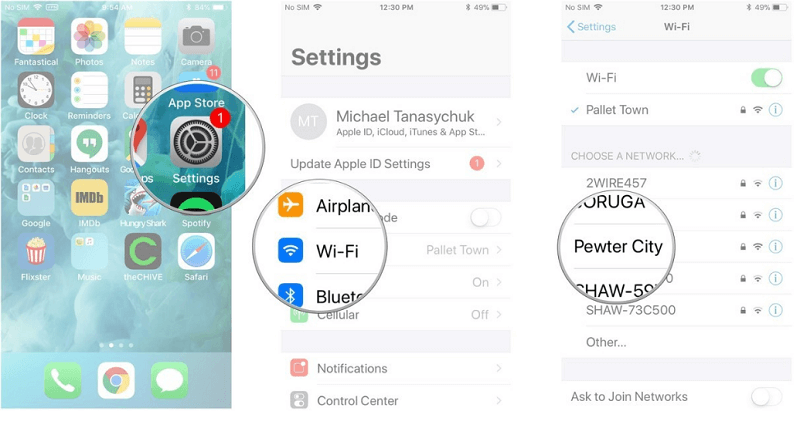 Once you are done using the Wi-Fi network for your activities, you can manually disconnect from it using the steps below.
i. Open Settings > Wi-Fi.
ii. You will see the network you are connected to. Click the info button next to it.
iii. To disconnect from it, click "Forget This Network."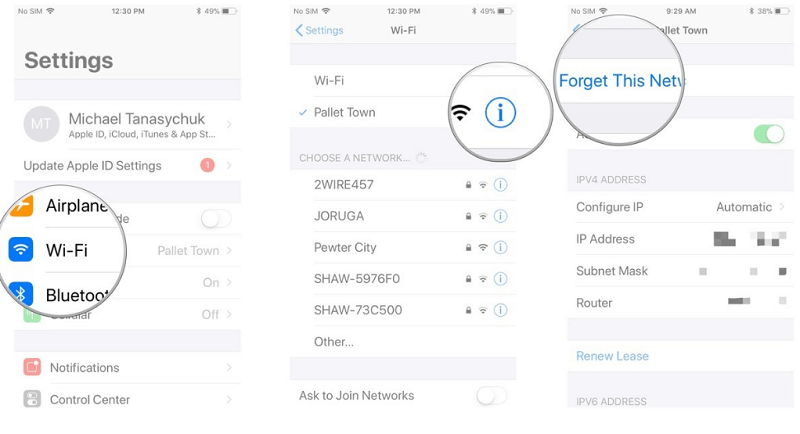 Anytime you want to connect to a network, you will need to connect then disconnect from the network manually.
4. Device properties that can Hinder Wi-Fi connections
Not all devices have the same features. In some instances, how you set up your router or device to connect to the Wi-Fi network will depend on the type of device, as highlighted below.
i. Private Wi-Fi Address
If the device you want to connect to the Wi-Fi network is one of the following: iPadOS 14, iOS 14, or watchOS 7, you need to look up how to connect to a private Wi-Fi address. Their features differentiate them from other devices making the way you connect them to the network different.
ii. Location Services
Different regions or countries have different regulations regarding Wi-Fi networks channels and the allowed signal strengths. Due to this, you need to ensure that the Location Service feature is ever enabled on your device.
The primary importance of having Location Service enabled is that it will help your device connect to available nearby devices. When it does, it performs well in terms of speed, especially when using AirDrop or AirPlay, which rely on Wi-Fi.
To enable Location Service, you can either use your Mac or phone.
On your Mac:
i. Open Apple Menu.
ii. Click System Preferences > Security and Privacy.
iii. From the corner of your Mac's window, click the lock and enter the administrator password.
iv. Under the privacy tab, enabled the option for Location Service.
v. At the bottom of the apps' list, click the Details button.
vi. Choose Wi-Fi Networking and click Done.
On your iPod touch, iPhone, or iPad:
i. Open Settings.
ii. Click Privacy > Location Services
iii. Turn on the option for Location Services.
iv. At the bottom, click "System Services."
v. Turn on Wi-Fi Networking
iii. Auto-Join in the Case of Wireless Carrier Wi-Fi Networks
Your wireless carrier and their partners create public networks, wireless carrier Wi-Fi network, which your device assumes it was connected to previously. If a "Privacy Warning" appears under your carrier's network name, that's a malicious threat that you should avoid by preventing your device from joining to it by turning off Auto-join using the steps below.
i. Open Settings > Wi-Fi.
ii. Click the info icon next to the carrier's network.
iii. Choose to turn off the Auto-Join option.
Summary
Knowing how best to set your iPhone's Wi-Fi settings help to ensure you connect safely to the network and remain safe while using the network. In this article, we discussed how you can set your iPhone Wi-Fi settings, including how to choose networks to connect to. Moreover, we addressed features that can hinder how your iPhone Wi-Fi settings operate. Hopefully, this article guided you on various issues regarding your iPhone Wi-Fi settings.