Have you ever been trying to install a game or listen to some music but suddenly your iPhone gives you an error saying, "Error Connecting to Apple ID, Verification Failed"? Just a couple of days ago, I was trying to Facetime my friends when suddenly this error appeared out of nowhere.
verification failed
Suffice it to say, it was a nuisance. It took me two days to figure out why this was happening so I could fix it. I went two whole days without being able to use Apple services. No one should have to go through such pain.
That is why I have written this article to show you all the ways you can get rid of this error. You don't have to surf the web to find a solution to this problem; you can just follow the simple instructions below.
Part 1: Check Your iPhone When Apple ID Verification Fails
When this error appears on your iPhone, there are a few things you should check right away.
1. Are You Connected to the Internet?
Check Your Internet Connection
Apple services need a reliable internet connection. So, if your iPhone or any other Apple device you're using does not have an internet connection, Apple services will not work.
When you get an error that says Apple ID Verification Failed, check your internet connection first and foremost. If your device is connected to the internet and the error still stays, try the suggestion I have given below.
2. Visit System Status Page for Apple
Check Apple system status
There is a good chance that the problem is not at your end. But at Apple's end. Check the System Page of Apple to see which services are available. A green dot next to the service means it is available.
If the service you are trying to access has a green dot next to it, try some suggestions below.
3. Check your VPN Server
Check your VPN Server
Are you using a VPN Server? If yes, then there might be a problem there. Try turning your VPN connection off and then turning it on again.
This might solve your error. However, if it doesn't, don't worry and follow along with our article.
Part 2: Update Your Information for Apple ID Verification Failed Error
Our iPhones have certain information that we need to update regularly to work correctly. Below, I have mentioned all the updates that might be necessary for your iPhone to work error-free.
1. Update Your iPhone's iOS or Try Restarting It
Check Software Update
It is a good practice to install an iOS update as soon as it arrives. If you receive an Apple ID Verification Failed Error, you should check if your iPhone has the latest update or not. Follow the steps given below to update your iPhone's iOS:
Step 1 – Go to your iPhone's Settings
Step 2 – Then go to General
Step 3 – Tap Software Update, and from here, download the newest update available
Say your iPhone was already up to date, or you installed the new updates, but the error is still there. In this case, you will benefit from restarting your iPhone.
2. Update Your iPhone's Time and Date
Sometimes, an issue with your iPhone's time and location settings can cause errors like the Apple ID Verification Failed ones. When your iPhone's date, time, or location is different from the Apple server, this problem occurs. So, you should check to see that your device's date and time are correctly set.
To check your device's date and time settings, follow the steps given below:
Step 1 – Open Settings on your iPhone
Step 2 – Go to General and tap Date & Time
Step 3 – If Set Automatically is toggled off, toggle it on. This should automatically match your iPhone's time and date to the Apple Server's.
Check your Device's Date & Time Settings
3. Update Password for Your Apple ID
It is naturally a clever idea to change your passwords from time to time. You should apply that logic to Apple ID as well. If you haven't changed your Apple ID's password in a while, it might not be up to par with Apple's recommendations.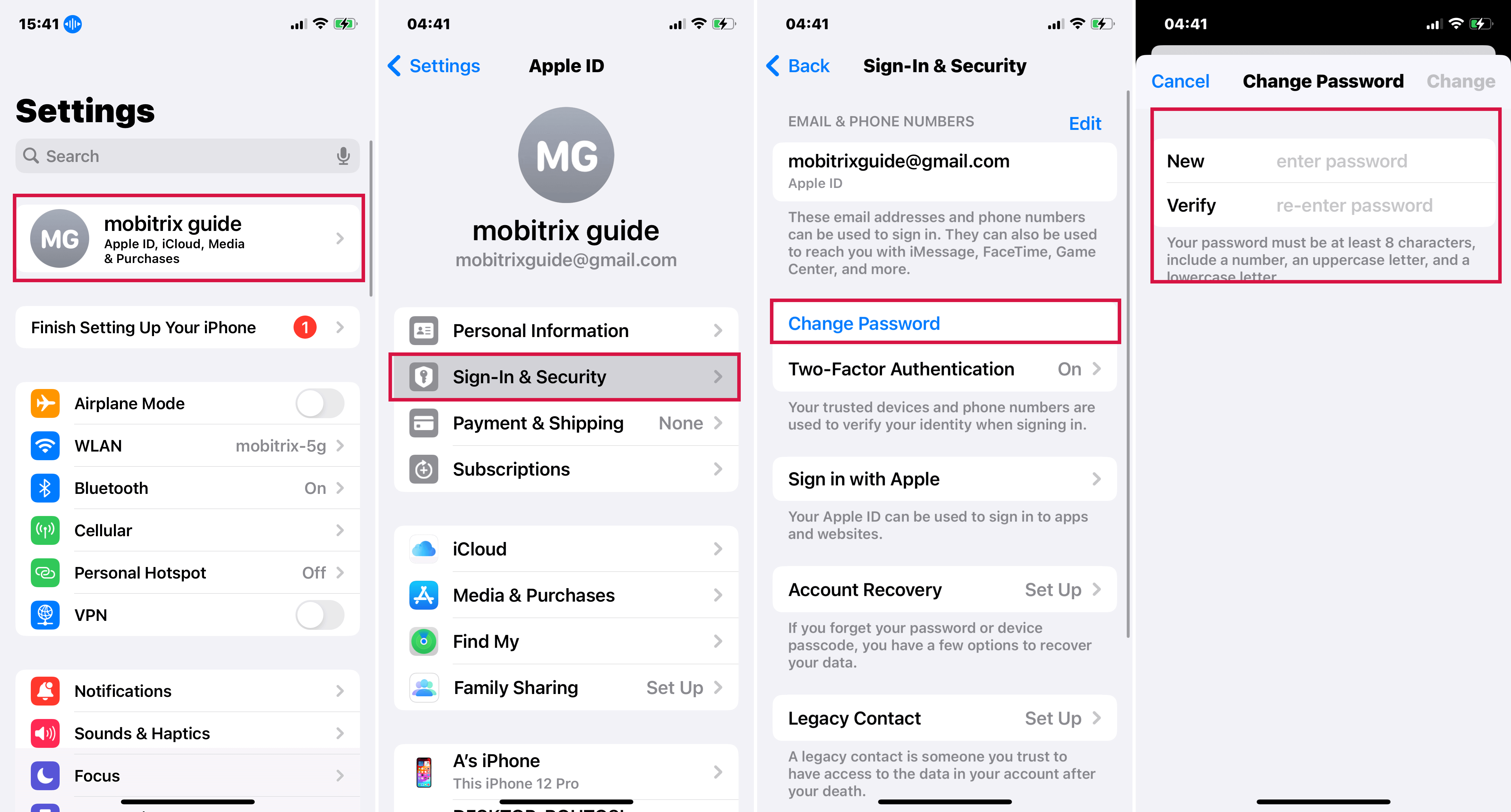 reset apple id password via iPhone settings
Resetting your password frequently gives you a chance to keep up to date with Apple's regulations. Follow the steps I have outlined below to change your Apple ID's password:
Step 1 – Go to Settings on your iPhone and select your name which should be appearing at the top of the screen.
Step 2 – After you have selected your name in Settings (Which should be appearing with Apple ID, iCloud, iTunes & AppStore underneath it), go to Password & Security.
Step 3 – Check the top of your screen. If it says Apple ID, you're on the right track.
Step 4 – Now, select the Change Password option that should appear on the Password & Security page. This page is where you can change the password for Apple ID, iTunes, or iCloud at any time.
Step 5 – If you have a passcode on your iPhone, your iPhone will ask you to enter it. Enter the password here.
Step 6 – Now, your iPhone will prompt you to enter a new Apple ID password. Enter a password that follows Apple's guidelines.
Step 7 – Re-enter the new password again to confirm it.
Step 8 – Tap Change at the top of your iPhone's screen to set your new password for Apple ID.
Now you will be asked to sign out of all devices and accounts and sign in with the new password. Sign in with the new password, and you should be set!
4. Reset and Update Network Settings
If your device is refusing to connect to the internet and you have already checked your Wi-Fi or cellular connections, it might be time for you to update your Network's Settings. It will not delete any data on your iPhone.
It will, however, reset your iPhone's cellular connections and ask you to sign into Wi-Fi networks again. You can follow the steps below to reset your iPhone's network settings:
Step 1 – Go to Settings on your iPhone and then go to General.
Step 2 – Now tap Reset and then tap Reset Network Settings.
Step 3 – Your iPhone will ask you to enter your password. Enter your password and tap Reset Network Settings to confirm.
Reset and Update Network Settings
This should reset and forget all your networks. Now you should be able to sign back into your networks and use your Apple ID again.
If you have tried all the methods above and you are still seeing the error, don't lose hope. I have listed some more ways to fix this issue below.
Part 3: Use Verification Code for Apple ID Verification Failed Error
Sometimes, your iPhone doesn't properly synchronize with the Apple server. For example, on your end, you might be logged in. But that information is not mirrored on the server. This can also cause annoying errors like Apple ID Verification Failed.
In this method, I will guide you to check if you are actually logged into your ID through a verification code. Follow the steps I have mentioned below:
Step 1 – Sign in to your Apple ID on any other iPhone.
Step 2 – Go to this iPhone's Settings and then tap iCloud.
Step 3 – Tap Password & Security option and then tap Generate Verification Code.
Step 4 – Now, use this verification code in your own iPhone that has the error.
Tap Generate Verification Code
Tip: If you have any OpenDNS or VPNs installed on your device, delete them because they can prevent your device from correctly logging into Apple.
The problem with this method is that you need access to another iPhone to be able to use it. If you have tried this method to no avail, keep on reading to find the solution that works for you.
Part 4: Use Lockaway for Apple ID Verification Failed Error
If you are like me, you probably don't want to follow all these long methods with their complex steps to fix verification errors. The good thing is, Mobitrix LockAway- Unlock iPhone Passcode has you covered. You no longer need to understand complex methods to solve your Apple ID Verification error; you can use LockAway instead.
Advantages:
Using LockAway comes with certain advantages, such as:
You don't need a password for Apple ID to use LockAway.
You can follow simple steps to reset your Apple ID password.
You can easily fix issues with Apple's Sever.
It fully supports iPhone 5s to iPhone 15 and iOS 17 and earlier versions.
I have outlined below how you can easily use LockAway to fix your Apple ID login error in just a few simple steps:
Step 1 – Connect your iPhone or device where you are seeing the error to a computer or PC.
Step 2 – Select the "Unlock Apple ID" option from the main menu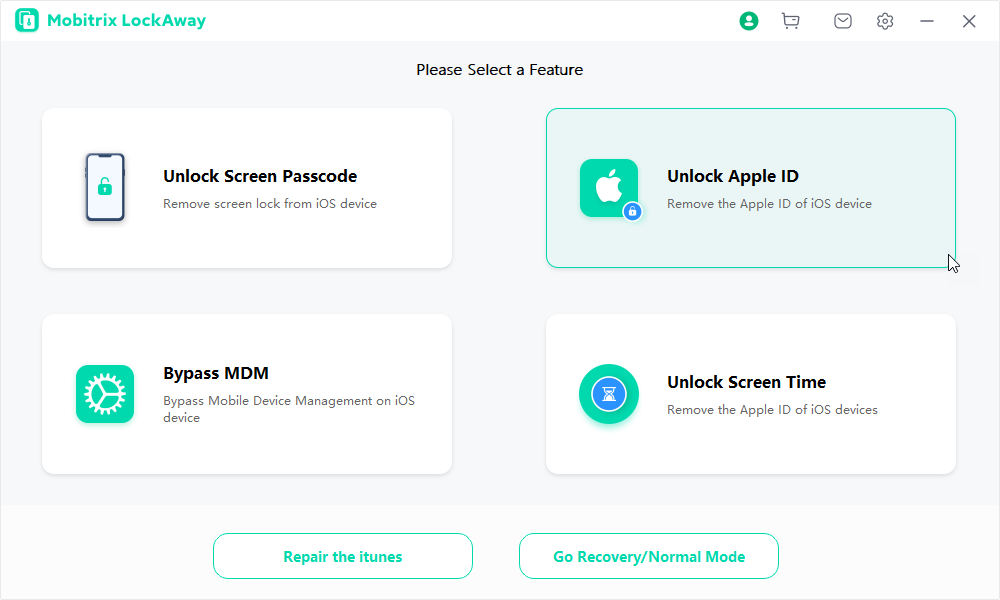 Mobitrix LockAway - Unlock Apple ID
Step 3 – Click "Start" to remove your Apple ID.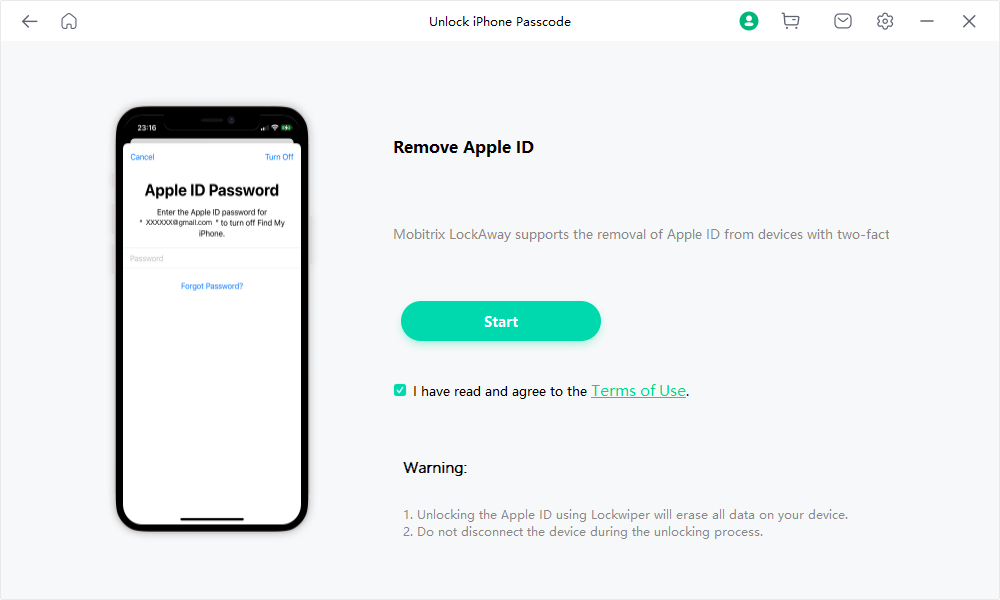 If none of the methods in the article above has worked for you, there is an incredibly good chance that you will have success with LockAway.
You can use LockAway to simply fix the error without having to follow any complex steps. LockAway can help you in all kinds of situations, whether you have a login error or you've forgotten your Apple ID and password.
The services that our iPhones provide us are essential for going about our day. But a lot of times, errors in these services, especially in the case of iPhones can be hard to fix. That is why I compiled all workable solutions to the Apple ID verification error in a single place. You can follow these methods to solve your problem with ease.
If you don't want to follow the daunting article, then no worries. LockAway is here to help you with all your Apple ID verification problems and much more! Try LockAway today, and let it take the weight off your shoulders to fix all these annoying problems.