If you forgot your iPhone screen passcode, you can reset it with your Apple ID password.
Inserting wrong passcode too many times will get your iPhone locked. Once your iPhone gets definitely disabled, you need to reset the device.
You can also reset iPhone passcode through iTunes, Finder and Find My iPhone.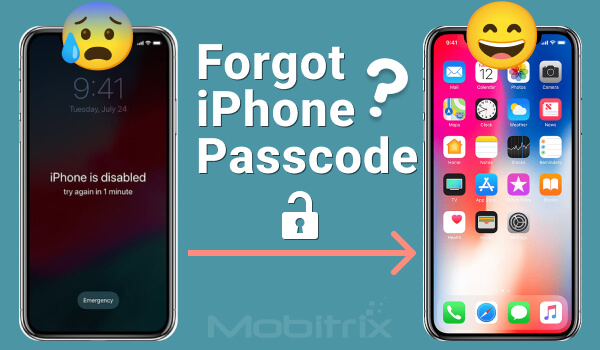 forgot iphone passcode
What happens when you forget your iPhone passcode?
As iPhones tend to lock after 6 continuous failed passcode attempts, you might end up disabling your iPhone. Thankfully, Apple lets you unlock your iPhone even if it has been disabled permanently.
I am an electronics enthusiast who always gets excited about fixing electronic devices. In this post, I have put together a series of information for tackling the "I forgot my iPhone passcode" problem.
So let's get rolling!
Forgot iPhone Passcode? The First Thing To Do:
With your iPhone being disabled, the very first thing to do is to relax. Yes! Believe me. Don't panic at all. You have few attempts to fix this issue, and you should take every step wisely.
Try to think of your previous passcode. Was it a birthday? Maybe your friend's birthday, or was it an anniversary? Perhaps a wedding anniversary or any other important date that you might have chosen to be your passcode. If this trick works, you will be saved from hitting your brain.
Another idea is to implement the 10 most popular four-digit or 10 most popular six-digit passcodes, according to Hortz Gortz Institute. The details are shown in the following table.
| Common Four-digit PINs | Common Six-digit PINs |
| --- | --- |
| 1234 | 123456 |
| 0000 | 654321 |
| 2580 | 111111 |
| 1111 | 000000 |
| 5555 | 123123 |
| 5683 | 666666 |
| 0852 | 121212 |
| 2222 | 112233 |
| 1212 | 789456 |
| 1998 | 159753 |
Failed to Unlock your iPhone?
None of the above strategies worked? Now, there is an option to unlock your iPhone through a reset. It is to be kept in mind that this reset option offered by Apple will delete all your data, starting a whole new chapter for you and your iPhone.
Don't want to lose your data after you get your phone unlocked? Not to worry! There is still a third option available. Below I will be demonstrating how to unlock your iPhone without any loss of data. Don't miss the FAQ section about iPhone unlocking, compiled just for you at the end of the article.
You can quickly take a look at these methods to grasp the basic information regarding them.
| Method | Success Rate | Estimated Time | Delete Data or Not | Computer |
| --- | --- | --- | --- | --- |
| iTunes/Finder | 40% | A few hours | Yes | Yes |
| Mobitrix LockAway | 99% | 30 minutes | Yes | Yes |
| Mobitrix iPhonePass | 99% | 30 minutes | No | Yes |
| Find my iPhone | 50% | 30 minutes | Yes | No |
Way 1: How to Unlock iPhone without Passcode with Mobitrix LockAway
I have tested many alternatives to iTunes. I finally got my iPhone unlocked with an effective tool called Mobitrix LockAway. And I didn't need the passcode, nor have I been bothered by annoying errors again. Try it, and you will have the same experience.
What can Mobitrix LockAway do?
Mobitrix LockAway is software that can bypass any lock on your iPhone. It can unlock your disabled iPhone without causing troublesome errors. Moreover, it doesn't need your Apple ID and passcode to unlock your device.
You heard me right. If, by any chance, you forgot your iPhone passcode, Mobitrix Lockaway can help unlock it right away. You don't need to enter any Face ID, Touch ID, or Apple ID and passcode.
Advantages of LockAway:
Mobitrix LockAway tooks me only 20 minutes to unlock my iPhone.
Only a few simple steps and your iPhone gets unlocked rapidly.
I helped my friends with this tool, and the unlocking success rate was around 99%.
It is a budget-friendly tool, plus it gives 100% privacy protection to its users.
It offers full support for iPhone 5s-14 and iOS 12/13/14/15/16 and later.
Steps
Download and Install Mobitrix LockAway.
Connect iPhone to Computer via a USB cable.
Start Removing the Lock.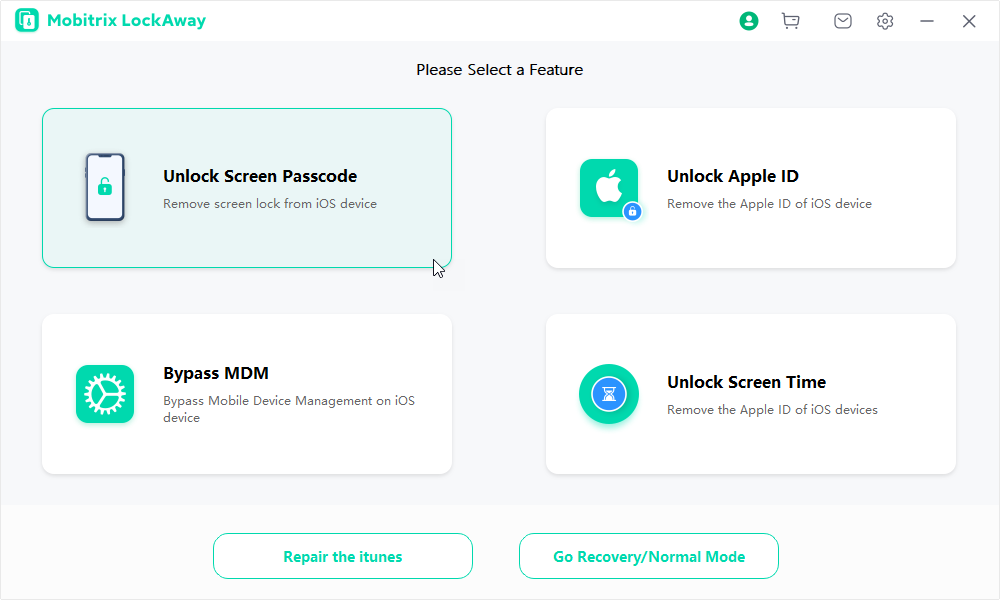 Use Mobitrix LockAway to Unlock Screen Passcode
Hopefully, you got the hang of this method. Now let's move on to the next method.
Way 2: What To Do If I Forgot My iPhone Passcode?
Fix It With iTunes
What iTunes does is manage your music library, and most importantly, you can use it to restore iPhones.
When you forgot your iPhone passcode, iTunes can help you reset your iPhone to a passcode-free state (or factory settings), which requires you to put your iPhone into recovery mode.
Advantages:
This method is secure.
It is free of cost.
Disadvantages:
All data will be erased when you erase your iPhone.
The process is time-consuming with a low success rate.
Steps
Prepare a Computer (Mac or PC), a cable and make sure that iTunes or Finder is installed.
Switch off your iPhone, and set up your iPhone in Recovery Mode.
Restore Your iPhone: Situate your iPhone in the Finder or in iTunes on the computer.
You will see the option of "Restore" or "Update." Click on "Restore". The restoration process has started.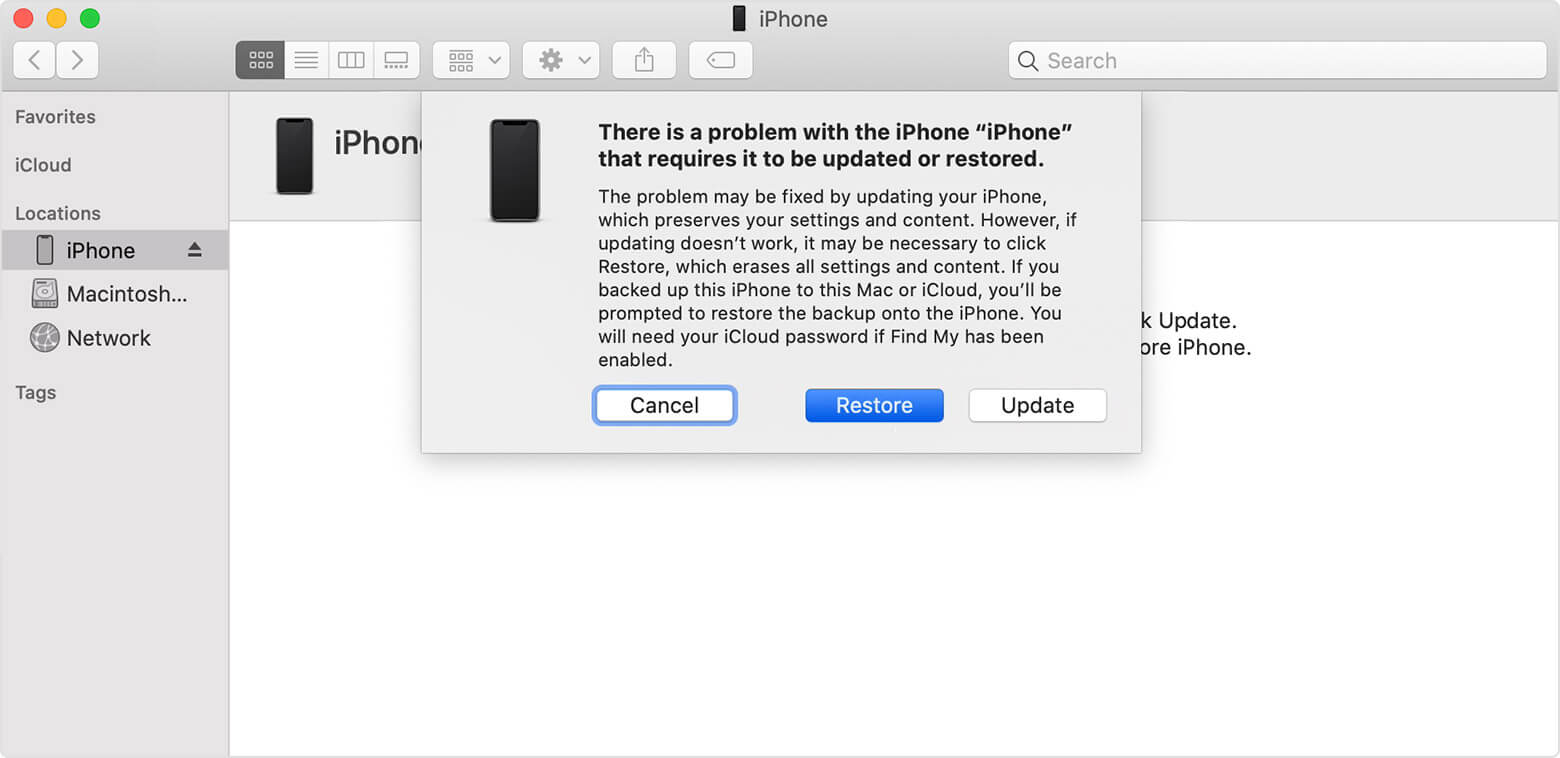 erase iphone via recovery mode
Note:
Switch off your iPhone and start again if you see the passcode screen.
If in case, the download takes more than 15 minutes with your device out of the recovery mode, let the process finish. Then switch off your iPhone and start again.
But what if your data that is not backed up is important to you? Don't worry, Mobitrix also offers a method that doesn't involve deleting data!
Way 3: How To Unlock iPhone Passcode Without Data Loss?
iPhonePass is another tool that unlocks iPhone passcodes without data loss.
Advantages of Mobitrix iPhonePass:
I found it completely free and very convenient to use.
The unlocking process ensured that your data were safe.
Usually, it just takes me 30 minutes to remove the screen lock.
This tool can unlock iPhone 5s – iPhone X.
Disadvantages of Mobitrix iPhonePass:
It does not support phone models after iPhone X.
Not applicable for Windows.
It might be risky to enable and disable jailbreak status.
Steps:
Prepare a MacBook and download a jailbreak tool–checkra1n.
Checkra1n is a perfect jailbreak tool with a simple operation. I highly recommend you jailbreak your device. It is to be kept in mind that it only operates on MACOS.
Jailbreak your iPhone by launching Checkra1n and clicking Start.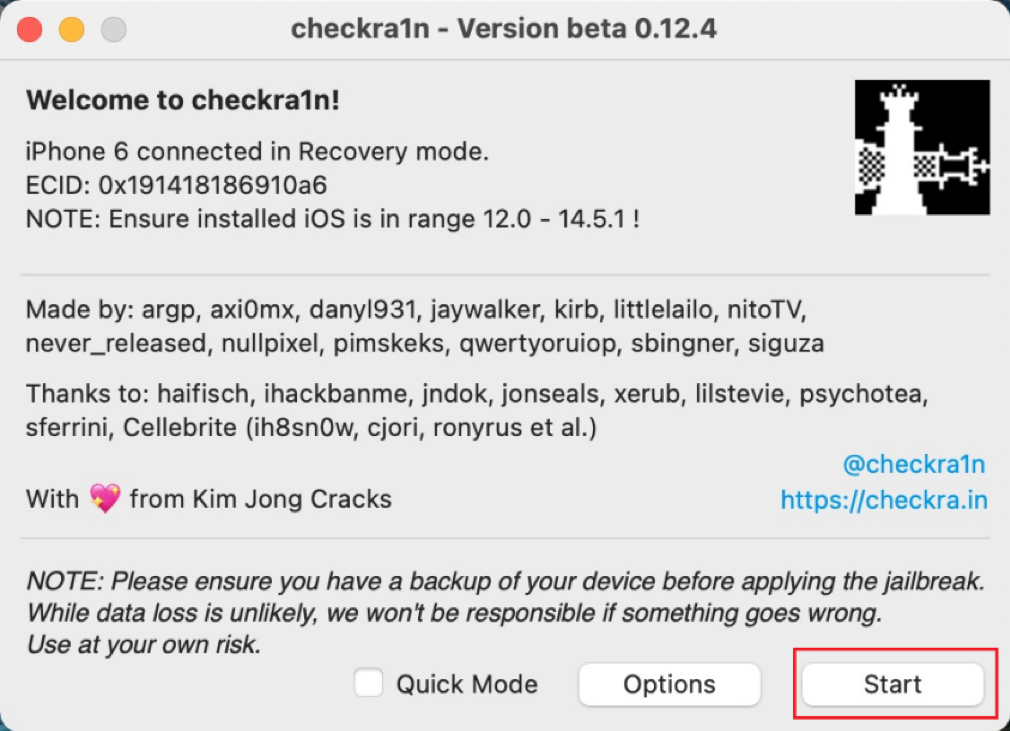 Mobitrix LockAway - Launch Checkra1n and click Start to Jailbreak your iPhone
While installing jailbreak, do not disconnect your iPhone from the computer until finished.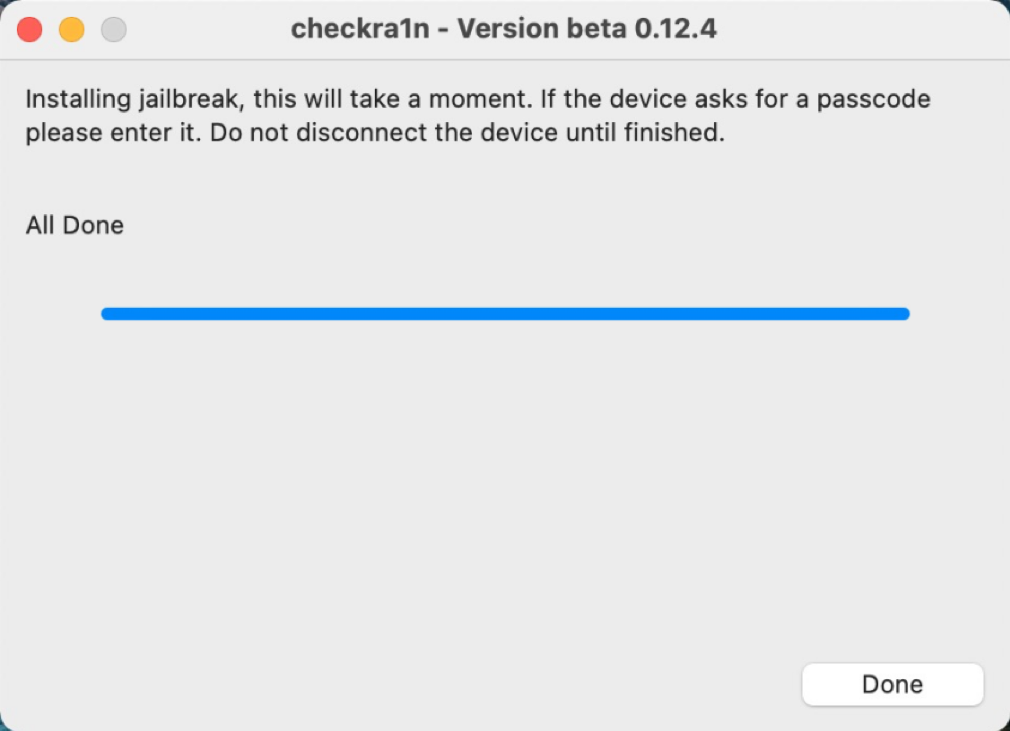 Mobitrix LockAway - Installing jailbreak
Don't set up your iPhone instantly after jailbreaking.
Connect your iPhone to your MacBook.
Establish an internet network for your iPhone and Mac.
Launch your Terminal in your MacBook and enter the command of "iproxy 22 44".

Mobitrix LockAway - Installing jailbreak

Use iPhonePass to remove the screen passcode. Then double-click and delete the file of "deliphonepass.sh".

Mobitrix LockAway - Installing jailbreak
Congrats! Your iPhone screen passcode has been removed. You can now access your iPhone as usual without losing any data on your device and reset a new one.
This takes us to our fourth part, the "Find My iPhone" feature.
Way 4: Fix "I Forgot My iPhone Passcode" with Find My iPhone
The Find My iPhone method lets you unlock your iPhone without any passcode or a computer. You can read about its pros and cons first before you get to perform it.
Advantages:
It is safe and free to use.
The web-side operation, regardless of device limitations.
Disadvantages:
The locked iPhone has the Find My feature enabled.
The Apple ID and password of the locked iPhone are required.
Locked iPhone must be connected to the Internet.
This method deletes all the data in your iPhone, resulting in a loss of data that was not backed up in time.
Steps
Firstly, log in to iCloud.com with your Apple ID (the one being used on the phone) on a computer or tablet.
Go to "Find My iPhone", click "All Device" and select the iPhone you want to reset the password from the drop-down list.
Now, click the "Erase iPhone" in the device information window. And you will be resetting your iPhone to factory settings.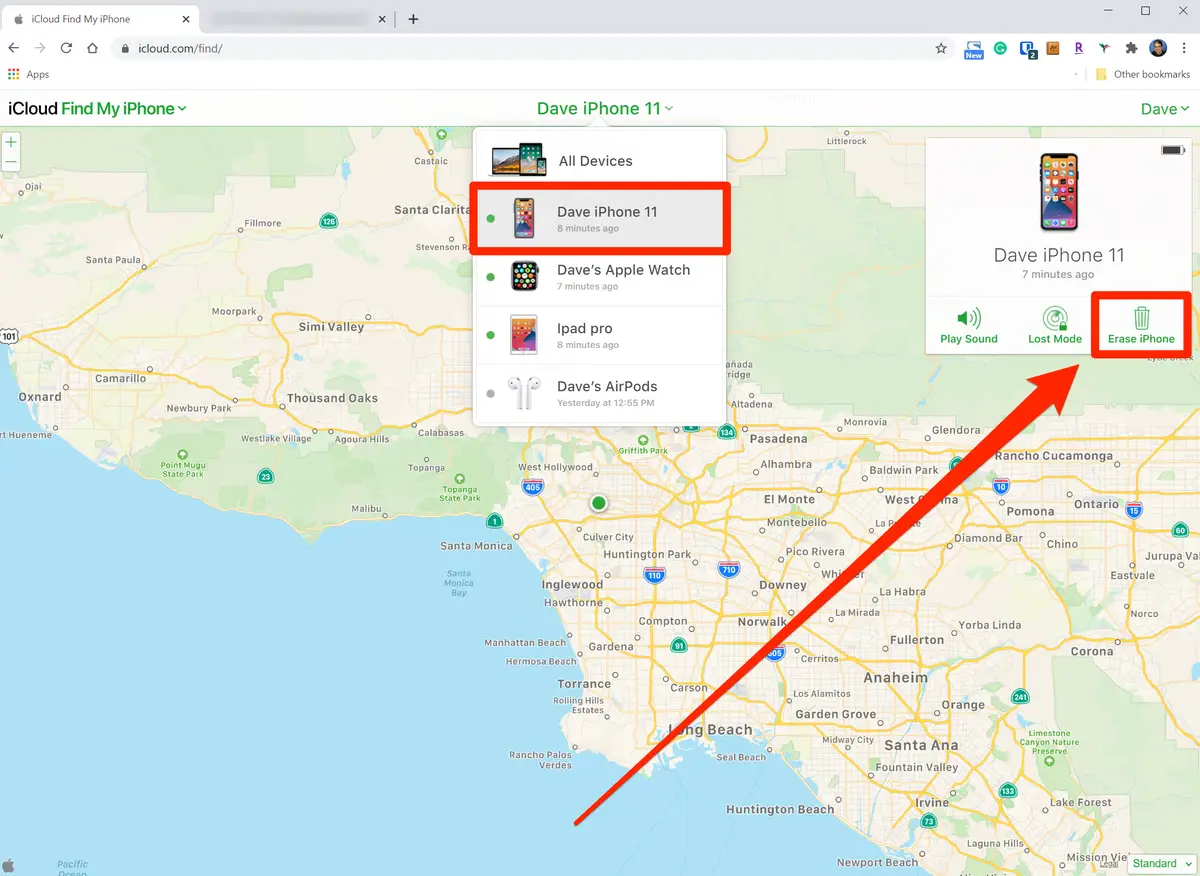 how to factory reset iphone via icloud
FAQs About "I Forgot My iPhone Passcode"

faqs
If I forgot my iPhone passcode, will Apple Store staff be able to help me to unlock it?

Basically No. But you can try to contact Apple support, but they may ask you to provide a lot of authentication credentials to prove that you are the owner of the iPhone, and you may have to wait for a few days or more.

How to restore my iPhone data after resetting it?

You will need to set up your iPhone and restore it from the latest backup. If you are using iCloud (or iTunes) correctly, the most recent backup shouldn't exceed a few hours to a day or two old, so information loss should be minimal.

What is the impact if the locked iPhone has two-factor authentication enabled?

If you have already set up two-factor authentication, the second trusted Apple device should have already been set up.

If it can receive a verification code from Apple when signing back into your iPhone, the device should not have any issues coming out of recovery mode, regardless of whether it is an Apple Watch, iPad, iPod Touch, or Mac.
This post covers all the information regarding your "I forgot my iPhone passcode" problem. In this article, you will find a complete guideline of all the possible methods to reinstate your iPhone.
With all the suggestions regarding each method, especially the Mobitrix LockAway and iPhonePass technique, you can now quickly fix your unlock problem without any fuss. Don't wait and unlock your iPhone now!