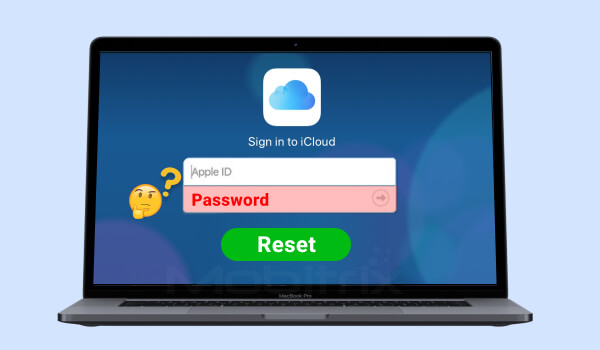 Forgot iCloud password? Luckily, you can reset it in 7 different ways.
The methods for resetting your iCloud password depend on how you set up security for your iCloud account and whether you can access another Apple device. If you're not sure, don't worry, this article will also introduce a bonus to reset your iCloud password without any hassle. Rest assured, as nothing will be technical or difficult for you and I will guide you step by step. Let's dive right in!
What is iCloud Password?
iCloud ID is also your Apple ID. Generally, it's an email address you use when logging into Apple devices. So, is there a difference between iCloud ID and Apple ID? There's no difference, Apple uses an "iCloud account" on its support site, but an iCloud account is a subset of an Apple ID account. These two accounts can be accessed using the same email ID. Note that you can use the same Apple ID that you can use with iCloud to access many Apple services, like the Apple iTunes Store, the App Store, Online Store, and the Mac App Store. When you're asked to sign in with the Apple ID, you can enter the same email address and password that you use to turn on the iCloud.
7 Workable Methods to Resetting your iCloud Password
Method 1: Reset iCloud Password Via Account Recovery Contact
Account recovery contact is an individual who can confirm your identity and assist you in getting back access to your account if you're ever locked out. The function of the Account Recovery Contact is to help you gain access to your account quickly. You can contact your recovery contact via phone or in person with simple instructions on how they can generate and share with you the 6-digit recovery code, which can help you reset your iCloud password.
Requirements for using Account Recovery Contact to reset iCloud password:
Your device has already enabled Account Recovery Contact
Your device must be running iOS 15, iPadOS 15, watchOS 8, or macOS Monterey or later.
Your contacts must be running iOS 15 or iPadOS 15 or later, or Mac with macOS Monterey or later.
You and your contact have enabled Two-Factor Authentication.
You and your contact must be over 13 years of age.
Your contact requires a passcode set up on his/her device.
If you already have enabled account recovery contact, check the steps listed below to get the recovery code from your recovery contact.
Steps:
Share online instructions with your recovery contact following the steps on your device. You can share over the phone or in person.
Your recovery contact then shares a 6-digit code; enter the code on your device.
Your identity will be confirmed
Reset your iCloud Password
The method of Account Recovery Contact is convenient and straightforward. If you are yet to enable a recovery contact, it is wise to do so because it would help you reset your iCloud password in a faster way if you forgot it again in the future.
How to set up an account recovery contact:
On your iPhone,iPad, iPod touch with iOS15 or iPadOS 15 or later
Settings > tap your name
Tap Password & Security> tap Account Recovery.
Under Recovery Assistance> tap Add Recovery Contact option, then use Touch or Face ID to verify your identity.

Set up an account recovery contact

Choose one of your contacts
A family member will be added automatically upon selection, but other contacts will have to accept your request.
You will be notified via a message that your contact has been added as your account recovery contact.
If any of them declines, you will get a message that will prompt you to select a new account recovery contact.
Note: You can select for your account up to five recovery contacts. But you must remember them to protect your privacy because Apple doesn't know who they are.
Method 2: Reset iCloud Password Via Mobitrix LockAway (100% works)
Bonus comes! Do you want to reset your iCloud password in the fastest and easiest way? Mobitrix LockAway can save you! It's dubbed a "saviour" for the lazy person because of the least effort required. In just 20 minutes, you can reset your iCloud password and enjoy all iCloud services.
Introduction of Mobitrix LockAway:
Forgot iCloud Password? Forgot the Apple ID password? Mobitrix LockAway can erase the existing Apple ID and iCloud account on your device without a password, just with a few simple clicks. Unbelievable! Right? After that, you can use all iCloud service and Apple ID features by simply logging into a new account.
Having these situations? Mobitrix LockAway can solve all of them for you
Forgot the iCloud Password
Forgot the Apple ID password
Unable to log in to/out of iCloud account
Not able to erase iPhone
Cannot turn off FMI
Upon removal of your iCloud account, you can:
Shift to a different iCloud account/Apple ID or create a new one if you wish
Have unlimited access to all iCloud services and Apple ID features
Easily turn off Find My iPhone/iPad without a password
Avoid being bothered by your previous Apple ID.
Advantages of Mobitrix LockAway:
You won't have to remember your iCloud Password.
No need for complex iTunes.
The interface is neat and has a few steps only.
The whole process is fast and takes only 20 minutes.
It enjoys a 99% success rate.
It is 100% Privacy Protection.
It fully supports iPhone 5s-iPhone 13, iOS 12/13/14/15, and later
Steps:
Click on "Unlock Apple ID" in the main menu

Unlock Apple ID

Click Start to remove Apple ID

Click Start to remove Apple ID

Unlock Apple ID in progress
Trust me! If you are not sure how you set up security for your iCloud account and you can't access another Apple device. Mobitrix LockAway is your best choice. There are other free and official ways that you can use to reset your iCloud password, but they either need some strict requirements, or they are time and effort-consuming with a low success rate. All these have been discussed in this piece, and you can give it a try if you're not in an emergent situation.
Method: 3 How to reset iCloud Password via Two-factor authentication
Generally, if you have already logged into iCloud on your iPhone and have enabled the two-factor authentication, resetting your iCloud Password will be like a walk in the park.
Because you can reset your iCloud Password directly on Settings from a device you trusted. This device can be iPhone, iPad, iPod Touch (with iOS 9 or later), Mac (with OS X EL Captain or later). You may also opt for the Apple ID account page if it is within your reach.
A. How to reset iCloud Password on a trusted iPhone or iPad's Settings
You may be unsure if you have any trusted devices but let that not bother you because you create trusted devices when setting up two-factor authentication.
Steps:
Go to Settings, then your name, and Password & Security
At the top, tap Change Password
You will be prompted to enter your passcode; enter your new Password once done.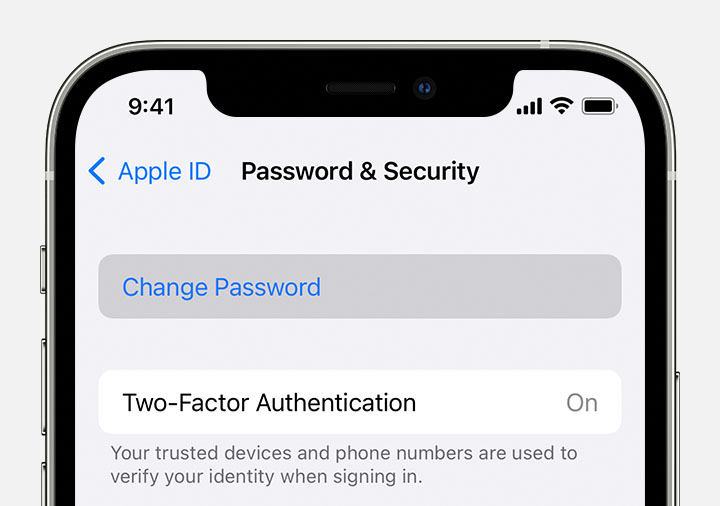 Reset iCloud Password on a trusted iPhone's Settings
B. How to reset iCloud Password on a Mac
If you have macOS Catalina or later.
Steps:
Open the Apple Menu
Head to System Preferences and click on Apple ID (In earlier versions of macOS, after the System Preferences, go to iCloud > iCloud > Account Details.
Click Password and Security
Click Change Password

(You may receive a prompt to enter the administrator account password and click OK)

A dialogue box will appear, enter your new password, and verify, then click Change. Note that you will have to enter your new password to your other devices the next time you use them.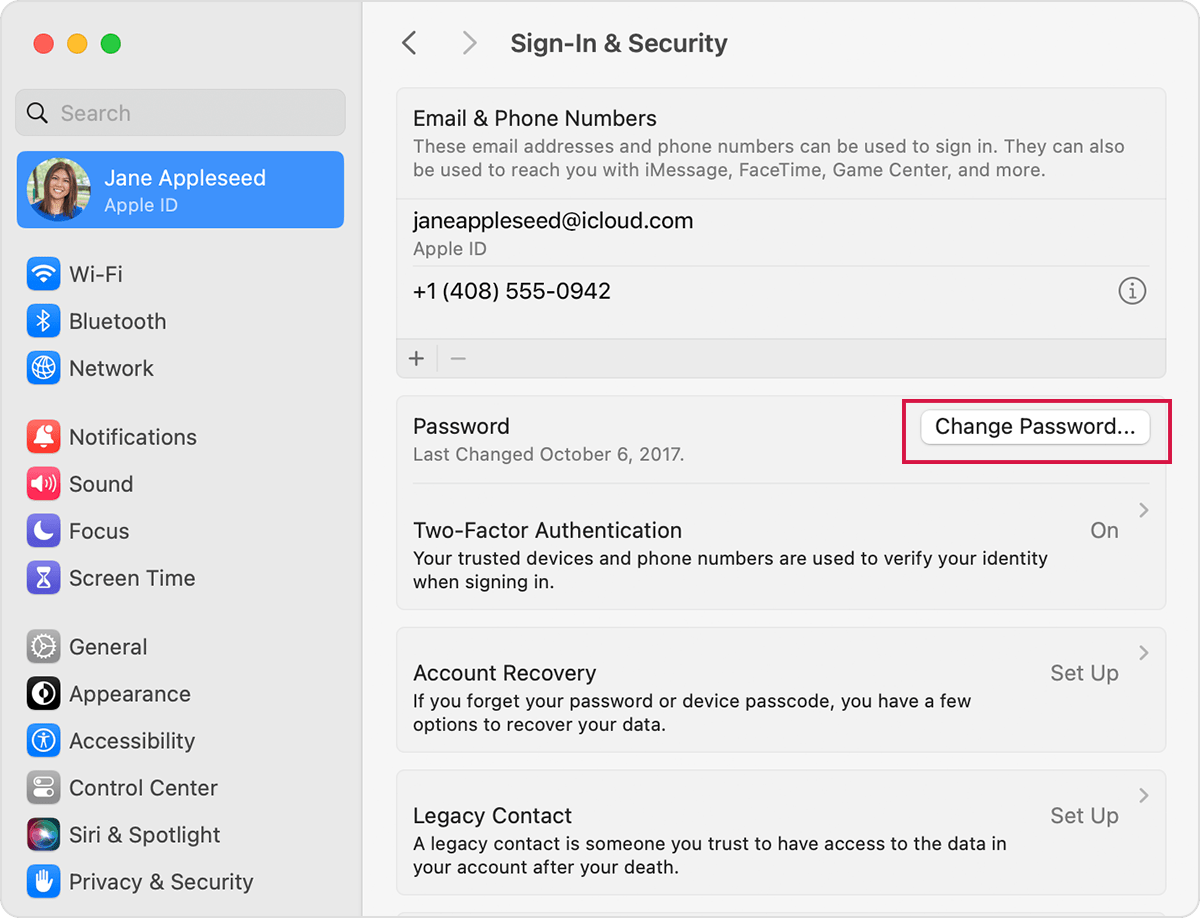 Reset iCloud Password on a Mac
C. Via iforgot apple.com
Steps:
Go to iforgotapple.com and enter the trusted phone number submitted during the two-factor authentication setup.
Click Continue; this will send a notification to a trusted iPad, iPhone, or iPod.
Tap Allow on your trusted device once you get the notification.
Follow the steps provided, then enter your passcode and then reset your Password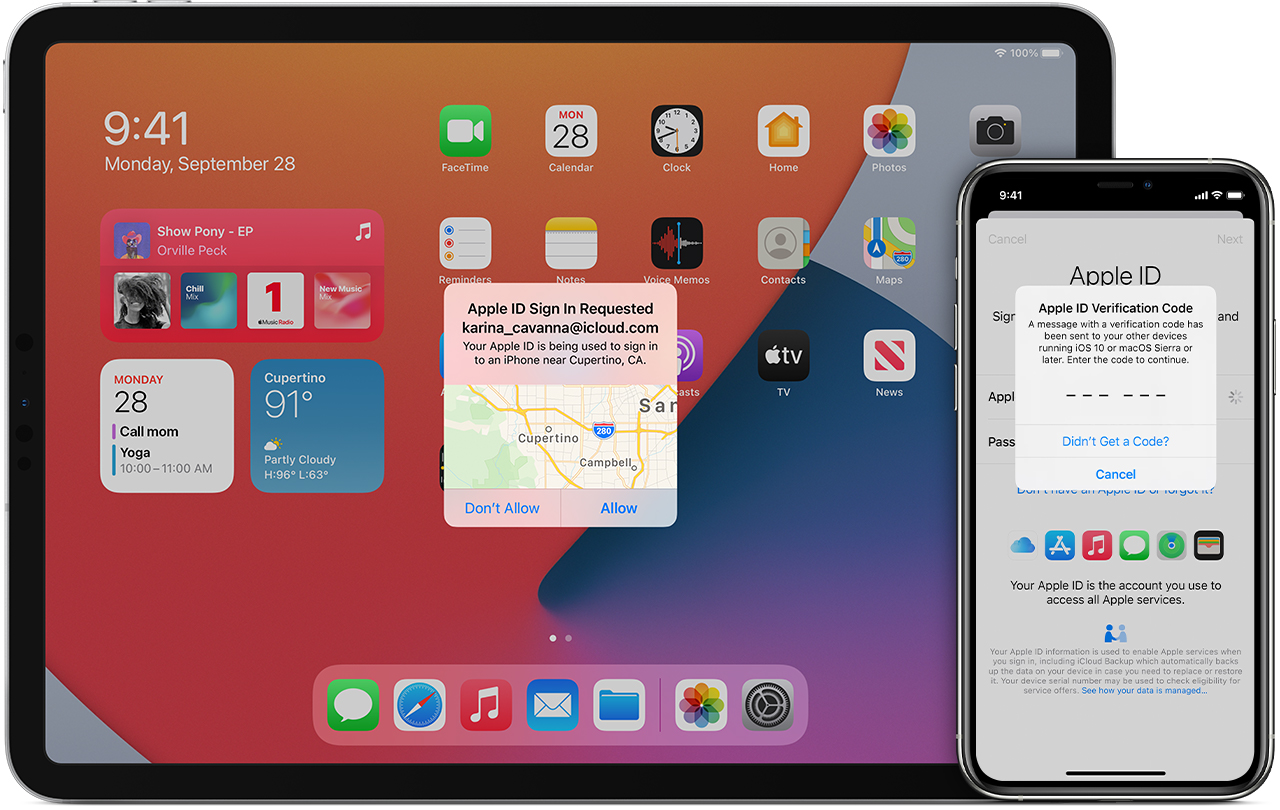 Reset iCloud Password via iforgot
Two-Factor Authentication is your Apple ID's additional layer of security that guards your account against being accessed by anyone else, even if they have your password. It helps reset your password anytime you forget your iCloud password in a much easier way. If you are yet to enable the two-factor authentication, check the steps below:
How to turn on Two Factor Authentication
When using iOS 10.3 or later
Steps:
Go to Settings, tap your name, then go to Password & Security.
Tap Turn on Two-Factor Authentication
Tap Continue
Follow the on-screen instructions
Method 4: How to reset iCloud Password via Email or Security Questions
Suppose you haven't enabled the two-factor authentication for your Apple ID. In that case, you can opt to reset your iCloud Password via recovery email or answer security questions (if you've already set them up).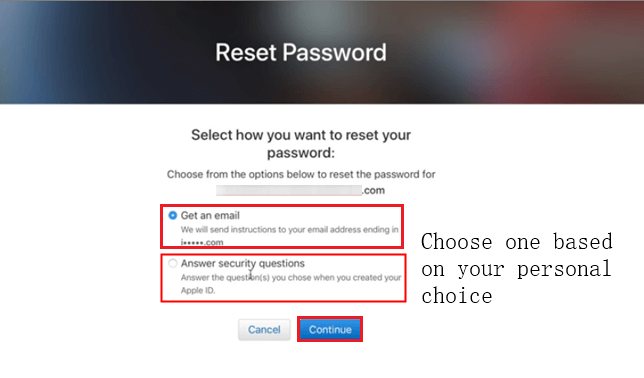 Reset iCloud password via recovery e-mail or security questions
Steps:
Go to appleid.apple.com, click Sign in
Click Forgot Apple ID or password?
Enter your Apple ID and click Continue
You will have an option of either answering security questions or using email to reset your password
If you opt for email authentication, Apple will send you a message through your backup email address. You can then follow the instructions in the link and reset your Apple ID password.
If you decide to go for "Answer Security Questions", all you need to enter is the correct answer to the security questions that you've personally set up previously, and then click on "Next."
After that, enter your new password in the two fields and click "Reset Password."
Method 5: How to reset iCloud Password via someone else's device
When you can't access your own devices after you forgot iCloud Password, then a family member's or friend's iPad, iPhone, or iPod touch through the Apple Support app or Find My iPhone app could be what you just need.
A. Via Apple Support App
If your friend or family doesn't have this app, ask them to download it from the APP store and then follow these steps:
Open the Apple Support app
Go to Passwords & Security
Tap Reset Apple ID Password
Go to Get Started and tap " A different Apple ID."
Enter the Apple ID that you need to reset the password for.
Tap "Next" and promptly follow the instructions until you get confirmation that you have changed your Apple ID password.
Note: Your friend's or family's device needs to run iOS 12 or later. If they use iOS 9 through 12, use the Find My iPhone app instead.
B. Using Find My iPhone App
Steps:
Go to Find My Phone App
On the sign-in screen, ensure the Apple ID field is empty and delete someone else's username in case it appears.
Go to Forgot Apple ID or Password and follow the steps on the screen.
Method 6: How to reset iCloud Password via Recovery Key
Are you still using the older two-step verification? If so, then you will need a recovery key (This is a 14-digit code that you receive from Apple once you set up two-step verification). If you don't remember the recovery key, it's impossible to try this method. Don't hesitate to try Mobitrix LockAway. You can reset your iCloud password within 20 minutes without any hassle. Sounds interesting huh!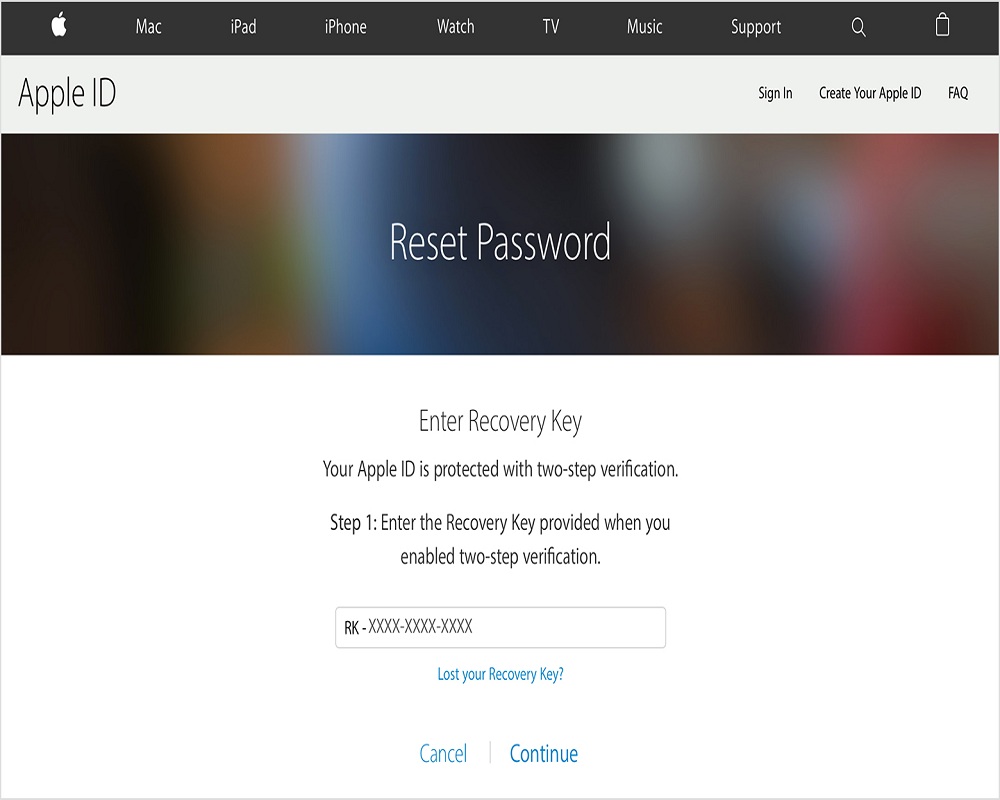 Reset iCloud Password via Recovery Key
Steps:
Log in to iforgot.apple.com
You will have to enter your Apple ID and continue and go for the reset your password option before clicking again on continue.
Enter your recovery code and click on continue
Choose a trusted device before entering the confirmation code
Get a new password and finally click on; Reset Password and there you go!
Ensure you have several copies of the recovery key because if you lose it with your trusted devices, you will never access your account. Instead, you will have to create a new Apple ID.
Method 7: How to reset iCloud Password via Account Recovery
So, what is Account Recovery? This is a process intended to give you access back into your Apple ID account if you lack the adequate information needed to reset your password. To keep a possible security breach at bay, it might take several days or even longer before accessing your account. It is advisable to use the account recovery method as a last resort when you can't completely sign in or reset your iCloud Password.
Steps:
When resetting your Password via iforgot or iOS, you will come across the Request Account Recovery option. If you see it, go for it.
Key in a phone number that Apple can use to contact you when your account is ready to access. Bear in mind that you will have to be patient because it's difficult to estimate when Apple will reach out.
Go to iforgot.apple.com, type your Apple ID and the phone number you used during step two into the system and then wait for a call or text with a specific Account Recovery code.
After receiving the call or text, log into the iforgot website and type the code in.
Click Continue to complete resetting your password.
You can check the status of your account recovery at any time during the wait. Additionally, try to avoid using this device that you forgot iCloud password including any other device that you've signed in with your same Apple ID. After that, it's better to sign in to your account to confirm your trusted phone number to reinforce the security of your account.
Tip: Remember that whatever method you choose to reset your password, it's crucial to log into your Apple account immediately after using the new password. This will help you know whether your password has been updated on your other devices.
The roles passwords play in protection, especially privacy, are unmatched, but being locked out is an ordeal. However, from what has been discussed in this article, if you forgot your iCloud password, there are 7 ways of resetting your iCloud Password. Even though some are complicated, and others tend to take a lot of time, Mobitrix LockAway is simple and easy yet guarantees a 99% success rate. So, the next time you're stuck, bet that you now know what will work well for you.