How to Reset Forgotten iCloud Password
Did you forget the iCloud Password, and you are worried that you may not access iCloud? Worry no more because we will introduce you to several ways to bypass iCloud when you have forgotten the password in this article.
The article also introduces you to an excellent tool Mobitrix-LockAway that can help you to bypass iCloud quickly and effortlessly.
Part 1: Pre-Reading:
iCloud helps store important files, videos, notes, pictures or any valuable data. However, the problem comes when you want to access the data in iCloud but have forgotten the iCloud password.
Many users undergo this problem, but the good news is that there is a solution. Let's look at the solutions that you can use to bypass iCloud when you have forgotten the password.
Part 2: Reset your iCloud Password on your iDevice if you are Still Able to Access it
You can reset the iCloud Password from your iDevice if you can still access it by following the guidelines below.
1. For iPhone, iPod tach or iPad
Navigate to Settings.
Click on your profile name, go to Password and Security and tap Change Password.

If you are logged in to iCloud, and a password is enabled, you will be prompted to enter it.
Guidelines will be displayed on the screen, and you will follow them to reset the iCloud password.
2. For Mac
If you are using macOS Catalina, the guidelines are as follows:
Select the menu for Apple, then go to the System Preferences and click on Apple ID.
Tap on Password& Security.
If prompted for the Password, select the "Forgot Password" and follow the guidelines on the screen.
Tap Change Password and enter your Password for unlocking your Mac to reset the Password.
3. For macOS High Sierra, Sierra or Mojave:
Select the Menu for Apple and navigate to the system preferences and click on iCloud.
Select your iCloud account details.
Select Forgot Password or Apple ID if prompted to enter it, then follow the guidelines on the screen to reset the Password.
Tap Security > Reset Password. Enter your Password for the Mac to reset the password for iCloud.
However, this method is only suitable if you have your iDevice. You may also be required to provide the Password for the iDevice before resetting the forgotten iCloud Password.
Part 3: Reset iCloud Password on friend's/family's iDevice when you are unable to access your iDevice
Suppose you are unable to get access to your iDevice. In that case, you can reset the forgotten iCloud Password by using a family member or friend's iDevice by following the guidelines below.
Method 1: Apple Support APP
You can use a family member's iDevice to reset the iCloud password, but the iDevice needs an Apple Support App. If the iDevice does not have the app, please download it before proceeding with the steps below:
Launch the Apple support App.

On Topics, click on Password & Security.
Click on "Reset Apple ID Password"
Select the Get Started option and choose "A different Apple ID."
Provide the Apple ID whose Password needs to be reset.
Click Next and follow the displayed guidelines on the screen until you get a confirmation that your password has been changed.
Method 2: Find My iPhone APP
Find My iPhone app can be used instead of the Apple support App for iOS 9 to iOS 12. These iOS versions do not support the Apple Support App, but the Find My iPhone app can be used instead.
The guidelines are:
Launch Find My iPhone App.

On the Sign-in screen, ensure that the field for Apple ID is left blank. If the field is filled, please erase it to leave it blank.
Click on Forgot Password or Apple ID and reset the iDevice by following the on-screen guidelines. If the sign-in screen is not showing up, first sign out, then clear the Apple ID field and continue with the above steps.
Part 4: Reset iCloud Password on Web
Method 1: Reset iCloud Password via recovery email or security questions on iForgot service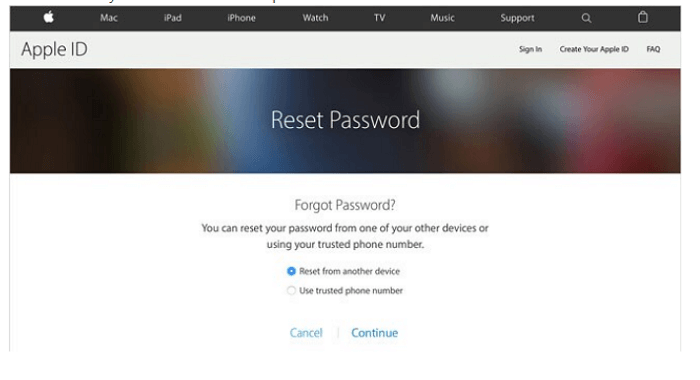 iForgot service can also be used to help you reset the forgotten iCloud Password. Through the service, you will reset the password through your email or by answering security questions.
The steps are as follows:
Use any web browser to open iForgot.apple.com
Provide your Apple ID and your Password.
Tap "Continue" and select "I need to reset my password" and then click Continue
Select to use email or Answers Security questions.
If you choose to use email, click Continue and then click Done.
On your email, open the email sent by Apple and then click "Reset Now."
Provide your new password, confirm the new password and tap "Reset Password".
If you choose to answer the security questions after clicking Continue, do the following:
Confirm your birthday, then click "Continue."
You will get security questions that you will have to answer, then select Continue.
Provide your new Password, confirm it, then click "Reset Password"
Method 2: Unlock Apple ID via Two-Factor Authentication on iforgot. Apple
If you have two-factor authentication set up, you can use any nearby trusted device to reset the iCloud password.
The steps for this method are:
Visit iForgot.apple.com
Provide the email for your Apple ID and click Continue.
Provide the phone number associated with your Apple ID and hit Continue. You will be required to select one device that is connected to the account.
Pick one device associated with the account of iCloud. If it is an iPhone, click Allow
Provide the passcode of the iPhone, then click Done.
Enter a new password for iCloud, confirm the provided Password, click Next, then hit Done.
Method 3: Unlock Apple ID via account recovery
Account recovery is another trusted way that can help you access your iCloud account when you have no enough information to help you reset your password.
However, this method may take up to days to access your iCloud account, but it takes longer because of security reasons.
The steps are shown below.
While following the steps for resetting the Password on iForgot, you will see the option for "Request Account Recovery."
Provide a mobile number that you can be reached through when the account is ready, then key in the verification code sent to you to confirm your details. You will be notified that your request has been received and contacted when the account is ready.
After some time, you will be contacted or called when the account is ready.
Visit iForgot.apple.com, key in your Apple ID and provide the phone number you provided earlier.
An account recovery code will be sent, and you will enter on the field provided on iForgot.
Hit Continue, and a new page will be displayed, and you can provide your new iCloud Password.
Enter the password again to confirm, then sign in.
Part 5: Unlock iCloud Password via Mobitrix LockAway
Mobitrix LockAway is an efficient tool that can quickly and effortlessly bypass the iCloud Password. Through this professional tool, you can change the iCloud Password without being asked about your forgotten Password.
The benefits of using this tool are:
The tool is easy to use, and it removes the forgotten iCloud Password instantly.
It is effective because it can be used now and again to bypass any locks on your iDevice.
It is a professional tool that has been used by more than 100,000 users and successfully removed passcodes on their iDevices.
It is very secure because no harm is caused to your iDevice and can be used from the comfort of your home.
Mobitrix-LockAway can be used to remove various kinds of Apple ID such as:
Cannot erase the iPhone
Cannot turn off FMI
Forgot the Apple ID password
Apple ID locked
To remove the iCloud Password through LockAway, follow the steps below:
On a computer, download LockAway and install it from the official website.
Use a USB cable to ensure your iDevice has a connection to the computer.
Ensure to select "Unlock Apple ID mode."

Then hit the "Start" button.
The Apple ID will be removed immediately and allowed to set up a new account. You will enjoy all services from the new account and can also turn off Find My easily to stop being tracked by the previous Apple ID.
Summary
The article has gathered all the methods that you can use to reset your forgotten iCloud password.
All steps you need to use with the outlined methods are clearly explained to make it easy to use any method.
Whether you have access to the iDevice or not, you got covered in this article. You can decide on the method that suits you and follow the outlined steps.
Mobitrix LockAwayy is recommended as the best method because of its efficiency and effectiveness. Use LockAway today, and you will be able to enjoy iCloud features again.