Turning off the iPhone Passcode will also disable the Touch ID and Face ID of your iOS device.
The simplest traditional way to turn off the iPhone Passcode is to access the "Passcode" section from the iPhone inherent Settings Menu.
The unrestricted access will make the iPhone and its data vulnerable. Anyone who can get their hands on the device can flip through it.
Though having a passcode is important, there are situations when the Apple owner wants to turn off the Passcode on iPhone. For instance, you have your sibling using your phone for seeing videos, or your colleague wants to access some files. You are at a party and the DJ (probably, a friend of yours!?) wants to choose songs from your playlist!
I was an ex-Apple Customer Service Representative who helped diverse clients over a span of 5 years. And most often than not, I used to receive questions on how to turn off the iPhone passcode and turn it back on. I am here to tell you how to turn the passcode off, make a new passcode if needed, some alternative methods without a passcode, and suggestions for data safety when the passcode is disabled. Trust me, no one needs to be a tech expert to understand these simple steps.
Reason to find out.
Part 1: Why Turn off Passcode iPhone?
When I started my career as a customer service representative, I received a call where the client didn't want a passcode because she felt like she was keeping secrets from her husband. And then a young lad said his mother was reading a book on iPhone and kept 'irritating' him to re-type the passcode.
Most of the users want to remove that passcode hindrance - either because sharing it is not advised or it is uncomfortable to keep retyping it. But It is important to note the fact that - turning off the Passcode iPhone will also disable the Touch and Face ID of your iOS device. Another disadvantage here is that your Apple Pay Cards details would disappear in a snap! And why is that!? Apple is designed to keep your data safe.
If you are ready for that, I will guide you with the best knowledge I've gained during my time with Apple.
Part 2: Methods to Turn off Passcode iPhone
There are two situations that might arise when we are asking ourselves about turning off the passcode. I'll explain both of these cases to help a wider quota of readers.
Situation 1: When You Know the Passcode
If you use an iPhone X or a later version
Steps:
Open the Settings on your iPhone and scroll down for the Passcode Menu.
In newer iOS versions, find the Face ID & Passcode option.
The phone will ask for your current passcode - Enter and then proceed to select Turn Off Passcode.
A small dialogue box appears to get a final confirmation regarding the action. Go with Turn Off.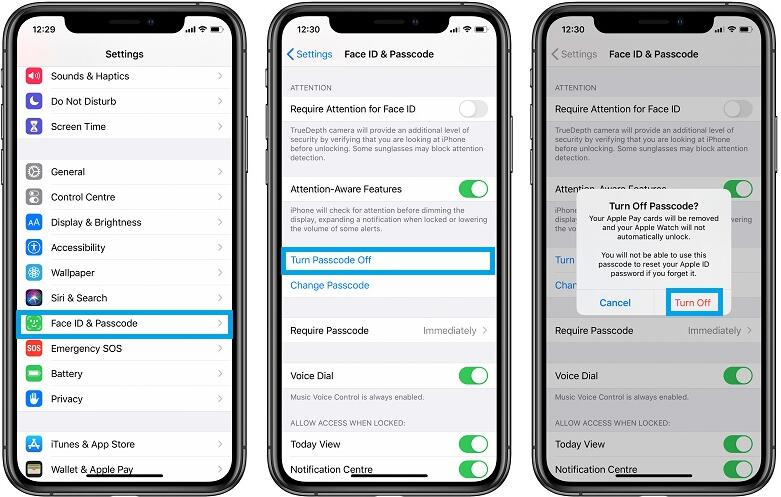 Turn off your passcode on Settings
If you are using older iPhones
Steps:
Go to Settings and locate the Passcode Menu.
Choose Touch ID & Passcode in this case.
The same as above, you'll enter the current passcode and turn off the passcode.
Lastly, you confirm Turn off when the dialogue box pops up.

Turn off your passcode on Settings
As simple as that was, if you ever feel like having your passcode back, you can look here.
We personally (Colleagues and I) used to go with other alternative approaches in the Apple Office - Using Touch ID, Face ID, and Auto-Lock. These are easier ways to still protect the data but without the tedious code typing.
Alternative 1 : Touch/Face ID
Open Settings > Touch ID & Passcode > Enter passcode for authorization and add your fingerprint.
Or you can choose Face ID and Passcode in the settings and go with Set Up Face ID, the iOS prompts will guide you further.
Alternative 2: Auto Lock
I always suggested people change their Auto Lock timing when they plan on lending their phone to someone for a small duration.
In your Settings, choose Display and Brightness and then Auto-Lock.
Set the duration after which your phone can automatically lock, to reduce the number of times the passcode entry is needed.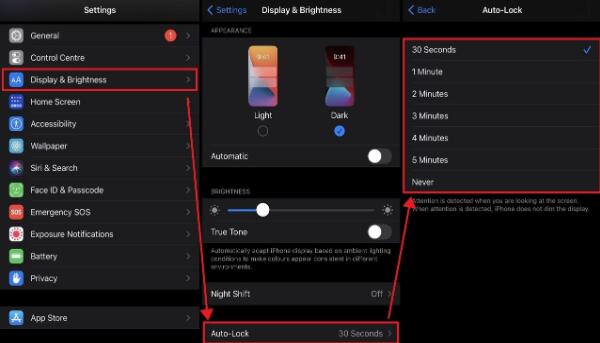 Set iPhone auto lock duration
Now, we arrive at an interesting situation. The million-dollar question that people often asked during my time with Apple is - What if I don't remember the passcode? I'll give the answer to that in the next situation.
Situation 2: When You Don't Know the Passcode of Your Device
When you know the passcode it is easy to turn it off, but what are we supposed to do when we simply forget the passcode and can't recall it? Do not panic, as I have it all figured out for you! Despite being an ex-Apple employee, I struggled to go through the lengthy process of removing forgotten passcodes. I can imagine how frustrating it can be for a layman to choose the traditional way to turn off passcode iPhone. My seniors suggested I look at an alternative tool and that is when after checking through many options, I got fixated with Mobitrix Lockaway. Don't trust me when I say it is most user-friendly, try it for yourself.

4 Functions of Mobitrix LockAway
Method 1: Mobitrix Lockaway - Best Solution to Turn Off Passcode iPhone
iPhone is such that nobody can access the data if the passcode is unavailable. I have my reasons to keep it that way (Security first). Be it screen lock, forgotten passcode, broken screen, or incorrect attempts at entering the code - the device will lock completely!
I've studied several tools that boast about cracking the locked iPhone. Yes, they end up successful. However, Mobitrix Lockaway is the only downloadable tool that doesn't compromise user data and shows 100% efficiency.
In nutshell, I have laid out a few advantages of using Mobitrix Lockaway before starting the process.
No need iTunes
Easy to use
Only takes 20 minutes to turn off the passcode
100% Privacy Protection & Success Rate
It offers full support for iPhone 5s-14 and iOS 12/13/14/15/16 and later.
Steps:
Download and open the Mobitrix LockAway
Choose Unlock Screen Passcode from the Main Menu
Start removing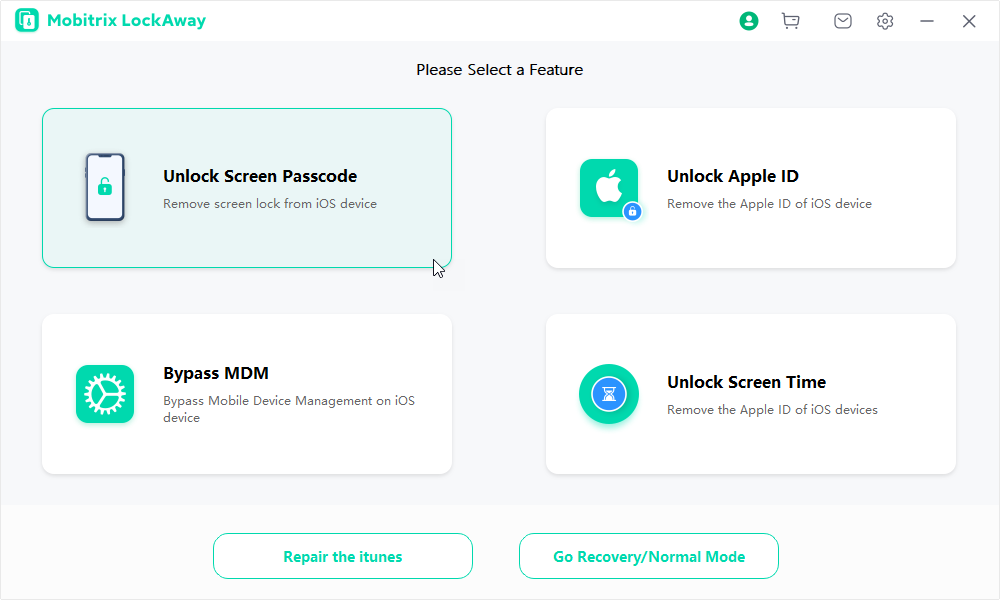 Use Mobitrix LockAway to Unlock Screen Passcode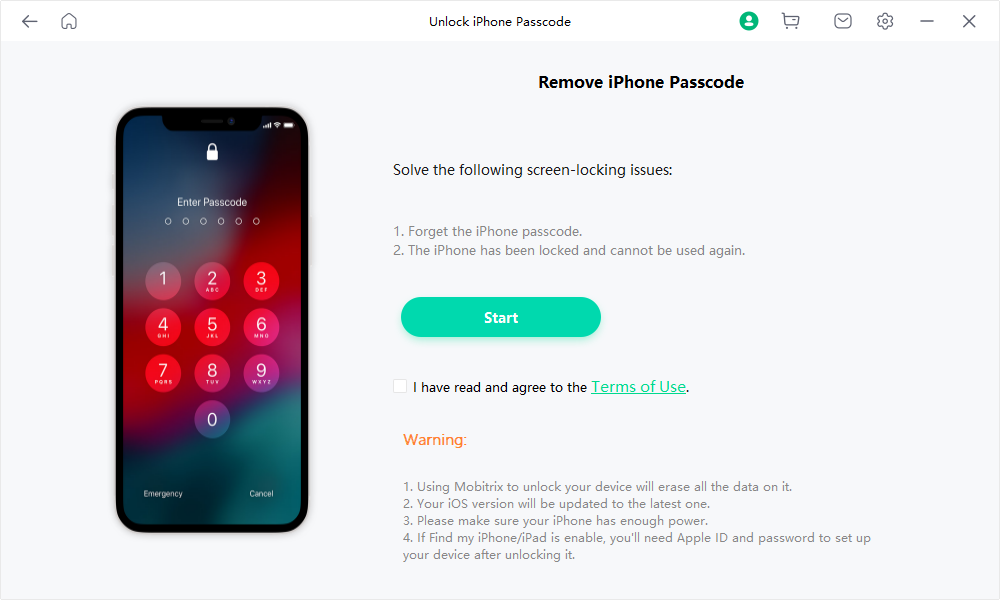 Mobitrix LockAway - Click "Start" to remove the passcode
Many netizens will argue about Mobitrix Loackway being a professional paid third-party tool, but believe me when I say it is hassle-free. Personally being a trained Customer service representative, I have even used iTunes to remove passcode but it is quite a complex method. You might encounter issues such as error codes, restoration failure, time-consuming, and might not even be successful. Therefore, comparing both options I will definitely go for Mobitrix Lockaway.
Method 2: Use iTunes to Turn Off the Passcode
The below stepwise guide is put together and explains how iTunes help turns off the passcode. However, the process is complicated and lengthy. You will have to spend time figuring out the steps. If you have time and are not in a hurry to use the phone, you can give it a try.
Steps:
Connect the iPhone to the computer using a USB cable and sign in to the iTunes account.
iTunes will sync the iPhone automatically, and if it does not simply Click View > Show Sidebar > iPhone.
Once the iPhone is synced click on >Device>Summary>Restore iPhone button.
Click Restore iPhone using the iTunes backup files. Now you can easily reset the passcode and even disable it on your phone.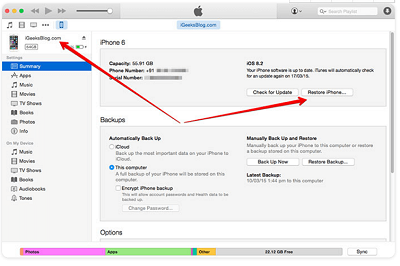 Use iTunes to Turn Off the Passcode
If you remember the Apple ID password but can't sync to iTunes, then follow these steps
Steps:
Connect your iPhone to the computer.
Now, put your iPhone into recovery mode.
For iPhone 8 or later:Press and quickly release the volume up button, then the volume down button. Then, press and hold the side button until you reach the "connect to iTunes" screen.
For iPhone 7, iPhone 7 Plus: Simultaneously hold the side and volume down buttons until you reach the recovery mode screen.
For iPhone 6s or earlier: Keep holding the side and home buttons together until you reach the recovery mode screen.
Click restore, and it will take around half an hour to download on your iPhone.
Just follow the steps mentioned in part 1 and disable the passcode on your iPhone.

The Restore function of iTunes
When you follow the steps to turn off passcode iPhone, the data becomes easily accessible and you tend to expose it as well. Therefore, to keep it safe and secure, I have shared some bonus tips in the following section.
Bonuses
Bonus 1:
My suggestion would be to sign out of the iCloud account and preserve your privacy and property. All functions related to Apple ID will be restricted when one logs out of the account. No one can download and purchase apps or make any payment on your device. However, it also turns off the Find My Phone feature and stops syncing your personal data, photos, apps, etc., and unpair other devices which might seem inconvenient.
Bonus 2:
This is something I suggested to hundreds of callers. It is highly recommended at all times when we disable passcode. We allow built-in apps and features to restrict usage of certain apps or hide them from our screens .
Steps:
In Settings, it is possible to change screen time and adjust Content Privacy and Restrictions.
Then choose the apps you want to allow and adjust the screen time.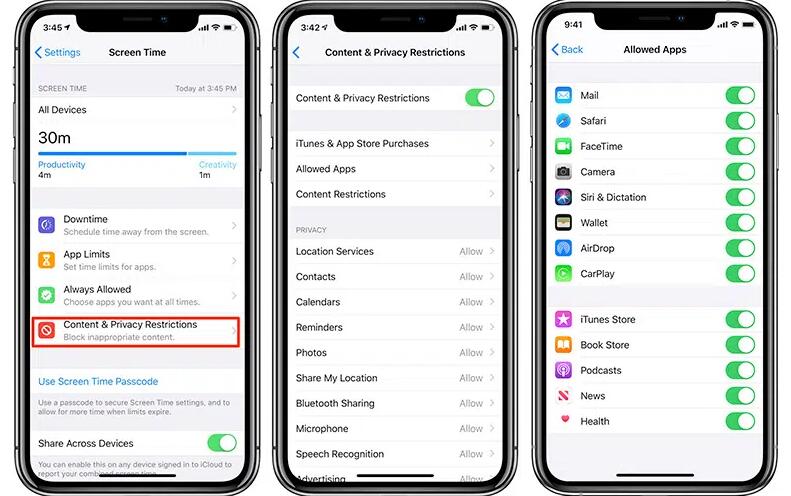 Adjust Content Privacy and Restrictions.
In my 5 years of experience, I've solved many issues where people wanted to Turn off Passcode iPhone. And none of them came back with further complaints. The only thing to keep in mind is to follow the input I've shared with you lovely people. Mobitrix Lockaway-Unlock iPhone Passcode will be my golden egg that will definitely bring in the best results. It is a quick solution for people who don't want to spend too much time on the traditional approach.
When you plan to Turn off Passcode iPhone, remember the repercussions, the right route, and take precautions to maintain data security. These little inside tricks from the iOS world will make all the difference! You can thank me later!