Did you forget your iPad passcode? Or you've been locked out for repeatedly entering the wrong passcode? I understand the frustration, it happened to me several times. Don't panic. I've got you covered.
Apple provides various ways to unlock iOS devices, but most of them require multiple steps that are complicated for non-techies. Just sit back and relax, and I'll take care of you from start to finish. If you're in a hurry and don't have the time or the energy to deal with complicated procedures, I've got an alternative solution for you.
In a matter of minutes, your iPad will be unlocked and you can catch up with the latest celebrity news, or check on your loved ones.
What are you waiting for? Follow me to unlock iPad passcode right away!
Part 1: Don't Rush to Guess Your iPad Passcode
Rushing to guess your iPad passcode when you have forgotten it is the worst mistake that you can ever make in such a situation. Therefore, it is recommended to take your time before entering any passcode to avoid being locked out for too long.
The best thing you can do in such a situation is to sit down, relax and take time to think of the right passcode. If you can't manage to remember it, then the following solutions can be used. Although, before using any of them, it is advisable to check if you have a backup of your iPad on your iCloud or computer because most of them will erase your data.
Part 2: Reset Forgotten iPad Passcode via iTunes
1. Reset via iTunes without data loss (need to be trusted and synced lately)
If you had trusted and synced your iPad with iTunes lately, then you can create a backup to avoid data loss before resetting iPad. Restoring your iPad to factory settings can wipe the forgotten iPad passcode. With iTunes, you can easily restore your recent backup when setting it up.
The steps to reset forgotten iPad passcode via iTunes are:
Connect the iPad to the computer and open iTunes.
Once iTunes recognizes your device, select the "Summary" tab and then click "Back Up Now" to create a backup of your iPad.
Having created the backup press, choose "Restore iPad"to restore.
iTunes will start resetting the iPad. This will erase all your data however once completed, restore your backup from iTunes.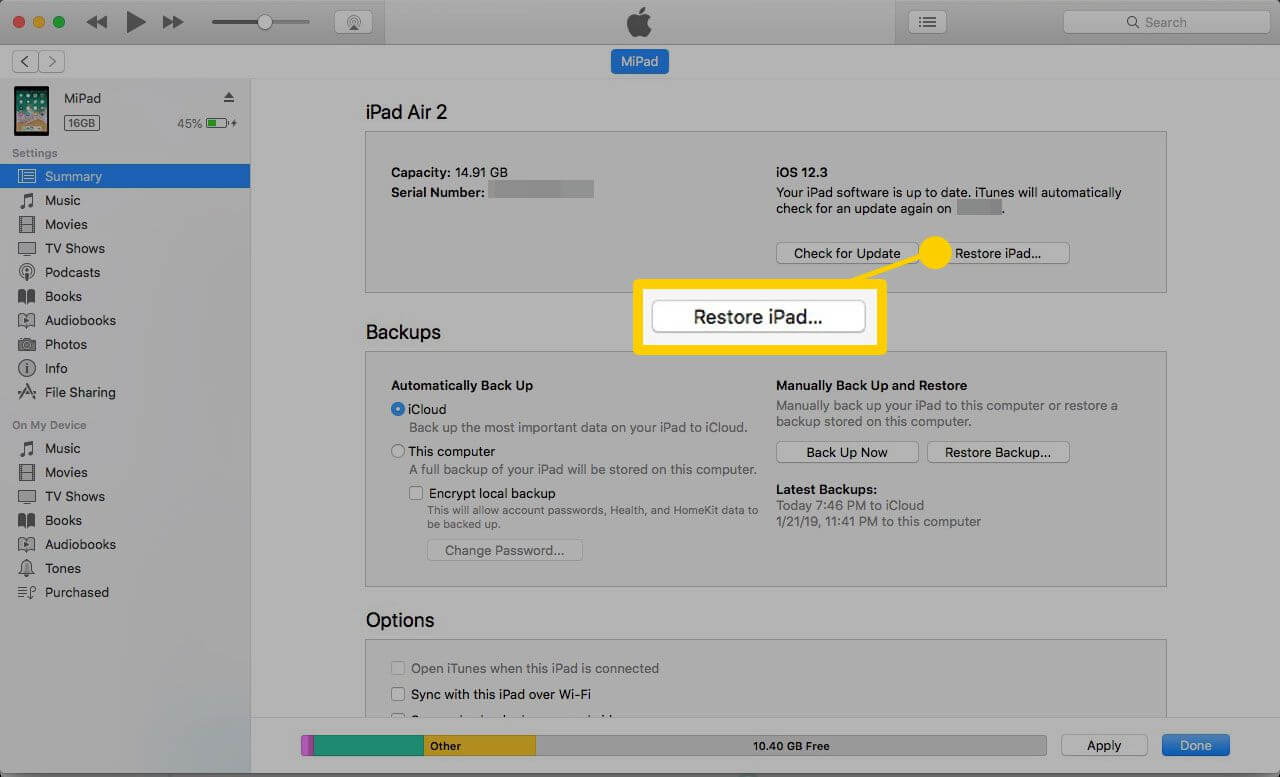 2. Reset via iTunes recovery mode
If you had not synced your iPad with your computer, you could still use iTunes in recovery mode to reset forgotten iPad passcode. Regardless of your iPad model, this method will work for you.
If you have a backup of your iPad on your iCloud or computer, you could use the latest backup after erasing your data and restore your iPad.
Steps:
Download the latest version of iTunes, and then open iTunes but don't connect the iPad first.
Enter Recovery mode.
For an iPad with a Face ID: Long press the Top button and either of the buttons for volume till you can see the slider for power off. Turn off your iPad by sliding the slider. Connect your iPad to the computer while holding the button for the top till your iPad enters recovery mode.

For an iPad with a Home button: Go to the Top button and hold it long enough for the slider to appear. Turn off your iPad by dragging the slider. Hold the button for Home and connect your iPad to a computer. Continue holding the button for Home till a black screen is seen.
On the iTunes dialogue box that appears, select the "restore" option. iTunes will restore your iPad after installing the relevant tools to use.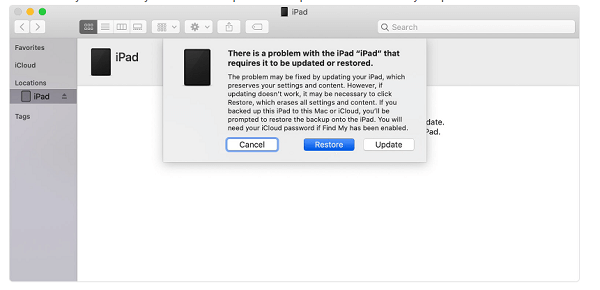 If your iPad exits the recovery mode, you can repeat the steps above to put it back into recovery mode. The drawback of using this method is that without a backup, all your data will be lost.
Part 3: Erase Forgotten iPad Passcode via Find My iPhone (iCloud)
The Find My feature can also be used if you don't have iTunes installed on your computer. As long as this feature was enabled on your iPad, you can use it.
The steps are as follows:
Visit Find My iPad using any website or another iPad that has the app.
Use your credentials to log into the iCloud account.

Tap on the "All Devices" link, and from the list provided, select your iPad.

Click on "Erase iPad"

On the pop-up window, confirm the request by clicking on 'Erase"
If you are using the app for Find My iPad, select your device from the list of devices and click on actions. Select the "Erase iPad" option and confirm it.
This method requires you to have turned on Find My iPad before using it. Otherwise, it may not work.
Part 4: Unlock iPad without Passcode via Mobitrix LockAway (Most Effective)
The methods explained above can help you access your locked iPad, but most of them have many steps that are a little bit complicated, and this may make it hard for beginners to use them.
To deal with this drawback, a more efficient tool is introduced, Mobitrix LockAway.
Mobitrix LockAway is very effective, and on top of that, the steps are easy to follow, making it suitable for all people, even beginners.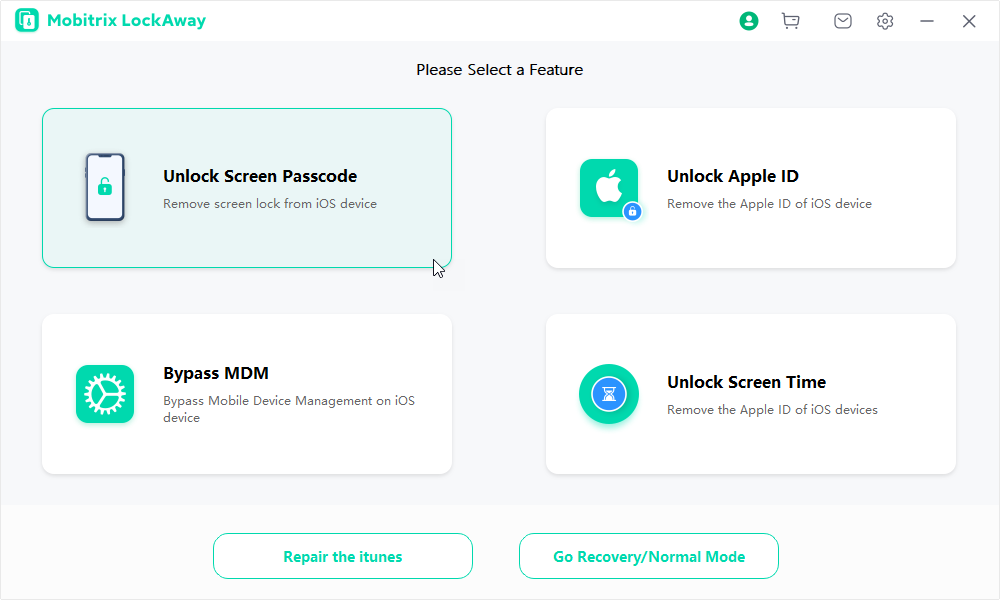 How to unlock iPad without passcode via Mobitrix LockAway:
Download and Install Mobitrix LockAway
Click on "Unlock Screen Passcode" in the main menu
Start removing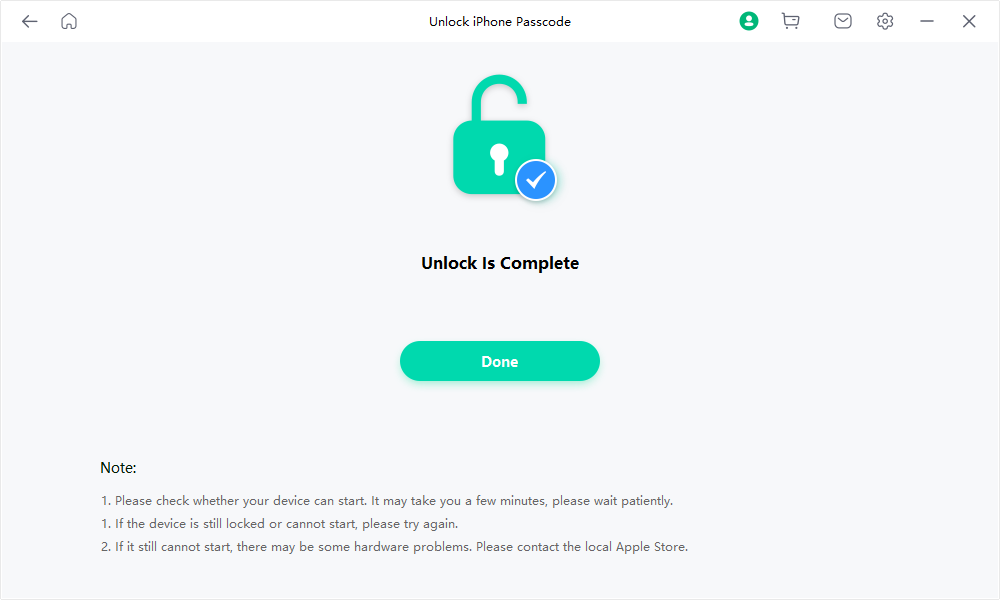 Advantages:
It has a few steps that are very simple and easy.
It is sueper effective and guarantees a high success rate to unlock iPad/iPhone.
It is 100% secure, meaning your data privacy will not be violated in any way.
It can remove different kinds of passcodes such as Touch Id, Face ID, or alphanumeric passcodes.
It enjoys the most competitive price across the industry
Summary
To conclude, this article has shown you how to access your iPad without a password. The different methods that can be trusted have been outlined above.
Among the explained methods, Mobitrix LockAway is the recommended one because it is simple and efficient. With this article, you don't have to be worried anymore about your disabled iPad.