If your iPhone says "iPhone is disabled connect to iTunes", it means you no longer have the opportunity to enter your passcode, even if you know the correct answer to it.
You can reset your iPhone via Recovery Mode or iCloud to remove the passcode. But resetting the iPhone will delete all the data.
This article will detail the pros and cons of each method as well as the steps, and an approach that does not require data deletion.
Have you ever faced the situation when you suddenly pick up your phone and see the message iPhone is disabled connect to iTunes or try again in a few seconds?
This usually happens when you try to unlock your phone several times. Or the phone in your pocket may be accidentally touched and disabled.
When I faced this situation I searched on Google as we all mostly do to solve our queries. Most of the tutorials revealed that the only option is to unlock the iPhone by deleting its data. Gosh! I didn't want that.
Well! Ultimately I unlocked my iPhone successfully and would love to share four effective methods to unlock a disabled iPhone. You will be delighted to know that one of these methods will NOT delete your data. Here I have come up with this killer article. It's just a one-click to the solution. In addition, you will learn tips to avoid that terrifying "iPhone is disabled connect to iTunes" error on your iOS smartphone device.
| Method | Apple ID & Password | Estimated time | Delete Data or Not |
| --- | --- | --- | --- |
| iTunes/Finder | Yes | A few hours | Yes |
| Mobitrix LockAway | No | 30 minutes | Yes |
| Mobitrix iPhonePass | No | 1 hour | No |
| Find my iPhone | Yes | 30minutes | Yes |
Part 1: Why did my iPhone say " iPhone is disabled connect to iTunes"?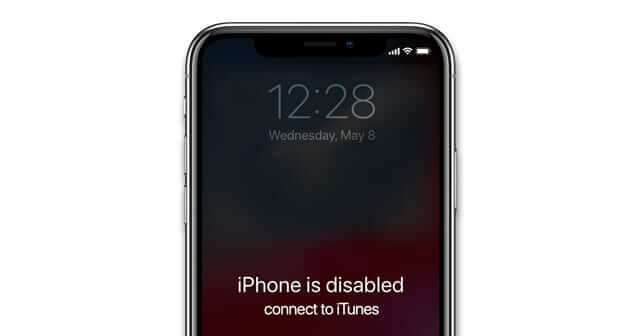 Most importantly, to unlock your phone, you must use the correct passcode, facial recognition, or a touch ID. Sometimes your iPhone is disabled when it detects many wrong passcode attempts or some suspicious activity. To be concise, iPhone gets disabled because of two scenarios:
Intentional password entry

This usually happens when you continuously enter the wrong password because you have forgotten it. Or your phone is owned by someone who does not know its password and ends up trying wrong passcodes on your phone.

Inadvertent password entry

Unintentional passcode entry sometimes happens when your phone's screen or touch sensor is accidentally touched and you end up picking up the phone indicating the " iPhone is disabled connect to iTunes"error.
However, if you can't unlock the phone after several attempts, the iPhone gets automatically deactivated.
After making 10 consecutive wrong password attempts, even if you recall the password at this time you can only choose to reset your iPhone.
Part 2: How to fix " iPhone is disabled connect to iTunes"?
Moreover, the method recommended by Apple is to put your device in recovery mode with iTunes or Finder and set it up again. And I suggest you understand its pros and cons before deciding whether to use it.
Advantages
This method is recommended by Apple.
I found this method to be safe and secure.
It didn't charge me anything and was free of cost.
Disadvantages
The process is a bit lengthy and requires a few hours to complete.
I experienced that the success rate is very low.
This method will wipe all of your phone's valuable data.
You may also have to face many other problems, like 
Problems in iTunes like "to allow access, respond to iPhone
When you are trying to back up the iPhone in iTunes, you may face issues like "iPhone is locked with a passcode, please try again".
Steps:
Prepare a Mac or PC
Find your iPhone in Finder or iTunes on your computer to which it is connected. When you see the option to restore or update, select "Restore".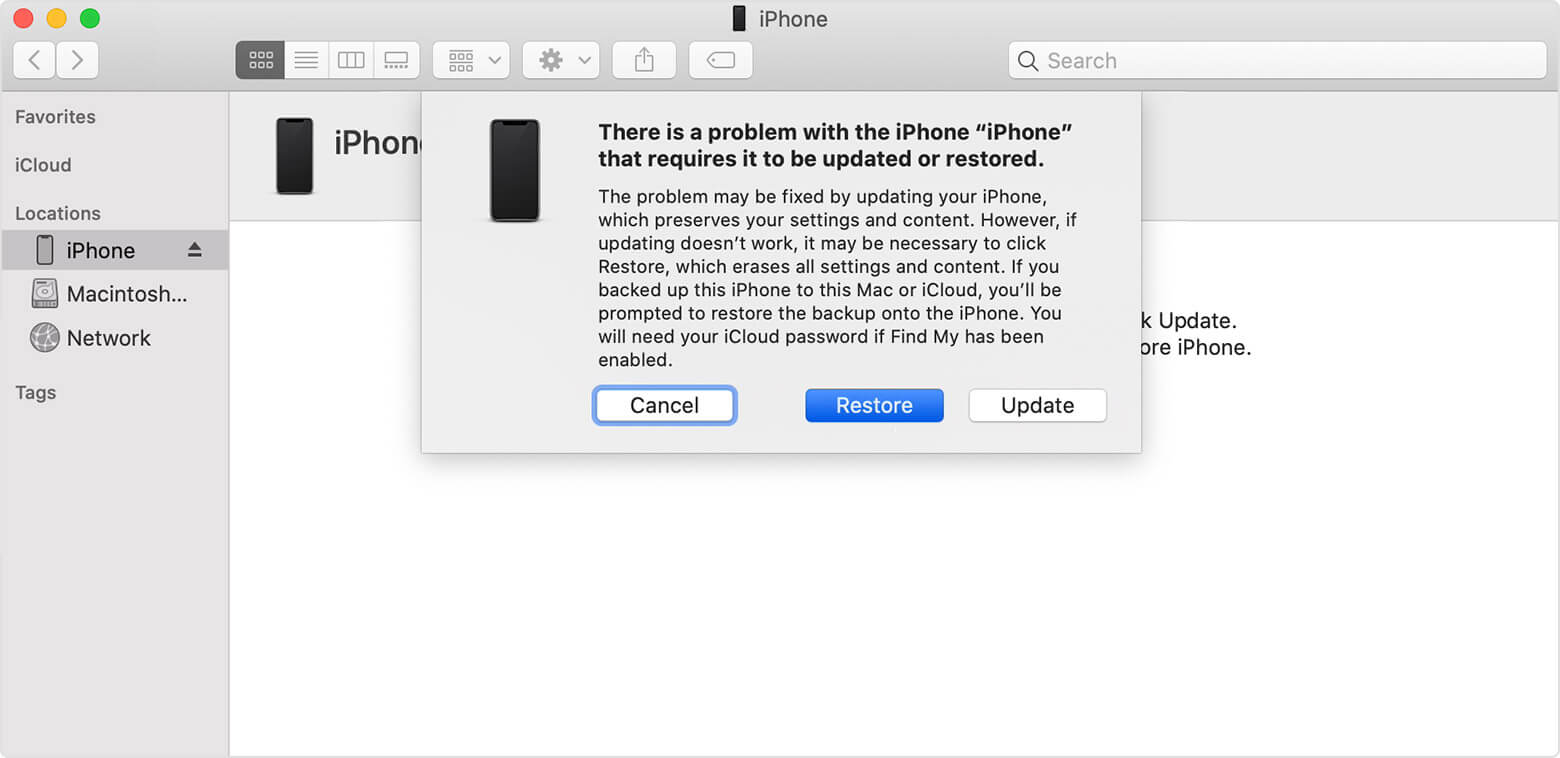 Although this technique solved my problem of unlocking my iPhone, firstly it took a lot of time to complete the unlocking process and in the end, I was deprived of all my data. Hence, I found this technique inefficient. I then found a way to unlock the iPhone without iTunes. Let's get into the details.
Part 3: How to Solve the "iPhone is disabled" Problem Without iTunes/iCloud?
Due to the inefficient result with the iTunes method, I found a way to unlock my iPhone without iTunes.
With PC & No iTunes: Mobitrix LockAway
Are you tired of the "iPhone is disabled" notification? I have found a method to unlock an iPhone without a passcode via the Mobitrix LockAway method. Your iPhone lock will permanently be removed with Mobitrix LockAway whether it is a forgotten password, too many attempts on entering Apple ID, or a used iPhone.
What does Mobitrix LockAway do?
It helps in quick unlocking of iPhone passcode, face ID, and Apple ID.
Mobitrix LockAway Advantages
According to my experience, it is a fast and efficient way to unlock your phone which usually takes around 30 minutes.
It proved to be 99% successful for me and others whom I recommended this method.
No password or authentication ID was required when I opted for the process.
This process only takes a few simple steps and you have access to your phone within a few minutes without any frustration.
Steps:
Download and Install Mobitrix LockAway, choose "Unlock Screen Passcode".
Connect iPhone/iPad to Computer.
Download and extract Keyfile Package and then start removing the lock.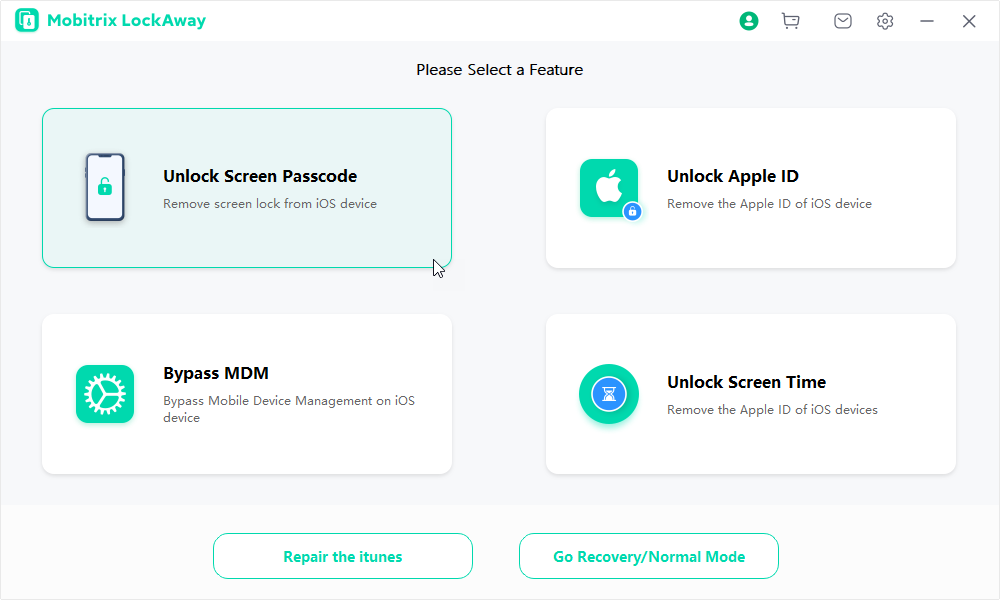 Using Mobitrix LockAway proved to be a good experience for me to successfully unlock my disabled phone as it was easy to follow, fast to perform, and accurate in the result.
If the user has not recently backed up the data, he can use the next method which does not require deleting the data i.e, iPhonePass. This method needs to jailbreak the iPhone.
Part 4- How to unlock a disabled iPhone without Data Loss? (Mac Only)
Mobitrix has launched a tool called iPhonePass to unlock a disabled iPhone without losing any data. It protects your phone data, making your life easier without getting frustrated.
Advantages
The entire unlocking process typically takes around 30 minutes.
There is no need to provide passwords or authentication information.
It is completely free and easy to use.
Unlocking processes don't result in the loss of data.
The success rate is 99%.
Disadvantages
This process is not supported for phone models after iPhone X.
You might take the risk of turning on and off the jailbreak status.
Not available for Windows.
Steps:
Preparation Before you Begin: This is what you need before you begin the process of unlocking your phone without deleting your data.

A MacBook.
An iPhone pass and jailbreak tool checkra1n.
Download the above lock detection tools.

Jailbreak your phone with checkra1n: Chekra1n is a jailbreak tool suitable for a wide range of iPhone types. Moreover, it is easy to operate and highly recommended to jailbreak your Apple device. It only runs on macOS.
The first step to jailbreak your iPhone is to launch checkra1n and click on start.

Don't set up your phone right after jailbreaking.

Connect your iPhone to MacBook, and create an Internet network for your iPhone and Mac.
Launch your Terminal in your MacBook and enter the command of "iproxy 22 44".

Now you need to use the iPhonePass tool to remove the screen lock. Double-click and remove or delete "deliphonepass.sh".

And that's it, your iPhone is unlocked and you now have access to your personal data without worrying about losing it. Now reset the code and use your phone as before.

Part 5- How to unlock a disabled iPhone without computer?

There is another method to get access to your disabled device through the "Apple's Find my iPhone" service. This method does not require a PC. Nothing is needed, just log into the website or app on another device and the problem is solved! your phone is enabled.

Advantages
It is a feature provided by Apple.
It's safe and free.
The web-side operation, regardless of device limitations.
Disadvantages:
The locked iPhone has the Find My feature enabled.
The Apple ID and password of the locked iPhone are required.
The locked iPhone is connected to the internet.
This method will delete all the data in your iPhone, which may lead to the loss of some data which was not backed up in time.
Steps to Unlock your phone:
Follow the steps and get yourself out of this frustrating "your iPhone is disabled" situation.
Visit icloud.com/find and login with your Apple ID.

At the top, tap All Devices and choose the device you wish to restore.
Select Erase iPhone, and confirm.

Provide your Apple ID password.
Once you finish the erasing process, it will automatically turn on.

At this point, your disabled iPhone has been erased and it will also remove the passcode from your device. Then you can configure the device from scratch and restore your iPhone's data and content from your most recent backup.

Part 6 FAQS about iPhone is disabled connect to iTunes

How many times is a disabled iPhone caused by a wrong password?

Check the following table to know more about entering wrong passcodes.

| Wrong passcode | Disable Duration | Method |
| --- | --- | --- |
| 5 times in a row | iPhone is disabled for 1 minute | Wait and try again |
| 7 times in a row | iPhone is disabled for 5 minutes | Wait and try again |
| 8 times in a row | iPhone is disabled for 15 minutes | Wait and try again |
| 9 times in a row | iPhone is disabled for 60 minutes | Wait and try again |
| 10 times in a row | iPhone is indefinitely disabled | Reset (erase) iPhone |

What is self-destruction mode?

This is a protection mechanism provided by Apple to prevent others from accessing your phone by guessing the password. If this mode in your phone is enabled, your iPhone will erase all information, media, and personal settings after 10 consecutive failed passcode attempts. You can set or close this mode easily. To learn more visit Apple's official website.
Summary:
By following any one of the methods discussed above, you would use your iPhone and surpass its passcode whenever it becomes disabled.
In the end, I would recommend using Mobitrix LockAway to resolve the problem as it provides a fast and efficient solution within 30 minutes, and with a 99% success rate. No passcode or any other authentication credential is necessary to carry out the unlocking process through this tool. Moreover, if preserving data is your priority I would also suggest using iPhonePass as it makes your data safe and secure.
However, if none of the above-mentioned methods seem to be efficient and helpful for you, contact Apple's support for getting assistance.