Did you forget your Apple ID? Does it bother you that you can't access all the features in your iPhone? Well, I am no stranger to forgetting important things like passwords and IDs. And I know what a pain it can be.
So, I have decided to put my research skills to use and help all of you forgetful folks out there. In the article below, I have highlighted all the steps you can take if you have forgotten your Apple ID. So, stay tuned and read ahead.
Using Your Computer to Reset or Recover Forgotten Apple ID
Use LockAway to Recover Your Apple ID
If you forgot your Apple ID and are looking for ways to recover it, the simplest way is to use a specialized tool like Mobitrix LockAway- Unlock iPhone Passcode. LockAway is easy to use and does all the work for you. You don't even have to understand complicated recovery methods.
Advantages:
Ease of use isn't the only advantage of LockAway. It comes with a lot of pros to make your life easier:
It supports all versions of iOS
It fully supports iPhone 5s-14 and iOS 12/13/14/15/16 and later.
It is user-friendly
It can solve your problem quickly
You can use LockAway for the recovery of your Apple ID without a need for a password
You can even use LockAway to remove your Apple ID or its password
Requirements:
The only thing LockAway needs is:
A computer (Mac or Windows) to install it
If you are planning to use LockAway to recover your forgotten Apple ID, then you can follow the steps below:
On your computer, download and install LockAway. Now launch it.
Select the option that says Unlock Apple ID.

Mobitrix LockAway - Unlock Apple ID - Home

Click "Start" to remove the Apple ID.

Mobitrix LockAway - Unlock Apple ID - Click Start to Remove
That's it, when the process is done, you can set a new Apple ID on your iPhone.
If you don't remember your Apple ID, you can use LockAway to even delete your ID if you want and make a new one. In my opinion, the versatility of options makes LockAway a great tool to use to solve your problems related to Apple devices.
Reset or Recover Your Forgotten Apple ID on Your iPad or iPhone
Method 1. Recover Your Apple ID with Settings
One of the most straightforward methods of recovering your Apple ID is through Settings. You can use settings on your iPhone or iPad to recover your Apple ID in case you forgot it. You can follow the steps I have mentioned below to easily recover your Apple ID using either your iPad or iPhone: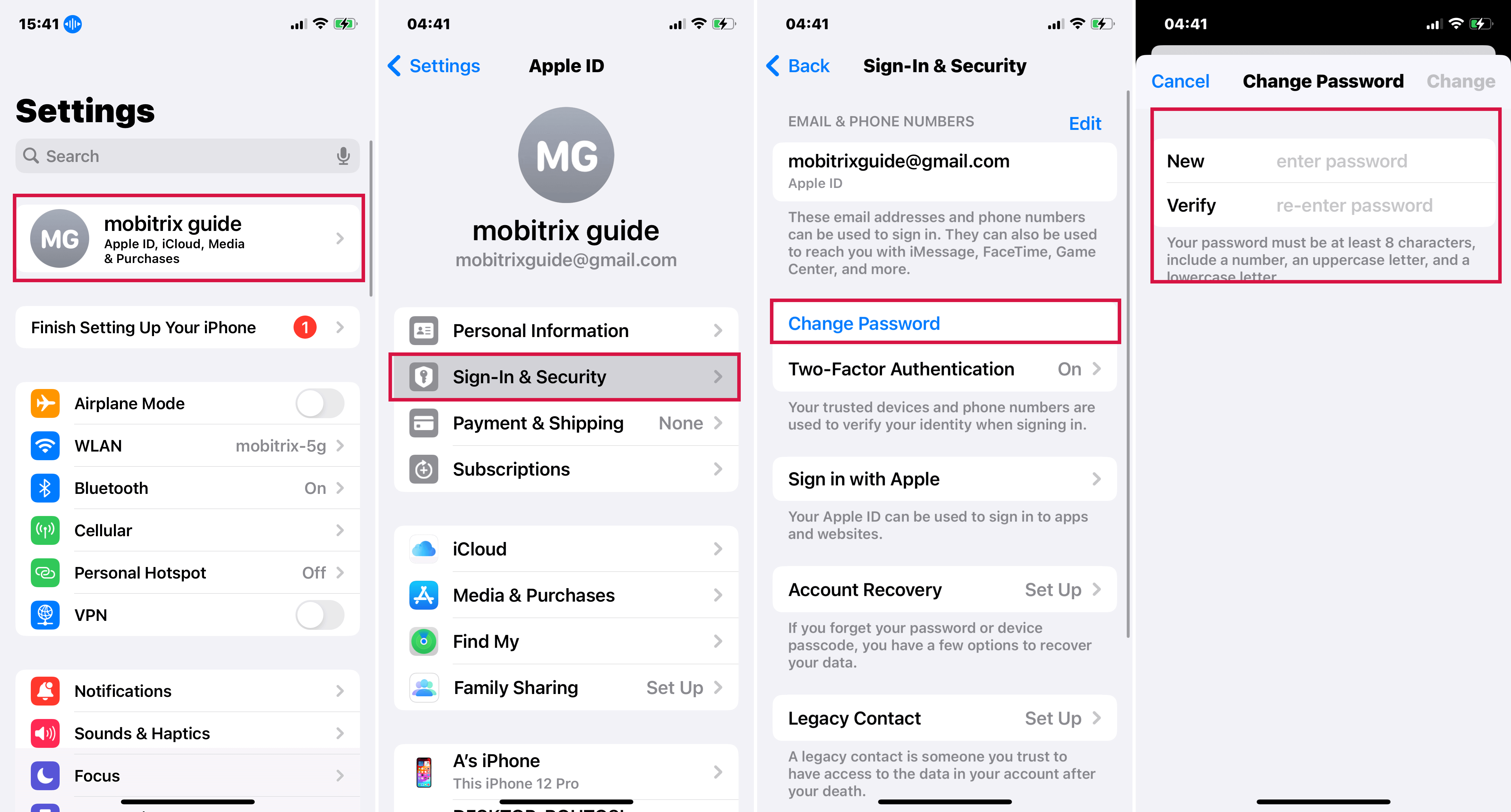 reset apple id password via iphone settings
On your device, go to Settings.

Tap on your name displayed in Settings. If you have an older version of iOS, you should tap iCloud.

Now tap on the option below password that states Forgot Apple ID or Password.

Here you will have two choices.

Situation 1:

If you remember your Apple ID but have forgotten your password, just enter your email address and then click on Next to start the password reset process.

Situation 2:

If you don't remember your Apple ID, select the choice that says Forgot Your Apple ID? Now you will be prompted to enter your full name and email address for recovering your Apple ID.

You will now also be asked some security questions associated with your Apple ID. Answer these questions as accurately as possible and then follow the instructions on the screen to finish the recovery process.

You're good t go now. You can reset your password for the Apple account as well and then use it as usual.
This is a pretty simple method that you can use to recover your Apple ID in case you forget it. The only issue arises when you don't know the answer to security questions.
If that is the case for you, don't worry. You can use one of the methods below to resolve this issue.
Method 2. Using iForget to Find Apple ID
Lucky for us forgetful folks, Apple is aware of the problem of people forgetting their passwords and Apple IDs. And so, Apple has created a website called iForget.
You can easily use this website to recover your account details when you forget your Apple ID. You can use it anywhere and on basically any device with an internet connection and a browser.
The only drawback of this method is that you will be asked to enter certain details related to your account.
To Retrieve Your Apple ID
If you want to use iForget to retrieve your Apple ID, I have clearly mentioned some steps you can follow along to:
Open the website iforgot.apple.com in a browser.
Here, you will see a small, highlighted text below the Apple ID field that says look it up. Click on this link.

iForgot - Find your apple id user name / email

On the next screen, the website will prompt you to enter some details related to your account. These can be details such as your first and last name, email address, etc.

iForgot - Find your apple id - enter your information

Fill out the details and then click on the Continue button.
If all your information is correct, the website will show you your Apple account's details, including the Apple ID.
To Reset Your Password After Looking Up Apple ID
You can use iForget for resetting your Apple ID password too. If you know your Apple ID or have already looked it up, you can follow the steps below to change its password with iForget:
Open iforgot.apple.com on your browser.
Here, you will see a field prompting you to enter your Apple ID. Enter your Apple ID here and click Continue.
Now, you will be asked to enter the phone number linked to your Apple ID. Enter this phone number and then click Continue.
Now, pick up the device that has this phone number. You will be asked to enter the passcode for this device.
Enter this passcode and then click or tap Done.
Now, you will be asked to enter your new password for the Apple ID.
Enter this password and then enter it again for verification.
Tap Next and then tap Done.
Congratulations! You now have a new password.
This method will work well for you if you remember your account details. If you don't remember your details and can't use them, then try one of the methods I have detailed below.
How to Reset or Recover Your Forgotten Apple ID via Apple Support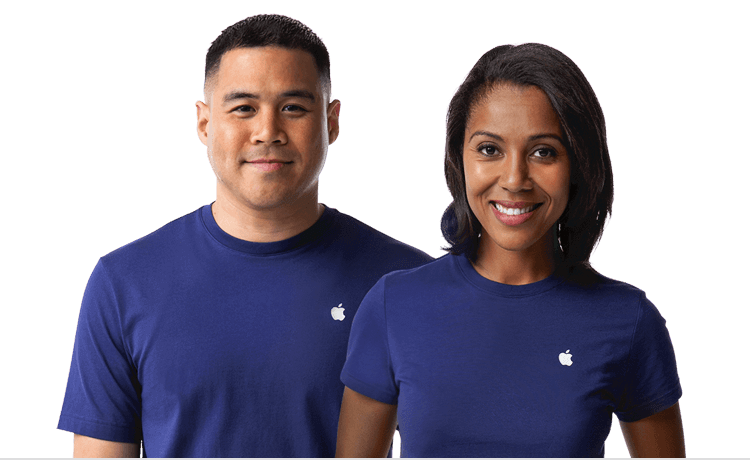 Support Apple Official Pic
If none of the above methods worked for you, you might be feeling a little helpless. But don't worry, all hope is not lost. There is another method that might work for you if you don't remember your password, email address, and security questions.
Apple ID Support is made exactly for issues like this. If all else has failed, try the steps below to recover your Apple ID with Apple Support:
Option 1
Open the Apple ID Support on any browser.
Click on the option that says Start your support request online.
On the next page, you will be given two options.
The option titled Schedule a Call allows you to set a time. The tech for Apple Support will then call you at this time.
The other option, titled Call Apple Support Later, allows you to enter your information. You can then call Apple at some other time in the future.
Whenever you talk to a representative from Apple Support, they will ask you a series of questions about your personal information and account. In most cases, the tech will be able to recover your account or reset your password.
Option 2
If you are not satisfied with online support, you can also just directly visit the Apple store and seek help from the techs over there.
It can be impossible to remember all our passwords and IDs. But you don't need to worry about it anymore. I listed all the ways that you can use to recover your Apple ID. If you go through the methods I have mentioned, you will be sure to find one that suits you.
But if you don't want the headache of following these methods, you can use Mobitrix LockAway instead. LockAway is a simple tool that does all the work for you. Just select the option you want and let LockAway solve your problems for you.