Got locked out because you forgot the password to your Android phone? The situation is really tense when you need your phone urgently to make a call. I can totally relate as I have been through this too.
Don't worry. After experimenting with a million methods, I have come up with some of the most effective in this guide only for you. Even if you don't have experience in the tech field, you can still follow these methods without any trouble.
How to Unlock Android Phones When You Forgot the Password?
Method 1: Forgot Android Passcode? Unlock It via the "Forgot Pattern" Feature
Feature
Phones with Android versions 4.4 or earlier let you unlock your device with a "Forgot pattern" feature in case you are unable to remember your password.
Requirements
For this method, your Android phone must have a secure internet connection. Also, you must remember your Google credentials such as mail and password.
Steps:
Enter wrong passwords on your Android phone till it is disabled with the prompt "Try again in 30 seconds."
Click "Forgot password" at the bottom of the screen. A Google sign-in prompt will pop up.
Enter your Gmail account and password.
Now, go to the screen lock settings and set a new password that you will easily remember.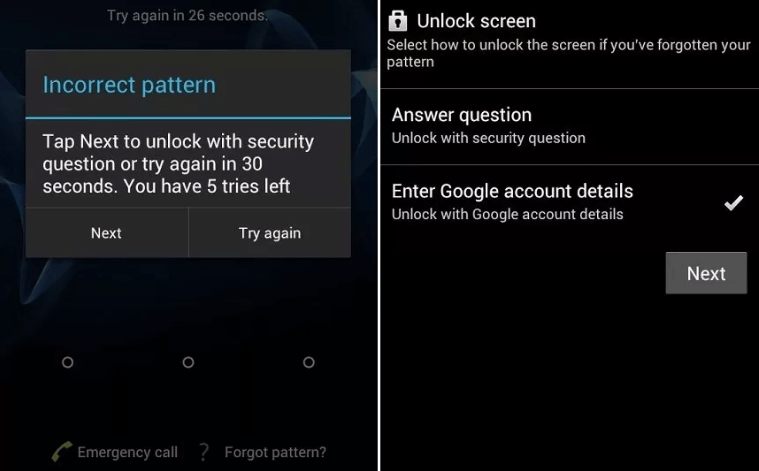 unlock Android phone with forgot pattern
Unfortunately, if you have a newer version than Android 4.4, you won't be able to see this option. Don't worry there are more methods in the line so keep reading.
Method 2: Unlock an Android Phone Remotely via Find My Device
Resetting your Android phone can help you get access to it back. But in my opinion, you must keep this method as your last choice because it deletes all your data and you can lose it if you don't have a backup.
Requirements
Your device must be connected to a secure internet connection.
Location services must be turned on.
Google credentials i.e. Gmail and password are required to sign in.
Steps
Go to www.google.com/android/find on any phone or web browser.
Sign in to your Google account.
Select your Android phone.
Locate and tap "Erase device"
Confirm your choice.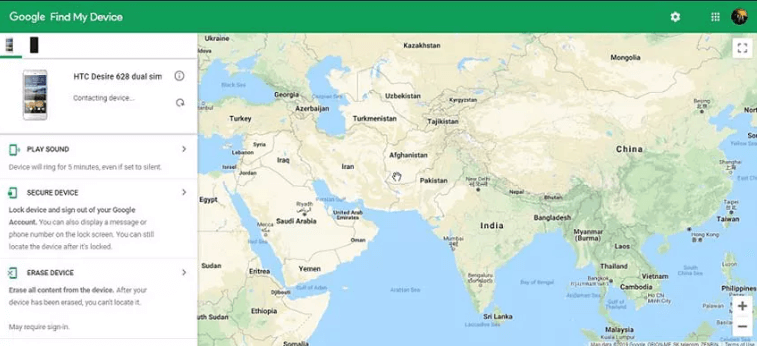 unlock Android via find my device
Note:
Erase option in "Find my" will delete all your data on your phone and you can set it up as a new device. If you keep backing up regularly before you got locked out then you can restore all your data.
Method 3: Unlock a Samsung Phone via "Find My Mobile"
Did you lose control over your Samsung phone as you forgot the password? Nothing to worry about because you can still manage to control your device remotely with "Find my device".
Requirements
A secure internet connection on your Samsung phone.
Your phone must be signed in to your Samsung account before getting locked out.
Steps
Go to www.findmymobile.samsung.com
Sign in to your account
Select "Unlock my device"
Follow the on-screen prompts.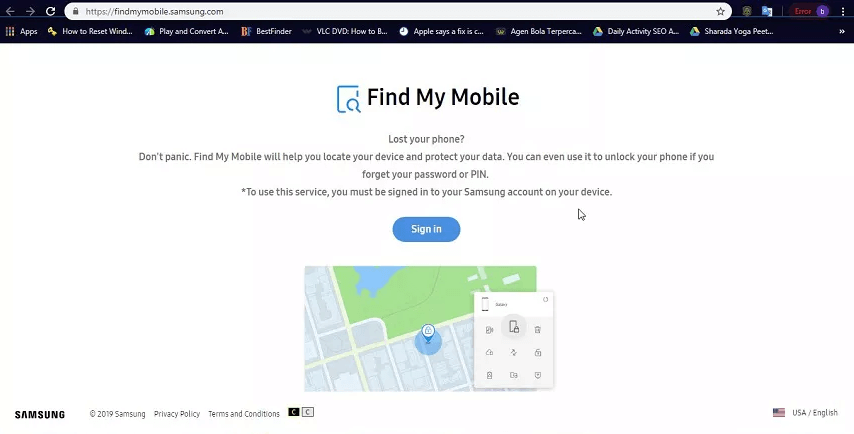 unlock Android phone via Samsung Find my mobile
Is your Samsung phone running on Android 4.4 or earlier? If yes, you must have set a backup pin. Follow these steps to unlock your Samsung phone with backup:strong>
Enter wrong passwords till you see the backup pin option at the bottom of the screen.
Click Backup pin
Enter your Backup pin
Follow the prompt to set a new password
Method 4: Unlock an Android Phone via Smart Lock
A smart lock set on a phone or device can really help you get rid of the tension of forgetting your passcode. It offers 4 different gestures that help you in unlocking your password.
Requirements
The smart lock must be set before you get locked out or forgot the password.
Steps
To set up a smart lock:
Go to the settings of your phone.
Open security and find the Smart lock.
Choose one of the smart gestures from the list and next time you can unlock your Android phone with a smart lock.
Unlock Android phone with smart lock
Method 5: Factory Reset to Unlock an Android Phone
Factory resetting your Android phone means deleting all the data on it. This means it will clear all the settings and delete the password so you can access it again.
Steps
Turn off your Android phone
Press the volume down and power button at the same time to see the Android bootloader's menu.
Use Volume up and down button to navigate through the menu and locate the "Wipe data/factory reset" option.
Use the power button to select the reset option.
Follow the on-screen prompt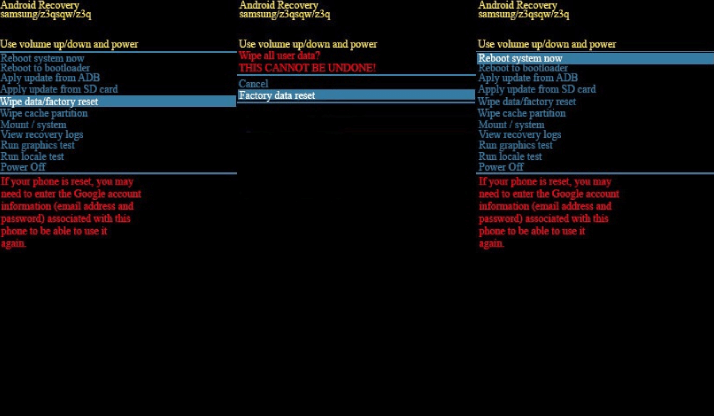 unlock Android phone via factory reset
Tips on Minimizing Future Lockouts
Prevention is better than regretting later and looking for a solution. The methods explained above can help you get back into your Android phone but won't make you remember your password in the future.
To help you in this situation, here are some prevention ways for future lockouts:
Write down your password on a piece of paper and hide it somewhere safe.
Ensure smart locks or Google sign-in to easily reset the password next time.
Keep a password that is strong but also easy to remember for you.
Make regular backups as a safe step in case you need to factory reset your phone.
How to Unlock an iPhone When You Forgot the Password?
Android phones and iOS devices work differently and also have different procedures to unlock if you forgot the password. As I explained the unlocking methods for Android phones above, here is a way for iPhone users to unlock in case it is disabled or they are locked out.
Unlock a Disabled iPhone Without iTunes and iCloud
Using a professional unlocking tool to unlock your iPhone can help you get rid of iTunes and iCloud's disadvantages. Mobitrix LockAway is a dedicated unlocking tool designed for iOS users to remove the screen lock in 20 minutes. Privacy concerns and security issues are totally resolved by the experienced R&D team of Mobitrix.
Mobitrix LockAway is your go-to if:
You forget your iPhone's screen passcode.
Your iPhone is disabled because you attempted too many incorrect passcodes.
You got a second-hand iPhone
Your Face or Touch ID is malfunctioning
Your iPhone screen is cracked
Steps
Download and Install Mobitrix LockAway
Click "Unlock Screen Passcode" in the main menu

Unlock screen passcode home

Click Start to remove iPhone Passcode.

Unlock screen passcode product

The iPhone Unlocking is complete!

Unlock screen passcode unlock is complete
Advantages
You do not need iCloud sign-in or iTunes
People with a non-tech background can also follow along with the user-friendly interface.
Unlocks your iPhone in 20 minutes with a 99% success rate.
Your privacy and data are 100% protected and safe with Mobitrix LockAway.
It offers full support for iPhone 5s-14 and iOS 12/13/14/15/16 and later.
Forgetting your password is a total mess if you don't know how to get over the situation. Luckily you have gone through this guide and know how to handle the situation. All you have to do is stick to a method that suits you and follow the step I listed.
Once I was in the same situation as I forgot the passcode to my iPhone 13. It was my lucky day as I came across Mobitrix LockAway while searching for a solution and to this day I have never used any other way to unlock my device when I get locked out.