Too many wrong passcode attempts at unlocking your iPhone will disable it and you will be locked out of your iPhone with the only option to restore it.
Apple offers an official method to solve the issue by restoring it with iTunes but it can be problematic if you do not back up regularly.
LockAway is much faster to remove a disabled iPhone without iTunes in just 20 minutes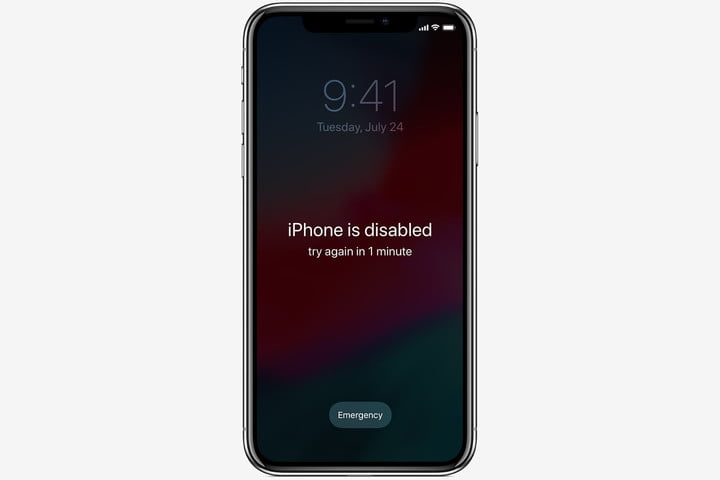 iPhone is disabled
As a senior technician, repairing and solving iPhone issues is my daily thing. People start to panic when they are unable to access their iPhone after it is disabled. Forgetting your passcode or anyone else making wrong attempts to get into your iPhone is the most common reason I come across.
How to unlock a disabled iPhone when you forgot your iPhone passcode? Extensive experience in solving such issues is a piece of cake for me. And it can be for you too if you read this article till the very end. Let's dive right in!
What are the reasons behind the "iPhone is disabled?"
Is your iPhone showing a screen message that it is disabled? Well, the reason is that you or someone has probably made a lot of wrong attempts at passcode to unlock your iPhone. The iPhone will get disabled for 1 minute to 60 minutes depending on the number of wrong attempts you have made between 6 to 10 attempts.
Besides making wrong attempts at passcode, there is one more thing that can get your iPhone account disabled. If you do not remember the password to your iCloud account then things will also get bad since it disables your iPhone too. The worse news is if you have iCloud on all your iOS devices, getting the password wrong on one device will cause all the other attached devices disabled.
Warning: If you have enabled the "Erase Data" in Passcode Settings then do not take it to the extreme and waste all your 10 attempts to guess the passcode because it will trigger the feature automatically and your data will be deleted permanently.
Unlock Disabled iPhone with Computer
Are you getting confused between so many methods to try from? Let me ease this pressure on you.
The following method is my personal choice as I have been using this method for a couple of months to solve iPhone issues for my customers. It does not limit you to anything as well as unlock your iPhone with a single click.
Method 1: Unlock A Disabled iPhone Via Mobitrix LockAway (The Fastest Way)
Wondering what Mobitrix LockAway-Unlock iPhone Passcode is? Let me introduce this exceptionally time-saving and effort-saving method to you.
Mobitrix LockAway is a professional unlocking tool that helps you bypass the screen lock for your iPhone within 20 minutes. It is specially designed for people who do not have a tech background. The tool is exceptionally easy, and fast as well as ensures 100% Privacy Protection and security while unlocking your disabled iPhone.
Trustpilot
Why Do I Recommend Mobitrix LockAway?
It does not require iTunes.
The interface of Mobitrix LockAway is user-friendly and has a few steps only.
The processing is fast and takes only 20 minutes.
It 100% keeps up with your privacy.
The method comes with a 100% success rate.
It supports iPhone 5S to iPhone 14.
It is fully compatible with multiple iOS versions 12/13/14/15/16 and later.
Steps
Connect your iPhone to your computer via a USB
Choose "Unlock Screen Passcode"

Use Mobitrix LockAway to Unlock Screen Passcode

Start Removing Screen Lock

Unlock Screen Passcode

Remove Screen Lock

Complete Unlocking Process

Unlock is complete
If you ask me, I will choose Mobitrix LockAway over any other method. It didn't fail to solve my issue once till now, and the wide range of problems it covers is always my favorite. If you are in a hurry and looking for the quickest solution then Mobitrix LockAway is your best choice. However, if you want to explore some free methods then I have summarized them too. Read Further!
Method 2: Unlock Disabled iPhone via iTunes Recovery Mode
Trust me, iTunes is definitely not a user-friendly method. Basically, Apple iTunes acts as a media software for iOS users to sync between devices and keep a backup of their data. Although updating or restoring via iTunes recovery mode can solve some issues at times, it has a great possibility to cause multiple other fatal errors like corrupting the system of your iPhone as I have experienced this many times. You may spend a few hours on it but fail in the end. But if you still want to explore and experiment with it then here are the steps:
Steps:
Connect your iPhone with your Computer, and it will launch iTunes.
Choose your device from the list.
Put your iPhone in recovery mode by following the steps according to your iPhone model.
iPhone 8 or later: Press the volume up and then the down button. Press and hold the power button.
iPhone 7: Turn your iPhone off. Press and hold the power button.
iPhone 6s or older: Turn off your iPhone. Press and hold the home button.
Select the restore option and wait for it to finish the procedure.

restore iphone via iTunes synced
Warning: You might want to experiment with the iTunes method but if you love your iPhone, I won't recommend you to try this method because while experimenting with the method, iTunes couldn't detect my device at first then it got stuck during the procedure. Not only this, it took almost two hours to process and still the issue was not solved.
Method 3: Unlock Disabled iPhone Via iTunes/Finder Backup
iTunes or Finder method might work if your iPhone has synced with your computer previously. This method works with the latest version of iTunes or a Mac that's been updated to Catalina or later versions.
Steps for iTunes:
Connect your iPhone to the previously synchronized computer and launch iTunes.
Select your iPhone and choose to see the Summary.
Choose Restore backup by following the prompt in iTunes.
After restoring is complete, your passcode will be erased from your iPhone and all of your data will be restored from your recent backup.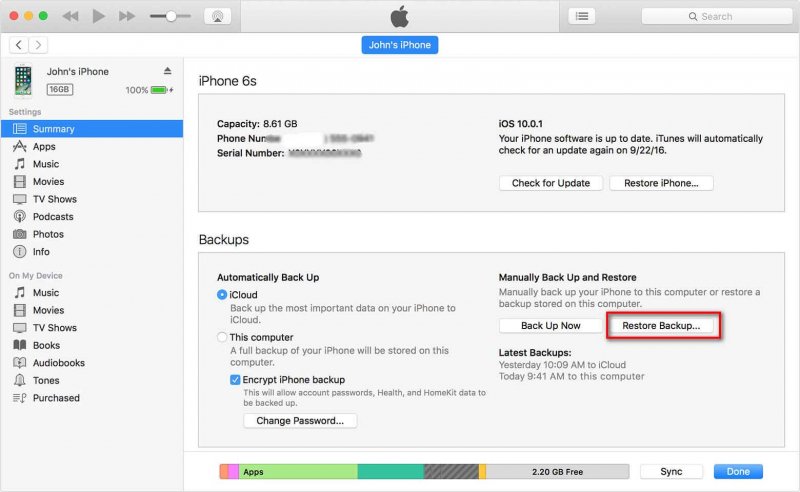 iTunes Retore Backup
Steps for Finder:
Connect your device to the Computer and select to trust the Computer.
Locate your device in the Finder menu and choose the restore backup option.
Keep the device connected till the procedure is completed.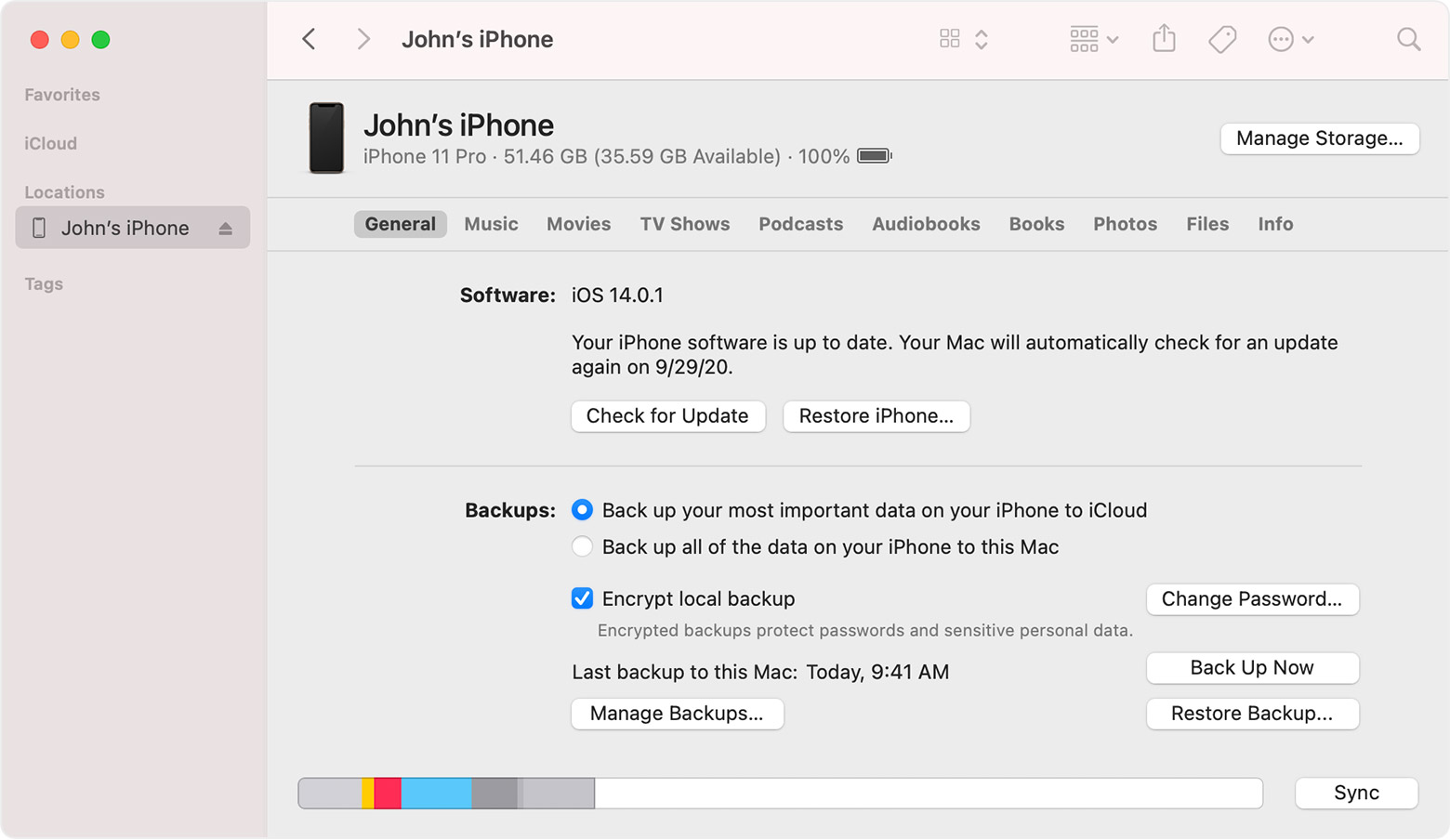 Finder Retore Backup
Warning: If you do not have a mac that is updated to Catalina or later versions then this method will not work for you.
You might not have access to a computer all the time, but there is nothing to worry about because I thought about everything in advance. Here I have listed some more methods you can try without your computer to unlock your disabled iPhone.
Unlock Disabled iPhone without Computer
Method 1: Unlock Disabled iPhone Via Find My iPhone (iCloud.com)
This method is absolutely possible if you have enabled Find My previously as well as you remember your Apple ID and password. If you don't remember your Apple ID or password, it is impossible to follow this method. Let's see how to unlock disabled iPhones via find my iPhone (iCloud.com)
Steps
Go to the iCloud.com website.
Sign in with your Apple ID and password.
Give access to authorization and choose the trusted device option.
From the iCloud services, select "find my iPhone"
Choose the "Erase iPhone"option to get your iPhone back.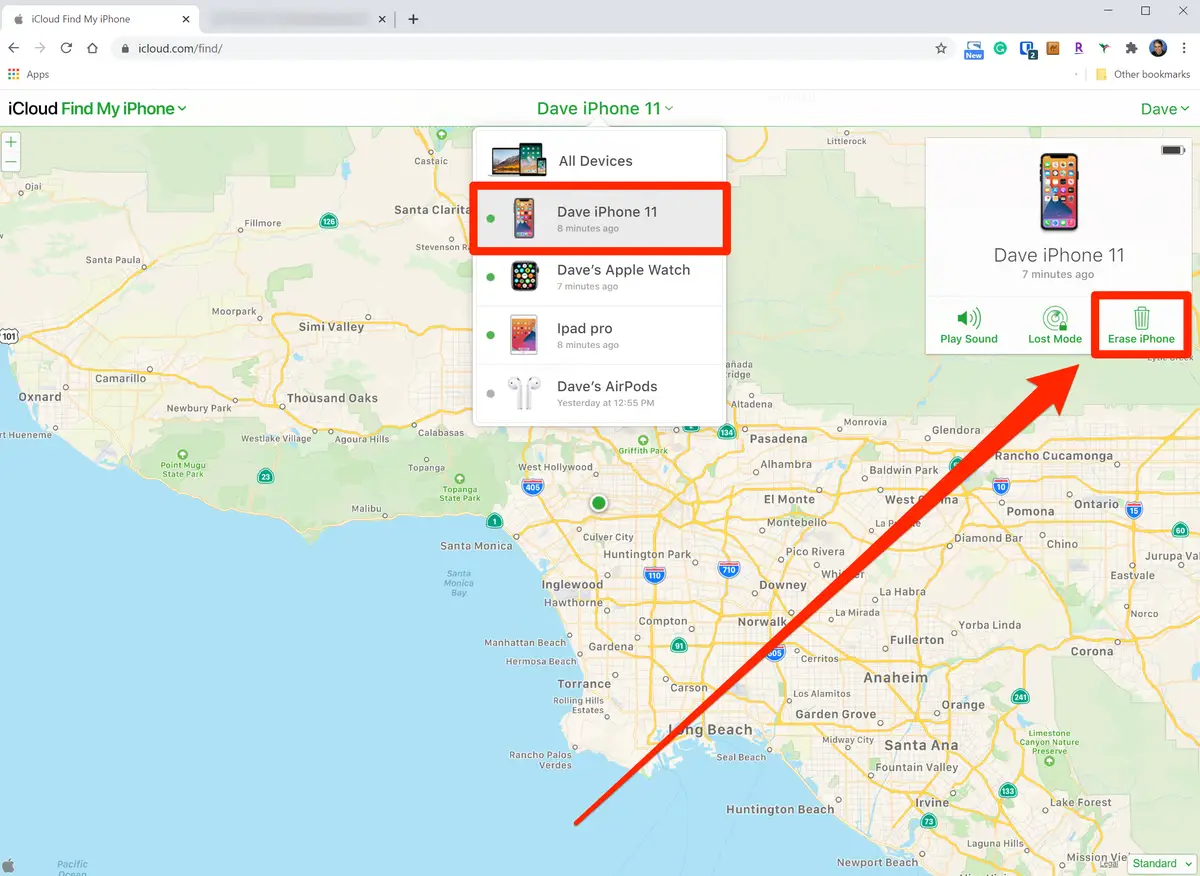 Erase iPhone
Warning: The method is purely effective but let me tell you that it will completely delete all the data on your iPhone, causing you to lose precious information.
Method 2: Unlock Disabled iPhone Via Find My iPhone (App)
Have problems while solving the problem with the iCloud.com method? Don't worry, here is the 'Find My App' method you can try. The steps to this method are listed as follow:
Steps
Launch the "Find my iPhone" app.
Choose your device from the drop-down menu.
Select "erase my iPhone" to solve the disabled issue.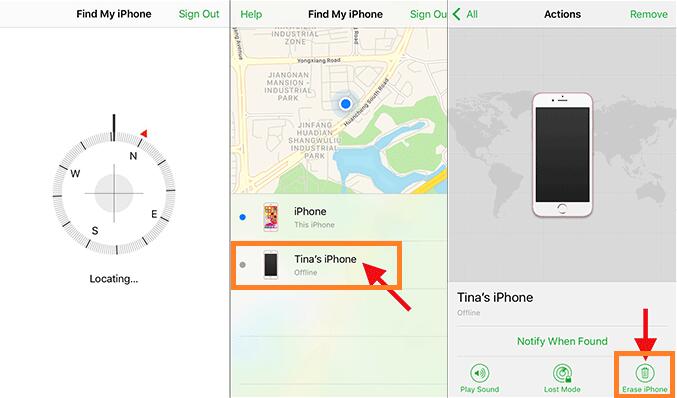 "Find my iPhone" App
Warning: The method is pretty simple and easy but will cost you heavily if you don't have a backup to restore after erasing your iPhone, as it will also delete all your data on the device.
Tips to Avoid Getting Your iPhone disabled again
What's better than looking for a solution? Avoiding the problem. Here are some tips that you can consider to avoid getting your iPhone disabled again:
Touch ID or Face ID is the best way to avoid multiple wrong attempts if you are clumsy in remembering passwords.
Turn off gestures like tapping or raising to wake, so it does not accidentally wake in your pocket and enter wrong passwords. If you do not know how to turn off tap/raise to awake option then here are the steps:

Launch the Settings on your iPhone.
Locate Display & Brightness.
Toggle the Wake/Raise option to turn it off.

Keep passwords that are short and easy to remember, so you do not always forget them and get stuck.
FAQs:
Hurray! All the methods are done. You have successfully learned how to unlock disabled iPhone. I can assume you might be having some questions. Please don't panic, and I am here to answer them so you can have the best experience while solving the issue.
What are the chances of my disabled iPhone being recovered?
Methods like iTunes and recovery mode do not come with a good success rate and guarantees to solve the issue but Mobitrix LockAway offers 99% success rate so you can operate your iPhone again without any complexities.
Do I have to worry about privacy of my data while following the methods?
Of course not. Some other methods available on the internet might breach your privacy but Mobitrix LockAway 100% keeps up with your privacy standards and makes sure your data is safe.
How to unlock an iPhone if the touch-screen is not working?
Setting up a password that you do not have to remember is a pretty good idea such as touch ID. To set a touch ID, follow these steps:
Open your iPhone'sSettings
Go to touch ID and passcode tab.
Enter your code and add a new fingerprint.
What to do if my touch ID is not working?
If you are unable to set a touch ID on your iPhone to protect it then face ID can also prove to be a good option. However, the Face ID option is only available on iPhone X and newer models.
Summary
5different methods to solve a single problem: how to unlock disabled iPhone. This must be your lucky day as there is no chance that you won't be able to use your iPhone again. But guiding you through the right path is my duty. Out of all these methods, Mobitrix LockAway-Unlock iPhone Passcode is the perfect solution for you as you will not face any difficulty such as a lower success rate, time and effort-consumption or complex procedures.