Logging out of our Apple ID is frequently something that happens. You might want to lend your iPhone or iPad to someone else or sign in with a different account, among other things.
But if you forget your Apple ID password, the Apple ID can make you go crazy. Or, if you are using a second-hand device with the Apple ID of its previous owner, you won't be able to sign out and log into your own one.
In this article, I will show you how to log out of your Apple ID without a password effectively.
Why Do You Need A Password to Sign Out of The Apple ID?
All the Apple devices have the "Find My" feature built into them for security reasons. Its job is to look for lost or stolen Apple devices. To turn off this feature, you must provide your Apple ID password. This step is crucial to maintain your privacy and to ensure that your device is in safe hands.
Although you can't turn off this feature without your Apple ID password. But, you can re-access your Apple ID by trying a few alternative methods. Depending on your situation, you can either:
Erase all your data along with your Apple ID.
Reset your Apple ID password to sign out with a new Apple ID.
If you have a second-hand Apple device, You can ask its previous owner to sign out from the device.
Trustpilot
Why Do I Recommend Mobitrix LockAway?
Can't provide all this security information?
Are you looking for an easy and quick fix for signing out the Apple ID?
Try Mobitrix LockAway. A software that can log out the Apple ID on your iPhone/iPad within 20 minutes!
Following these ways, you can sign out of your Apple ID without the need to enter your password. But, by doing so, all your data will get erased.
Way 1 Using iTunes to Restore Your iPhone to Sign Out of The Apple ID without A Password
The first method to sign out from your Apple ID is with iTunes. You would need a PC or a Mac for this purpose. A cable is also required to connect your Apple device with the computer.
Follow the steps if you want to sign out with iTunes.
Steps:
Prepare your Mac or PC with the latest version of iTunes or Finder.
Turn off your iPhone.
Get ready to put your device into recovery mode. Place your finger on the required buttons needed to hold in the next step.
For iPhone X or later, iPhone SE (2nd generation), iPhone 8, and iPhone 8 Plus: Press and hold the side button.
For iPhone 7 and iPhone 7 Plus: Press and hold the volume down button.
For iPhone SE (1st generation) and iPhone 6s and earlier: Press and hold the home button.
Immediately connect your iPhone to the computer while pressing and holding the correct button. Don't let go of the button.
You can release the button once your device's recovery mode screen appears.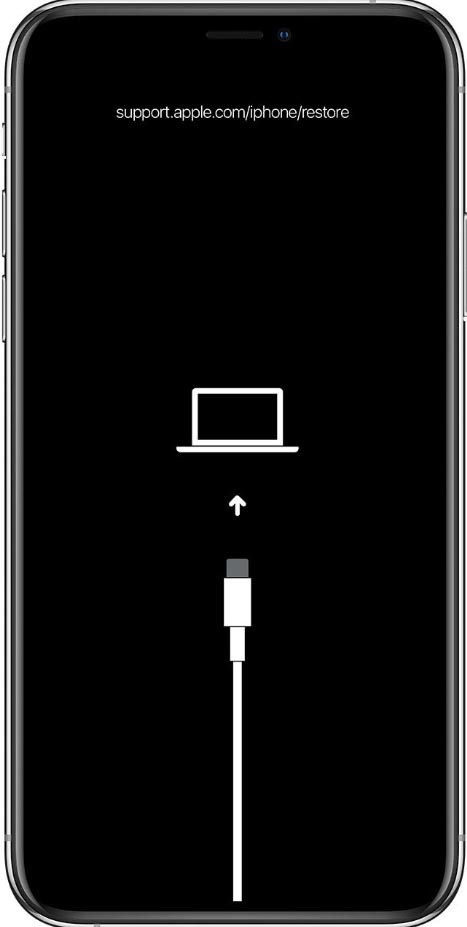 The Recovery Mode Screen
Look for your device in the "Finder" or "iTunes" on your connected computer.
Choose "Restore" When you get the "Restore or Update" option.
Wait until your iPhone restores. Then you can disconnect your device from the computer and set it up for use.
Tips:
Turn off and restart your device If you see the passcode screen on your iPhone.
You will need the Apple ID and password to turn off the activation lock if the device had the Find My on.
The more data you have on your device, the more time it will take to finish. It might take a few hours—so there is no need to rush.
All your data will get deleted when you perform this method.
Restoring with iTunes often lags as its user interface isn't updated for a long time.
If restoring with iTunes isn't your cup of tea, you want to go for a different approach. The following method might suit you well.
Way 2 Quick Fix: Erase Apple ID with Mobitrix LockAway Without Apple ID Password
Mobitrix LockAway is a professional removing tool with a feature to erase the Apple ID. This tool can force your Apple ID to log out without an Apple ID password within no time. Moreover, it only takes a few steps to help you sign in with a new Apple ID.
Steps:
Download and Install Mobitrix LockAway on your iPhone/iPad.
Connect your device to the Computer.
Click "Unlock Apple ID" to begin the Apple ID removal process.

Mobitrix-LockAway: Unlock Apple ID

Clicking on "Start" will remove your Apple ID password along with your Apple ID. Then you can set up your new Apple ID.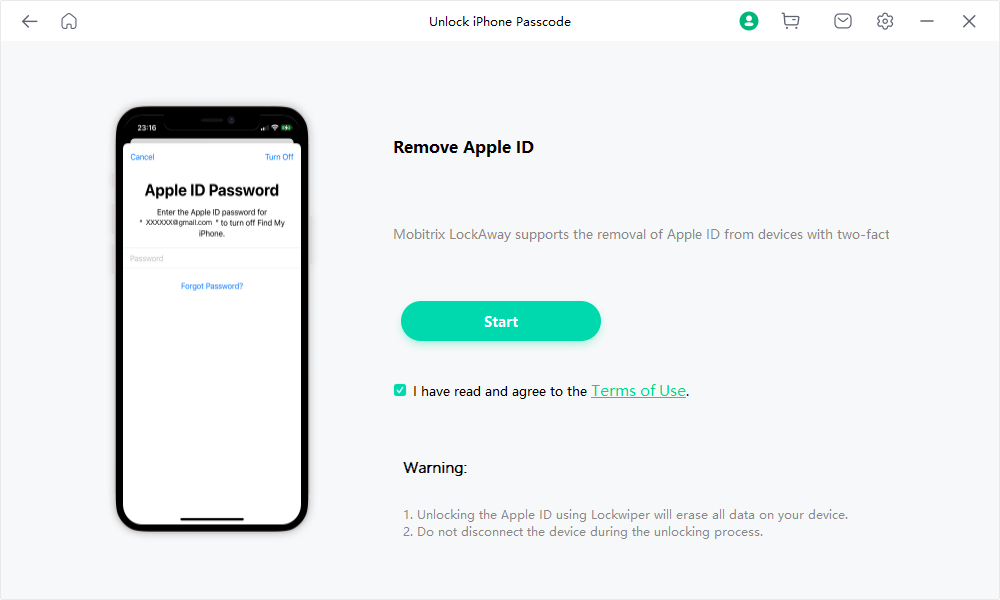 Mobitrix-LockAway: Click Start
Applicable Scenarios of Using Mobitrix Lockaway:
You have gotten a second-hand iPhone with the Apple ID of its previous owner.
You forgot your Apple ID account information as you haven't used your device for a long time.
You got locked out from your Apple ID for security reasons.
Trustpilot
Why I Recommend Mobitrix?
Fast: It's a quick-performing software and can unlock your Apple ID within 20 minutes.
Easy to use: There are no technical steps involved. Thus it's also an excellent tool for beginners.
High success rate: Has a 99% success rate ratio.
Secure to use: Enabled with 100% privacy protection technology.
It offers full support for iPhone 5s-14 and iOS 12/13/14/15/16 and later.
Signing out of your Apple ID with Mobitrix LockAway works almost every time, so it's worth trying. It doesn't waste your time. You don't have to deal with any lagging or time wastage issues.
If your only problem is, facing a forgotten Apple ID password. You can use the two-factor authentication method to reset your Apple ID password.
Way 3 Sign Out the Apple ID with A New Password
Two-factor authentication is the most used method for resetting Apple ID passwords. It's a 6-digit verification code applied to new devices to maintain security. Apple sends this code to your trusted phone number, or it may appear on your new device screen.
This code is also what you need to retrieve your Apple ID password. This way, Apple verifies that you are the owner of this Apple ID. Follow the steps to reset your Apple ID password with this method.
Steps:
Open "Settings", and click on your name.
Scroll down and choose "Sign out" > Tap "Forgot Password?"

Choose Forget password?

Enter your trusted phone number to receive the verification code.
Enter verification code.
Enter your passcode or enter your old passcode for the iPhone/iPad. (depends on whether you have turned the screen passcode on.)
Enter a new Apple ID password, and enter again to verify the password.
There is yet another method to reset your Apple ID password. It works best when:
You have a second-hand Apple device connected to the owner's Apple ID.
Or you've borrowed an iPhone/iPad from a friend signed in with their Apple ID.
With this method, you can sign out from their Apple ID remotely.
Way 4 Contact the Previous Owner to Sign Out of Apple ID:
Apple facilitates its users to synchronize their devices with iCloud. Assuming you have a used iPhone/iPad, still connected with the actual owner's Apple ID. You can request its previous owner to reset your device through iCloud. But, you need to use the "Find My" feature to track and erase your device.
Ask your previous owner to follow these steps:
Open iCloud.com in a web browser. Sign in if needed.
Click "Find My iPhone." (clicking here is essential, even if it's an iPad.) The owner might need to sign in with their Apple ID.
Click "All Devices" at the screen's top. Click on the device needed to remove.

Click all device and choose your device

Click "Erase [device name]."

Click erase iphone

Clicking on "Erase" will factory reset the device and remove it from the iCloud account.
You no longer have to worry about signing out of your Apple ID without a password. Read this article by heart and follow any method depending on your situation to fix your problem.
If you still don't feel confident enough and are afraid of messing up. You can always use the Mobitrix LockAway software. It's a more straightforward and time-saving approach to your affair. Hopefully, you find this article helpful, and it serves you best.