Businesses and organizations use Mobile Device Management (MDM) to remotely control devices. For companies, this feature is beneficial but, for users it may cause inconveniences. MDM has some restrictions and users find this annoying and opt to remove their MDM profiles. To easily aid you in removing MDM to gain full control of your device, the article has introduced the methods that you can use to achieve this.
What is MDM?
Mobile Device Management (MDM) is a feature introduced by Apple to enable administrators to remotely control their devices. The feature is used by organizations to monitor iDevices to their workers and keep the information safe and confidential.
MDM acts in favor of those in control but for the user using the iPhone with MDM enabled, you face various restrictions in using the device limiting your free use and control over the device. The restrictions are enforced and controlled by the administrator. Although the MDM profile works well in controlling the device remotely, as a user you may need to remove the MDM profile to gain control over the device, the methods discussed below will guide you. Read the article to find out.
1. Remove MDM via Setting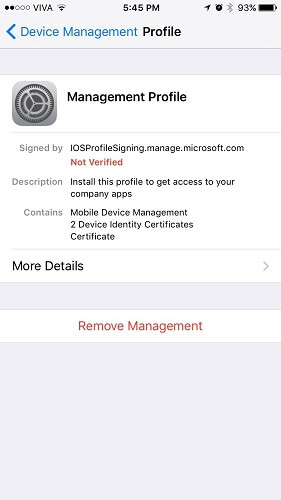 Remove MDM Management on Settings
MDM profile is created by an administrator, thus if you have an access to the administrator you can use settings to remove the MDM profile with the steps below.
1. On your iPhone, open Settings > General > Device Management
2. Click the MDM profile
3. Click "Remove Management", then enter your passcode.
2. Remove MDM via LockAway Software
MDM can also be removed by using third-party professional software, Mobitrix LockAway- Unlock iPhone Passcode, with just a few steps. LockAway is a repair tool for iOS devices that remove the MDM profile from your device instantly, effectively, and is supported by all iOS versions.
The features of LockAway are:
1) It requires no password to remove MDM.
2) It offers full support for iPhone 5s-14 and iOS 12/13/14/15/16 and later.
3) LockAway is fast, effective, and secure.
4) It has a user-friendly interface.
5) iPhone 5s to iPhone 13 support LockAway,
Having seen why you should consider using LockAway to remove your MDM profile, it's time that you learned how to use LockAway.
1) Download LockAway and install it on your computer.
2) Connect your iOS device to the computer via a USB cable.
3) Open LockAway, from the interface, select the "Bypass MDM mode".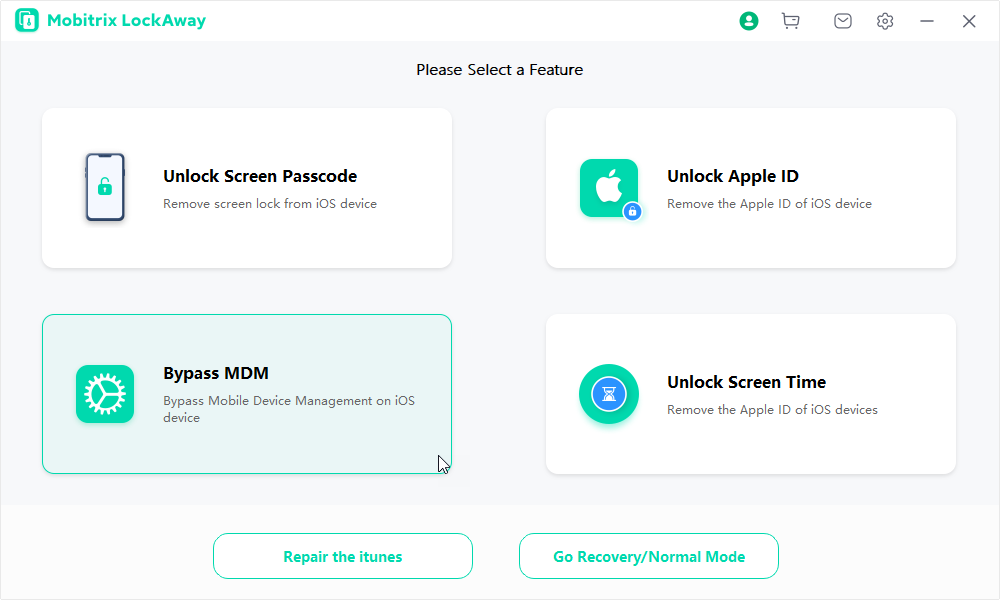 Mobitrix LockAway - Bypass MDM - Home
4) Click "Start to Bypass" but ensure that the device is currently at the Remote Management Screen.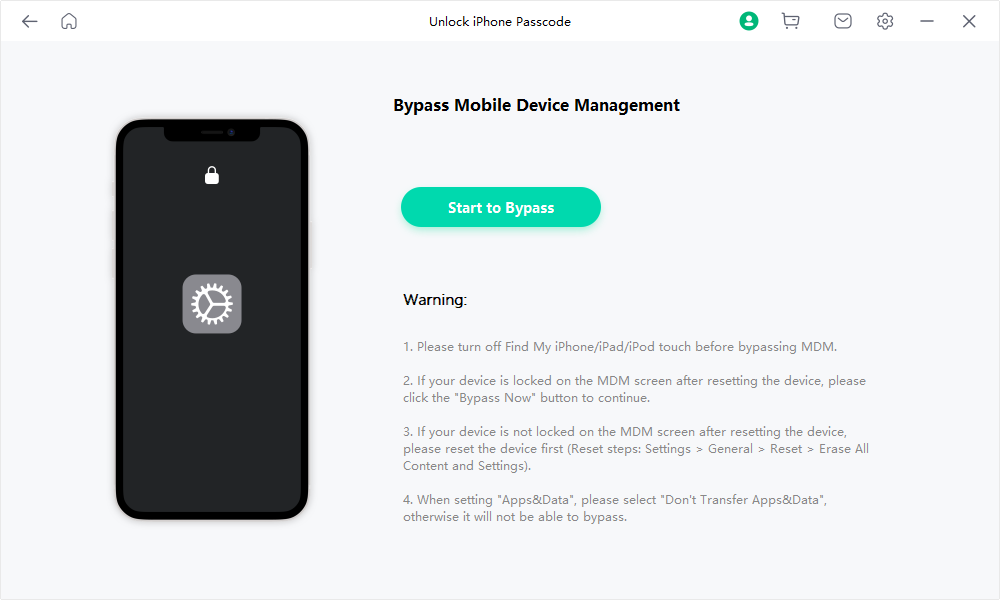 Mobitrix LockAway - Bypass MDM - Click Start to Bypass
Once the process starts, keep the device connected to the computer until it completes the MDM profile removal process. Once completed, you can now use the device with no restrictions.
With LockAway, removing the MDM profile is no longer a hassle. Moreover, it is compatible with any iOS version meaning you have no excuse against using this professional tool.
Tips regarding MDM removal
Various questions are asked regarding MDM removal, here are some of the questions and responses to address each.
1. How should I remove MDM?
To detach your phone from the MDM, do the following.
1) Open Settings > Security
2) Disable "Device Administrator".
3) Under Settings > Applications > "ManageEngine Mobile Device Manager Plus", uninstall the agent for MDM.
4) You can remove MDM from the managed Android from the "Settings" option.
2. How can I reset my iPhone to factory settings using MDM?
To stop the remote control of the iPhone, remove the MDM from the iPhone. Management commands can be executed on the iPhone enrolled with MDM. Use the command "Device Erase", the iPhone will be reset to factory settings.
3. Is it possible to remove the manager from my iPhone?
To remove the company manager from your iPhone, use these steps.
1) Open Settings > General > Device Management.
2) Click the MDM profile.
3) Click the option of "Remove Management". Enter your passcode if prompted. The manager will then be removed.
This article introduces what MDM is and gave two methods that you can easily use to remove MDM from your phone. MDM is good at controlling devices remotely but when we need to remove it, we can easily achieve this by using LockAway.