You can change your iPhone passcode using your existing one through settings.
If you've forgotten your passcode, you'll need to reset your iPhone using iTunes or iCloud.
This article will explain step-by-step how to reset your iPhone passcode using Settings, iCloud, and iTunes, plus a quick way to change your passcode.
Are you challenged with how to change your iPhone passcode? Don't want to use your current passcode anymore? Or maybe you've forgotten your passcode?
Whatever the reason, changing your iPhone passcode is actually a common operation that is much easier than you think. You just need to find the right way to do it.
Hi, I'm a mobile phone shop repair owner, and in my 5-year experience, I've gathered a lot of information on how to change the iPhone passcode. In this article, I'll share tips for changing your iPhone passcode and how to prevent others from changing it.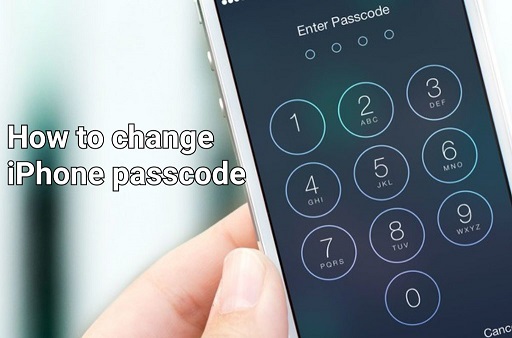 how to change iphone passcode banne
Part 1: How To Change iPhone Passcode Via Settings?
Being a phone repair shop owner as well as technician, I'm often asked a lot of questions concerning security and the best way to operate Apple devices.
The majority of my clients are not always in a situation where they forget their passcode. Sometimes, they just want to change their existing iPhone passcode to enhance the security of their iPhones.
So is it possible to change the iPhone passcode right on the iPhone? Absolutely yes!
Apple provides a method of doing so through the Settings App. The only must-have when utilizing this method is that you must remember your original passcode.
Requirements:
Know the original passcode.
Have access to the iPhone.
Steps
Open theSettings app and tap Face ID & Passcode (or Touch ID & passcode).
Proceed to tap the Change Passcode option.
Enter the existing passcode.
Then create a new passcode.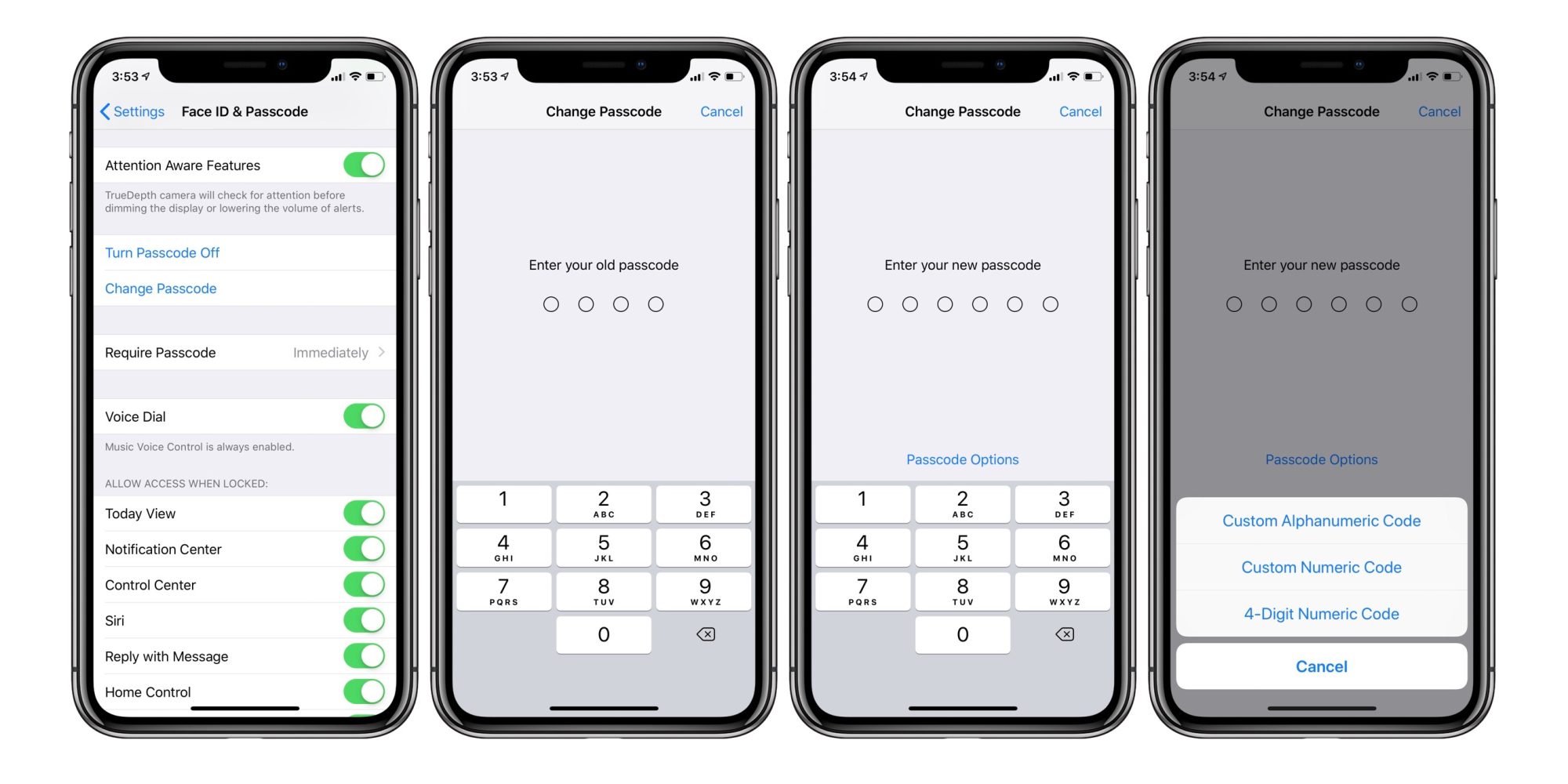 how to change iphone passcode via settings
The Settings app to reset your iPhone passcode works if you know the old passcode. If you can't recall it or enter the wrong passcode more than five times, your iPhone will be disabled. That means you can't access your best apps like WhatsApp and Instagram.
Moreover, the situation may escalate from "normal disabled" to permanently disabled, usually accompanied by the message "iPhone is disabled connect to iTunes."
What to do at this point?
Apple suggests iTunes as the go-to method. But I've repaired thousands of iPhones, and not all are fixable this way. And if they were, none of my clients would ever need my services.
So, is there any other way to change the iPhone passcode when you have forgotten it?
The good thing is, yes! I've been using a specialized tool to help unlock such iPhones for my clients, and why not? It presents almost zero errors, it is easy to accomplish in a few steps, and I don't have to make my clients wait for days to reset their iPhone passcodes.
Below, I share this tool and how it can help you change your iPhone passcode.
Part 2: How To Change iPhone Passcode Without Passcode?
Method 1 With Mobitrix LockAway
Mobitrix LockAway is the one-stop tool that helps iPhone users change their passcode simply, fast, and conveniently. You do not need to remember your old passcode.
Advantages:
It takes about 20 mins to unlock your disabled iPhone.
Simple to operate in a few steps.
A high iPhone unlocking rate of 99%.
It offers full support for iPhone 5s-14 and iOS 12/13/14/15/16 and later.
Steps
Download and install Mobitrix LockAway on your computer.
Connect your iPhone to the computer running Mobitrix LockAway.
Choose "Unlock Screen Passcode" and unlock it.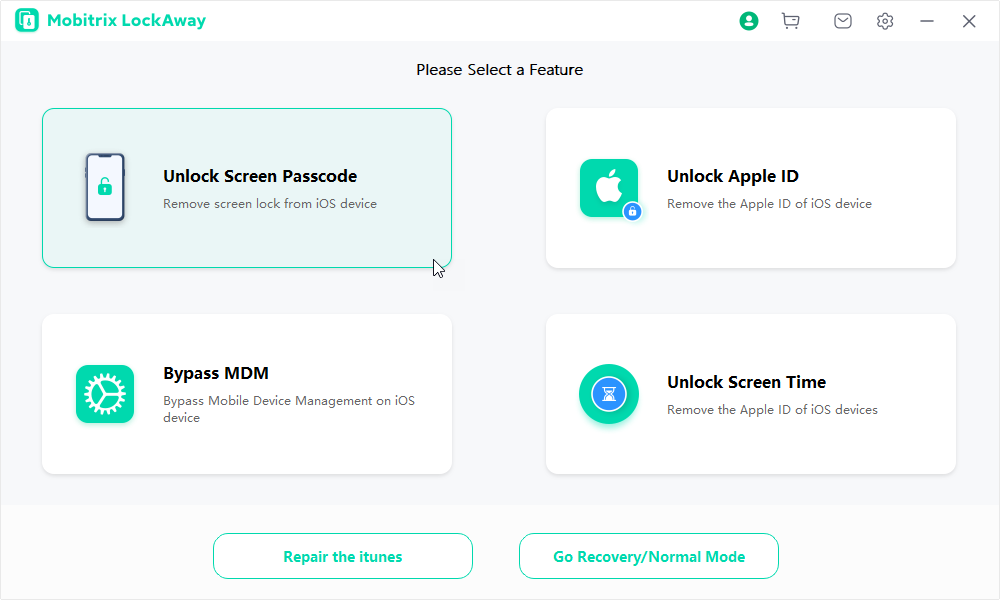 Use Mobitrix LockAway to Unlock Screen Passcode
I recommend using Mobitrix LockAway because it's a simple program that anyone can use without any special IT skills needed to change your iPhone passcode. I've enjoyed a lot of success with this tool, and it's helped me change passcodes for my customers.
Well, I know many of you dear readers would love to give iTunes a try. I have also tried this method many times.
iTunes is a more traditional method of changing your iPhone passcode, and in the following section, I'll delve deeper into this method.
Method 2 How To Change iPhone Passcode via iTunes?
Before we get into the detailed steps, I'd like to share what I've summarized as the pros and cons of using iTunes, so you might know why I don't endorse it.
Advantages
Apple provides this method.
It is a free method of changing your iPhone passcode.
It is a safe method that doesn't breach your privacy.
Disadvantages
There is a very low success rate in changing the iPhone passcode.
It is cumbersome and takes up to a few hours to complete.
The iTunes interface can be challenging to navigate and often fails to connect with your iPhone.
Steps
Ensure you have the latest iTunes or Finder on your PC or Mac and connect your iPhone using the original USB cable, then open the iTunes or Finder program.
When asked to Trust This Computer or the device passcode, follow any on-screen prompts.
Locate your iPhone on the computer and select the "Restore iPhone" option. You must sign out of Find My if signed in before clicking Restore.
Click "Restore" to confirm the process.



iphone black screen via itunes

Wait until the process is complete, and the iPhone will reboot and redirect you to the home screen.
On many occasions, my clients have tried to change their iPhone passcodes using the iTunes method, but the complete loss of data, numerous errors that affect the process, and the length of time it takes all lead to failure.
If you've tried the iTunes method and failed or don't have access to a computer to try it out, I'll show you another method. This technique uses Find My iPhone to change your passcode from another iPhone.
Method 3 How To Change iPhone Passcode via iCloud?
Advantages:
This is an Apple-provided method that is safe and free.
You can accomplish it via app or web despite device limitations.
Disadvantages:
If the Find My feature is enabled on your iPhone, it won't work.
You will need to have the Apple ID and password of the target iPhone.
The target device must have an internet connection.
The method will delete all the data on your iPhone if not backed up.
Steps
Log on to iCloud using your Apple ID.
Tap on All Devices and select the iPhone you want to passcode for.



disabled iphone with icloud all devices

Select the "Erase iPhone" option and click confirm.



how to factory reset iphone via icloud

Enter your Apple ID and password.
The iPhone will automatically turn ON once the erasing process is complete.
Forgetting your iPhone passcode can make using the device an uphill task. Luckily, we've covered several methods through which you can resolve that.
Considering the myriad of ways available for changing your iPhone passcode, you may wonder if someone else can change your passcode too? The sad reality is that this is much possible.
There are other instances, such as theft, where you may also need to prevent the person with your iPhone from changing your passcode. You want to make this a preventive measure against your naughty kids who may change the passcode in other situations.
So, how do you prevent other people from changing your iPhone passcode? Here are some ways I've come up with, based on my customers' actual experiences.
Part 3: How To Prevent Others From Changing Your iPhone Passcode?
Case 1: If your iPhone is Stolen, use iCloud to "Find My iPhone"
Immediately you lose your iPhone, log onto the iCloud platform and use the Find My iPhone feature.
You will need to check off the following requirements before using this method.
The target iPhone must have the Find My feature enabled.
You must have the Apple ID and password of the stolen iPhone.
The iPhone must have some power and be connected to the internet.
If the stolen iPhone runs out of charge, it will send the last location, visible for 24 hours. In newer iPhones, you can also set up Separation Alerts that inform you immediately if you leave your device behind, thus preventing theft.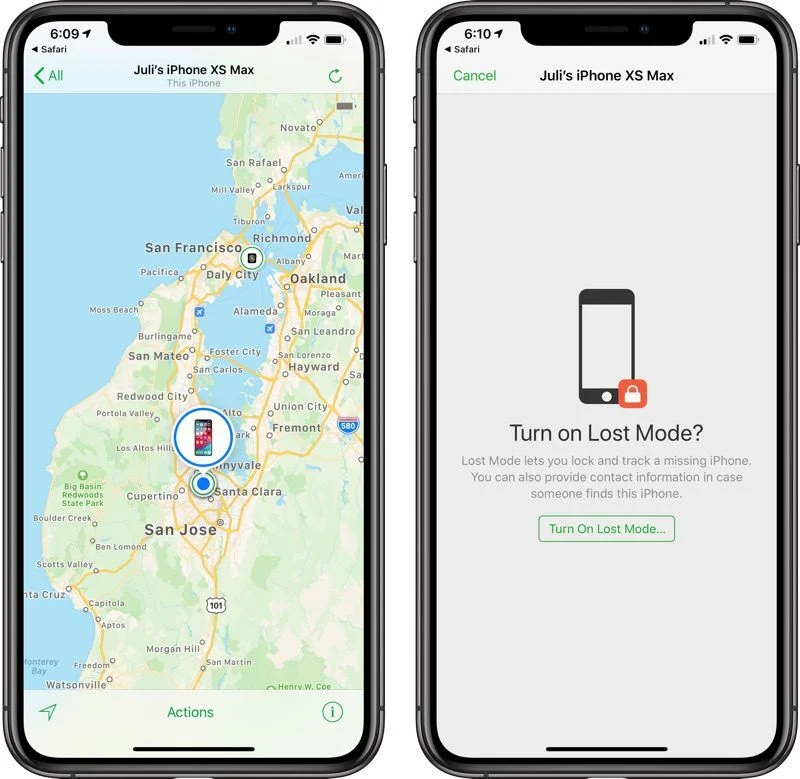 find my iphone lost mode
At this point, it is imperative that you select one of two options:
Mark the iPhone as lost.
Or erase the iPhone.
Mark your iPhone as lost:
The Lost Mode allows you to disable your iPhone remotely and make it inaccessible to the person handling it.
Lost Mode is beneficial if you previously had not set a passcode on your iPhone. You can customize a message and contact info on the device's screen and disable all other functions making the iPhone unusable.
Steps
Open the Find My app, or go to iCloud.com
Move to the Devices or Items tab, and select it. Then choose the missing device.
Move down and choose Mark As Lost or Lost Mode.
Then tap Activate or Enable, depending on the version.
Proceed to follow the onscreen instructions to display contact information on the iPhone's screen, or write a custom message to assist the finder locating or contacting you.
Select the Activate option.



all steps for how to activate iphone lost mode
Erasing your iPhone:
Choosing the "Erase iPhone" option inhibits you from tracking its location. It is advisable if you no longer need to look for your device. Moreover, if you have AppleCare+ with Theft and Loss, do not erase the iPhone until your claim is approved.
Steps
The steps here are the same as Method 3: iCloud, which uses the Find My iPhone feature, so you can directly follow the steps in Method 3 to erase your iPhone.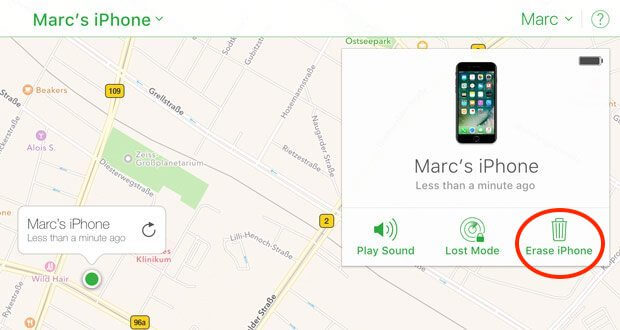 reset iphone via find my iphone app
Suggestion
I also recommend checking out the official Apple guide on what to do when you lose your iPhone. It will give you valuable insights on how to disable your device.
Kids of today are more into technology than ever before. It is not a rare thing for your child or a relative or friend to borrow your iPhone to play games. However, in such instances, the child can guess your passcode and lock your device in the process. In the following section, I recommend what to do to prevent this.
Case 2: How to prevent children from changing iPhone passcode?
Steps For Using Screen Time Passcode
Open the Settings app from your iPhone home screen
Tap on the Screen Time option.
Proceed to tap on the Content & Privacy Restrictions option.



how to prevent child from changing iphone passcode

Tap to toggle the Content & Privacy Restrictions ON.
Scroll down to ALLOW CHANGES and tap Passcode Changes.
Select Don't Allow.


how to prevent child from changing iphone passcode
How to change your iPhone passcode shouldn't be that difficult if you read this article until the end. I have described a number of ways to do this.
Suppose you haven't managed to get it back by Apple's means because you don't meet the requirements. That's a serious matter.
For this, I suggest using LockAway to unlock it immediately. Why? Because it only takes 30 minutes with a guaranteed success rate, instead of facing unknown errors.
Try it today, and then you can share this successful and happy unlocking experience with your friends!