iOS users know how important having an Apple ID account is. The Apple ID account is essential when using it for iCloud, making purchases in the App Store, and using the Find My feature.
When you forget the Apple ID credentials, it becomes very frustrating because you cannot access many services, which is why iOS users need to know how to change Apple ID passwords.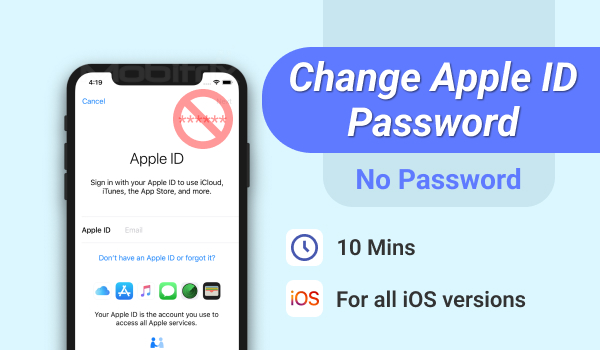 First Screen For How To Change Apple Id Password
It is also a good practice for users to change their Apple ID passwords for security reasons. To learn how to change Apple ID passwords, read through the article for a comprehensive guide.
How to Change iCloud password on iPhone & iPad settings
Visit your iPhone's Settings app and select your iCloud account.

how to change apple id password settings application

Click on the "Password and Security" option.

how to change apple id password password and security

Select the "Change Password" option to reset your password.

how to change apple id password change password

If your iPhone has a password, enter the current password.
Provide a new password that you wish to use. It should be at least 8 characters long, and verify it.
Sign out of all devices using your Apple ID, and you will have successfully changed the Apple ID password.
Tips:
You can follow the same steps on the iPad.
On your Mac, Choose Apple menu > System Preferences, then click Apple ID> Password and Security >Click Change Password.
If you have forgotten your Apple ID password, don't worry because you can click on the Forgot Password link and complete the needed requirements to change your password successfully.
How to reset an Apple ID password via computer
Another convenient way of how to change Apple ID password is by using your computer. This method can be performed in three different steps, namely:
Using Email identity
Answering security questions
Two-factor Authentication
Before deciding on the method to use, ensure that there has a browser installed on your Windows computer or Mac, then follow the steps below after opening the browser.
Method 1: via 'My Apple ID'
You can use the page for "My Apple ID" to change your Apple ID password. To use the page for My Apple ID, follow the steps below:
Use a browser to open the appleid.apple.com
Select the "Forgot ID or Password" option.
Enter the Apple ID and click Next.
If you know your Apple ID and password, use them to sign in to your account and head to the security section. And select the "Change Password" option.
Using the web to change the password gives you the option of signing out devices you are using. This way, you can block someone who is logged into your old account.
Method 2: via Apple Two-factor Authentication
Two-factor Authentication is an excellent way of changing your Apple ID password when you don't remember your password. However, to use the feature, you have to ensure that you had set it up before.
This method allows you to reset your Apple ID password by using a verification code. The steps for this method are as follows:
Visit the iforgot.apple.com page and provide you recovery key.
Choose a trusted device that you can use to receive the verification code.
Once the verification code is received, please enter it.
Create another password, then hit the Reset Password option.

how to change apple id password via two factor authentication
Method 3: Via iforgot
iForgot is a service that Apple provides to help you reset your password when you have forgotten it. The service can be accessed anytime online, but you will be required to enter the account creden-tials.
Steps:
Visit the iforgot.apple.com page using your computer and provide the trusted phone num-ber you had provided while setting two-factor authentication.
Select continue, and a notification will be sent to your trusted phone number.
Once you receive the notification, click on it.
Follow the guidelines that will be displayed to finish setting up a new Apple ID password.
How to Change Apple ID Without A Trusted Phone Number, Recovery Key, or Security Answers?
Having your iCloud locked is a challenging situation that needs an excellent tool to help you solve the issue efficiently and quickly. If your Apple device is locked, it becomes difficult to bypass it without Apple ID and password.
Although many tools have been introduced, many of them are fake and don't work. That is why you need to use trusted software that is very effective.
Mobitrix LockAway is an excellent tool that can help you to change the Apple ID password quickly and easily. Other advantages of using LockAway include:
It is easy to use, and you can use it efficiently from your home.
LockAway is very secure, and no data is leaked while changing your Apple ID password.
It is effective in that you can use it more than once without any restrictions or complications.
It is a professional tool trusted by more than 100000 users.
LockAway can be used to remove different kinds of activation locks such as Face ID, Touch ID, Alphanumeric passwords, and other passwords.
Follow the steps to remove the Apple id password:
Use a cable to connect your device to a computer that has LockAway.
Select the "Unlock Apple ID" option.



how to chanfe apple id password Mobitrix LockAway - Unlock Screen Passcode Home Menu

Click Start and LockAway will download the appropriate firmware that will immediately remove the previous Apple ID.
You can now set up a new Apple ID password
LockAway supports all iOS versions, including iOS15, it supports iPhone 5S to iPhone 13, and you can get the app affordably.
In conclusion, we have seen that changing your Apple ID password is very useful for security reasons. By changing the password, you ensure that anyone who used your old account is locked out hence securing your account.
If you don't know your account credentials, you don't need to worry because you can still change your password by using Mobitrix LockAway.
It is very user-friendly and very effective. If you don't want to perform too many tedious steps and spend a lot of time changing the password of Apple ID, then use LockAway.