If you forget your Apple ID password, it might be a pain. You will be blocked from all the data and Apple services.What's worse is if you lose your iPhone and you can't sign in to iCloud to track it.
Luckily, there are multiple solutions to get over this problem. In this guide, I not only listed the solutions for resetting the forgotten Apple ID password; but also provides alternatives if you lost security information like recovery key or email. So don't miss anything till the end.
Method 1: Check Your Autofill Box To Find Your Forgotten Password
Before getting to the details of other methods, here are two things you can try to save your time and effort.
Most of the time we don't remember our passwords but our device does. Therefore, checking any apps or services on your device that may have stored passwords may save your time and effort.
Open your Apple Safari with a passcode
Safari, the web browser for iOS saves your passwords for different sites and accounts to auto-fill your data the next time you sign in.
Check your Safari auto-fill settings by following these steps to see if you saved the password for your Apple ID.
Go to the Settings of your iPhone.
Locate "Auto Fill" and go to Autofill Passwords.
Now, enter your device passcode.
Check if your Apple ID password is saved in the list.
Check the Notes and your spelling
Did you write down your password somewhere? Yes, there is a possibility that you wrote your password down and forgot it later. Make sure to:
Check your memos, notes, and other apps that you might have used to save your password. Look carefully in them to see if you find a password.
Enter your password correctly after cross-checking. Sometimes, we get distracted by our surroundings and make small mistakes in passwords.
Were you able to find your Apple ID password in memos or Auto-fill? No? Don't worry. The next method can help you reset your Apple ID password to get your account access back.
Usually, you need the old Apple ID password to authenticate yourself when changing it to a new one. But the password reset mechanism requires the security information you set before, such as recovery key, email address, trusted phone number, etc. Here are some methods and ways to reset your Apple ID password.
Trustpilot
Why Do I Recommend Mobitrix LockAway?
Lost trusted phone number and recovery key? Can't reset the Apple ID password by email?
Can't sign in with another Apple ID?
Does this means you can't use your iPhone/iPad forever?Absolutely not!
An easy "removing" can help you log in your device with a new Apple ID. Using Mobitrix LockAway to delete your forgotten Apple ID password, and enjoy your iPhone/iPad.
Method 2: Forgot Apple ID password? Using the Two-Factor Authentication!
The two-factor authentication can help you reset your Apple ID password in three different ways but it comes with requirements. Here are the steps to reset your Apple ID password via settings, Apple support app, and iforgot service:
Way 1: Via Settings App on iPhone/iPad
Go to your iPhone's Settings
Open your profile and Sign out

Click sign out

Click 'Forgot Password'
Enter your trusted phone number to receive code
Enter verification code and your iPhone passcode (if set)
Follow the prompt to set a new password
Way 2: Use the Apple support App
Launch the Apple Support app
Open Password & Security and go to Reset Apple ID password.
Click Get Started and then select different Apple ID

Using Apple Support App to Reset Apple ID Password

Enter your Apple ID you want to reset
Now enter your trusted device phone number and receive a verification code.
Follow the prompt and reset your Apple ID.
Way 3: Use iforgot.apple.com on any web browser
Go to iforgot.apple.com on a web browser
Enter your Apple ID and tap to Continue.

Enter Your Apple ID

Now, enter your trusted device phone number linked to your Apple ID.
Click to continue and select the device connected to your Apple account
Tap Allow and enter your selected device's passcode
Enter a new password for your Apple ID and re-enter to confirm
Select next then click on done.
Method 3: Contact Your Account Recovery Contact to Reset Apple ID Password
If you have set up an account recovery contact on your Apple ID then it can be easily recovered by receiving a verification code from your trusted contact. Here are the steps they need to follow:
On their iPhone, iPad, or iPod touch with iOS 15 or iPadOS 15 or later:
Open the Settings app and tap on their name.
Tap on the Password and Security > Account Recovery.
Tap on the name that needs the Recovery Code.
Tap "Get Recovery Code." When you are ready, ask your contact to share the code with you.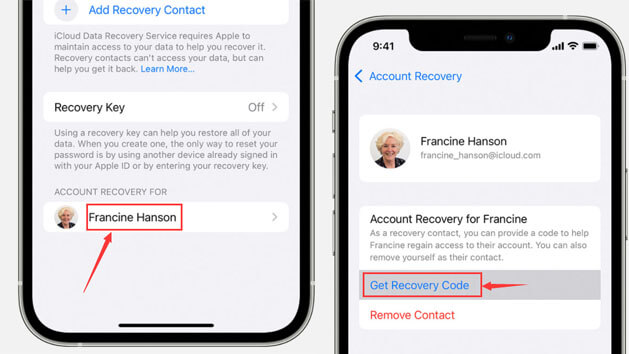 Using Recovery Contact on iPhone or iPad
After receiving the verification code from your contact, you only need to enter it and follow the prompt to reset your Apple ID.
Requirements
Your iOS device must have the latest versions such as iOS 15, iPadOS 15, watchOS 8, or macOS Monterey.
You must enable two-factor authentication on your iOS device.
You must be over the age of 13 years to set up a recovery contact.
Method 4: Request Account Recovery to Retrieve Your Forgotten Apple ID Password
Requesting Account recovery is another way to reset your Apple ID for the forgotten password. But the problem is this method is very consuming and the success rate totally depends on what information you provide.
Steps to request account recovery via Web
Go to iforgot.apple.com from your browser, enter your Apple ID, and click Continue.

Enter Your Apple ID

Enter your phone number and confirm. Click Continue.
Click "Don't have access to your iPhone?"> Click "Can't use any of these options?".
It says, "Without an Apple device, you will have to wait to reset your password." Click Continue anyway.

Click Continue Anyway

Your trusted mobile number will receive a verification code.
Enter the code > click Continue
If you see "Thank you. We'll send you an update soon.", it means account recovery has started.
I would recommend you to keep this method as your last choice and if nothing seems to work because it comes with the following requirements.
If you turn the "recovery key" on, you cannot request Account recovery.
Suppose you submitted your account recovery request with iforgot.apple.com through your device's browser. In that case, you should avoid using that device during this period. Using that device might cancel account recovery.
To avoid delays, turn off other devices signed in with your Apple ID until account recovery is complete.
At any time, you can see how long it will be until your account is ready for recovery or when more information will be available. Just go to iforgot.apple.com and enter your Apple ID.
Suppose you remember your information and can sign in successfully. In that case, your wait period cancels automatically, and you can use your Apple ID immediately.
Method 5: Erase Your Forgotten Apple ID Password if You can't Reset it
A professional removal tool, Mobitrix LockAway can help iPhone/iPad users to delete their forgotten password issues with Apple ID.
The tool includes easy and time-saving steps. You can effortlessly remove the forgotten Apple ID on your iPhone/iPad.
You can perform the following after erasing Apple ID passowrd:
Change to a different iCloud account/Apple ID.
Enjoy all Apple ID features, like iCloud services, Apple store and other services with a new Apple ID, etc.
The steps to use Mobitrix LockAway are as follows:
Connect your iPhone to the computer, choose "Unlock Apple ID."

Mobitrix-LockAway: Unlock Apple ID

Click 'Start' to begin removing the Apple ID

Mobitrix-LockAway: Click Start

Wait for the procedure to finish and then enter your new password.
Advantages
Mobitrix LockAway can solve your problem in 20 minutes
It comes with a high success rate of 99%.
The interface of Mobitrix LockAway is super friendly.
Your data is safe with 100% privacy protection.
It offers full support for iPhone 5s-14 and iOS 12/13/14/15/16 and later.
In what situations, Mobitrix LockAway can help you?
If you got a second-hand phone with a previous owner's Apple ID.
If you do not remember the credentials to your Apple ID password.
If your Apple ID has been locked for security reasons.
Unlike former resetting methods, Mobitrix LockAway does not need you to fulfill any requirements. All you have to do is tap the start button and sit back while it resets your Apple ID for you.
Forgetting your Apple ID password is never going to be a big deal now as you got your hands on some of the most decent methods to reset it.
But what if you lost your recovery key or changed to a different phone number? That's why I introduced Mobitrix LockAway as a quick and hassle-free solution.
No need for any tedious verification, use your new Apple ID right now!