[100% Works] How to Unlock iPhone Carrier & Passcode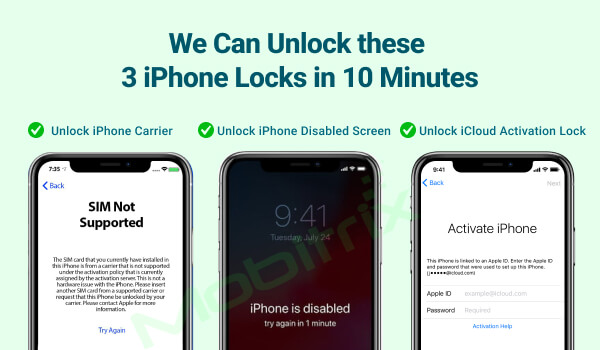 Want to switch network providers for better service? Want to unlock your disabled iPhone when forget the passcode? Want to bypass the iCloud activation lock after resetting your iPhone without logging out of iCloud and forgetting your Apple ID password?
You've come to the right place! This step-by-step guide can help you:
Unlock iPhone Carrier Lock

Unlock iPhone Passcode

Bypass iCloud Activation Lock
Keep reading to unlock your iPhone easily!
Part 1: How to Unlock an iPhone from Carrier Restrictions Without a SIM Lock
1.1 Benefits Of Unlocking iPhone Carrier
iPhones are locked to owner (a particular carrier) by default for a certain period. Unlocking the iPhone to a different carrier will allow you to switch carriers as and when needed.
You could choose a different carrier with a cheaper plan.

Switch carriers when you are traveling or working in an area where your old carrier is not available. Thus, you can avoid expensive international roaming charges.

You can opt for short-term plans or have a prepaid GSM SIM.

If the old phone is unlocked, you can sell it for a good price.
1.2 How To Know If Your iPhone Is Locked Or Unlocked?
There are 3 ways to do so, i.e., through Settings, using a SIM card, or contacting the carrier.
Using Settings
This method will work well for iPhones with iOS 13 or lower. Here's how:
Open Settings

Go to Mobile data > Mobile data options (or Cellular > Cellular data options)

Check the Mobile data network (or Cellular data network) option

If it's visible, your iPhone is unlocked. If not, your iPhone is locked.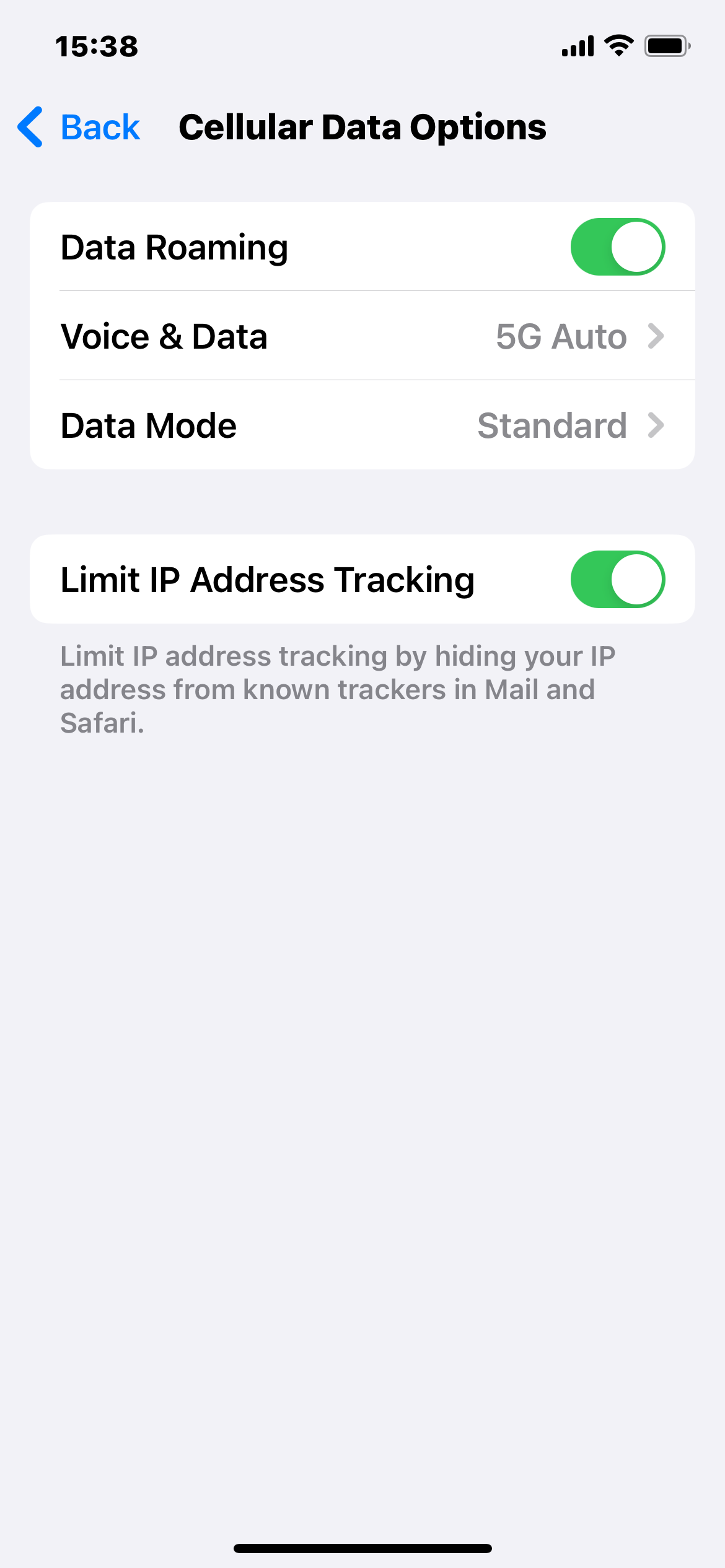 Using SIM Card
You need to have two SIM cards from different carriers for this method. Check the steps below:
Make a call from the current/old SIM call and let it connect

Now, switch off your iPhone

Eject the current/old SIM card using the ejector pin tool

Insert the new sim card from a different carrier

Turn it on using the wake button.

Make a phone call and check if it connects.
If the call doesn't go through, the iPhone is locked. If it connects, this means a SIM card from a different carrier works, and your iPhone is unlocked.
Contacting Your Carrier
You can contact your carrier and request an unlock. After you submit the request, it might take a few days to complete. Contact your carrier to check the status of your unlock request.
Do not try to check using an IMEI number. This method is unreliable and costly. There are free tools available online that let you check, but you cannot fully trust these sites to keep your mobile information confidential. It is, therefore, best not to fall for such options.
1.3 Is it Legal to Unlock My iPhone's SIM Lock?
Yes, it is legal to unlock your iPhone sim lock if:
The contract you signed for using the carrier's service for a fixed period is over (it's usually two years)

All the installments of your current plan are paid off.
As per the Unlocking Consumer Choice and Wireless Competition Act that came into being during the presidency of Barack Obama in 2014, it is legal to unlock the iPhone sim lock and switch to a new carrier within the legal purview.
1.4 How to Unlock an iPhone from Different Carriers?
What mobile carrier is locked to your iPhone? Check below:
AT&T
To unlock AT&T SIM, follow these steps:
Go to your iPhone settings> General> About

Scroll down to find the IMEI number

Open the At&T device unlock portal online

Enter the IMEI number and follow the on-screen prompts to unlock it.
Now with AT&T, you can unlock your iPhone after six months of service only. You can dial AT&T customer service 06 for more assistance.
T-Mobile
To unlock T-Mobile sim card, follow:
Open and log in to your My T-Mobile account using Chrome or Safari.

Click on the Account icon on the top left corner of the screen

Choose the line of service from the given options

Click on Device > Check device unlock status

If it shows locked, call *6 or 877-746-0909 for assistance.
T-Mobile has a stern unlocking policy. It allows you to unlock your iPhone for 24 months only per line service i.e., it provides two unlock codes, each valid for 12 months. SIM with prepaid plans can be unlocked after 12 months of service
Sprint
To unlock Sprint, here are the eligibility criteria you need to satisfy:
Your device should be active with the Sprint network for at least 50 days (for domestic unlocking) or 90 days (for international unlocking)

The iPhone should not be reported lost or stolen

The device is bought before 2016, i.e., it is SIM unlock capable

No billing installment is pending

Dial Sprint customer care on 888-211-4727 to unlock the device.
Verizon
To unlock Verizon Sim card, follow these steps:
Have an active Verizon iPhone device

Use it for at least 60 days and pay your phone bills in full

After 60 days, the Verizon iPhone will automatically unlock.
If it doesn't unlock, call *611 from your iPhone device or seek assistance from Verizon customer care on 800-922-0204.
1.5 Third-Party iPhone Unlocking Solutions
If you do not want to contact your carrier to unlock your iPhone, here are 2 third-party methods you can try.
Using SIM Unlock Chip
A SIM Unlock Chip is a chip that is used to divert the traffic signals of a SIM from one carrier to another.
These chips can easily be bought online or in the market for about $20 to $30. This is a legal and reliable method to unlock your iPhone. Here is how:
Buy a SIM Unlock chip as per your iPhone model

Place your SIM card over the SIM unlock chip

Put both of them together in the SIM tray and insert them into the iPhone

Turn your iPhone on.

From the popup, choose a Universal activation mode

You will be asked to edit the ICCID code.

Enter the ICCID number listed on the back of your SIM card.

Follow the on-screen prompts and restart your iPhone again.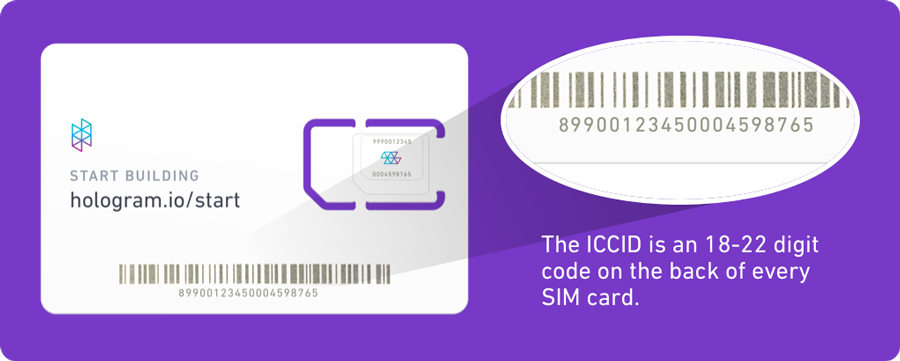 The steps may vary depending on the SIM unlock chip you are using. One of the downsides of this method is it is difficult to find the ICCID code for an old SIM card. Also, the method is not always as smooth depending on the brand of Unlock chip you are using.
Using Other Online Unlocking Services
This should be your last resort to unlock your iPhone sim lock. It's not recommended as it is usually a deceptive trap.
Some of the online unlocking services include DoctorSIM, and Cellunlocker. It is advisable to read all the privacy, terms and conditions as well as testimonials from previous users before considering these services. Because they have a great possibility of breaching your privacy.
1.6 How To Know If My iPhone Has Been Unlocked Successfully?
Check below to figure out whether your iPhone has been unlocked successfully or not.
For iPhone with iOS 14 or later:
Go to Settings on your iPhone

Scroll down to open About

Find the Carrier Lock option

If it shows No Sim Restrictions, it is unlocked.

You can change to a different carrier with ease.
For iPhone with iOS 13 or earlier:
Go to Settings on your iPhone

Tap on Mobile Data

Check for Cellular data network/ mobile data Network option

If it shows available, the iPhone is unlocked.
If this doesn't clear your doubts, you can always call your current iPhone carrier to know if it's locked or unlocked. Finally, you have unlocked your iPhone. What now? How do you use an unlocked iPhone to switch to another carrier? Read ahead to know how.
1.7 Bonus Tips: Key Considerations After Unlocking Your iPhone's SIM Lock
Are you planning to switch to a different carrier? Here is how you can proceed further.
If you have already bought a new SIM card from a different carrier, follow these steps to finish the unlocking:
Remove your old SIM card

Insert the new SIM card (from another carrier).

Turn the iPhone on, and it will activate.
If you currently do not have a new SIM Card, follow these steps to finish the unlocking:
After all data is backed up, erase data from your iPhone

Restore all data from the backup you just made.
Part 2: How To Unlock iPhone IF Forgot Passcode
There are 3 ways to unlock a disabled iPhone when you forget your passcode.
Find what works for you below:
2.1 Unlock via Mobitrix Lockaway (The Fastest Way)

2.2 Unlock via iTunes (Not Always Working)

2.3 Unlock via Find My iPhone (Apple ID and Password Required)
2.1 Unlock Your Disabled iPhone via Mobitrix LockAway (The Fastest Way)
Mobitrix LockAway is a pro tool for unlocking iPhones and iPads, no matter the lock type (Screen Passcode, Apple ID, MDM, Screen Time).
Can't remember your iPhone passcode, and now it's disabled? Got a used iPhone? Don't worry. Mobitrix LockAway makes it easy to bypass the screen lock. You won't need passwords or iTunes - it's all straightforward.
FREE DOWNLOADFREE DOWNLOADFREE DOWNLOAD
Advantages:
It unlocks your disabled iPhone without iTunes

Easy to use (within a few clicks and neat interface)

Time and effort-saving

99% success rate

Fast as it only takes 20 minutes

100% privacy protection assured

It fully supports iPhone 5s to iPhone 15 and iOS 17 and earlier versions.
Steps:
Download and Install Mobitrix LockAway

Click Unlock Screen Passcode in the main menu

Click Start to remove the iPhone passcode.

Your iPhone has been unlocked successfully.
Done! Quick and easy, right?
Mobitrix LockAway specializes in solving all kinds of iPhone lock issues. It's ideal for those who need a fast, reliable solution and don't mind spending a little. In urgent situations, Mobitrix LockAway is your go-to option.
Below are free ways to unlock your iPhone if you've forgotten the passcode. These ways are free but might take time and require specific conditions. For quick solutions, Mobitrix LockAway is ideal. For non-urgent cases, continue reading for additional options.
2.2 Use iTunes to Restore iPhone (Not Always Working)
Using iTunes to unlock the iPhone can make you scratch your head if you are doing it for the first time. The process can be lengthy, and complicated with a low success rate.
Further, you may also encounter some bugs like your iPhone not getting detected, being stuck during the recovery mode, and other unpredictable error codes like iPhone 4013, iPhone 3004, iPhone 3194 and etc.
You can get on with this if you have plenty of time, here is how:
Step 1: You need to have a Mac or Windows PC
It should have Windows 8 or above OS and iTunes installed if it's a Windows PC. You also need to have a compatible USB cable that works with the iPhone.
Step 2:Turn your iPhone off
The iPhone should not be connected to any device and should be turned off completely.
Step 3:Put iPhone into Recovery Mode
Depending on your iPhone model, you need to put your iPhone in recovery mode.
Step 4:Restore the iPhone
At this step, connect your iPhone to your computer. Now follow the steps below:
Open iTunes on your computer.

Locate your iPhone within iTunes.

When you find your iPhone, you will see Restore or Update option available.

Click on Restore.

The restore process starts as your computer begins to download software for your iPhone

When the iPhone software update is downloaded, iTunes will pop up "iTunes will erase and restore your iPhone to ios 15.4.1 and will verify the restore with Apple". Then click Restore

Your iPhone screen will show the restore process bar with the white apple logo. When the restoration is finished, your iPhone will restart automatically. And iTunes will show as follows:

After your iPhone restarts, you can reset your iPhone passcode.
2.3 Forgot iPhone Passcode? Erase it via Find My (Apple ID and Password Required)
This is another way to unlock your disabled iPhone without iTunes or computer if you forgot your passcode. However, the requirements are:
You should know your Apple ID and password

Your disabled iPhone has been enabled Find My

You haven't logged out of your iCloud account

Your locked iPhone needs a cellular network or WiFi
If you meet all the conditions above, follow the steps below:
Launch icloud.com

Click Sign In using your Apple ID and Password

Now click All Devices and select your disabled iPhone.

Now, click Erase This Device. To proceed with this step, you'll still need to input your Apple ID password. But you won't need your iPhone screen passcode.

This will erase all your iPhone data and reset your iPhone to factory settings.

And then, in the setup interface, you can choose to restore your data from the backup if you have created it previously. Or you can create a new passcode.
Part 3: How to Remove iCloud Activation Lock
3.1 What Is iCloud Activation Lock?

3.2 How to Bypass iCloud Activation Lock without Apple ID Password?
3.1 What is iCloud Activation Lock?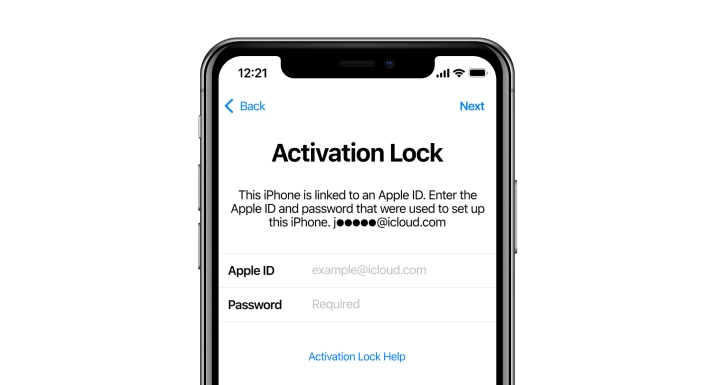 An iCloud Activation Lock is a security solution that prevents anyone from resetting or activating an Apple device without the iCloud account credentials when your device gets stolen or lost.
This security feature is so stern that users cannot access their devices if they forget their iCloud account information. But there is always a workaround, and this is when iCloud Activation Lock Removal comes into action.
Bypassing the iCloud Activation Lock was feasible on iOS devices before the iPhone X, due to chip vulnerabilities. However, for iPhone 11, 12, 13, and later models, no known technology can achieve this.

Rumors about an Israeli company having such a capability are unconfirmed. Consequently, any online claims of removing the iCloud activation lock without software are likely scams.

In contrast, Mobitrix LockAway is an effective lock removal software, boasting a 99% success rate in unlocking iCloud activation locks
3.2 How to bypass iCloud Activation Lock without an Apple ID Password?
1. Use Mobitrix LockAway (The Most Reliable Solution)
1.1 Introduction of Mobitrix LockAway -- Bypass iCloud Activation Lock
If you have forgotten your Apple ID and password, you want to get rid of the iCloud Activation lock to activate your iPhone.
Here comes a bonus! Mobitrix Lockaway-Bypass iCloud Activation Lock is the best, easiest, safest, and fastest solution to bypass the iCloud Activation Lock within a few clicks in 30 mins. It is totally legal to use.
1.2 Features
Remove iCloud activation lock without requiring Apple ID and password swiftly and easily

Easily Turn off Find My iPhone/iPad/iPod Touch without credentials

Unlock Apple ID without password
1.3 Benefits of Activation Lock Removal
Free to log in with a new Apple ID through the App Store or iTunes & App Store in Settings to download apps over Wi-Fi.

Freely get into the device again on the condition that you don't restart, factory reset, or flash the firmware after successful removal.

Get rid of the activation lock without requiring credentials from the previous owner
1.4 Advantages of Using Mobitrix LockAway -- Bypass iCloud Activation Lock
Effective with 99% success rate: Bypass various iOS device locks permanently

Easy to Use: Simple clicks and get all locks bypassed.

100% Secure Your Privacy
FREE DOWNLOADFREE DOWNLOADFREE DOWNLOAD
1.5 Steps:
Connect your device to a PC

Choose Remove iCloud Activation Lock.

Click Start to Remove iCloud Activation Lock.

The iCloud Activation Lock has been removed successfully.
2. Ask The Previous Owner To Enter The Details
Do you own a second-hand iPhone and can't access the device? You can ask the previous owner to enter their Apple ID details. Moreover, ask the last user to sign out of the device and erase the data.
3. Ask For Apple Support
You can also ask for Apple support if you have a new second-hand iPhone you do not have access to. Contact customer care and ask them to delete the previous owner's account. However, this would require a lot of convincing credentials.
Part 4: Cool Ways to Unlock iPhone Without Passcode
These include using voice control and the Apple watch. Dive in to know.
4.1. How To Unlock iPhone With Voice Control?
Unlocking iPhone with a voice command? That's new! Isn't? Remember, this method only works for iOS devices 14.6 and later.
Also, you need to enable such a feature before you can make use of it. Here is how you can set it before you are locked out of your device:
Go to Settings> Accessibility> Voice Control

Toggle on the voice control option

Now, tap on Custom Commands> Create New Command

Type the command you will use to open the iPhone in the New Command editing window. This could be like "Open my iPhone," etc.

Now tap on action> Run Custom Gesture

Tap your passcode in the given area.

Tap on Save
4.2 How to unlock iPhone with Apple Watch?
This method is compatible with Apple iOS 14.5 and later. To activate this feature, follow:
Go to Settings> Face ID & passcode

Scroll down to find Unlock with Apple Watch

Toggle on the Beagle option available under it

Tap on Turn on
With this feature, your iPhone will turn on if your Apple Watch is turned on too.
Summary
If you want to get rid of carrier restrictions, first talk to your carrier.
If you've forgotten your screen passcode, try Mobitrix LockAway or Find My iPhone to save you time.
If you want to remove an iCloud activation lock, watch out for scams. They can't unlock your iPhone remotely without software.
Mobitrix LockAway is a reliable choice for unlocking your iPhone, ensuring you save both time and effort.