[Hack Tips] How to Recover iCloud Password
Have you forgotten your iCloud password and feel locked out of your Apple world? Don't worry, this article is here to help.
We provide 5 detailed, step-by-step methods to help you recover your iCloud password, so you can swiftly regain access to your account and data.
Part 1: Why do we need to recover the iCloud password?
Users have various accounts that require them to sign up using a username and password. The many accounts that we log in to make it easy to forget the passwords or usernames. In the case of iCloud, if you forget your password, you risk not accessing or losing so much data and settings.
This article comes in handy to fix this by introducing the various methods that you can use to recover the iCloud password to ensure you don't lose your data.
Part 2: How to recover iCloud password
To recover your iCloud password, use the methods below.
1. Via iPhone & iPad Settings
Follow the steps below.
Open Settings > iCloud

Click Forgot Apple ID or Password?

You have two options. If you forgot your password, enter Apple ID, then click 'Next'. However, if it's both the password and ID that you forgot, enter your name and email to receive the Apple ID.

Answer the security questions, then reset the password.
2. Via 'My Apple ID' Website
To use this method, follow the steps below.
Open https://appleid.apple.com/, then click the option of Forgot password?

Enter your Apple ID, then click Continue.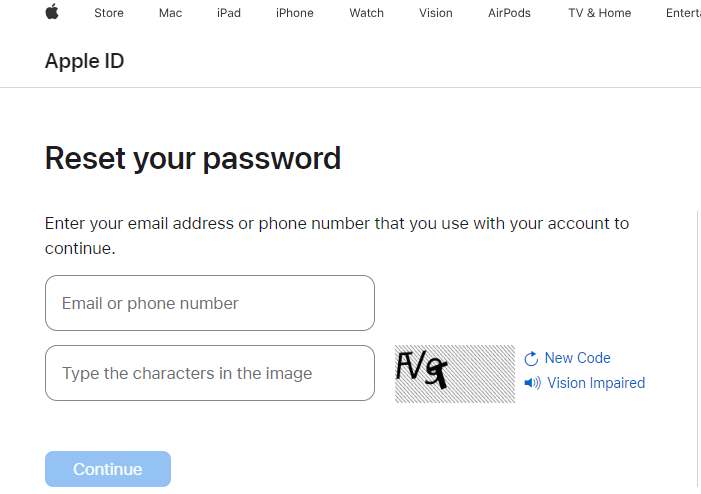 Choose to either use 'Email Authentication', where a password and recovery details will be sent to your email, or use 'Answer Security Questions', where you will answer the questions, and once done, you will get the recovery password.

Enter your new iCloud password, then click 'Reset Password'.
3. Via Apple's two-factor authentication
If the Apple ID has two-factor authentication, you require a recovery key and a trusted phone or phone number, then follow the steps below.
Visit the iForgot website, then input your Apple ID.

Click the 'Reset Password' option.

Enter the recovery code, then click Continue.

Choose a trusted device that you want to use.

A code will be sent to the device chosen. Enter the confirmation code.

Choose your new password and click the option to 'Reset Password'.
You have now recovered your iCloud password with just a few steps involved.
4. Via iForgot
Apple has a way to enable its users to retrieve their forgotten passwords by using the iForgot service. However, to confirm ownership of the device, a few account details will be asked before you recover your password.
To use iForgot:
From a browser, open the iForgot website.

Click on the option to look it up, then enter your email.

On the screen that appears, enter the account details required, then proceed.

Once your details have been confirmed, you will receive your Apple ID password.
You can then reset or continue to use the iCloud password retrieved.
Part 3: How to Recover iCloud password in just One Click?
If you're unsure about the Security Question, Mobitrix LockAway, a professional unlocking tool, can come to your rescue.
This powerful tool can assist you in unlocking your Apple ID and recovering your iCloud password without the need for security questions or any lengthy procedures. In just 20 minutes, you'll regain access to your iCloud account.
FREE DOWNLOADFREE DOWNLOADFREE DOWNLOAD
To use Mobitrix LockAway:
Download and install Mobitrix LockAway on your computer.

Open the program and select the "Unlock Apple ID" option from the main interface.

Connect your Apple device to your PC using the original USB cable.

Click on "Start" to remove your Apple ID and iCloud account on your iDevice.

Wait for the process to complete. Once done, the Apple ID will be removed from your iDevice.
Your device will be unlocked, and no data loss will be incurred. The process is fast, simple, and safe to use.
Advantages:
It fully supports iPhone 5s to iPhone 15 and iOS 17 and earlier versions.

It is affordable, and one of the most cost-effective tools in the market.

The user interface of LockAway is easy and friendly.

LockAway is easy to use and safeguards your privacy and your data.
FAQs
Is it possible to retrieve data from iCloud if I permanently lose access to my iCloud account?
Retrieving data from an inaccessible iCloud account is challenging. Apple's strict privacy and security protocols mean that without proper authentication credentials, accessing the data can be nearly impossible.
Can I recover my iCloud password without answering security questions or using two-factor authentication?
Recovering your iCloud password without security questions or two-factor authentication is more complex but not impossible. Apple allows users to request a password reset link to be sent to a trusted device or phone number.
If you haven't set up these options, your next step is to contact Apple Support, who can guide you through other verification processes to recover your account.
Summary
This article outlines 5 different ways to recover a forgotten iCloud password. Of these, Mobitrix LockAway stands out as the top recommendation due to its simplicity and efficiency.
It eliminates complicated steps, offering a quick and effortless solution. In just 20 minutes, you can regain access to your Apple account and data.