Recovering your iCloud password is necessary. This article explains why you need to recover your iCloud password and how you can recover it if you forget it. Moreover, the article introduces the various methods that you can use to recover the iCloud password, including an excellent third-party tool, LockAway.
Part 1: Why do we need to recover the iCloud password?
Users have various accounts that require them to sign up using a username and password. The many accounts that we log in to make it easy to forget the passwords or usernames. In the case of iCloud, if you forget your password, you risk not accessing or losing so much data and settings.
This article comes in handy to fix this by introducing the various methods that you can use to recover the iCloud password to ensure you don't lose your data.
Part 2: How to recover iCloud password
To recover your iCloud password, use the methods below.
1. Via iPhone & iPad settings
Follow the steps below.
Open Settings > iCloud, then enter your email.

recover icloud password via settings

Click "Forgot Apple ID or Password?".
You have two options. If you forgot your password, enter Apple ID, then click "Next". However, if it's both the password and ID that you forgot, enter your name and email to receive the Apple ID.
Answer the security questions, then reset the password.
2. Via 'My Apple ID'
To use this method, follow the steps below.
Open applied.com, then click the option of "Forgot ID or password?"
Enter your Apple ID, then click "Next".
Choose to either use "Email Authentication", where a password and recovery details will be sent to your email, or use "Answer Security Questions", where you will answer the questions, and once done, you will get the recovery password.
Enter your new iCloud password, then click "Reset Password".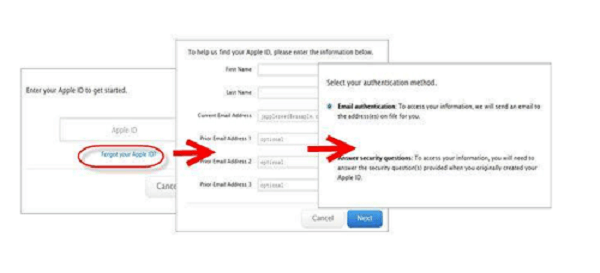 recover icloud password via my apple id
3. Via Apple's two-factor authentication
If the Apple ID has two-factor authentication, you require a recovery key and a trusted phone or phone number, then follow the steps below.
Visit the iForgot website, then input your Apple ID.
Click the "Reset Password" option.
Enter the recovery code, then click Continue.
Choose a trusted device that you want to use.
A code will be sent to the device chosen. Enter the confirmation code.
Choose your new password and click the option to "Reset Password".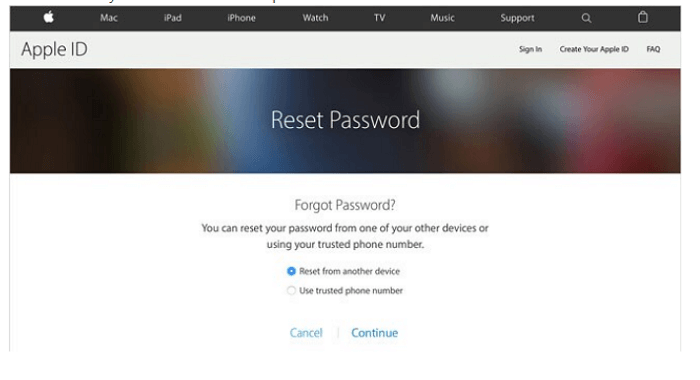 recover icloud password via two factor authentication
You have now recovered your iCloud password with just a few steps involved.
4. Via iForgot
Apple has a way to enable its users to retrieve their forgotten passwords by using the iForgot online service. However, to confirm ownership of the device, a few account details will be asked before you recover your password.
To use iForgot:
From a browser, open the iForgot website.
Click on the option to look it up, then enter your email.
On the screen that appears, enter the account details required, then proceed.
Once your details have been confirmed, you will receive your Apple ID password.
You can then reset or continue to use the iCloud password retrieved.
Part 3: How to Recover iCloud password in just One Click?
Once your device is locked, accessing it becomes difficult unless you authorize yourself. However, this article introduces a great tool, LockAway, that will reduce the burden for you.
LockAway will unlock your device with just one click!
With LockAway, no security questions will be answered or any lengthy procedures involved.
To use LockAway:
Download LockAway from the website and install it.
Connect your device to your computer.
Select "Unlock Mode".
Click "Start to Unlock".
Your device will be unlocked, and no data loss will be incurred. The process is fast, simple, and safe to use.
LockAway supports many Apple devices, some of these devices include; All iPhone 14 series, iPhone 13, iPhone 13 mini, iPhone 13 Pro, iPhone 13 Pro Max, iPhone 12, iPhone 12 mini, iPhone 12 Pro, iPhone 12 Pro Max, iPhone 11, iPhone 11 Pro, iPhone 11 Pro Max, iPhone XS, iPhone XS Max, iPhone XR, iPhone X, iPhone 8, iPhone 8 Plus, iPhone 7, iPhone 7 Plus, iPhone 6s, iPhone 6s Plus, iPhone SE, and iPhone 5s.
In addition to the many devices supported by LockAway, its other advantages include:
All iOS versions are supported, iOS 16 included.
It is affordable, and one of the most cost-effective tools in the market.
The user interface of LockAway is easy and friendly.
LockAway is easy to use and safeguards your privacy and your data.
In conclusion, your iCloud password is crucial to your device, and anytime you forget it, you need easy methods to use in recovering it at your disposal. This article introduced the methods that you should use to recover your forgotten iCloud password.
The article also introduced an efficient and the most recommended method to unlock your iPhone by using LockAway, a fast, simple, affordable, and effective tool to use.